May 2016's New Vehicle Sales – Little Improvement Seen
Auto News For the fifth consecutive month this year, year-to-date new car sales continued to be lower than the same period last year. Total registrations for the first five months of 2016 totalled 218,101, about 18 percent lower than the same five-month period last year. May 2016 also saw a total of 44,669 vehicles registered, 6 percent higher than April 2016.
The only respite from this rather long drawn negative spiral is that the gap between this year's performance and the last year's is narrowing. We started January 2016 at 36 percent lower than January 2015, but with each succeeding month, the gap in year-to-date sales has reduced considerably, to 19 percent in April.
June will be a crucial month, as the coming Raya celebrations should see a cyclical bump in sales, driven by the many festive season promotions. If sales do not improve by the end of June, then it would mean that the car market will remain trapped in this downward spiral for many more months to come, possibly even pre-empting us of a coming economic slowdown.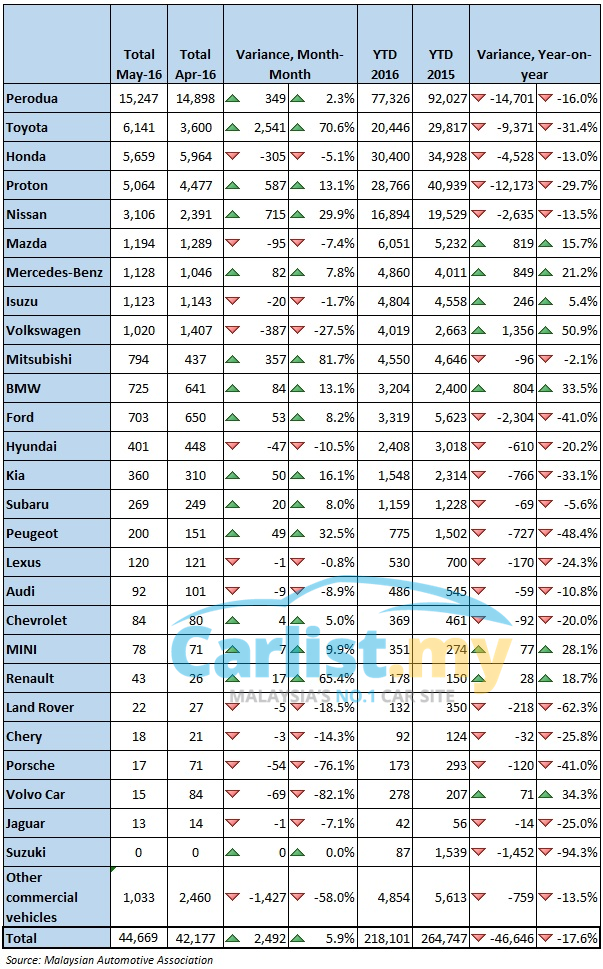 Below are the highlights of May 2016's new vehicle sales: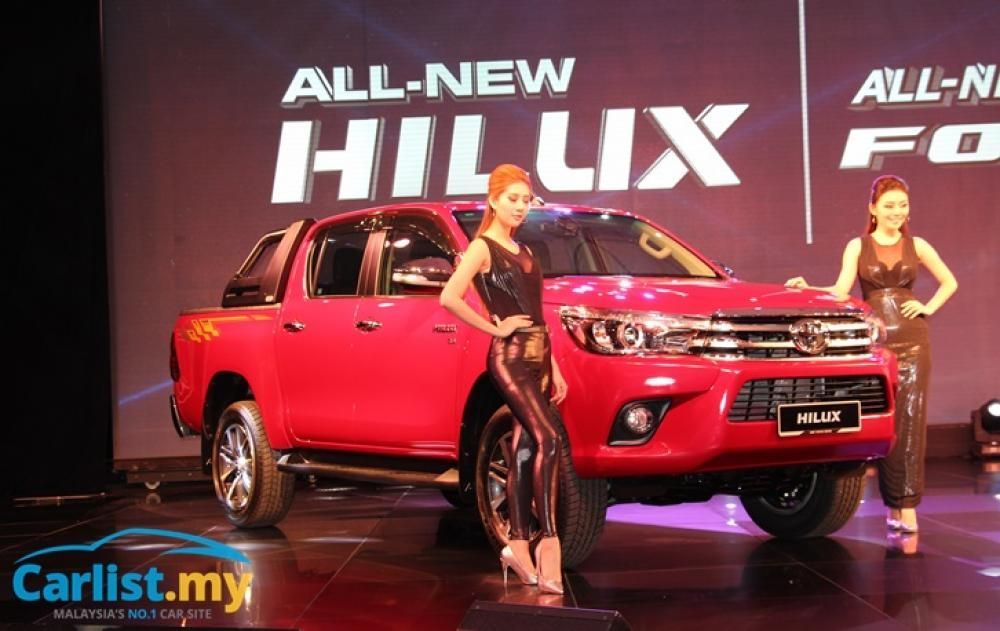 The launch of the all-new Toyota Hilux has given a much needed boost to the pick-up segment, where monthly sales was down by over 30 percent in April, largely due to the phasing out of the segment leading previous generation Hilux.
Interestingly, sales of the Ford Ranger and Isuzu D-Max do not appear to be affected by the all-new Hilux, increasing by 13 and 12 percent respectively from April 2016. Of course, the increase could also be due to an increase in dealer incentives and discounts, so we will have to wait for a few more months to conclude if these two models are indeed attracting a different crowd of buyers from the Hilux.
Monthly sales of the Mitsubishi Triton and Nissan Navara were down 4.2 percent and 2.5 percent respectively.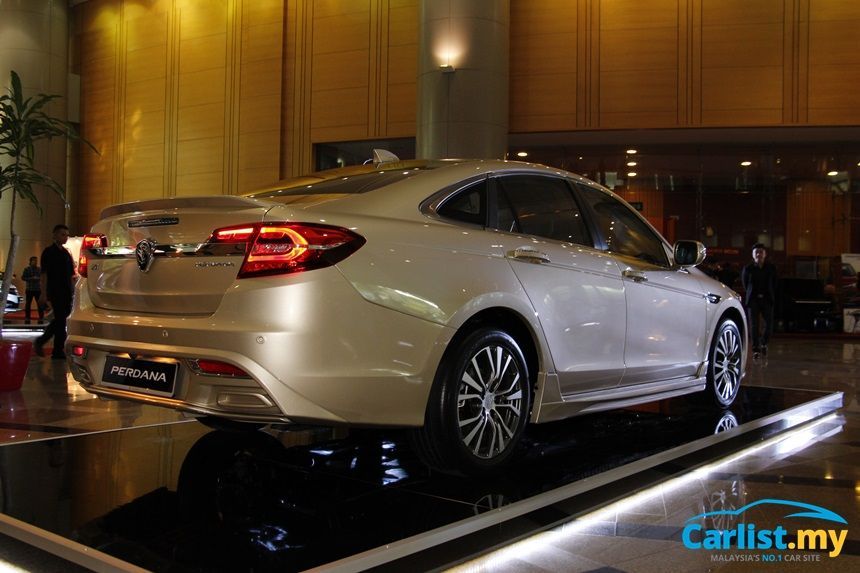 Proton has dropped out of the list of Malaysia's top-three best-selling brands, having been overtaken by Toyota and Honda, the latter selling about 600 more cars than Proton last month.
The launch of the all-new Proton Perdana will certainly improve Proton's fortunes, albeit driven mostly by sales to government agencies rather than private buyers, but it's unlikely to match the all-new Honda Civic, which despite it being model from one segment below the D-segment Perdana, the Civic will undoubtedly be the choice of private buyers.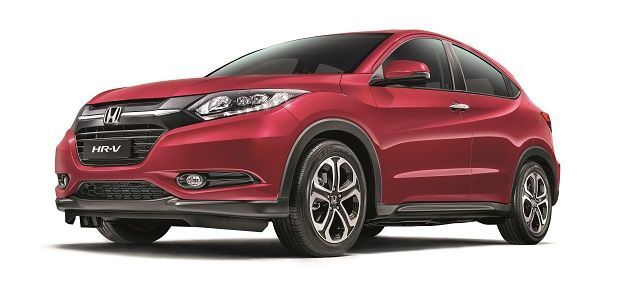 May also saw the introduction of an updated Honda HR-V, with 17-inch wheels, improved suspension for better comfort, and a new Dark Ruby Red Pearl colour option.
After months of sitting out of the top-three spots, Toyota is now back in contention, wrestling back the title of Malaysia's best-selling non-national brand away from Honda. However it's a hollow victory as Toyota's success was delivered on the back of the all-new Hilux, a segment which Honda doesn't compete in. In May, the Hilux contributed nearly 40 percent of Toyota's sales, making Toyota increasingly reliant on just one model, as the rest of its passenger vehicles range continues to face stiff competition.
In the more varied passenger vehicles segment, Toyota still trails behind Honda by a large margin. In the first five months of 2016, Honda sold 30,400 passenger vehicles, versus Toyota's 14,569. Last month, Honda sold over 40 percent more passenger vehicles than Toyota, 5,659 units versus 3,925.
Honda's lead over Toyota's passenger vehicles range is expected to widen further in the coming months as it ramps up production of the all-new Civic.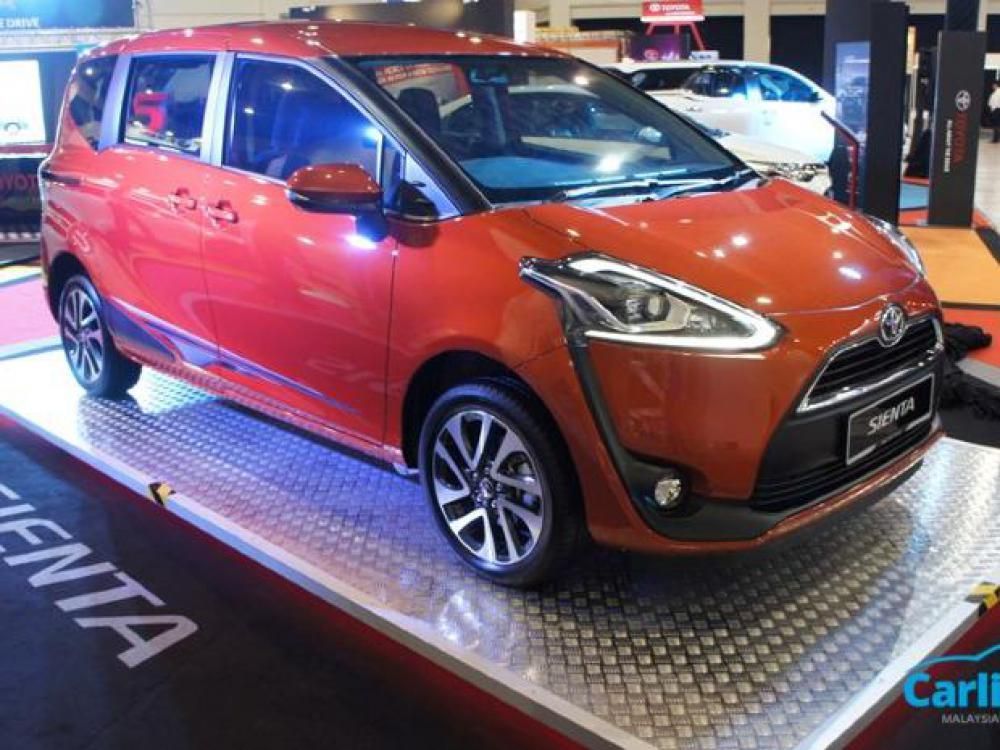 However Toyota might still spring a surprise in the next two months, depending on how well the market accepts its upcoming Indonesian-made, seven-seater, sliding door MPV Toyota Sienta. It starts from just RM93k, has a very practical interior, but comes with only three airbags (driver, driver's knee, front passenger).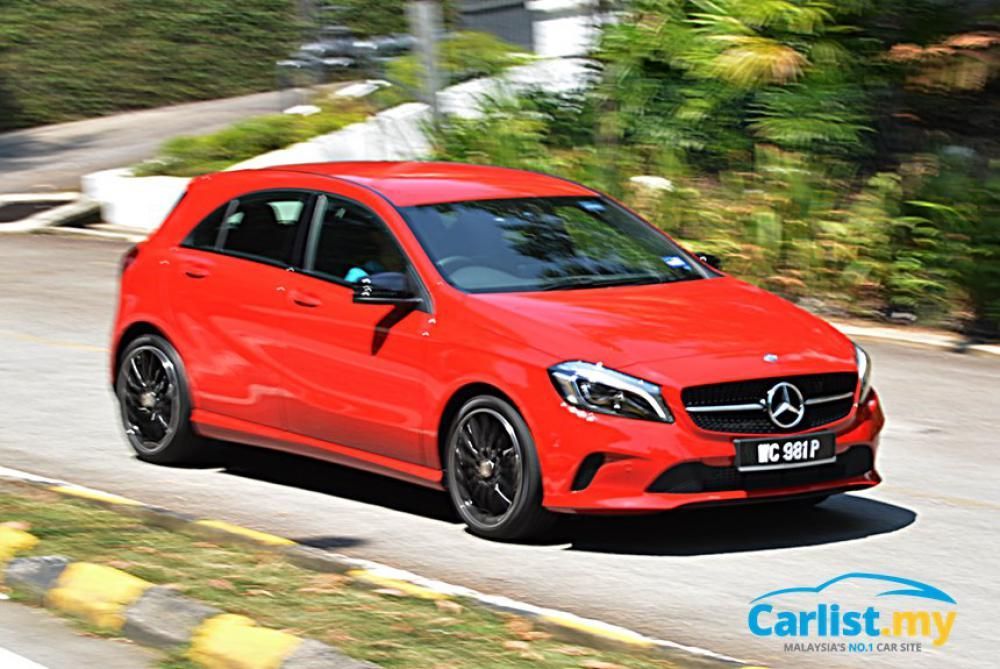 Mercedes-Benz Malaysia's fortunes also continued to improve on the back of a wider range of models, which now includes the new entry-level A180 and the C180, as well as the higher performance C300. Last month's sales tally showed less than 100 cars now separate Mercedes-Benz and Mazda.
---
---
---
---
Comments