Malaysia Was The First Country Outside Of Germany To Assemble An S-Class, 35 Years Ago
Insights Thirty five years ago on this day 26-June in 1983, in the pre-Internet era, a telex message from Daimler-Benz's headquarters in Stuttgart, Germany was sent to Cycle and Carriage Bintang's head office in Kuala Lumpur saying, "Wunderbar Malaysia, congratulations from Germany."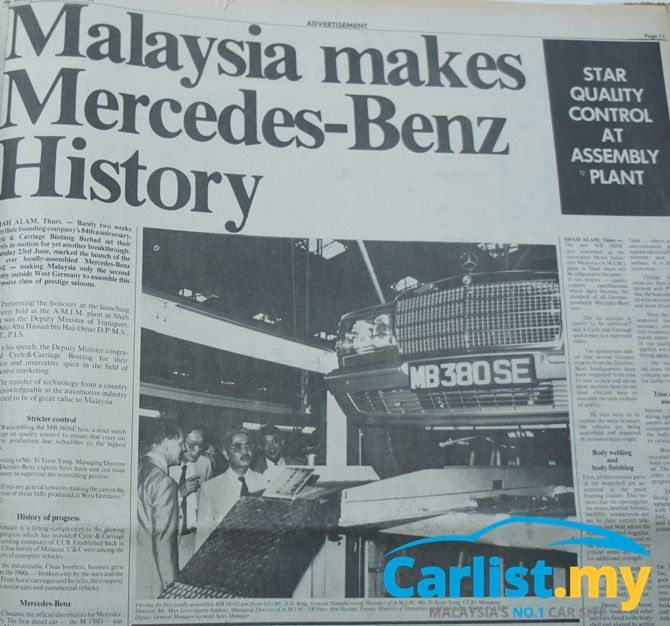 The occasion of the celebration? Malaysia had just become the first country outside of Germany to assemble Mercedes-Benz's flagship S-Class. This was the legendary W126 generation model. The first Malaysia-assembled S-Class was not just any model, but a 3.8-litre V8 powered 380 SE. The V8 engine produced 204 hp at 5,250 rpm and 315 Nm at 3,250 rpm. It was impressive figures at a time when a Ferrari 308 GTB quattrovalvole made 237 hp and 260 Nm.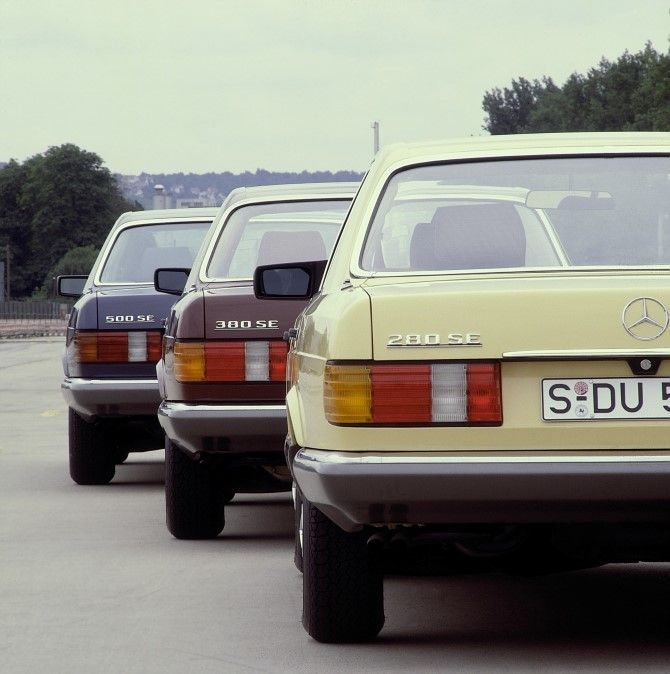 Apart from the 380 SE, the 280 SE (2.8-litre inline six-cylinder) was also assembled at the same plant.
To mark the momentous occasion, Cycle and Carriage Bintang (CCB) took out a full page advertorial on The New Straits Times. At the following pages, Ford Malaysia also took out another ad congratulating CCB. The reason behind that was because the plant that assembled the W126, the Associated Motor Industries Malaysia (AMIM) plant in Shah Alam, was also the same plant that assembled Ford vehicles.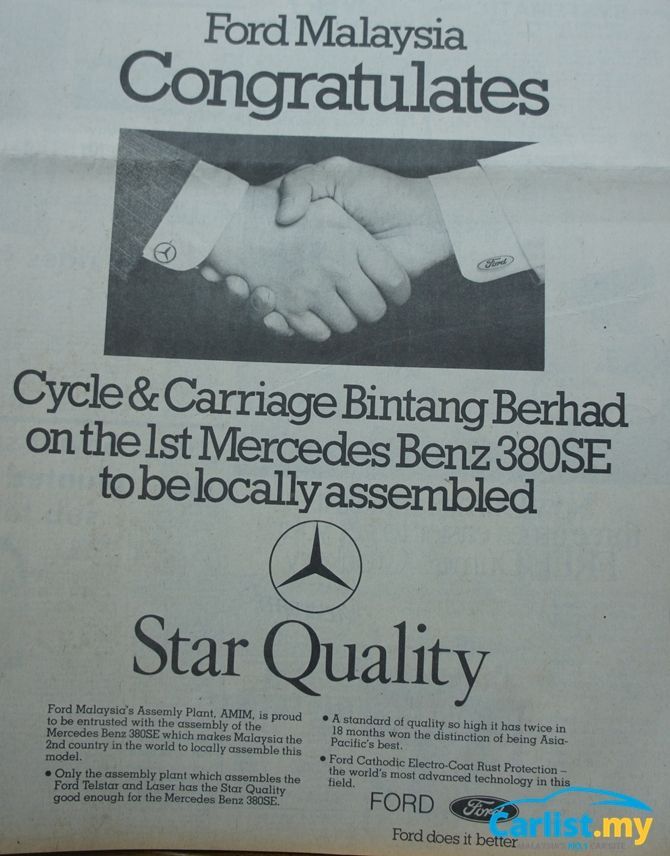 Ford was unabashed in jumping in to share the limelight with Mercedes-Benz because it wanted to tell the public that the plant that was entrusted to make the best car in the world would certainly produce very highly quality Fords as well.
The assembly work done for the W126 was quite extensive as it involved welding and painting of body panels, so it was a full-scale local assembly work.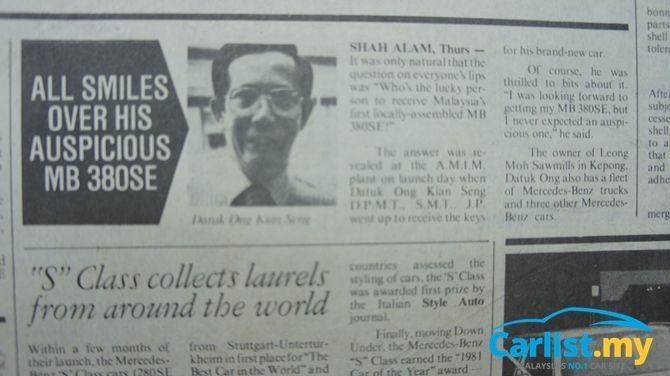 The first Malaysia-assembled W126 was sold to one Datuk Ong Kian Seng, owner of Leong Moh Sawmills in Kepong, who had already owned a fleet of Mercedes-Benz lorries and three Mercedes-Benz passenger cars.
Later, CCB moved its vehicle assembly operations out of AMIM, and split its range of locally-assembled models between its own plant in Petaling Jaya (which has since been torn down) and the Oriental Holdings' plant in Tampoi, Johor.
By 2003, CCB's role as distributor and franchise holder for Mercedes-Benz vehicles had been taken over by the newly formed DaimlerChrysler Malaysia (later known as Mercedes-Benz Malaysia) and since 2004, the company's local-assembly operations have been carried out at the DRB-Hicom plant in Pekan, Pahang. It now makes not just the S-Class, but also 43-series AMG models like the Mercedes-AMG C43 Sedan.
The AMIM plant has since been shut down. The facility still exists, but it is left idle and the unoccupied property is now owned by Tan Chong Motor Holdings Berhad. Ford no longer makes any cars in Malaysia.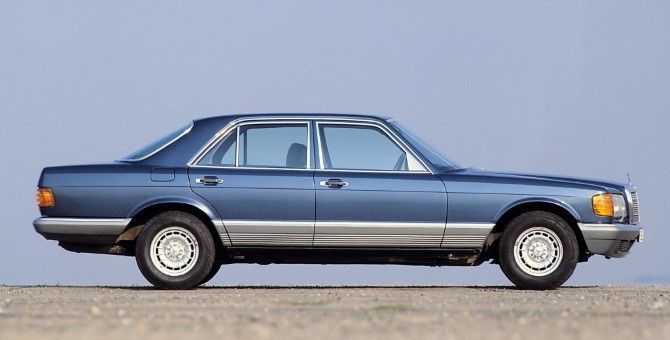 Today, the W126 is a highly coveted modern classic. Some say it is the best car Mercedes-Benz has ever made, and that no S-Class model ever since have been able to match the W126's supreme levels of reliability and comfort. Even after more than 30 years, many of these cars continue to run reliably, and parts are easy to source. They aren't too expensive to buy too as well maintained examples can be had for around RM15,000 but expect to pay twice as much for concourse-level examples. Our friend Chris Wee from piston.my is a proud owner of a 280 SE.
---
---
---
---
Comments