Review: New W222 Mercedes-Benz S-Class – When Defence Is Harder Than Ever Before
Reviews What do you do when you have to cede a commanding position to an overwhelming enemy force? You buy time for escape by throwing everything you have at the enemy, beer bottles included. That's what Private Bill Speakman did during the Korean War when his company's position was overwhelmed by enemy fire and an incoming wave of 6,000 Chinese troops.
With chances of surviving an escape slim, Bill and six other men filled their pouches with grenades and lead a counter charge. When they ran out of grenades, they started throwing beer bottles and stones.
He was shot in the leg and shoulder and when an army medic was distracted, he ran back into the line of fire. Yes, they retreated, but the actions of Bill and his six other friends meant that many young British boys were able to return to their mothers. For that, Queen Elizabeth II awarded him with the Victoria Cross. He was promoted to Sergeant and later sent to Malaysia to fight the Communist Insurgency. We owe our peace today to men like him.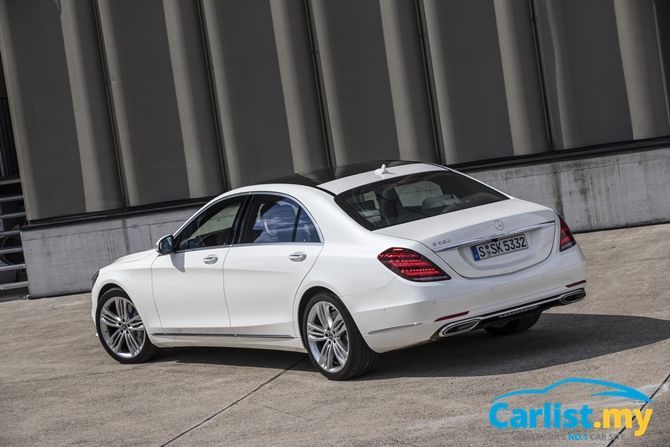 The new Mercedes-Benz S-Class is in a position that's not too different from Bill's in the 38th Parallel North. With neither tax-deducted S400h nor the new S560e plug-in hybrid being available, that space in the market will certainly be controlled by the BMW 740 Le (still tax deducted, at RM 564,946 without SST) in the coming months.
Further complicating matters is that the S-Class' underpinnings are older than the Carbon Core chassis 7 Series, and this puts a theoretical limit on what Mercedes-Benz engineers can improve with this facelift.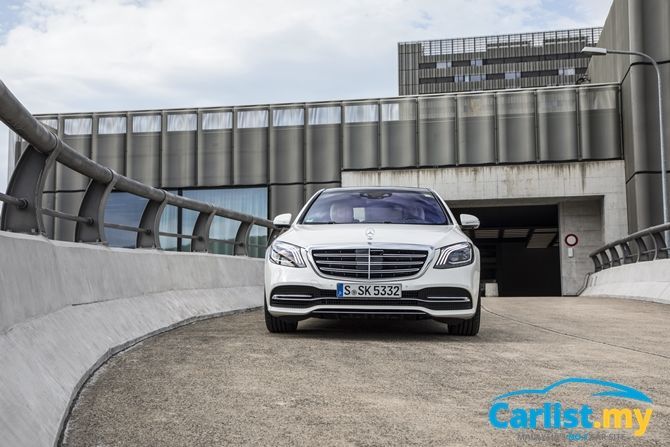 An all-new S-Class is at least several years way so the S-Class nameplate has to dig deep for a good defence, just like Sergeant Bill Speakman.
We had an opportunity to briefly sample the new S-Class on the roads surrounding Zurich, giving us a foretaste of what to expect. The model tested here is an S560, which we won't be getting, at least not in this trim. The S560 is only available to us as a Maybach but still, the 'regular' S560 allows us to gauge the refinement of the new S-Class' cabin and the car's overall character.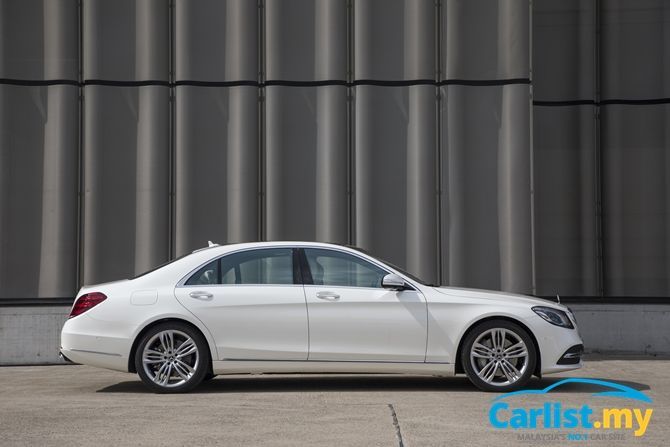 Specifications for W222 Mercedes-Benz S560 (European market model)
Engine: 4.0-litre V8 twin turbo
Power: 469 hp between 5,250 – 5,500 rpm
Torque: 700 Nm between 2,000 – 4,000 rpm
Transmission: 9-speed torque converter automatic, rear-wheel drive (4Matic all-wheel drive also available)
Safety: 8 airbags (including two seatbelt airbags for rear passengers), ABS, ESC, Pre-Safe with Pedestrian Detection, Brake Assist Plus, blind spot monitor, 360 degree view camera, Intelligent Drive with Driving Assistant Package.
Price: N/A
Origin: Manufactured in Sindelfingen, Germany
Overview
Premiered in May 2013, the W222 generation S-Class was given a mid-lifecycle update in the middle of last year. The main highlight for the new facelift model is its range of new engines, including an all-new M256 3.0-litre twin turbo inline six-cylinder. However this engine is only available in Europe. Our locally-assembled S450 will continue to use a detuned version of the M276 3.0-litre twin turbo V6 engine from the 43 series AMG cars, as are other markets including USA, Australia, and China.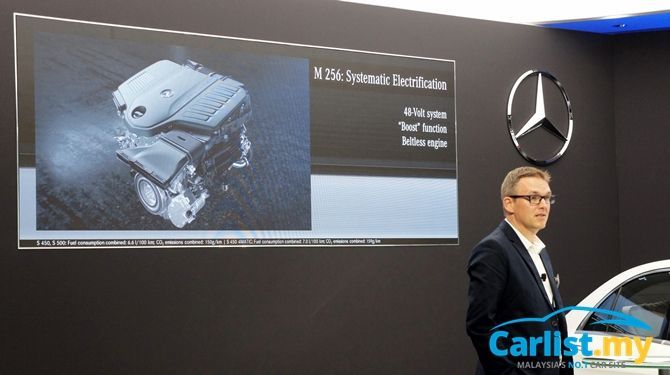 Rivals include the BMW 7 Series, Audi A8, Lexus LS and Jaguar XJ; but realistically its only rival is the locally-assembled BMW 740 Le, simply because it's priced the closest.
Exterior
When viewed from the front, it's very easy to tell the new S-Class apart from the pre-facelift model. The signature grille's slats are now thicker while the MultiBeam LED headlamps now feature a triple 'torch light' pattern daytime running light. Changes in the rear are more muted, limited only to mildly tweaked LED tail lamps and a new bumper.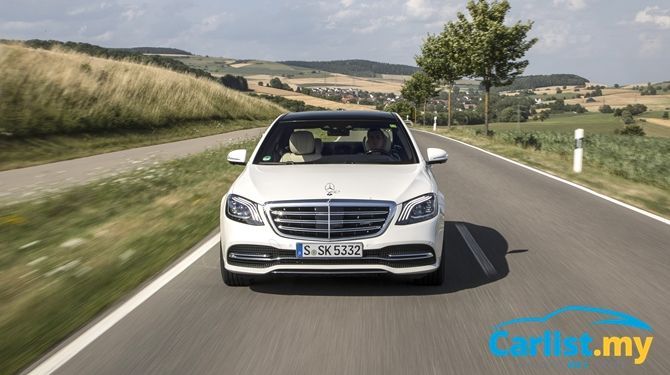 Interior
Inside, the most noticeable change is the new three-spoke steering wheel, replacing the previous model's two-spoke item. It now comes with touch sensitive buttons on either sides, allowing for easier two-axis operation of infotainment and driving assistance functions.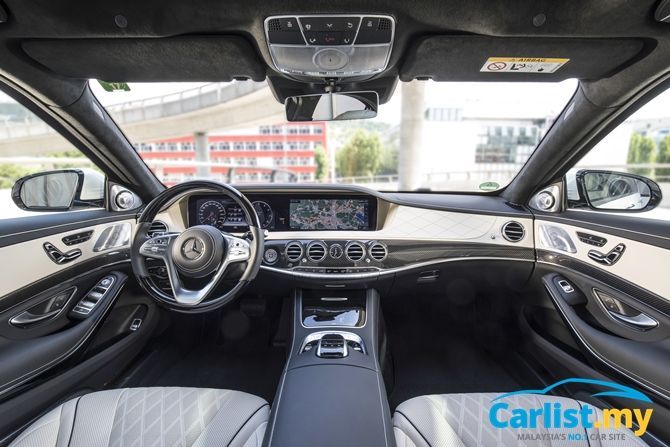 The display on the dashboard has been upgraded with a widescreen format. As before, it's still made up of two 12.3-inch screens joined together but the difference is that the bezel separating the two screens is now so thin that the two screens appear as a one-piece display.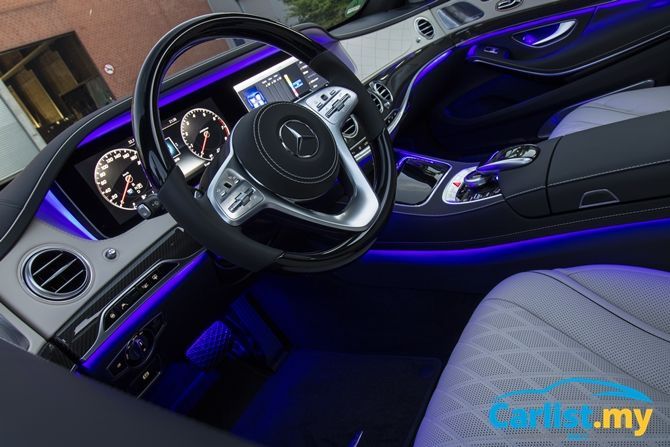 Wireless charging is now available for compatible smartphones.
The Linguatronic voice command system has also been improved, but from our brief experience, it's still poorer than the natural language input system used by Volvo. The COMAND infotainment is mostly unchanged, which is another way of saying user interface remains poor.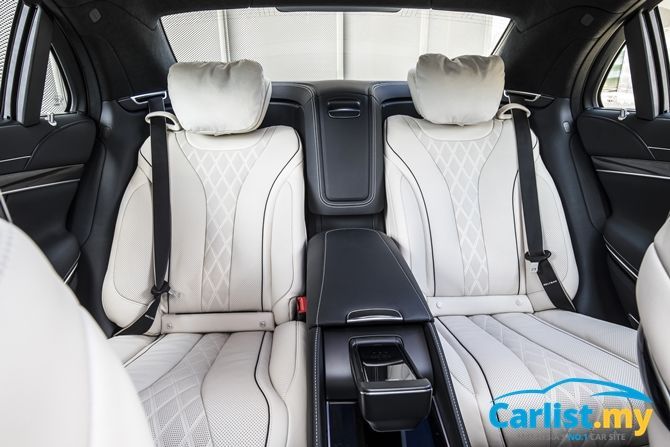 Ironically, the Mercedes-Benz with the best infotainment system is not the S-Class, but the all-new A-Class, which features Mercedes-Benz's latest MBUX interface. However as the new S-Class is still built on an older architecture, MBUX will only be available in the next generation model.
Driving Experience
Nobody buys an S-Class expecting it to handle like a BMW but even so, the S560 doesn't drive like a land barge. It's more of riding the clouds in a Boeing jetliner than floating in a cruise ship; immensely capable of delivering a magic carpet ride at speeds.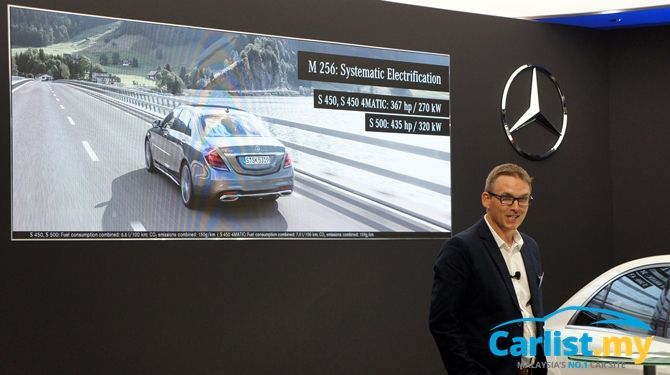 The M176 V8 under the bonnet is the same engine that powers those perpetually angry 63 series AMG cars; farting exhaust notes, growling intakes and all, but in the S560, it's been sedated by milder computer codes.
The 9G-Tronic automatic transmission is also new, replacing the previous 7G-Tronic and is standard on all non-AMG S-Class. Normally, we are not big fans of Mercedes-Benz transmissions as they're typically slow to respond but when paired to a big and torquey V8, the shortcomings were not felt.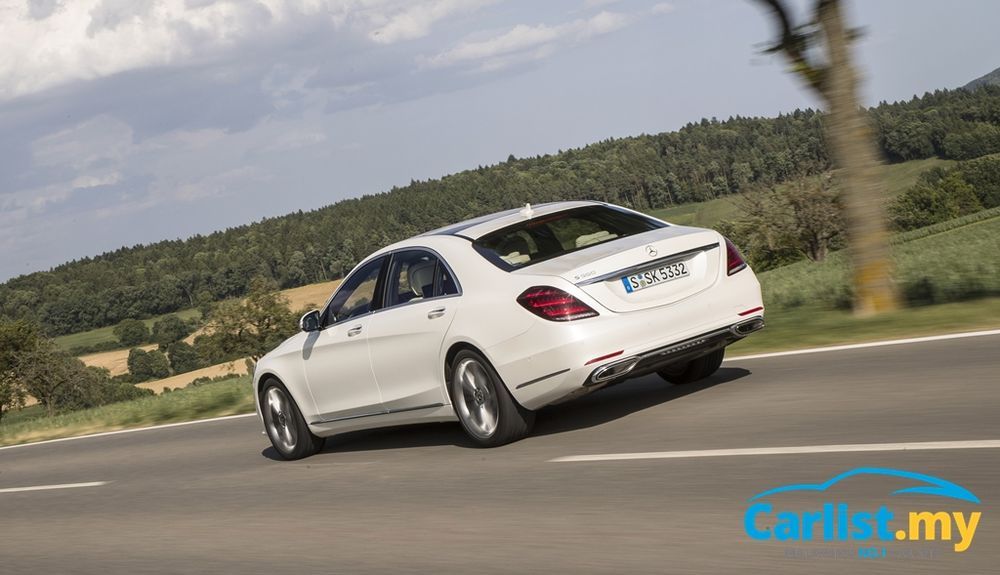 When judged on its own, the new S-Class traces the tarmac very well. It has sufficient agility to get you out of tricky situations but there's no masking that this car weighs over two tonnes.
It is only when you pit it against an equivalent Carbon Core chassis BMW 750 Li that the extra 150 kg weight penalty becomes obvious, but we are talking about driving maneuvers that would make a chauffeur lose his job immediately.
Comfort
What the S-Class lacks in outride handling prowess, it more than makes up for with its supremely well insulated and comforting cabin.
Shut the tightly sealed power-assisted closing doors, pull up the blinds to cover the thick noise reducing windows and the S-Class becomes a mobile refuge from the racket outside. We absolutely love the fluffy pillow behind. Set the rear sets in maximum recline, pull up the leg rest, and take a nap.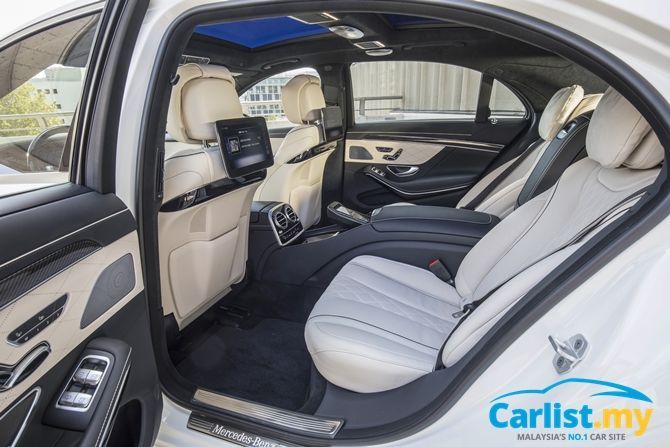 Our test car is configured as a four-seater, trimmed in Nappa leather, which again, is different from the standard leather used in our local S450, which is a bummer because Nappa leather is available in our local BMW 740 Le.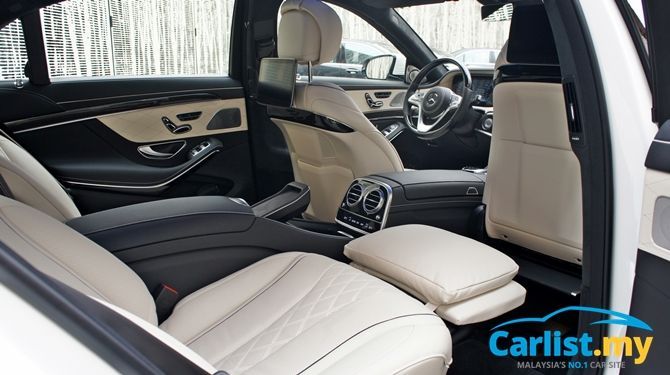 This particular S560 comes with the optional 'Energizing Comfort' function, which depending on the selected modes – Freshness, Warmth, Vitality, Joy, Comfort – adjusts the air-conditioning system's integrated fragrance diffuser, LED ambient light colours, music (it analyses the beats per music for any stored music files), and massager rear seats to create a particular mood. The function runs for a maximum of 10 minutes.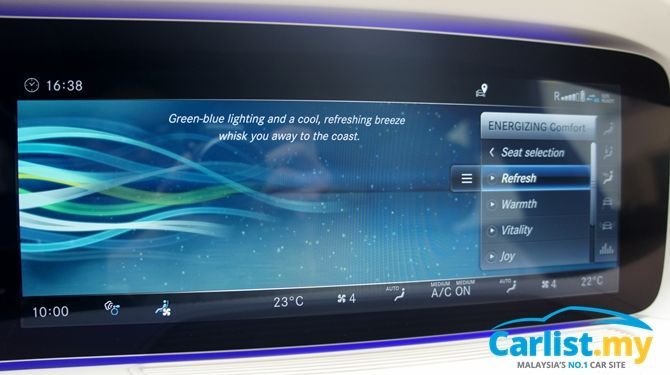 As before, Airmatic air suspension is a standard item on all S-Class variants but this particular S560 adds the Magic Body Control feature, which uses a pair of cameras mounted on the windscreen - the same pair used by the Intelligent Drive driving assistance feature - to scan the road ahead and proactively adjust the dampers shortly before the car takes a corner, thus keeping the car level.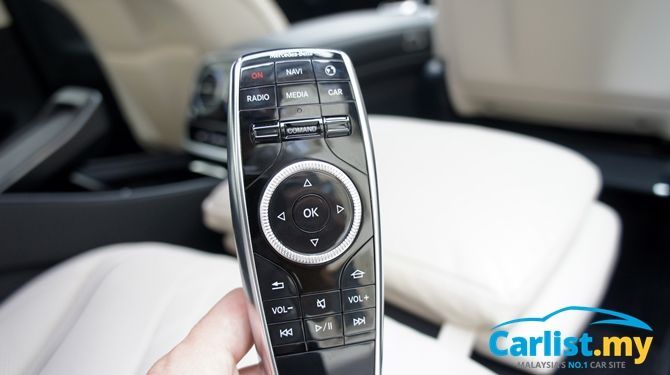 If there's any shortcomings, it's the TV remote-like infotainment control for the rear occupants. Having experienced the ease of control and wide range of functionalities of the BMW 7 Series' removable tablet, this just won't cut it and it feels like a big step backwards.
Fuel Economy
What sort of person buys an S-Class and asks about fuel economy? Well in many markets, a company's vehicle fleet contributes to their green certification assessments so if you have to know, the S560 is rated at 6.6-litre/100 km. Our 130 km plus drive on mostly countryside roads and a brief run on the highway saw the S560 averaging slightly below 11-litre/100 km.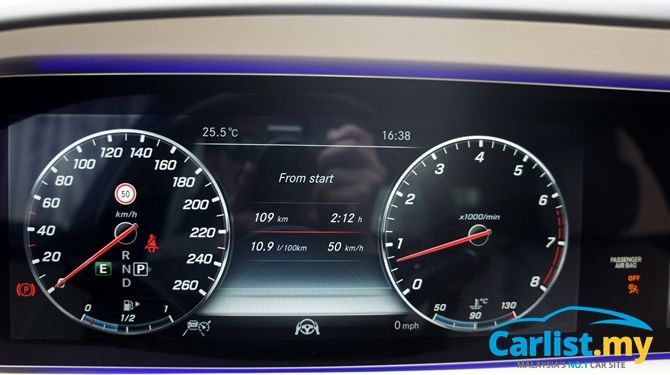 Conclusion
While this twin turbo V8-powered S560 is not officially on sale here in Malaysia, you can however get the same engine in the Mercedes-Maybach S560.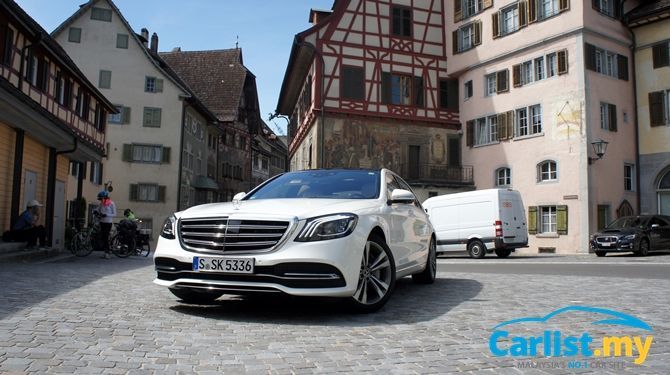 The car seen here may not be a good representation of our local S450 but it sets the tone for the S-Class' reputation and character. We will publish our review of our local specifications S450 once we get our chance behind the wheel.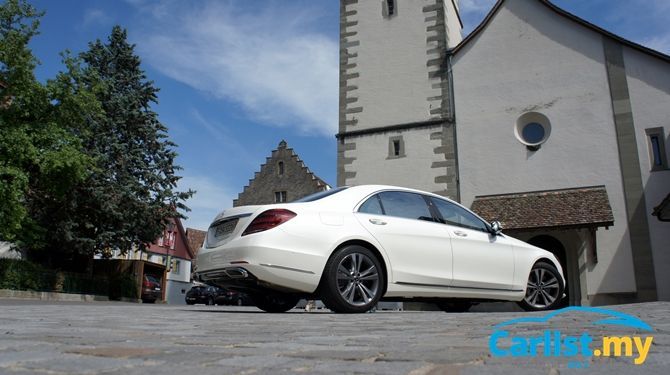 Despite being the oldest among its peers, the S-Class doesn't disappoint. Far from falling behind, its cabin appointments and the way it insulates you from the outside world remains peerless. The weakest link in the car is its COMAND infotainment system, whose confusing layer of menus makes it less intuitive to use than the 7 Series' iDrive. The rear seats also lack a removable tablet or touch screen control panel, which is the norm these days.
Read more: New 2018 Mercedes-Benz S450L CKD In Malaysia, From RM699,888
---
---
---
---
Comments