Mazda Reaffirms Commitment To Promote Clean Diesel Engines In Malaysia
Insights While others have given up, Mazda stands firm in its commitment to popularize clean diesel engines in Malaysia. The variant line-up of the recently launched all-new CX-5 is a reflection of this – the highest specifications model, with a full suite of i-ActiveSense advanced driving aids system (ADAS), can only be had with a 2.2-litre SkyActiv-D clean diesel engine.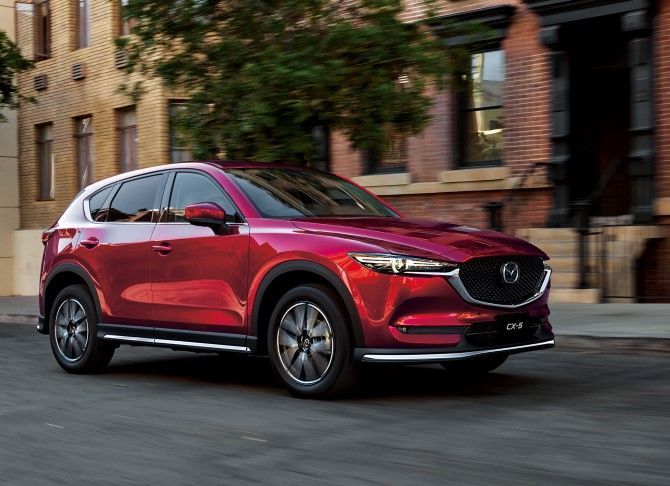 Following Volkswagen's widely publicized dieselgate scandal, the market share of diesel-powered private cars have dropped significantly in Europe, where diesel engines are most popular.
For the first time in recent years, registration of diesel passenger cars in Europe has dropped below 50 percent as more consumers switch to petrol and petrol-electric hybrids.
Mazda, whose SkyActiv-D clean diesel engines are the only ones in the world that don't require expensive urea-based Selective Catalytic Reduction (SCR) aftertreatment hardware, has been an unfortunate victim in the contracting diesel market.
While various European brands including Daimler, BMW and Fiat have also been accused (but never proven) of manipulating exhaust emissions test data, and being part of a Europe-wide collusion to game the regulations, none can be said for Mazda.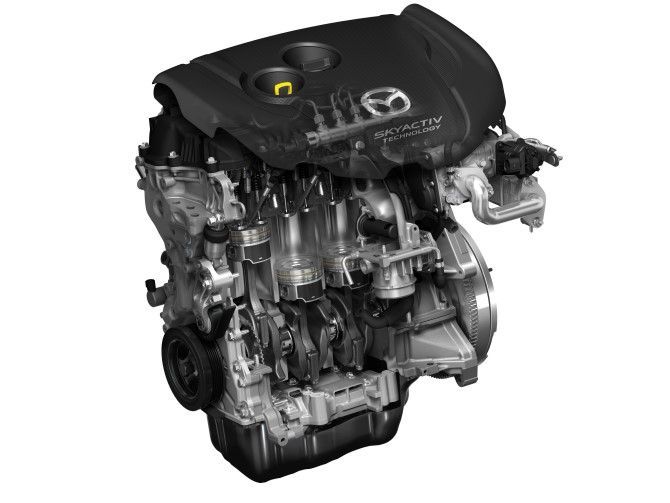 Mazda's diesel engines have been independently confirmed by various bodies to be as clean as Mazda claims it to be, and the company is not part of any industry-wide collusion to manipulate exhaust emission regulations.
Tests by Japan's Ministry of Land, Infrastructure, Transport and Tourism have implicated non-compliance by several big Japanese brands, including Toyota, Nissan and Mitsubishi but Mazda's diesel engines stand out as the only ones to match up to the manufacturer's claim.
Closer to home, diesels were never popular among private passenger car owners, and as Volkswagen doesn't even sell any diesels here, dieselgate is irrelevant to Malaysia. Instead, the concern has more to do with availability of the necessary Euro-5 low sulphur diesels that these sophisticated, modern diesel engines require.
In the passenger car space, Mazda stands alone in pushing the clean diesel agenda. BMW, once a very vocal proponent of clean diesels has since abandoned diesels in favour of petrol-electric plug-in hybrids. Likewise Mercedes-Benz, which at one time sold a diesel-electric hybrid W212 generation E300 BlueTec Hybrid.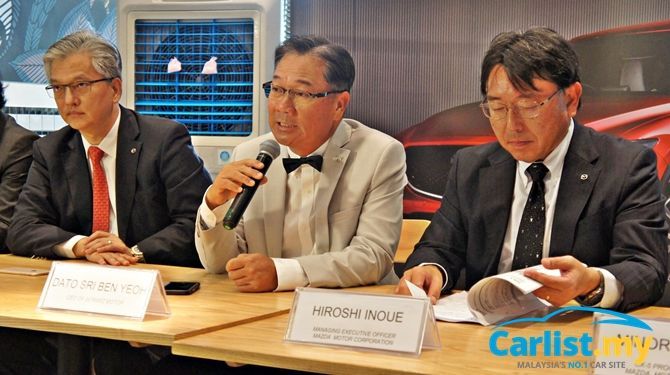 When asked about Mazda's longer term objective for SkyActiv-D in Malaysia at yesterday's launch of the all-new CX-5, Datuk Sri Ben Yeoh, CEO of Bermaz Motor said, "We appeal to the younger generation, people who are well informed. As you are aware, the current diesel engine that we are selling with the CX-5 is environmentally friendly. It meets the strictest emission regulations. It is in total compliance in both real world situations, and in testing mode. So what we are doing is basically changing the mindset – that diesel engines are polluting and have high pollutants in terms of PMs (particulate matters). But with these new generation diesel engines, it's relatively clean. And they have very low NOx levels. In fact we don't even need a NOx filter (SCR)."
Yeoh also added that the many petrol engines on our road are silent polluters, "It has very low PM, no doubt, but the NOx, CO and CO2 content is actually very high because the current regulations don't require a lot of compliance as far as emissions are concerned. You don't see it, you don't smell it, but it's relatively high in terms of pollutants. So it's (Mazda's clean diesel engines) actually evolving into a better environment and we are trying to educate people that Mazda diesel engines are relatively clean."
Bermaz expects the high specifications diesel variants to contribute incremental gains in sales over the previous model, citing wider availability of Euro-5 diesel and positive influence of early adopters of Mazda SkyActiv-D's superior fuel efficiency and performance.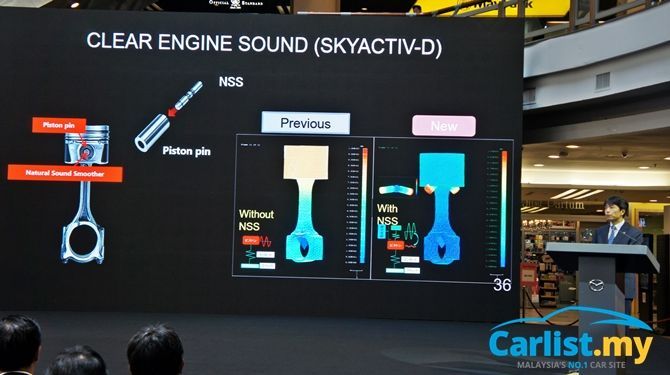 Compared to the previous model, this all-new CX-5's 2.2-litre diesel engine has been improved to run quieter than before. The pistons in the new and improved engine now feature Natural Sound Smoother – a damper inside the piston pin to reduce diesel clatter noise. The improved engine will be progressively rolled out in other Mazda diesel models.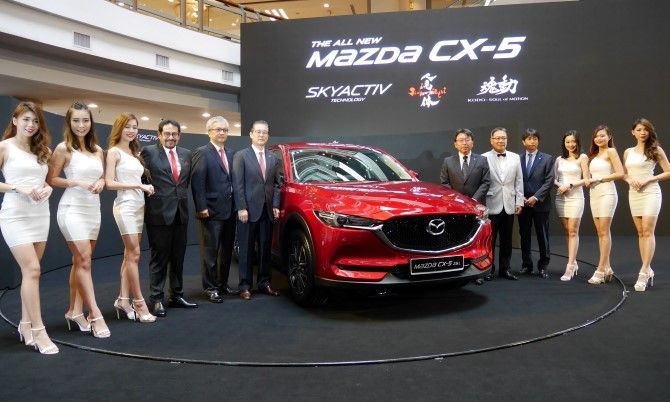 Prices of the all-new CX-5 start from RM134,205 for the base model 2.0G petrol GL 2WD. Petrol variants tops out at RM160,596 for the 2.5G petrol GLS 2WD, gaining leather seats, metal and wood trimmings, LED headlamps and tail lamps, and autonomous emergency braking (Smart City Brake Support, SCBS). The range topping 2.2D diesel GLS 2WD and 4WD's LED headlamps gain adaptive function while safety kit is beefed up by i-ActiveSense. The two variants are priced at RM164,179 and RM174,779 respectively.
---
---
---
---
Comments