Mitsubishi Triton VGT Adventure Review – Keeping it Right and Real
Reviews As pointed out in our earlier review of the Mitsubishi Triton, pick-up trucks offer plenty of bang for its buck thanks to their classification as commercial vehicles, which exempts them from excise duties. Yes, pick-up trucks do offer more carrying capacity and more usable torque than your average family sedan, as seen with the mass proliferation of pick-up trucks amongst city dwellers, but pick-up trucks aren't for everybody, and we aren't talking about pulling off a three-point turn in a downtown alley.
Pick-up trucks at their heart are still workhorses, made to haul impossible loads sometimes through impassable terrain, and because of that pick-up trucks are made to be more rugged than refined. Some pick-up truck makers have been trying to appeal to car buyers by heaping their pick-up truck models with the latest driver aids and fancy on-board features to woo an audience who are entranced by its imagery rather than its purpose.
However when Mitsubishi launched the all-new Triton, it didn't ready it with sophisticated car like suspension or advanced features on board. Instead the Triton formula looked almost plain, when compared to the new pick-up truck entries on the block. Was the Triton a missed opportunity for Mitsubishi to re-establish its place in the pick-up truck hierachy, or is there more to the Triton than what is written on its specification sheet?
Mitsubishi Triton VGT Adventure Specifications
Price: RM119,600 OTR with insurance
Engine: 2,477cc 4-cylinder turbocharged diesel
Max Power: 178hp @ 4,000rpm
Max Torque: 400Nm @ 2,000rpm
Transmission: 5-speed automatic, four-wheel drive
Safety Features: Dual airbags, ABS with EBD, ISOFIX child seat anchor points, reverse camera
Origin: Fully-Imported from Thailand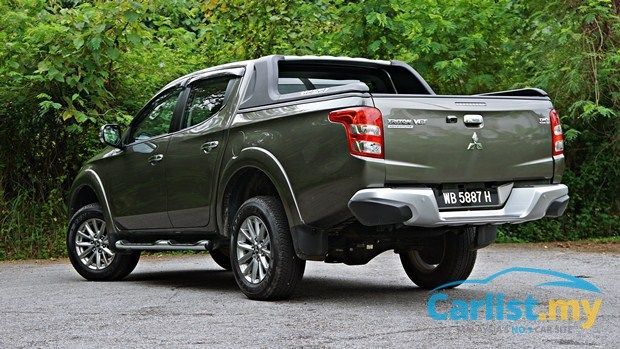 Overview
Though the Triton didn't boast big ticket game-changing technologies at its debut, it brought to the market several first in its class features. Features such as paddle-shifters and keyless ignition were first seen on a pick-up truck in the Triton. Although these features are commonplace on your average sedan, and therefore not the sort of things to grab the headlines, the Triton still impresses in many other subtle ways, without diluting or straying from its utilitarian purpose.
Exterior
Admittedly I wasn't a fan of the Triton's new look when images of it first emerged. It wasn't as though its predecessor was a thing of unmitigated beauty, but its brutish and simple shape was somewhat befitting of its pick-up truck persona, whereas the Triton's new clothes with its chrome grille and sculpted salamander head looked odd and a little OTT. But the more I looked at it, the more I took a strong liking to its new looks, especially when seen from its side where its rakish and elongated cabin profile gives it a muscular and sleek appearance.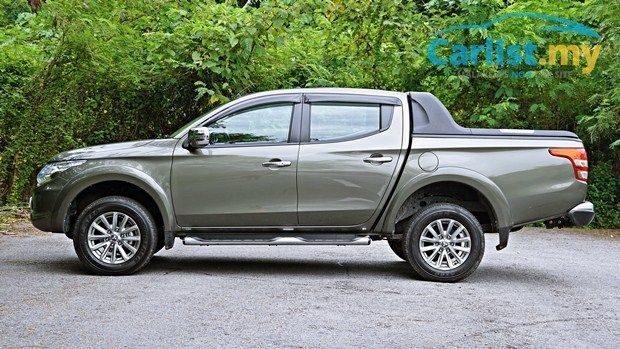 Its sleek shape isn't just a visual treat, Mitsubishi says that its new profile makes it very aerodynamic. According to their own internal test figures, the Triton is capable of achieving a drag coefficient figure of 0.42Cd, which is good for a pick-up truck.
Interior
In keeping up with the buyer expectations of having a car-like experience, the Triton comes with a suitably modern cabin. While it might not be as plush as what you would find on a conventional car or SUV, the Triton's dashboard build quality and finishing is better than what you get on the insides of most pick-up trucks. The traditional pick-up truck differential gear lever in the Triton has been dropped for an easy-to-use electronically-operated Shift-on-the-Fly 4WD selector dial, whereas the analogue air-conditioning control dials have been replaced by a digital dual-zone climate control unit, and not to mention paddle shifters loaned from the ASX.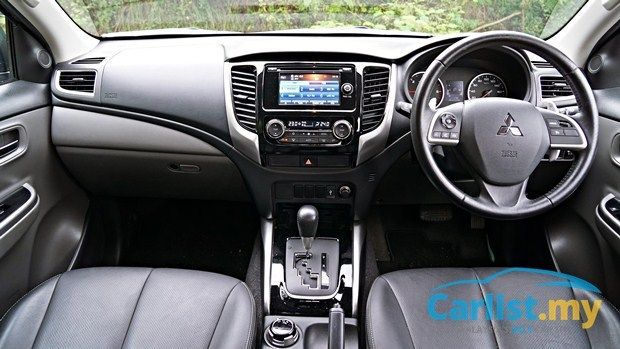 The Triton now features its own in-built touchscreen infotainment system with MP3, USB, Bluetooth, voice recognition, and reverse camera features. That being said, with one hand Mitsubishi has given, with another they take. The old digital barometer, temperature, and compass display from the old Triton is no more, and even though most users, myself included, won't use it all the time, it was a neat feature to have nevertheless.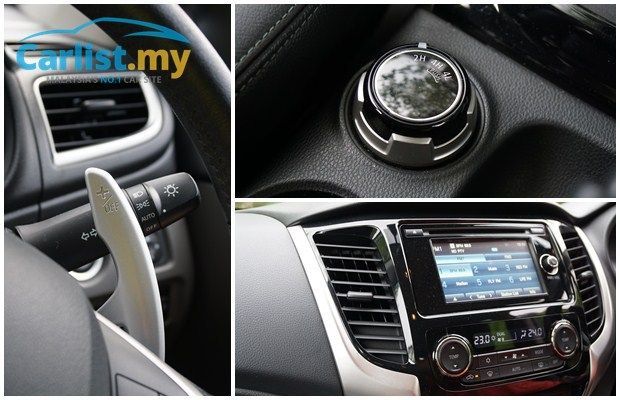 How is it like to Drive?
If there was one thing the Triton was renowned for, it was that it was one of the best pick-up trucks to drive, and its successor is doing a fine job carrying on with that reputation. Despite its simple and conventional pick-up truck rear leaf spring suspension and imposing size, the Triton grips and drives better on the road than most pick-up trucks in its class.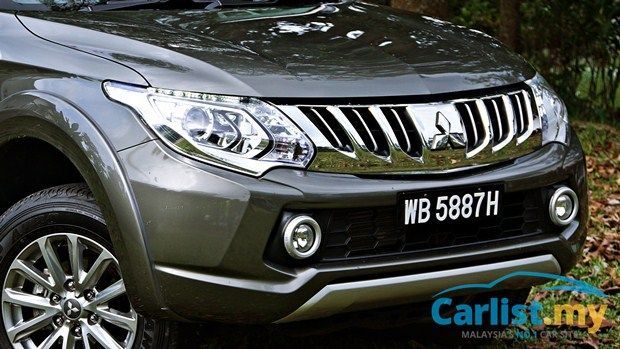 Although the Triton's 2.5-litre comes packed with a powerful 178hp and 400Nm diesel engine, the Triton doesn't feel like a rampant stallion that will launch itself forward the moment you get on the throttle. For all its power boast the Triton only picks up the pace at 2,000rpm and beyond, and the transmission programming would rather keep the engine humming below that mark for the purpose of fuel efficiency and keeping the noise levels down.
As characteristic of most variable geometry turbine equipped diesel engines the Triton's engine does suffer from turbo lag, with a slow and steady build-up of grunt that only starts to feel punchy at 2,000rpm. Thankfully the Triton's paddle shifters would drop a gear at your immediate whim, and get the engine revving in the thick of its power band to punch out its generous 400Nm torque reserves.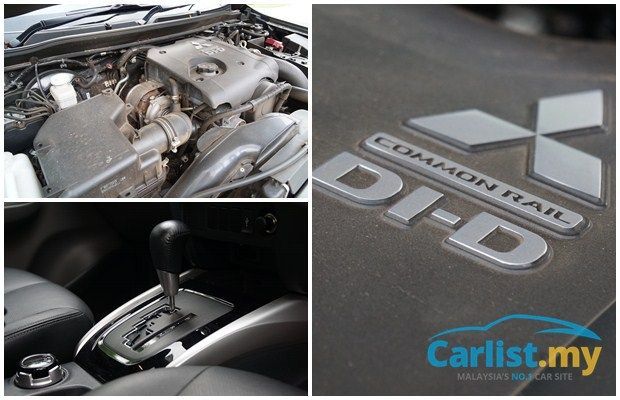 Above 2,000rpm and the Triton manages to dispense a very linear power delivery that is easy to manage, especially when you are traversing through some challenging off-road sections. With an easy-to-use 4WD selector dial, switching between rear-wheel, four-wheel, and low-range four-wheel drive mode is now made so much more convenient with the electronics left to strong-arming the mechanical bits beneath.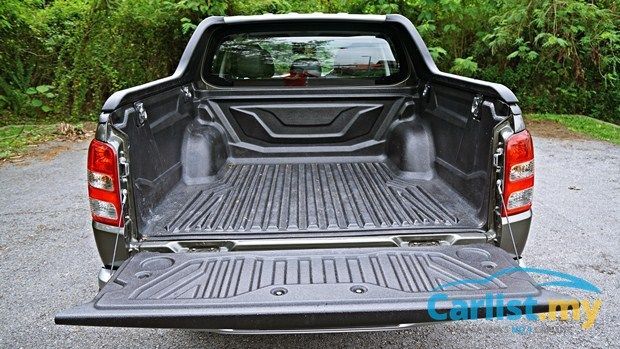 How is it like to Live With?
One of the most impressive improvements in the new Triton is the level of soundproofing fitted to it, especially when it comes to the area of supressing road roar. Even when cruising at speeds above 100km/h there is barely any road noise to be heard, and engine noise in the cabin is also remarkably low at cruising engine speeds, giving driver's the impression that they are travelling slower than they really are, not as though that is a bad thing.
That being said the ride is still as good as a leaf-spring suspension fitted pick-up truck can be. There is the distinct shock, though it is subtle in the Triton's case, even when travelling over small bumps or bridge expansion joints, an aspect of its ride quality that is more apparent for rear seat passengers.
It isn't all bad for rear seat occupants however as Mitsubishi's engineers has expanded the cabin by 20mm in length, bringing 20mm more rear legroom, as well as widening it by 10mm. Mitsubishi also says that the seat ergonomics have been improved for better support and comfort, and in this respect they have done a fine job. There is more support in crucial areas such as the back and the legs, with better cushioning all round to spread out the load on your back.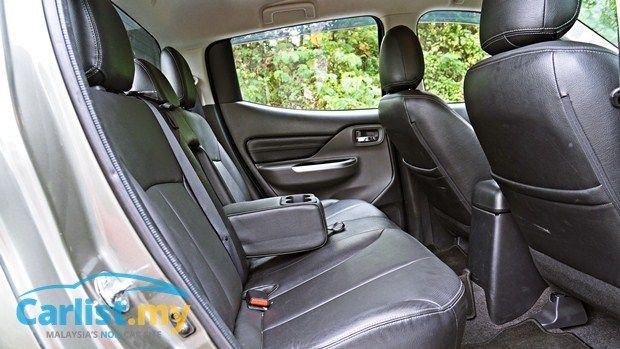 In terms of practicality the Triton's keyless ignition system is a godsend especially when it helps not needing to take out any keys to unlock the truck, putting it back into your pocket when climbing on board, and having to fumble around for it again to start it up. Yes, keyless ignition is often taken for granted these days, but in the pick-up truck context, especially when loading it up with heavy cargo, this feature is a hugely convenient addition for drivers and occupants.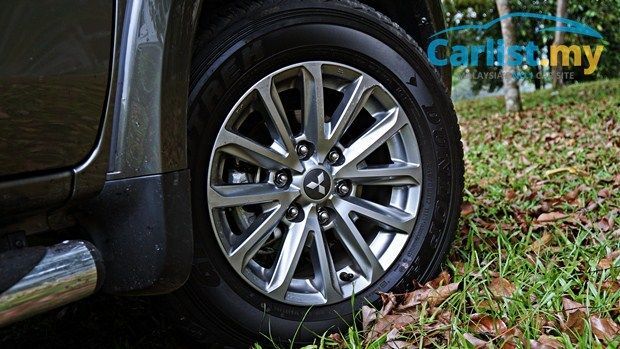 In terms of interior storage, front occupants won't be lacking in need as the Triton's cabin is generous with storage bins in the centre console and large storage places on the door panels. However we found the button-operated glove compartment lid to be problematic as it had a propensity to get stuck if you don't immediately pry the lid open. Around the back the door panels come with smaller storage bins, while the centre foldable armrest comes with two cup holders.
How Economical Is it?
In mixed conditions that included cruising at steady speeds on the highway and getting into stop-go conditions in the city, the Triton managed to return a fuel consumption figure of 9.5L/100km on the trip computer. The figure is expected from a pick-up truck engine of its output, although I hoped it would have done better considering Mitsubishi's boast of its aerodynamic performance and relative light kerb weight of 1,835kg.
The Triton is offered with a three year or 100,000km warranty. According to Mitsubishi Motors Malaysia, the ownership cost of the Triton over a 5 year/100,00km period is RM7,800.
Safety Features
In terms of safety features in the pick-up truck segment, the Triton won't be pushing the bar as it offers the industry standard of dual airbags, with ABS and EBD braking assistance, and ISOFIX child seat anchor points. The Adventure VGT also comes with a reverse camera, which is located to the left of the tailgate, resulting in an image that isn't quite dead centre and something you would have to keep in mind of when reversing.

Conclusion
For what the Triton offers, it really deconstructs our ideas of what a pick-up truck really needs. Does it need advanced driver aids or sophisticated technologies? The answer is not really.
At the end of the day pick-up trucks still need to be usable without being overly complicated for the job it is meant to do. And the Triton doesn't seek to impress with bombastic new technologies or unique features crammed on-board, instead it understands that a pick-up truck needs to be tough, no-nonsense, and able to go anywhere at the drop of a hat. You get the impression that the Triton is built around that ideal, with improvements done in crucial areas for the comfort and convenience of its users.
It is a pick-up truck that hasn't lost sight of what pick-up trucks were built to do, and yet able to offer the right qualities that all will appreciate in their day-to-day dealings.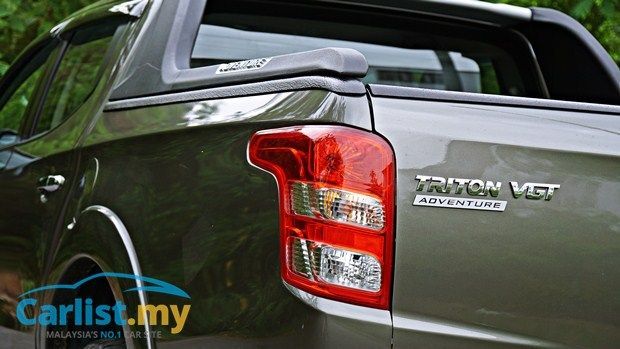 ---
---
---
---
Comments