N95 Filters To Come As Standard On All Proton Models Registered After July 9
Auto News We may be in the early days of the COVID-19 pandemic control but Proton is putting steps in place to keep you safe in your car.
---
Fresh last week from celebrating the 35th Anniversary of the Proton Saga with a limited edition Saga Anniversary Edition, Proton also announced that all Proton models registered after July 9 will come fitted with the N95 cabin filter.
The existing line-up of Proton models consisting of the Saga, Exora, Iriz and Persona registered after July 9 will all get the N95 cabin filter at no extra cost.
For those of you who would like to be equally protected, fret not, from July 9 until October 9 you can replace your cabin filter with a 15% discount. For the Saga, Exora, Iriz and Persona, it will set you back RM59 excluding labour, however, with the discount the price comes down to RM50.15. For the X70 pulak, the 15% discount applies till August 18, so from RM79, you instead get it for RM67.15. Not a heavy price to pay for another layer of security, is it?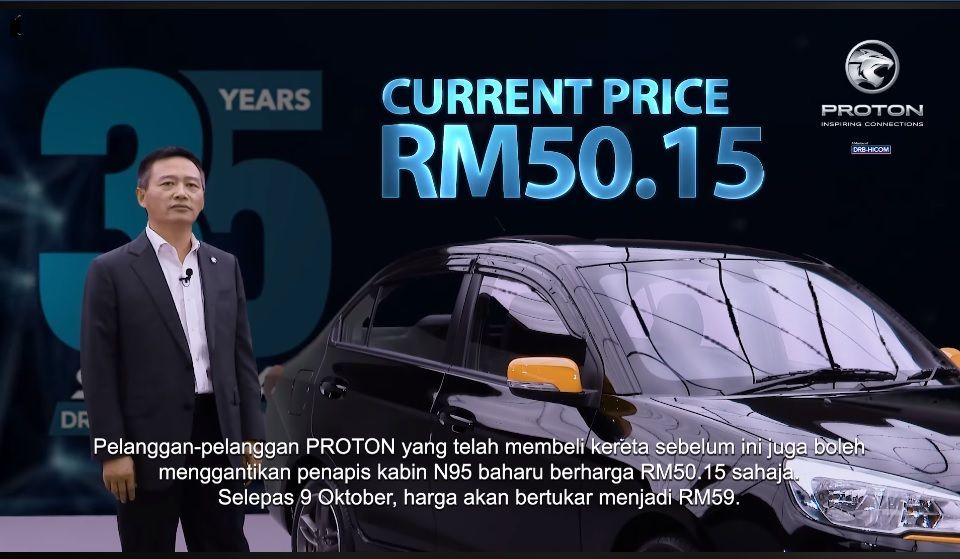 According to Proton, the N95 filter is capable of filtering up to 95% of particles larger than 0.3 microns 98% of particles of PM2.5 particulates. This should keep your cabin free of smoke particulates, dust and bacteria at the very least.
---
---
---
---
Comments