Oops! All-New Mercedes-AMG C 63 Coupe Leaks Early, 700Nm And All
Auto News Set to reveal in just a few days' time, it seems like the cat's gotten out of the bag a little bit earlier than Mercedes-Benz may have wanted. Leaked here is their Mercedes-AMG C 63 S Coupe (the badging around the rear gives it away).
Having already seen the four-door C 63, and the more recently the C-Class Coupe itself, one's imagination doesn't have to fire on all cylinders to piece AMG's hot Coupe together, but still, it's a treat to see. This image was reportedly leaked during a presentation of some sort.
Primed for direct competition with BMW's M4 Coupe, the C 63 Coupe takes on a far more rounded approach in design – it's a lot curvier than the sharp and aggressive M4, but is certainly packing heat. So much heat, that it's actually quite a bit more powerful than the BMW equivalent: the M4's 3.0-litre twin-turbo V6 puts out 431hp and 550Nm of torque, while the C 63 S's 4.0-litre twin-turbo V8 you see here will unleash 503hp and 700Nm of torque.
If or not all that power is capable of turning in a hotter lap than the M4, is certainly up for review.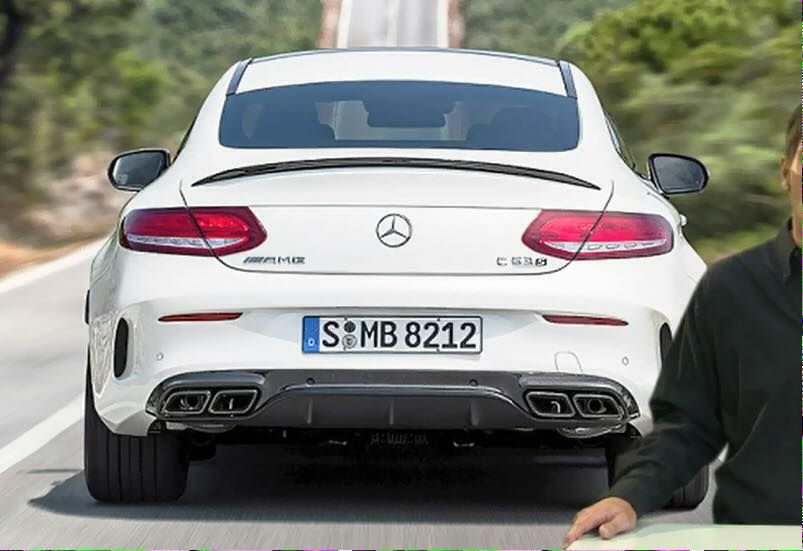 Examining the photos, it's not hard to spot AMG's aggressive exterior kit: wide air intakes up front, twin-bar radiator grille, contoured hood, quad-exhaust system, and more.
While Malaysians are set to get a hold of the C 63 AMG Sedan later this year, we don't think the Coupe would be ready for deliveries just as soon. Mercedes-Benz Malaysia will however have a bunch of new 'Dream Cars' to compensate, though.
For now, these two photos are all you'll have to hang on to, until Mercedes-Benz's big reveal, which is to come in just a matter of days. Hang tight, folks, and keep it on Carlist.my.
---
---
---
---
Comments