Paris 2016: Lexus UX Concept Shows Off New Compact Crossover Below NX
Auto News At the ongoing 2016 Paris Motor Show, Lexus has taken the veils off its UX Concept, another one of those coupe-inspired compact crossovers that is nevertheless boldly-styled and potentially foreshadows an actual production model that Lexus is keeping up its sleeve.
Technical details of the vehicle are not disclosed, but its bodily measurements reveal a vehicle that is shorter in length, wheelbase, and height than the NX, the smallest model currently in Lexus' crossover portfolio. Its interior is configured as a strict four-seater, but that can potentially change in an actual production model.
| | | |
| --- | --- | --- |
| | Lexus UX Concept | |
| Length | 4,400mm | 4,630mm |
| Width | 1,900mm | 1,845mm |
| Height | 1,520mm | 1,630mm |
| Wheelbase | 2,640mm | 2,660mm |
The UX's design follows what Lexus calls an 'inside-out' concept that seeks to strongly link between its exterior and interior design elements. The body work is moulded to appear as if as it is flowing into the cabin from the front and rear in criss-crossing shape when viewed from the top.
Further emphasizing the 'inside-out' styling theme, trim elements at the wheel arches, roof bar, and door cameras are finished with the same material and made to resemble the form of a bone structure emerging from within the body. Yes, we're trying to see it too.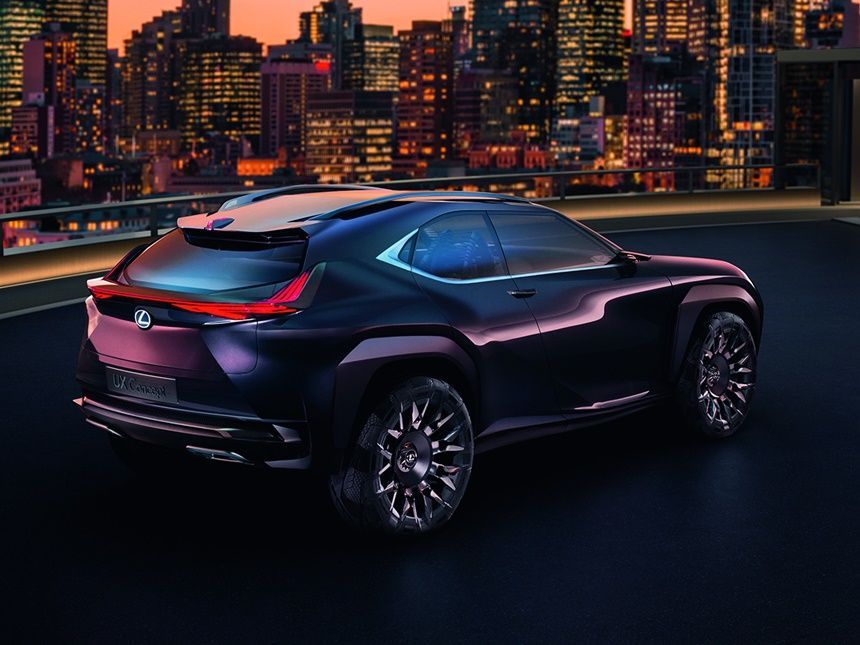 Perhaps the most unique styling-cum-structural element of the UX is its see-through A-pillar, which consists of polycarbonate fins attached to an aluminium member. Interestingly, Lexus claims that it has the means to feasibly make a fully transparent A-pillar entirely out of polycarbonate, but never elaborated why it did not embark on that exercise.
Inside, the UX Concept cabin builds upon the 'inside-out' concept and further expands it with strong interplay of shadows and contrasts created by sharp angular overlaps in place of a conventional dashboard. Lexus calls it the 'deconstruction' principle, and the idea is so that you'll have to think long and hard where various elements begin or end. From pictures, it sure reminds us of spaceships from alien horror movies.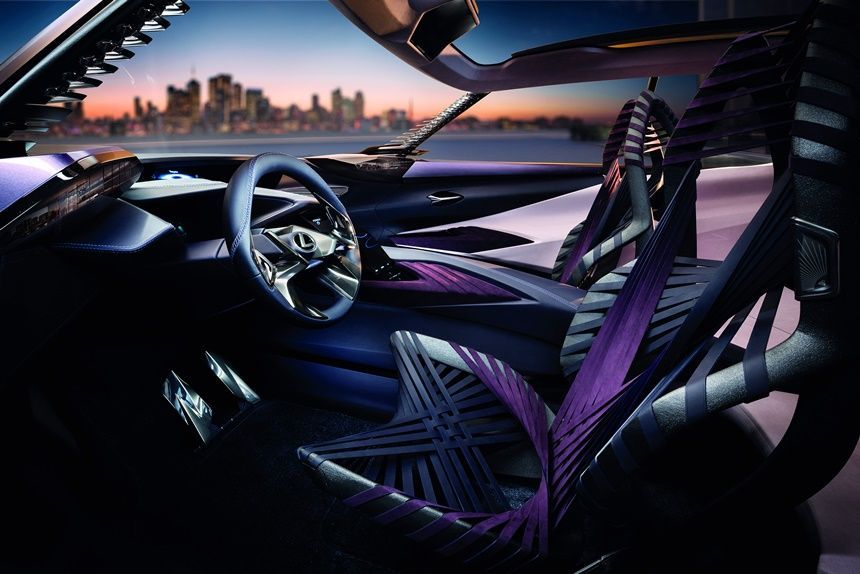 Besides its strong and forceful design language, the UX Concept also shows off Lexus' next-generation interface system and in-vehicle technologies. In place of the old-fashioned side mirror is a pair of slim cameras that project their images on internal screens.
All switchgear onboard is electrostatic and housed under transparent covers. Because the dashboard is deliberately angled to be extremely-driver centric, the front passenger gets a dedicated track-pad control for the centre display built into the passenger-side door card.
---
---
---
Comments