Perodua Announces Finalists for Eco-Challenge 2017
Auto News The Perodua Eco-Challenge is a competition that has been going on for close to a decade now, and it aims at offering local institutions a chance to showcase their skills in a competitive environment. For the first few years, the challenge was centred on improving the fuel efficiency of existing Perodua models and competing to see which team was the most efficient.
For 2017, the focus has shifted completely. It's not that it isn't exciting to see these cars competing, but rather that Perodua has decided to include a larger real-world element in the program. This coming year, the ten finalists will be conducting research and development in tandem with Perodua's own R&D team and vendors in order to produce a prototype component for Perodua's next model.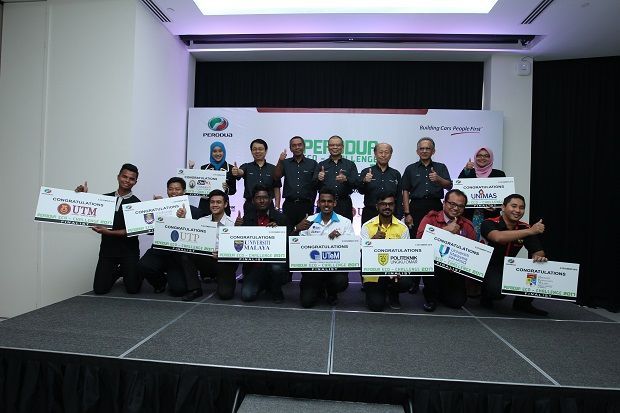 This kind of challenge is incredibly important and highly relevant to those participating and Perodua itself. For the participants it's a chance to show true competency when it comes to creating something that works in the real world, and it's likely that the component they produce will be mass-produced and in use for cars across the region.
For Perodua, it's a great way to give back to the community. The prizes are naturally quite lucrative, but it is the trust that they place in these local institutions that matter more. "These ideas must incorporate the 'unique Malaysia' element in their design as to make them truly stand out from other model offerings," Datuk (Dr) Aminar said.
Once the prototype is completed, the component will be reviewed by a team of judges in December 2017. Marks will be given on a stage basis where the institutions will be evaluated based on their progress and team participation.
Perodua Eco-Challenge 2017 finalists
Participants:
Universiti Teknologi Petronas (UTP)
Universiti Kuala Lumpur (UNIKL)
Universiti Kebangsaan Malaysia (UKM)
Universiti Teknologi Mara (UiTM)
Politeknik Ungku Omar (PUO)
Universiti Malaya (UM)
Universiti Teknologi Malaysia (UTM)
Universiti Teknikal Malaysia Melaka (UTEM)
Universiti Malaysia Sarawak (UNIMAS)
Universiti Malaysia Pahang (UMP)
Category & Prizes
No

Category

Prize

1

Design

1st – RM2,000

2nd – RM1,500

3rd- RM1,000

2

Product proposal paper

1st – RM7,000

2nd – RM5,000

3rd- RM3,000

3

Development of parts

1st – RM10,000

2nd – RM8,000

3rd- RM6,000

4

Overall

1st – RM20,000

2nd – RM12,000

3rd- RM8,000
---
---
---
Comments