Review: 2015 Mazda MX-5 ND – Forget Therapy
Reviews There are two groups of drivers – the ones who need 400 hp, and the ones who don't. If you are aligned with the former, then look away because this little RM220k-plus roadster with just 160 PS might sound preposterous to you. After all, the same money buys either a 220 PS Volkswagen Golf GTI or a 268 PS Renault Megane RS.
But if you are one of those who understand the appeal of a Lotus Elise or a Toyota 86, then read on.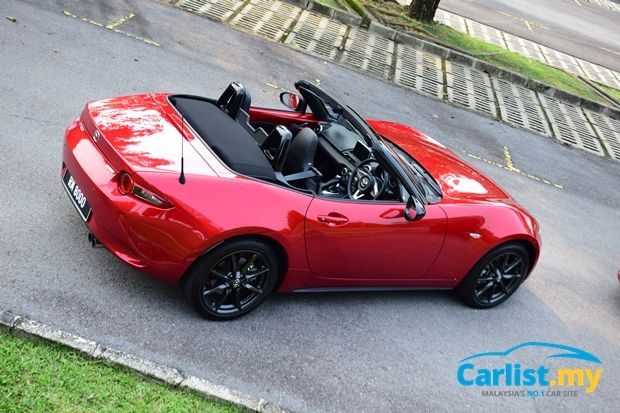 Specifications for Mazda MX-5
Engine: 2.0-litre longitudinal four-cylinder DOHC
Price: RM226,376 (including insurance)
Power: 160 PS at 6,000 rpm
Torque: 200 Nm at 4,000 rpm
Transmission: 6-speed automatic with paddle shifters
Safety: 4 airbags, anti-lock brakes (ABS), electronic braking force distribution (EBD), emergency brake assist (BA), electronic stability and traction control (DSC and TCS)
Origin: Fully-imported from Japan
Overview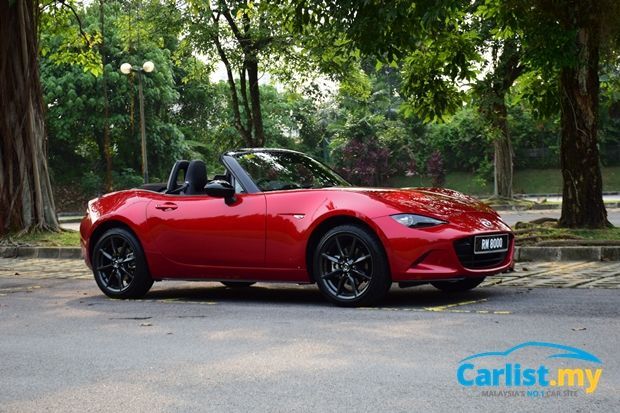 The fourth generation of the world's best-selling roadster, the ND-generation MX-5 don't need much introduction. In the past, you could only buy one via parallel importers but Bermaz Motor now sells it for RM226,376 (including insurance). Only one variant is available – the 2.0-litre model with a 6-speed automatic.
Forget what you read in the foreign press about the MX-5 being a working class hero. Within Malaysia's opaque tax structure, the fully imported MX-5 is an indulgence for the privileged.
Its closest competitor is the 200 PS Toyota 86 – imported by UMW Toyota Motor on a special order basis only, priced north of RM230,000 (price on application only), that or you go to a parallel importer.
Comparisons with the Renault Megane RS and Volkswagen Golf GTI are inevitable but those two front-wheel drive hot hatches follow a very different design philosophy.
The 2-litre SkyActiv-G engine is similar the one used in other Mazda models, but has been modified slightly for rear-wheel drive application.
With just a mere 160 PS on tap from a naturally-aspirated 2.0-litre four cylinder engine, the MX-5 is not going to win any races.
So why is it that so many enthusiasts sing praises about the MX-5?
CarThrottle's Alex Kirsten loved it to bits, our ex-colleague and ex-Evo editor Daniel Wong, who has since moved to Australia, genuinely thinks his NA-generation MX-5 is the best car in the world. Even Koenigsegg's test driver Robert Serwanski has one, famously using it to hunt down a much more powerful 997 Porsche 911 GT3 RS on the Nurburgring (below). Do they know something that we don't?
Exterior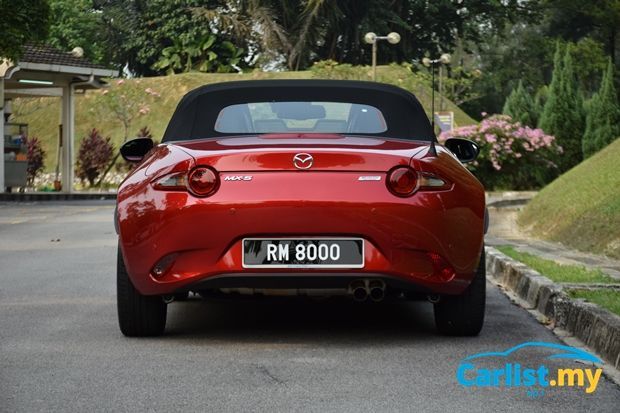 At a glance, the MX-5 looks tiny but its footprint area is actually bigger than a Perodua Myvi's – with the MX-5 being 220 mm longer and 70 mm wider.
While previous MX-5 models looked a bit too feminine, this ND-generation model is a bit masculine without alienating female fans.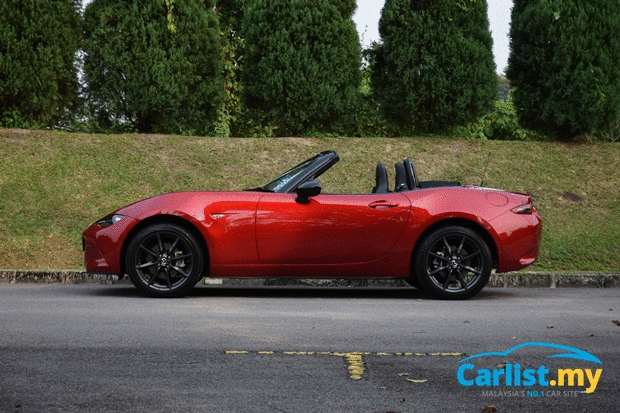 The manually operated soft-top is one of the best on the market. It's a lightweight, user friendly solution that does away with heavy electric motors, and can be operated with only one hand, on the move at slow speeds, and folds much faster than any electric folding soft-top. It's so simple that it makes you wonder why there is a need for power-folding soft-tops.
Interior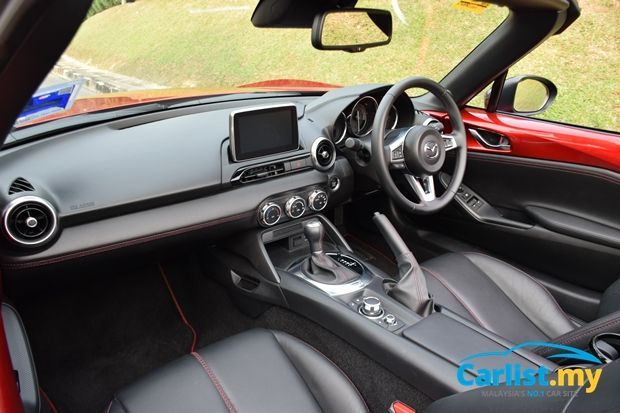 Weighing just 1,080 kg, the MX-5 is a very lean car (it's nearly 80 kg lighter than the previous NC-generation model) and it demands the same level of fitness from its driver too - the recommended weight for the driver is 75 kg.
Climbing inside the MX-5, my 90 kg friend had trouble finding a right seating position as the steering wheel only adjusts vertically, with no telescopic function. Taller individuals might also find themselves sitting too close to the fabric roof.
For me, the seating position is just perfect. You sit low, with your legs stretched out straight into the foot well, with your heels perfectly aligned to feather the floor-hinged throttle. The steering wheel is perfectly upright, with its centre of rotation aimed at the centre of your chest.
It's almost like sitting in a junior Formula series race car.
The handbrake lever is high and near enough for a quick yank to initiate a slide.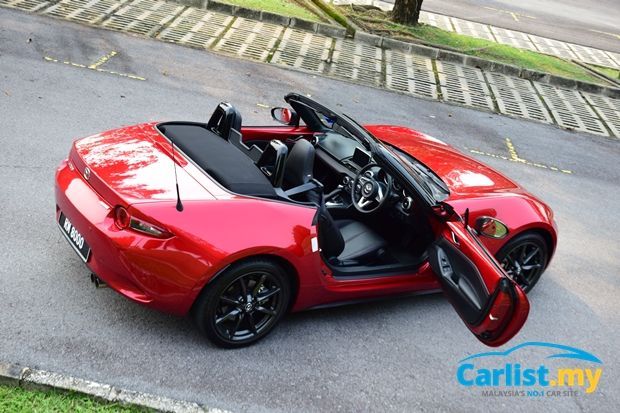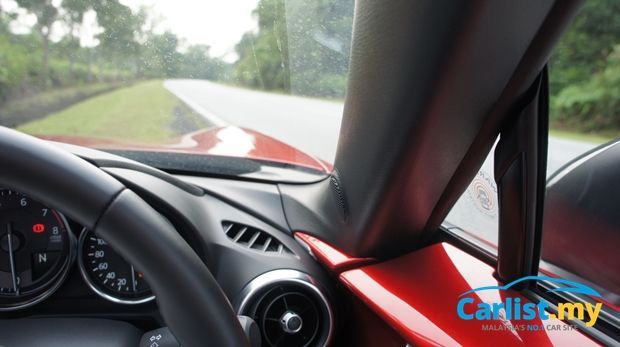 Another clever design detail are the painted inner door panels, which makes you feel like you are part of the car, rather than just sitting in it.
Like any recent Mazda models, the MX-5's interior rivals many entry-level premium models. It's not quite on the same level as the Mazda CX-3, but impressive enough considering that this is a lightweight roadster.
How does it drive?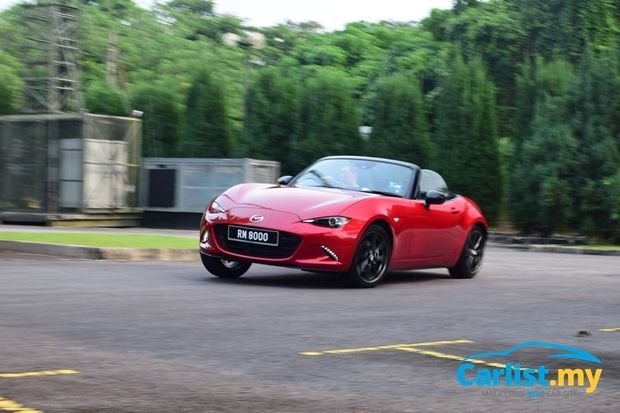 'Jinba Ittai' is Mazda's highly concentrated mix of Zoom-Zoom – loosely translated as 'harmony between horse and rider' and the MX-5 is Mazda's ultimate expression of Jinba Ittai.
It doesn't matter if you are just driving to the shops or carving your way up the dragon's tail tarmac of Fraser's, nothing else on the market compares to the way the MX-5 drives.
The steering is electrically assisted but feels perfectly natural – sharp and communicative. Every measured input is instantaneously felt in your hips.
Until you drive an MX-5, you will never fully understand the meaning of steering with the throttle and feeling the car with your bum. Yes, you do get that same feeling in many other sports cars, but none of them are as honest as the Mazda.
In many other sports cars, the car is far more talented than you are, using complex electronics to massage your ego, telling you half-truths about you being a better driver than you actually are.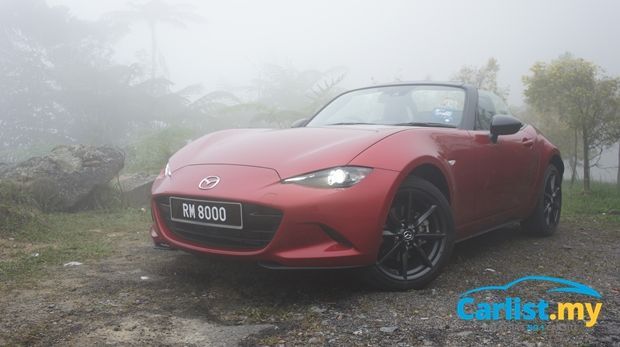 The MX-5 is refreshingly honest and you are your own master. You and you alone determine what the car is going to do, no fancy driving aids.
In many other sports cars, you sit very close to the centre of gravity. In the MX-5, your bum is the centre of gravity. So it doesn't matter whether you are taking a corner at a leisurely 30 km/h or accelerating out of an apex at 130 km/h. You feel every movement of the car, it pitches and rolls around you. You are the centre of the MX-5's universe.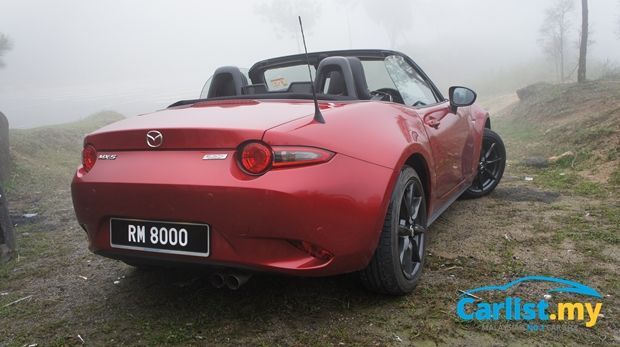 Forget therapy or anti-depressants. What you need a good dose of Joy administered through your butt. The drug is a pharmaceutical concoction created by the action of sucking, squeezing, banging, and blowing petrol, oxygen and spark. When the resulting g-forces transmit up your spine to your brain's pleasure centre, Joy happens.
When Joy happens, you don't care how much faster the guys in their Golf GTIs or Megane RSes are going. You might even find yourself taking a ridiculously long route to get to your destination, intentionally making multiple wrong turns.
This is a car that makes you want to reach your destination later, just so you can spend a little more time in it. It's like sex, you don't want a sprint, you want to take your time and soak up every little bit of the experience, topless.
Push the car harder and the MX-5 gives out a nice, raspy roar. With the top down, and you sitting so close to the road, it fools into thinking that you are going much faster than you actually are, which is a good thing in a car like this. What matters is not what the speedometer or the stopwatch says, but how the car makes you feel.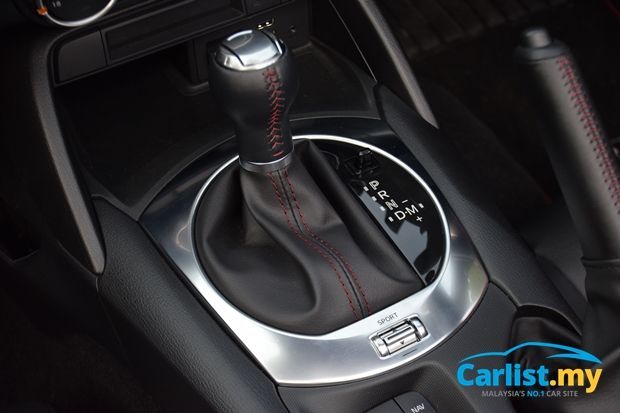 The 6-speed automatic transmission looks curiously similar to the one used in the Toyota 86. Both are Aisin-sourced units but we cannot confirm if they are exactly the same. Purists might prefer to have a 6-speed manual option, and we can understand why, but objectively, there is little to fault with the automatic.
Shifts are quick and executed at the right rev range. In Sport mode, there were very little occasions when I had to use the paddle shifters, which says a lot about how intelligent the transmission is.
It even obliges well when you want to coax the tail to slide out a little, which was surprisingly easy to do even when shod with grippy Bridgestone Potenza S001 tyres.
Pitch it into a corner, the front-end dips and rolls quite a lot, which is exactly what you want in a user-friendly roadster. It's a refreshing change from the recent crop of hard-riding 'Nurburgring-inspired' performance cars. The soft but well damped suspension makes it easy to change that car's attitude by shifting weight balance front-rear, all while maintaining a very instinctive feel of what the car is doing.
How comfortable is it?
Being a fabric soft-top, one would naturally expect the cabin to be very noisy even with the top up. The cabin remained quiet enough for conversations even at speeds of up to 140 km/h. It's still noisier than an equivalent coupe but you don't need to raise your voice to be heard.
Just be careful of bird droppings though, because scrubbing the top is delicate work.
You would naturally expect roadsters to have a very harsh ride, but the MX-5's ride quality isn't that different from many regular Mazdas – firm but still pliant enough.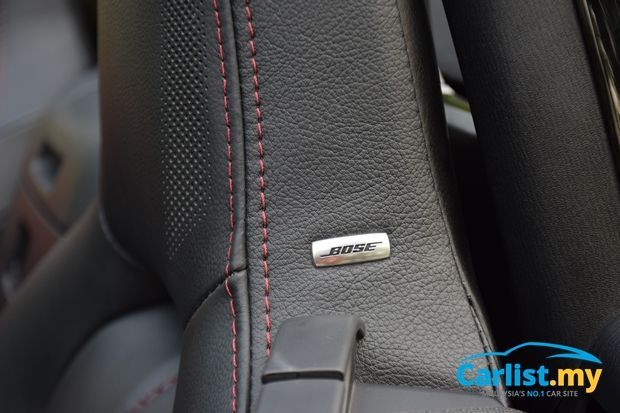 The Bose audio system however, is quite poor. There are a pair of speakers integrated into the seat's headrest but you wouldn't want to listen to your favourite tunes through them. Anyway, why would you want to listen to the radio when there is such a sweet soundtrack coming from the engine? Speakers add weight, and weight is a kill-joy. So good move Mazda.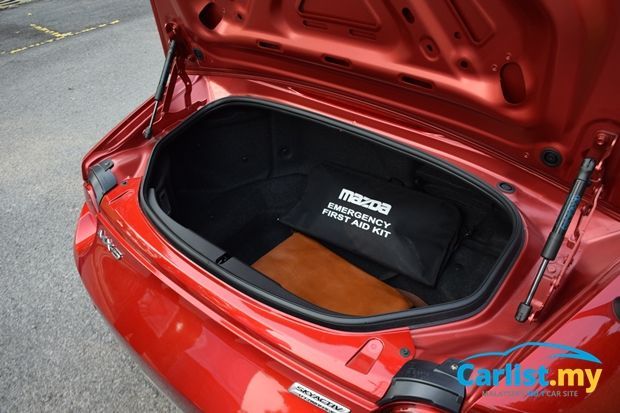 There is a small utility box between the front seats, and it also doubles as a pair of cup holders. The glovebox and boot is hopelessly small so pack light.
How economical is it?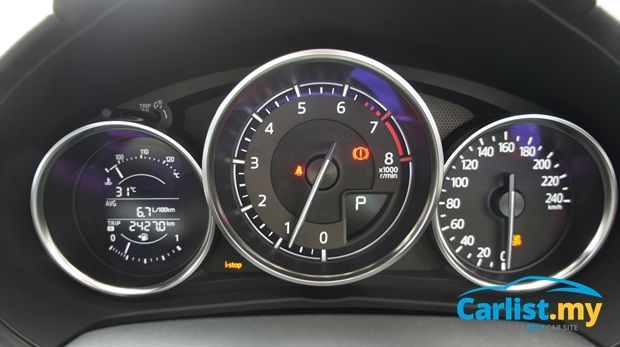 It doesn't consume any more fuel than a regular Mazda 2. Fuel consumption averaged between a very efficient 6.6- and 6.7-litres/100 km, even after a quick run up Genting Highlands and back.
Like all Mazda models bar the BT-50, the MX-5 comes with a 3-year free maintenance package that covers for both parts and labour.
Conclusion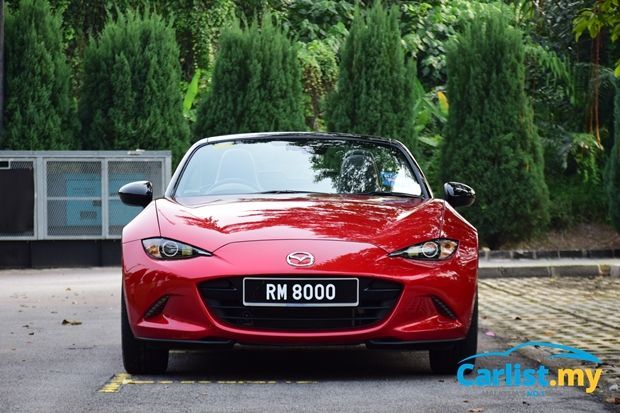 The MX-5 might be the world's best-selling roadster, but it's not for everybody, especially in Malaysia where we have more highways than twisty Alpine roads. For most people, a grand tourer or a hot hatch with a boot space large enough for a weekend getaway might be a better choice but those cars can never deliver the same emotional drive as the MX-5.
The MX-5 is one of those cars that every petrolhead must experience at least once in their life. It might not be the car for you, but the experience will tell you what you are missing out from other more powerful cars.
For the select few who appreciate the values expounded by the MX-5, it is the best car on sale today.
---
---
---
---
Comments