Review: 2015 Volvo XC90 – A glimpse of things to come
Reviews When Chinese manufacturer Zhejiang Geely acquired Volvo Car from Ford for $1.3 billion (RM5.3 billion) in August 2010, it brightened the Swedish brand's future, which was beginning to look rather dim. Like many, we were quite curious to know what was going to happen to the brand.
Will Volvo still be heading on the same direction as before, or would Geely intervene and take things down a whole new path were among the questions that many of us were asking ourselves.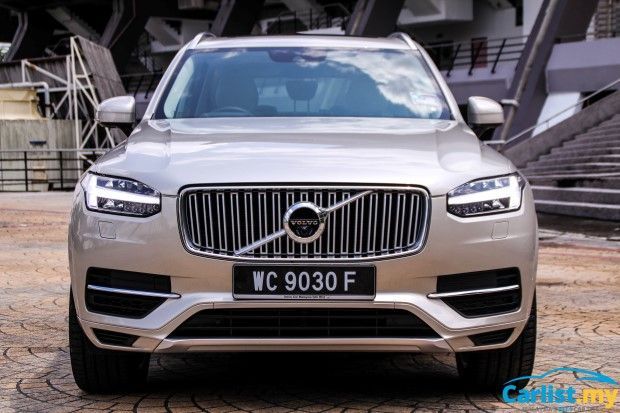 Besides that, this was the first time a Chinese carmaker had ever acquired 100 percent of a foreign company. So, we couldn't help it but feel a tad concerned about the future of Volvo because we didn't know what to expect from Geely.
However, one thing was made very clear by Li Shufu, the chairman of Zhejiang Geely – the aim was to restore Volvo Car to long-term profitability and to take the brand 'to the top of the hill'.
Thankfully, in its pursuit to take Volvo to the hilltop, Geely decided to sit back and let the Swedes continue doing what they do best - engineering very safe, and very powerful bricks on wheels. Although Volvo's unions opposed the deal over concerns that their jobs would be moved to China, Geely assured them that Volvo will be independently managed and will continue production in Europe, even though a new manufacturing facility in China that will double the Swedish carmaker's capacity is in the pipeline.
Four years later, the first model under Volvo Car's new leadership madeits debut - it is the vehicle that you're looking at now; the second-generation XC90.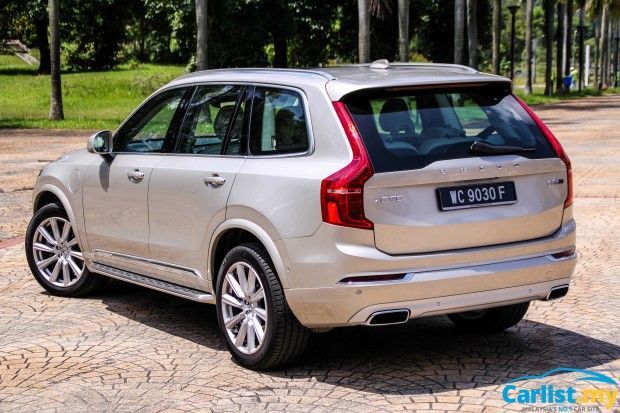 Specifications
Variant Tested: XC90 T8 Inscription
Price: RM453,888 (OTR without insurance)
Engine: 2.0-litre Turbocharged and Supercharged Petrol in-line four (transverse), Plug-in Hybrid
Power: 407hp
Torque: 640Nm
Transmission: 8-speed automatic
Safety: 7 airbags, Adaptive Cruise Control, City Safety with Front Collision Warning and Pedestrian and Cyclist Detection with Full Auto Brake, Lane Departure Warning, Lane Keeping Aid, Roll Stability Control and Hill Descent Control, BLIS, Run-off road protection, Auto brake at intersection capability, Park Assist Pilot system
Origin: Fully imported from Sweden.
Overview
The new Volvo XC90, which is the brand's flagship model at the moment, is a seven seater luxury all-wheel-drive plug-in hybrid SUV which competes with models like the Range Rover Sport, Audi Q7, BMW X5, and the Porsche Cayenne S E-Hybrid to name a few.
Riding on Volvo's Scalable Platform Architecture (SPA) – the company's modular platform technology that is expected to underpin at least eight more upcoming models in the future, the XC90 is globally available in two trim levels (Momentum and Inscription) with a wide selection of direct-injected four-cylinder petrol and diesel engines:
T5 turbocharged petrol, AWD – 254hp / 350Nm
T6 supercharged & turbocharged petrol, AWD – 320hp / 400Nm
T8 supercharged & turbocharged petrol with plug-in hybrid, AWD – 400hp / 640Nm
D4 twin turbodiesel, FWD - 190hp/400Nm
D4 twin turbodiesel, AWD - 190hp/420Nm
D5 twin turbodiesel, AWD - 235hp/480Nm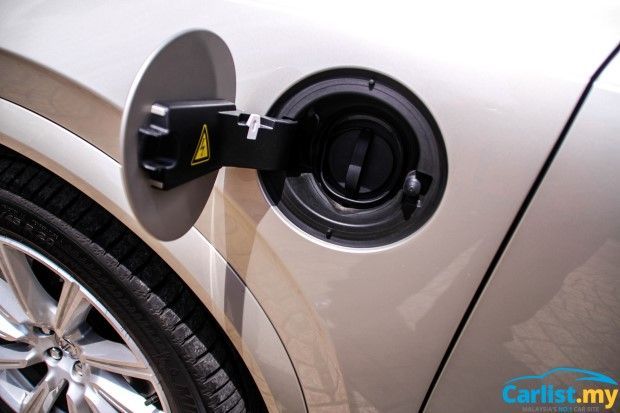 For Malaysia, only the top of the line T8 Inscription variant is available. One interesting thing about the XC90 is that it was supposed to be priced somewhere between RM800,000 and RM900,000, but thanks to the fact that it is a plug-in hybrid, and that Volvo Car Malaysia plans to assemble the vehicle locally later this year, it is entitled to the National Automotive Policy's EEV incentives, resulting in a very competitive price tag of RM453,888 (OTR without insurance).
Exterior
Unlike the outgoing model which looks so conservative that it would appeal only to our mothers and aunts, the new XC90 looks like it came straight from the future. In fact, it is actually a glimpse of what Volvo has in store for us in times to come.
Yes, it is still boxy and bulky, but features like the ginormous front grille, the 'Thor's Hammer' LED daytime running lights (DRL), and the 21-inch alloy wheels give the XC90 a very contemporary, yet grand appearance.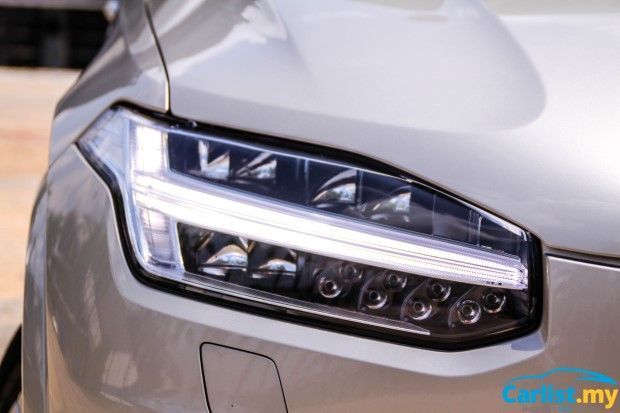 Just like most of the Volvos in the stable at the moment, the XC90 can be recognized from miles away, thanks to the distinct LED tail-lamps that run from the top of the boot right down to the bumper. And then, there is a small spoiler, a few creases in the tailgate, and the dual exhausts which add a pinch of sportiness.
Measuring at 4,950mm long, 2,008mm wide, and 1,776mm tall, with a wheelbase length of 2,984mm, the XC90 is 139mm longer than the outgoing model. Meanwhile, wheelbase is increased by 124mm. If we are to compare it with some of its rivals, the XC90 is 40mm longer than a BMW X5, but 102mm shorter than the Audi Q7.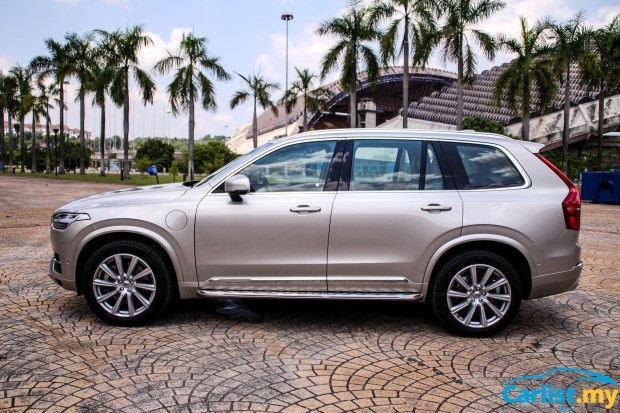 Built to be used mostly in urban surroundings, the XC90 comes with an on-demand AWD system, and this T8 Inscription variant comes with air-suspension, which allowed us raise the vehicle by 40mm and take it through some gravel and dirt in 'Off Road' mode.
Interior
Upon opening the doors of the XC90, we were greeted by a very roomy, plush, cabin that had a nice combination of leather, wood, and soft touch plastic. Every surface we laid our fingers on felt premium, with an added touch of Swedish solidity.
The big news with the XC90's cabin is that Volvo has designed the dashboard to have minimal buttons. Instead, the infotainment system and air conditioning are controlled by a nine-inch iPad Mini-sized Sensus touch-screen, flanked by two main air vents and some lovely chrome detailing.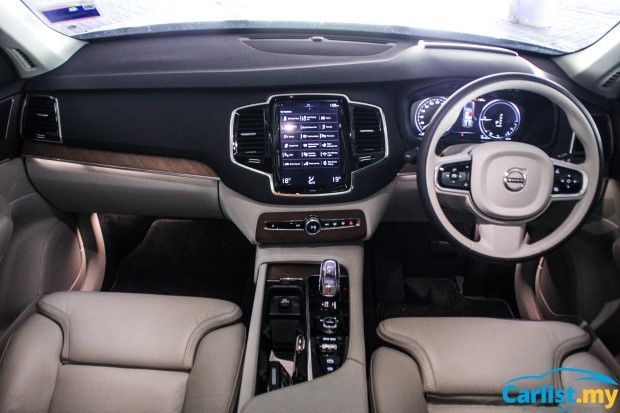 While the screen was quick to react to touches, pinches, and swipes with minimal latency; it also featured crisp, unambiguous graphics. To be honest, the layout and intuitive operation required no orientation at all. Simply put, operating the Sensus screen was like fiddling with a smartphone. Complementing the futuristic cabin was the virtual tachometer.
The only buttons and levers available are the ones on the centre console beneath the gear lever, to start the engine, choose the driving mode, and to engage the parking brake.
While the seats offered great level of comfort and support for occupants of all shapes and sizes, the third row, which can be folded flat on the floor, could only fit individuals who are about 170cm tall, which is about the average height of us Asians.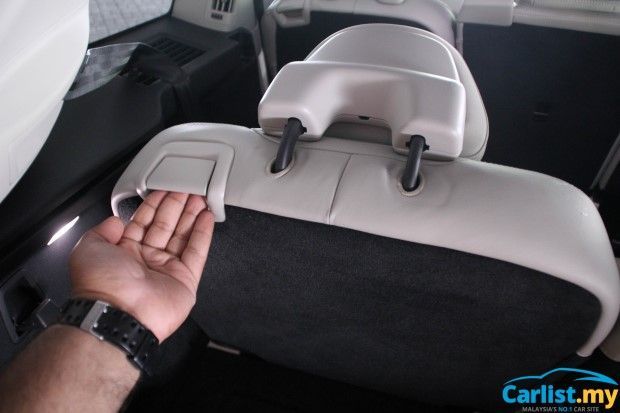 In terms of practicality, there is nothing much to complain. There was more than enough space to store items like our shades, Smart Tags, water bottles and what not for all passengers.
As far as luggage space is concerned, the Volvo XC90 offers 451 litres with all the seats up. Fold the third row down – an easier job than most of its rivals thanks to the simpler mechanism – and this rises to 1,102 litres. Stow all the seats away and there's 1,951 litres on offer. Plus, with a low loading lip and 'hands-free' powered tailgate as standard, getting things in and out of the XC90 was a walk in the park.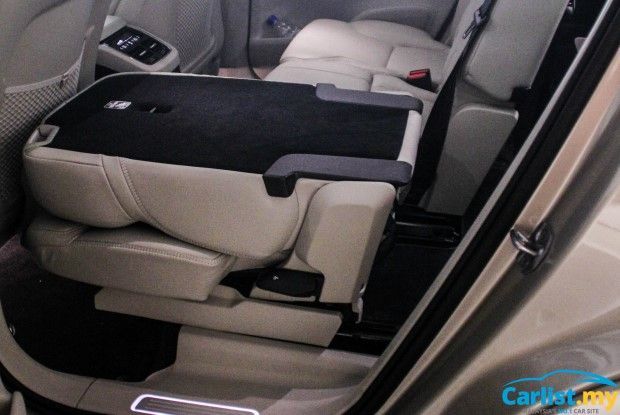 Standard equipment on the other hand includes GPS navigation, LED headlights, an air-filtration system, keyless entry, hands-free tailgate opening, powered driver's seat, auto-dimming mirrors, cruise control, panoramic roof, and a 10-speaker 330W audio system.
How does it drive?
The XC90 is a very intelligent vehicle. There are five driving modes for the driver to choose from (Hybrid, Pure, Power, Individual, and Off-road), and depending on which mode the car is in, drive is send to either the front wheels, the rear, or all four.
By default, the car runs in Hybrid mode, which automatically manages the energy stored in the battery and recharges through engine and road braking. There is also the option for the driver to save the battery for later use, or recharge the pack on the move using the engine. And then, there is the Pure mode, which runs on electricity alone, in which the car can travel up to 45km on a fully charged battery - takes about 3.5 hours on regular domestic household supply.
The charger is sold separately, costing between RM8,480 and RM9,540, depending on your home's requirements (water proofing is a consideration). For this review, as public chargers are hard to come by, we didn't try out the plug-in hybrid charging function. The battery was recharged by the engine, just like a regular hybrid.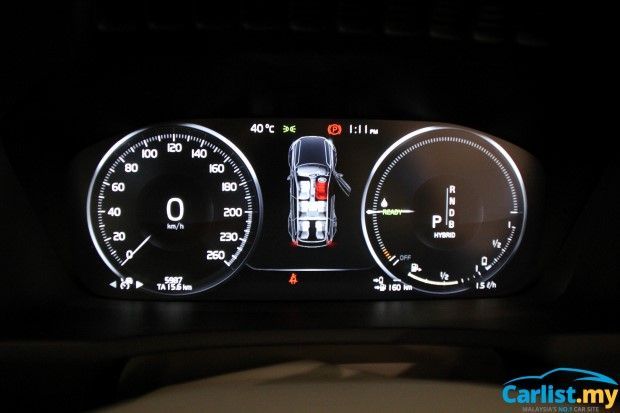 While the two aforementioned modes are intelligent and all about saving fuel, saving the world and what not, we needed to have some fun, and that is where the Power mode came into play. What happens in this mode is that it combines the engine and the electric motors for maximum performance. For a vehicle that weighs 2.3-tonnes, it was able to sprint from standstill to 100km/h in under six seconds. That is how powerful it is.
As quick as it was, the XC90's high-riding stance and air suspension made it feel like we were floating. There was still body roll while cornering due to the high centre of gravity, but thanks to the 21-inch tyres and the adjustable air suspensions, there was more than adequate grip at all times.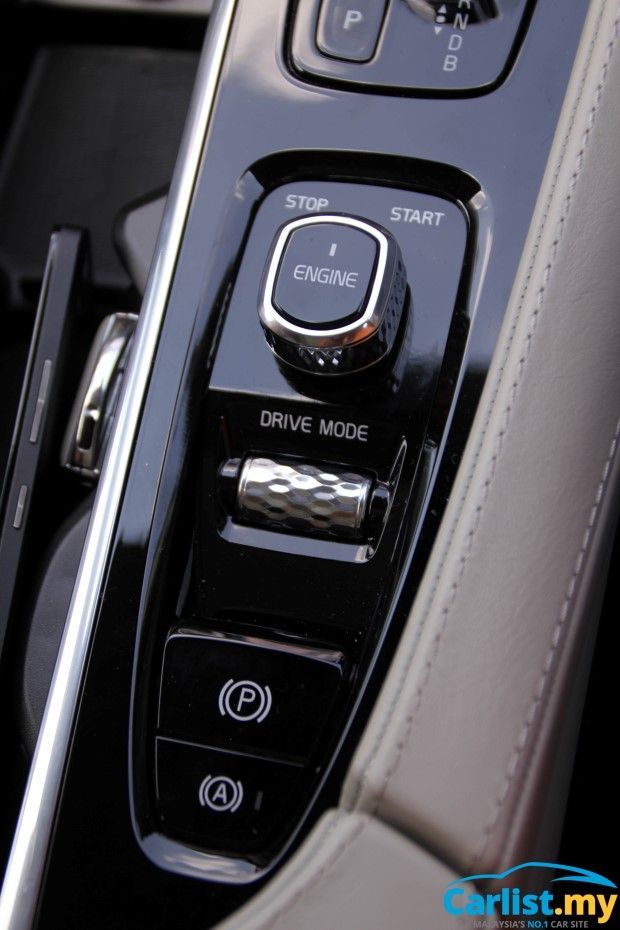 In all, the XC90 is all about comfort. Yes, it can pull some manic stunts with all the 400hp and 640Nm of torque but the driving experience can be best described as plush and refined. As powerful as it is, it is still a family-oriented vehicle that is geared towards comfort instead of sporty driving.
How economical is it?
While Volvo claims that the XC90's combined fuel consumption can go as low as 2.1l/100km with the assistance of the electric motor, we spent most of our time with the vehicle on either Individual mode or Power mode, with a recorded fuel consumption of 12l/100km which is still decent for a vehicle its size.
So, if the vehicle is constantly in Hybrid or Pure mode, you will probably have to refuel only once in two weeks.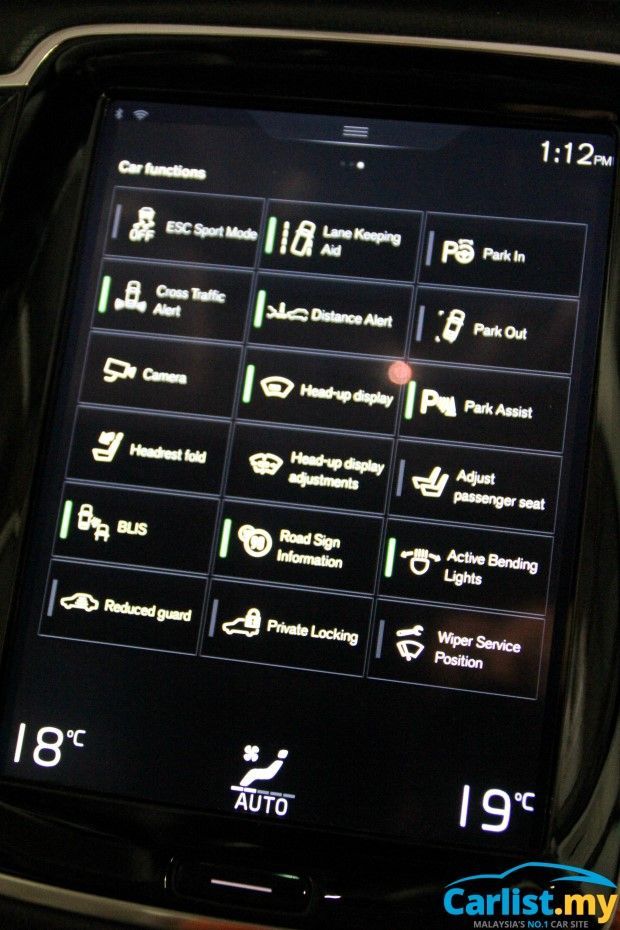 Conclusion
The XC90 has transformed quite a bit from what it was. Regardless of whether it is the design, the technology, the looks, or the performance, the crossover impresses.
Yes, it still has its shortcomings, like how the third row of seats have to be manually folded while its rivals have buttons to complete the same task, but it also outperforms its competition in many important areas such as fuel consumption, safety, and the standard equipment offered.
In addition, the fact that the XC90 is entitled to EEV incentives has brought its price down by almost half. So, this vehicle right here is without a doubt, a deal which is too good to be true, if you can afford it.
Looking for a Volvo XC90? Find one at Carlist.my
---
---
---
Comments