Review: 2016 Honda Civic 1.8 i-VTEC (FC) – Respectable Point Of Entry
Reviews By now, most of us know the new tenth-generation Honda Civic is a genuinely good car. Stung by criticism of the underwhelming ninth-generation predecessor, Honda has thrown the full might of its engineering department to give us what arguably is the best Civic to date.
There is much to like about the new Civic, but much attention has unavoidably been focused on its new 1.5-litre VTEC Turbo engine – with 173hp and 222Nm on tap, it propels the Civic to the same performance league as the Ford Focus EcoBoost and Volkswagen Golf TSI, and within striking distance of the Mercedes C200 and BMW 320i.
But what if we take the fancy new engine away? Is the Civic still as good a car without the enhanced performance of its new VTEC Turbo engine? Can the base 1.8-litre SOHC i-VTEC engine, now in its third model generation and tenth year of service, still cut the mustard in 2017?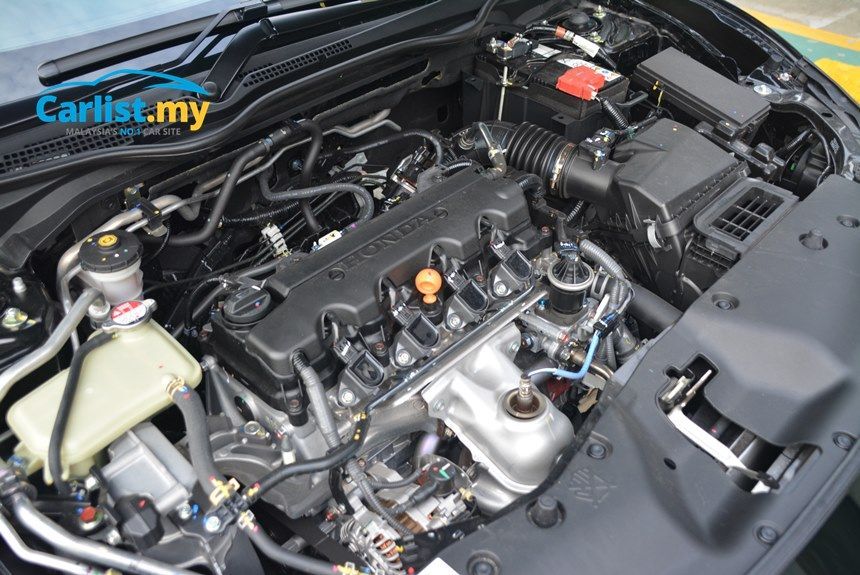 Specifications:
Price: RM113,800 (OTR with Insurance)
Engine: 1.8-litre, Inline-4 Transverse, i-VTEC, Petrol
Power: 141PS @ 6,500rpm
Torque: 174Nm @ 4,500rpm
Transmission: CVT, FWD
Safety: 6 airbags, ABS, EBD, Electronic Stability Control, Traction Control, Brake Assist, Hill Start Assist, ISOFIX, Emergency Stop Signal, Reverse Camera
Origin: Locally-assembled in Malacca
Overview
Perhaps the best examination of the Civic 1.8's proposition is to look first not at what it has, but rather at what it doesn't - paddle shifters, auto-dimming rear view mirror, leather upholstery, some fancy dashboard inserts, LED head lights, LED front fog lights, chromed door handles, dual zone climate control, and satellite navigation are all that's missing from the base Civic's kit count.
Depending on whether you take the mid-spec 1.5 Turbo or the range-topping 1.5 Turbo Premium, you are looking at an additional outlay between RM14,000 and RM22,000 for the added kit above. Acceptable omissions given the savings? Definitely.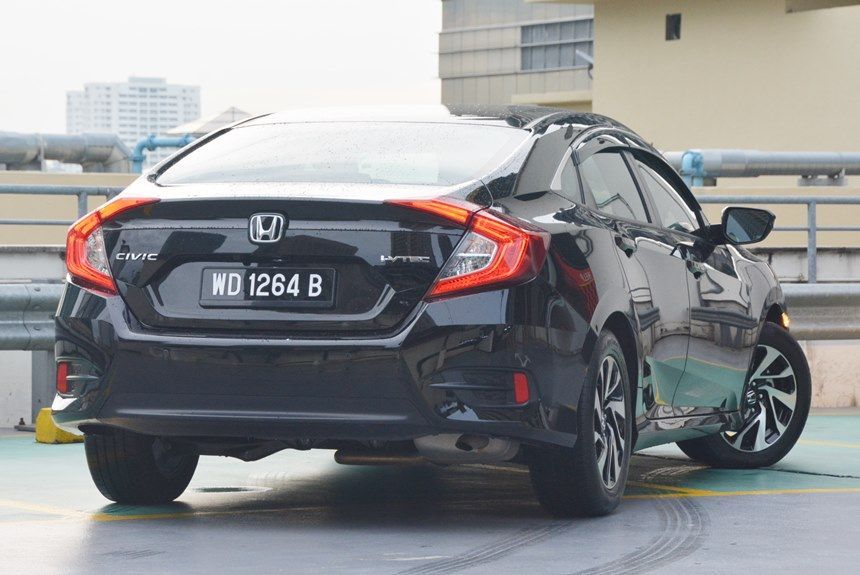 What you do get, however, is impressively generous. Safety is standardized across the board, as is keyless entry, cruise control, LCD virtual instrument cluster, rear air-con vents, 7-inch touchscreen, and reverse camera amongst a raft of other equipment. By any measure, Honda's asking price of RM113,800 for the equipment on offer is exceptional value.
The 1.8-litre SOHC i-VTEC engine requires no introduction by now. Outputs of 141PS and 174Nm are unchanged from what was introduced a decade ago in the Civic FD, but remains adequate by today's class standards. Gone is the engine's familiar partner, the venerable 5-speed automatic transmission now being replaced by a CVT to drive the front wheels.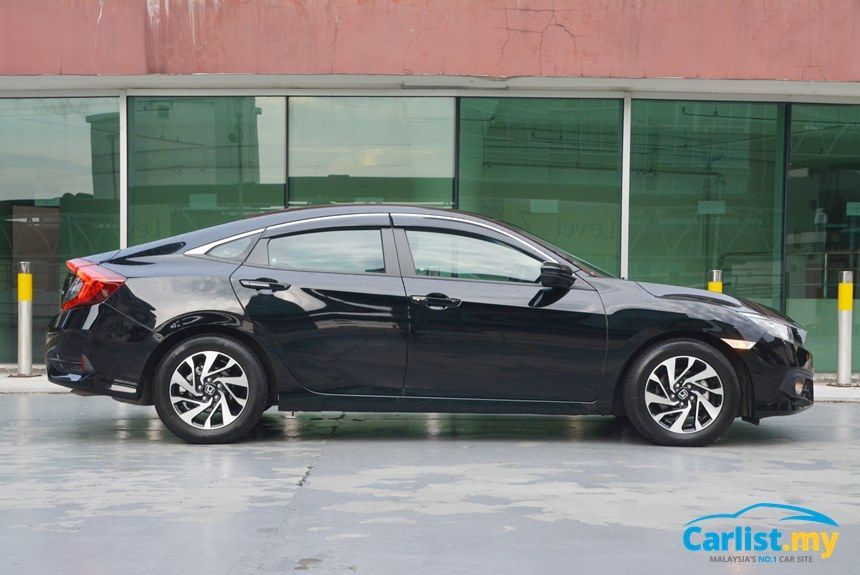 Exterior
Enough has been said about the new Civic FC's styling that its shape should require no introduction by now. An innocuous "i-VTEC" badge on the bootlid marks this car out as the entry variant, beyond which an onlooker need to look very hard indeed to realize that you've settled for the cheapest variant of the range.
Smaller 16-inch alloy wheels are the only definite tell-tale of the Civic 1.8; the turbo models roll on 17-inch wheels. It otherwise shares the same basic halogen projector headlamps, halogen fog lamps, and body colour-finished door handles as the mid-range 1.5 Turbo; the Turbo Premium model upgrades these to LED lighting and chrome finishing.
As in the Accord, the standard fitment of LED daytime running lights ensure that even the base model Civic carries a respectable appearance when confronting its better-heeled siblings.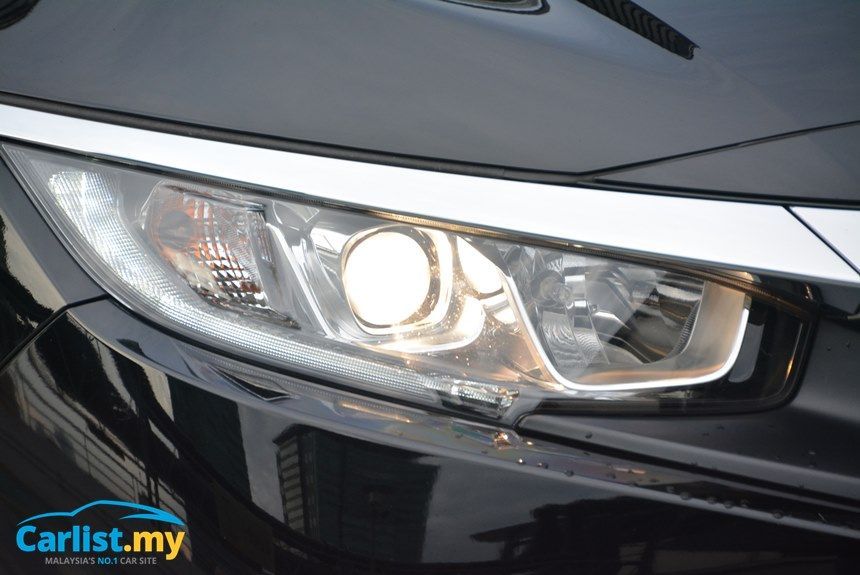 Interior
A little less smattering of chrome, your bum perched on fabric instead of leather, but where function is concerned, what you get in the higher grade turbo models are preserved in the 1.8. As we've said in our reviews of the 1.5 Turbo, the Civic's cabin is easily the best conceived and packaged in the segment – ergonomics are flawless and small item storage on offer is utterly exceptional. In true Honda form, this cabin rates five stars for practicality, thoughtfulness, and user-friendliness.
Worth mentioning on its own is the Civic's walkaway auto lock feature and remote engine start system. With the engine switched off, the doors automatically lock themselves once the key fob is taken a certain distance away from the car.
Remote starting of the engine comes in handy on a hot sunny day, allowing you to cool the cabin before a hot sunny day. If you're worried that people can get in and drive off your car, it's not possible – the transmission cannot be taken off 'P' without the key fob being inside the car.
Driving Experience
We've come to the meat of this review – can the 1.8 deliver the kind of performance one expects from a car this segment in 2017 with a decade old engine? The short answer is yes, and quite convincingly so.
Granted, we are missing the mid-range punch of the 1.5 VTEC Turbo, but with 141PS and 174Nm on tap, the Civic has just about enough to shade both its closest 1.8-litre rivals – the Toyota Corolla Altis (139PS / 173Nm) and Nissan Sylphy (131PS / 174Nm). Like the Civic, both cars come with a CVT. Worth noting however, that unlike both its closest rivals that make do with torsion beams, the Civic offers the advantage of independent multi-link rear suspension.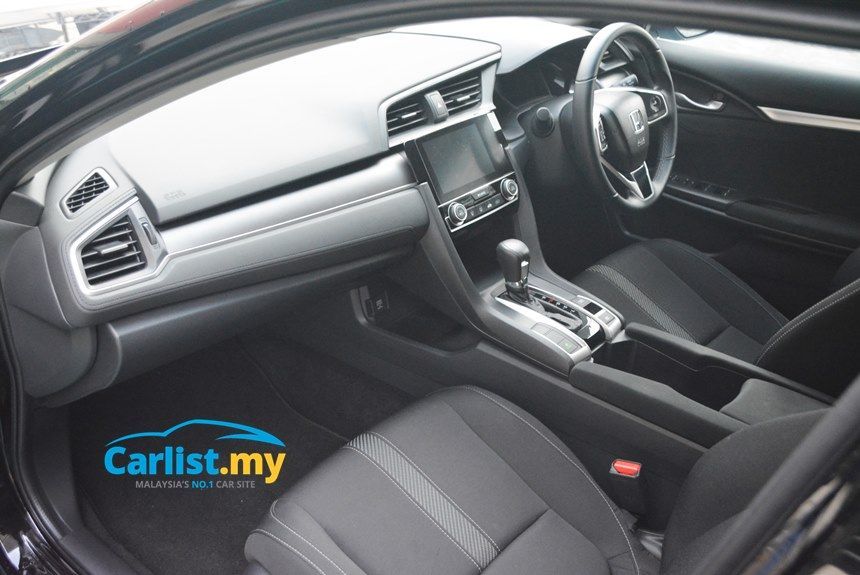 On the road, the engine's grunt proved more than sufficient in helping the Civic 1.8 keep pace with traffic. Despite its age, the R18 SOHC i-VTEC engine remains a refined performer – pulling revs with both smoothness and conviction. The new in-house Earth Dreams CVT, which replaces the old 5-speed auto, proved an effective partner as well – adapting its shift patterns intelligently to match throttle inputs.
Handling, too, was good. As we've found with the Turbo variant, the Civic FC's stiff chassis, further strengthened by a rear cross brace gives the driver a good degree of body control, enabling turn-ins to be executed with poise and high speeds to be carried with confidence. Steering isn't the most chatty, but accurate enough even when driven in enthusiastic fashion.
All said, the most important conclusion is this – a bit of straight line pace aside, there is little about the Civic 1.8's driving experience that is significantly inferior to its turbocharged sibling.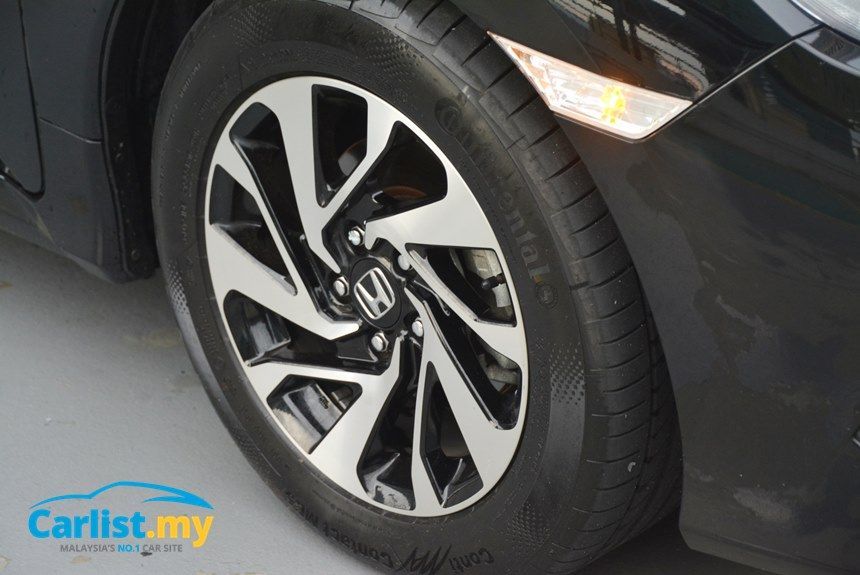 Comfort & Refinement
Ride comfort was never the Civic's call card, a shortcoming which Honda has positively addressed with this new model – especially in the case of our 1.8 i-VTEC test car with higher profile 60-series tyres. The pliant suspension and thick side walls combine to admirably smoothen out most surface imperfections one could reasonably expect on urban roads.
Noise levels are dialled down significantly too; not too long ago, Honda vehicles were renowned to be noisy and lacking in its ability to insulate outside sound from the cabin – not anymore. We are also aware that the Civic, like many recent Honda models, have additional layers of insulation material specifically for the Malaysian market.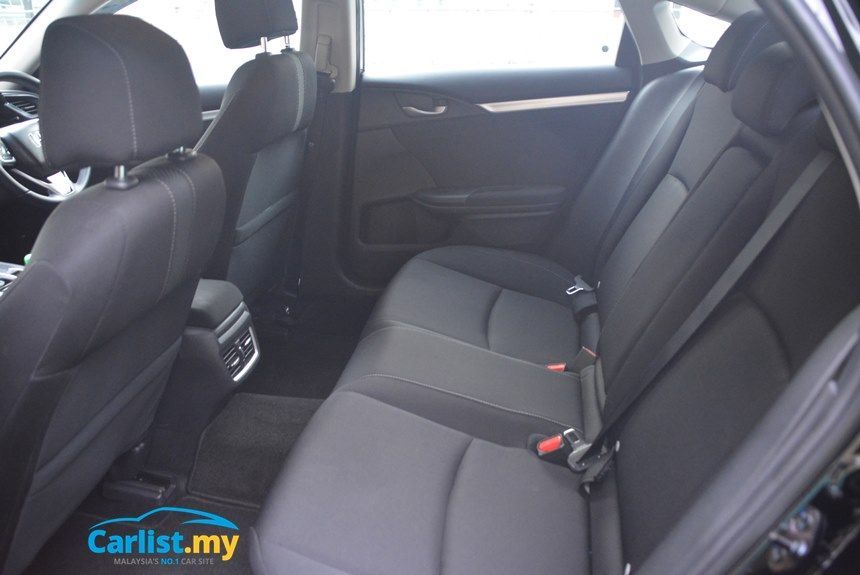 Economy & Maintenance
The team's tight schedule during our testing period restricted the test car to perform largely urban duties under our watch. An average fuel consumption of 9.9 litres/100km isn't bad in that setting. The Civic Turbo fared slightly better in my hands, averaging 9.6 litres/100km under similar conditions. Earlier, Hans was able to manage 7.1 to 8.3 liltres/100km in the Turbo.
As with all real world evaluations of fuel consumption go, the caveat 'your mileage may vary' applies; if there's anything we can imply from all this , however, is that under similar driving conditions, the 1.8 i-VTEC and 1.5 VTEC Turbo can be expected to return similar fuel consumption numbers. A sufficiently disciplined driver, however, might be able to coax superior mileage from the newer engine.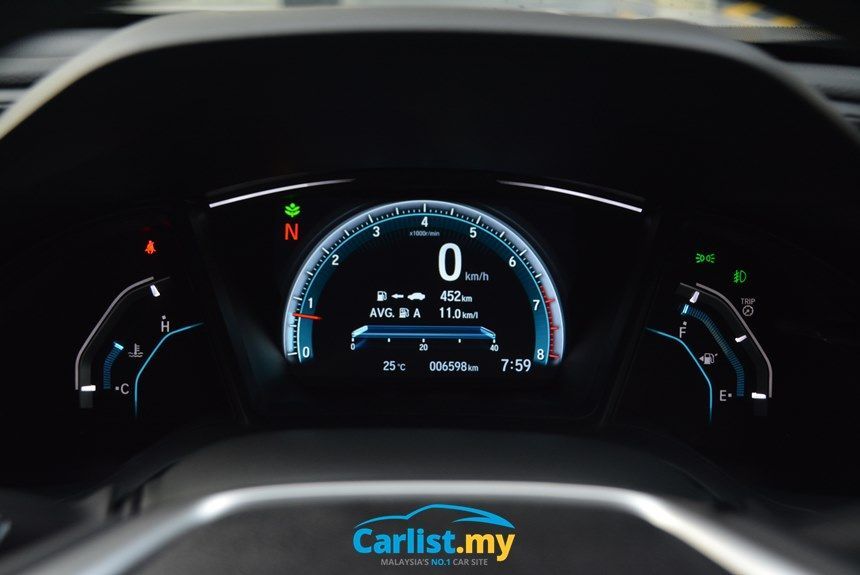 Honda is one of few manufacturers that provide a comprehensive schedule and cost breakdown for servicing on its website. As with other models currently in the range, Honda prescribes a 6-month/10,000km interval for the Civic 1.8. The Civic Turbo, on the other hand, follows a condition-based schedule, with engine oil and filter replacement intervals prompted by the vehicle's on-board diagnostics.
In summary, these are the regular maintenance items
Engine Oil (6-month/10,000km interval): RM108.90
Oil Filter (1-year/20,000km interval): RM26.30
Air Cleaner, Dust, Pollen Filter: (1½-year/30,000km interval): RM179.11
CVT Fluid (2-year/40,000km interval): RM120.85
Brake Fluid (3-year/60,000km interval): RM33.54
Iridium Spark Plugs (5-year/100,000km interval): RM398.58
Fuel Strainer (5½-year/110,000km interval): RM335.28
Coolant (10-year/200,000km interval): RM128.86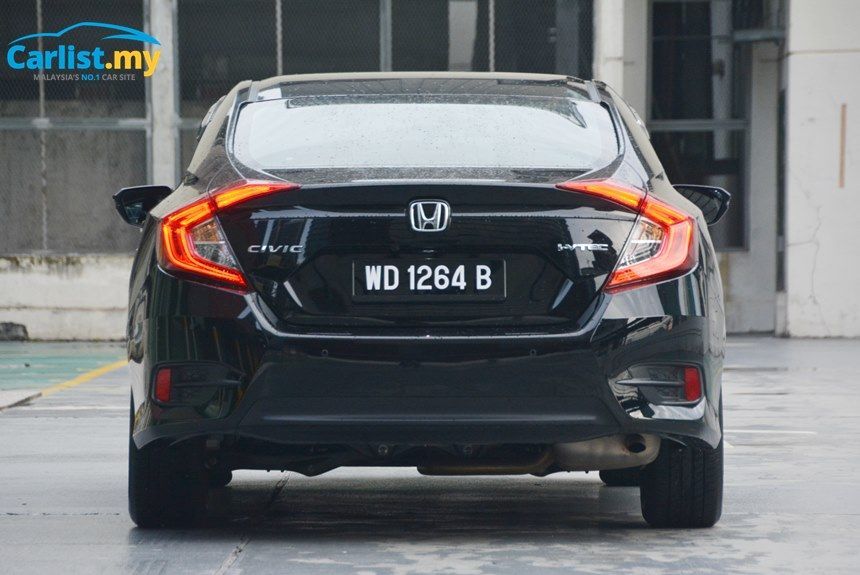 Conclusion
Whilst the plaudits flow for the admittedly very good Civic 1.5 Turbo, the 1.8-litre model is sufficiently well-engineered and well-packaged that the Turbo model is really only worth plonking the extra money for the sake of its engine.
On its own, the Civic 1.8 is an entirely adequate package, offering respectable performance and a level of equipment that is as complete as one can expect from the segment. If you have the budget to spare and appreciate the extra horses, go for the Turbo by all means, otherwise, the 1.8 i-VTEC is all the Civic you need at a much kinder budget.
---
---
---
---
Comments