Review: 2017 Honda Civic (FC) 1.5 VTEC Turbo – If You Can Have Only One Car….
Reviews Six months ago, we test drove the then recently launched FC generation Honda Civic and came to a very easy conclusion that nothing else in the C-segment class matches the Civic's well balanced package. Yes, the Mazda 3, Ford Focus and even the Volkswagen Jetta are pretty competent in some specific areas but all else considered - interior space, ride and handling, comfort and utility – the Civic's distinction is undisputed.
At the same time, we are also aware that our driving experience, while extensive, is not necessarily comprehensive. We were driving around Kota Kinabalu and shared our driving time with several different drivers, and drove only on countryside roads. We didn't drive the car at night, in bad weather, or covered long distances for hours on end – which we know many of you do.
To find out if the Civic lives up to its hype when one uses it as a daily car, we revisited the top of the Civic range 1.5-litre VTEC Turbo engine-powered TC-P variant.
Here's a quick recap of what the Civic 1.5 TC-P offers:
Engine: 1.5-litre turbocharged transverse four-cylinder 16-valve DOHC VTEC Turbo
Power: 173 PS at 5,500 rpm
Torque: 220 Nm between 1,700 – 5,500 rpm
Transmission: CVT-type automatic with paddle shifters, front-wheel drive
Safety: 6 airbags, electronic stability control (VSA), emergency stop signal (ESS), anti-lock brakes (ABS), Hill Start Assist (HSA)
Price: RM135,800 with insurance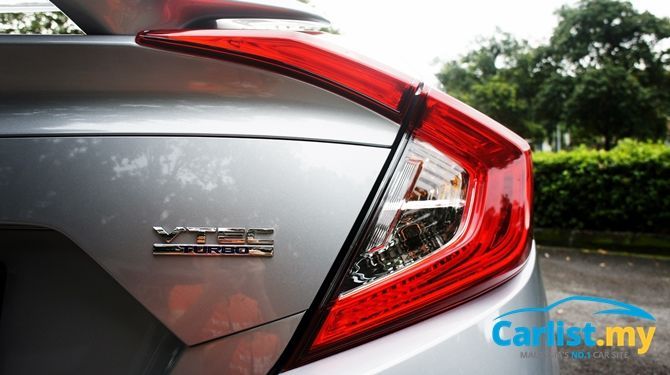 There's also a cheaper 1.5 TC variant, which at RM127,800, means that you swap the hi-tech looking LED headlamps and LED front fog lamps for regular halogen projector headlamps and halogen front fog lamps, dual-zone automatic air-conditioning for single zone ones, and the 7-inch touchscreen infotainment system loses GPS navigation.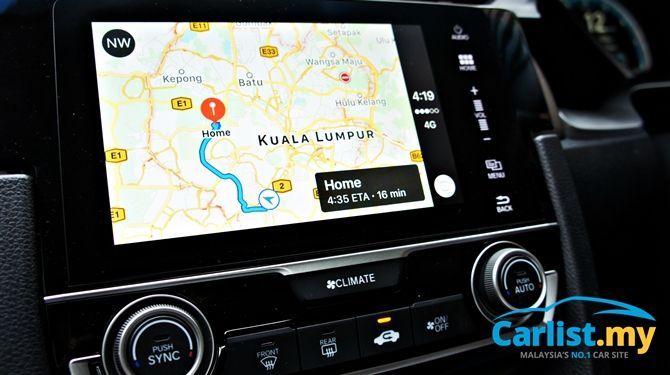 You still however, get leather seats, the same 17-inch alloy wheels, paddle shifters, with the same 1.5-litre VTEC Turbo and CVT powertrain. So although this review is made with the highest 1.5 TC-P unit, the verdict applies to the mid-range 1.5 TC model as well.
A separate review on the base model RM113,800 Civic 1.8S, powered by a less powerful 1.8-litre naturally aspirated engine will be published shortly after this.
Overview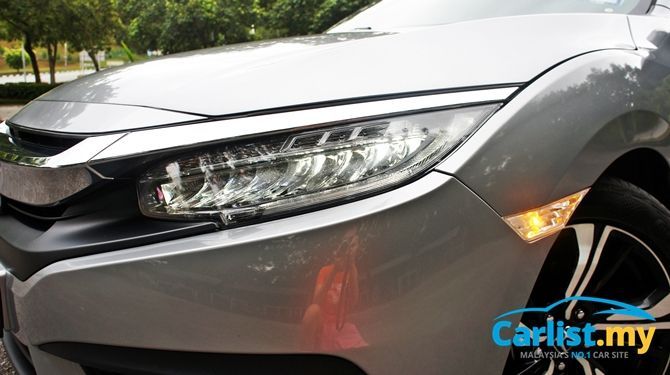 On paper, the Civic competes against the Toyota Corolla Altis (from RM117,361), Mazda 3 (from RM107,825), and Volkswagen Jetta (from RM108,990) – all prices quoted are excluding insurance.
The reason we say 'on paper' is because in reality, the Civic has little competition. Three out of 5 C-segment sedans sold in Malaysia is a Civic.
There's also the Hyundai Elantra, Kia Cerato, Ford Focus, Nissan Sylphy and Renault Fluence, but these are very left field choices.
Among the trio of leading alternatives to the Civic, the Corolla Altis is the newest, with the facelift model launched late last year. The Mazda is due for minor update soon, with a new infotainment system and G-Vectoring chassis control technology. The Jetta is the oldest of the lot but it has impeccable road manners and is the most relaxed for long distance drives, assuming you can look beyond the stigmatized brand.
Exterior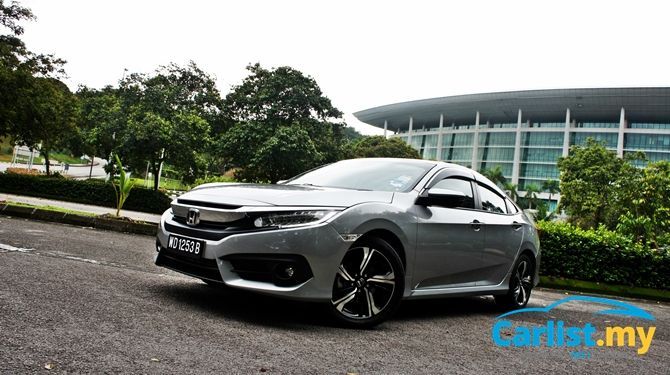 By now, everyone would have formed their own opinions on the matter. It's sharp, it's distinctive. You may or may not like it, but you won't mistake it for anything else.
Apart from the tiny VTEC Turbo badge on the boot lid, the only way to differentiate the 1.5 TC and 1.5 TC-P models from the base 1.8S model are the wheels – a different design 16-inch wheels with taller profile 55 series tyres versus the turbocharged models' 17-inch wheels with 50 series tyres. The Modulo spoiler seen here is an optional extra.
Interior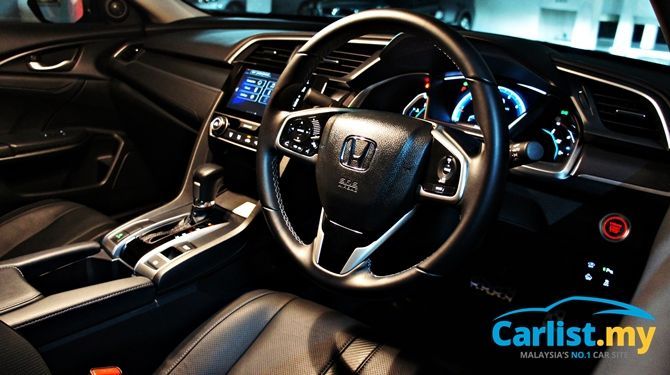 This is certainly Honda's forte. Spacious, practical, user-friendly, it's everything that you ask for from a daily use family sedan. It is without a doubt, the best interior in its class.
If we were to nitpick, the hard plastics on the steering wheel-mounted control buttons needs to go. Softer rubber materials that are easier on the thumbs would've been better appreciated.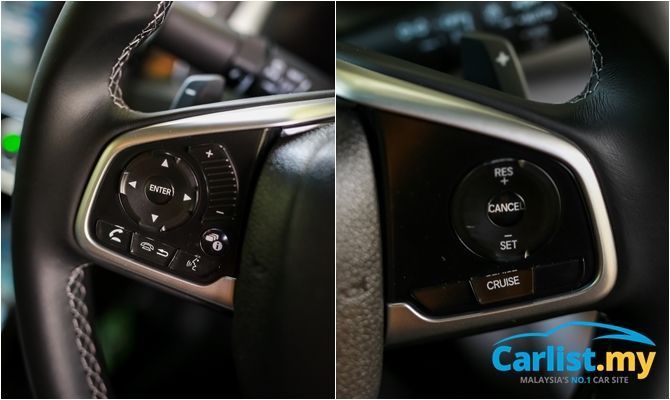 In terms of premium appeal, you might have been lead to believe that the Mazda 3 has a better interior, partly due to the incessant praises by motoring connoisseurs. While it is true that nobody outside the premium German Big-3 makes interiors better than Mazda, that praise doesn't apply to the Mazda 3, which being an older model, didn't benefit from the massive jump in premium touch adopted by the Mazda 6 facelift, CX-5 facelift and all-new Mazda 2 – all of which are already on sale in Malaysia.
Of course, this shortcoming will be fixed very soon when the Mazda 3 facelift is launched here. However, the new Mazda 3 will still have one problem – it's woefully crammed inside.
As for the Corolla Altis, the new facelift model looks edgy on the outside, but inside it's still unnecessarily traditional, and doesn't offer much over the Civic in terms of space, utility and features.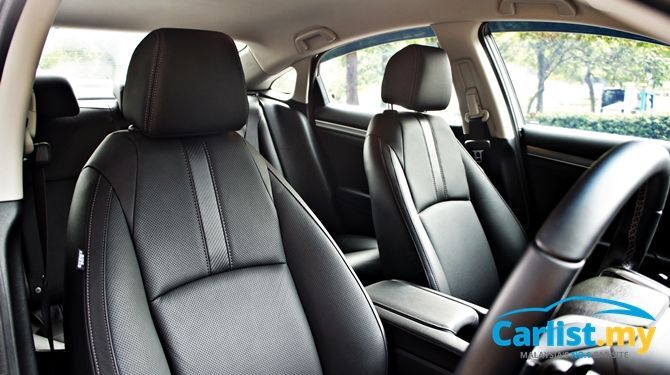 The upper portion of the front seats are narrow to improve outward visibility for rear passengers, but larger frame drivers might find them lacking in shoulder support. For me, I have no complaints, as they are firm enough gave ample support on my back, as well as the lower-thigh, a common weakness in seats in this category of cars.
Hip-point is also rather low. Depending on what sort of a driver you are, that may or may not be a good thing. For less fit individuals, stepping in and out of the car can be a hassle but the low seating position is in keeping with the Civic's image as a youthful, mass-premium family sedan.
If you are used to Japanese cars, you might find the Civic's doors to be too heavy as they open and shut with Teutonic weight and assurance that's more typical of German cars.
Finding a good seating position is easy. You sit low with your legs stretched out – almost roadster-like. The gear shifter is located far ahead enough, at just the right height, while the centre console-cum-centre armrest extending far enough to allow you to comfortably rest your arm for long distance drives. As far as ergonomics are concerned, it's faultless.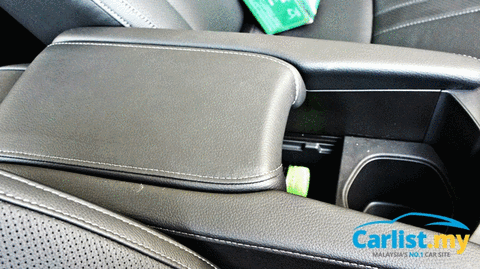 Flip-up the armrest and marvel at what is the best centre console box in its class. It's deep enough to swallow a pouch or a small bag, never mind the contents of you and your passenger's pockets. Somewhere within this package, Honda has somehow managed to also fit air-conditioning vents to the rear. And the Germans can still tell us that we can't have a deep centre console box together with rear air-conditioning…..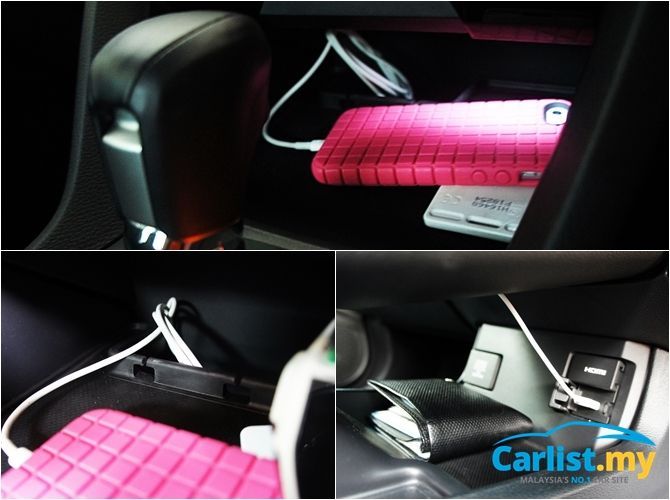 Ahead of the gear shifter, the two-tier console has a neat cut-out on the utility box that allows you to route USB charging cables for your mobile device to the USB/HDMI port below. At night, that area is even illuminated by LED. No more fumbling in the dark. Nice!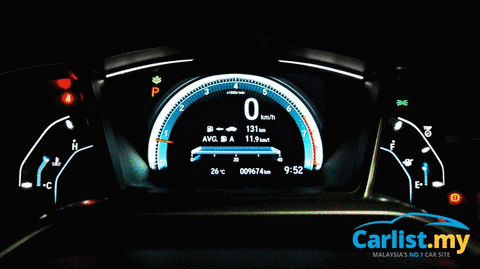 The instrument panel's centre binnacle is full-colour LCD, almost like an Audi. It is more year 2020 than 2017, and it even displays turn-by-turn navigation information.
Behind, occupants in the rear will be inconvenienced by a hump on the floor, unusual for a Honda, whose cars usually have a flat floor. In the case of this more driver-focused Civic, the hump was a necessary compromise in order to improve the Civic's chassis rigidity (now 25 percent stiffer than before). It's the equivalent of strengthening a structure by giving it a big, strong spine.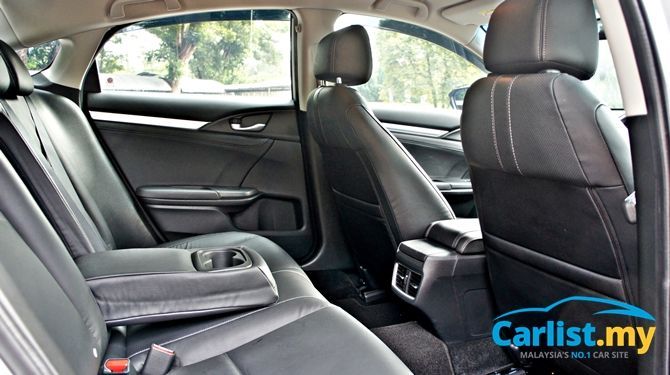 It's also the same reason why the rear seats don't fold – unlike the Civic sedans sold in the US. Ours have a chassis stiffening brace running across the aperture between the rear seats and the 519-litre boot.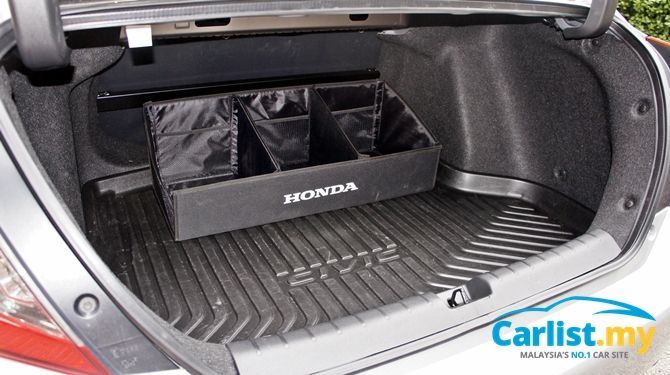 Thankfully, the Civic's cabin is spacious enough to accommodate these compromises. Sure you can't fold the seats down to load long items in the boot, but at least rear leg room is unrivalled. For a better view of the outside, you sit higher than the front occupants, but with ample headroom. However with three adults sitting behind, you will still be rubbing shoulders a little.
Driving Experience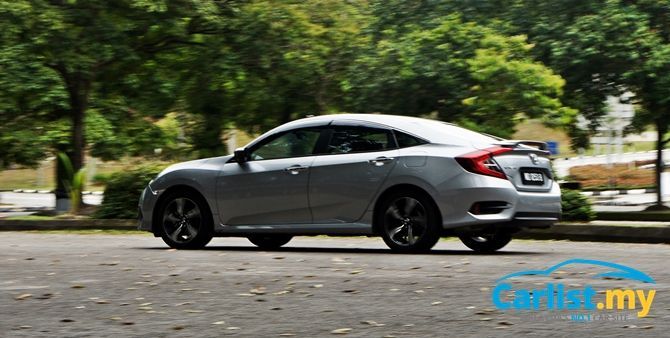 In our first impression of the Civic in Kota Kinabalu, we noted that the Civic's steering is a bit too light for our liking. It's sharp but it doesn't communicate with the driver what's happening at the front axle.
Having spent a bit more time with the car in KL traffic, our opinions have changed. In fact, we will go as far as saying that we wouldn't want the steering rack to be tuned any differently.
Once the novelty of driving a new car wears off, and you begin drive it you like how you normally would with your current car, driving along the same routes you use every day, you will realize that the steering wheel's heft is spot-on for the daily grind.
Yes, a heftier steering will be appreciated when you are carving up your favourite twisty tarmac dragon's tail route but let's be realistic, most buyers will be using the car for their daily commute and our highways are mostly long stretches of straight roads, which favours a less sensitive steering that doesn't react unnecessarily to changes in road cambers.
As you understand the car's dynamics better, the vague steering wheel become less of an issue. Put a bit more mileage between you and the car and soon you will realize if you are in the mood, the car will play along with you. The once-vague steering will soon become rather instinctive and sharp, if you know what you are doing.
For what it is, the 173 PS and 220 Nm pushed by the turbocharged 1.5-litre engine is very impressive. In the real world, it doesn't leave us wanting for more performance. Paired with the smooth CVT-type automatic transmission, speeds of up to 140 km/h is sustained without much effort.
Ignore what the cynics say. This Honda-developed CVT is the perfect transmission for it. A dual-clutch or a fast lock-up torque converter automatic would've exasperated the on-off nature of the turbocharged engine's torque delivery, resulting in jerkier start-stop driving in the city. The step-less nature of the CVT smoothens out the turbocharged engine's otherwise non-linear torque delivery.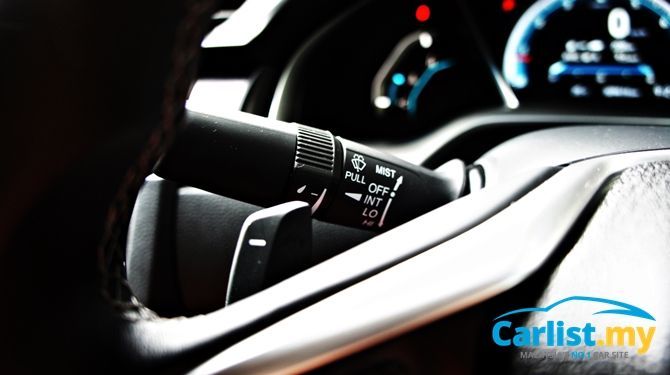 There's a pair of paddle shifters behind the steering wheel, but never once did we felt a need to use them, as the transmission responds fast enough, and always holds on to the right (virtual) ratio in S mode.
It's also surprisingly quiet. At 140 km/h, the dreaded CVT drone remained muted and the cabin remained quiet enough, with only minimal intrusion of road and wind noise.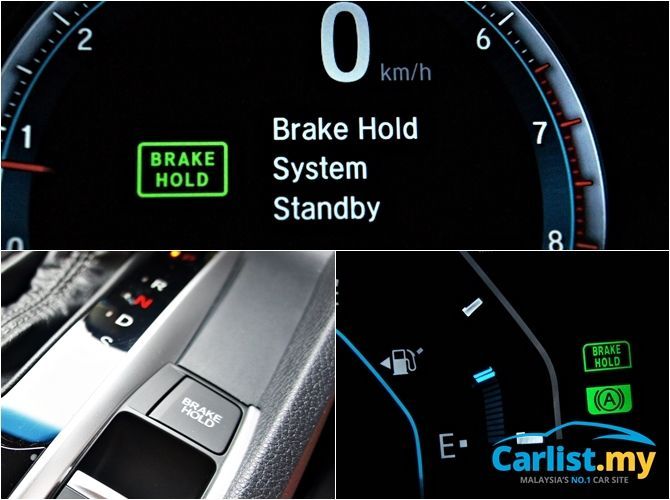 The Brake Hold function also removes another element of stress in urban traffic. Leave it active, and it holds the brakes every time the car comes to a halt, allowing you the rest your left foot while leaving the transmission in Drive. When you are ready to go, simply accelerate as you normally would, and the brakes will disengage automatically.
One only needs to experience the same function in another premium European car to appreciate how much more smoother the Civic's Brake Hold function is.
Overall, it's a car that you just get in and drive without thinking much about it, because the car subtly supports your daily driving routine so well.
Comfort
On the move, the Civic's road manners are more akin to a German car than a Japanese. Damping is firm and it feels well planted on the road.
Despite running on relatively thin 50 series tyres, it rolls over poorly paved tarmac with ease. On rougher corrugated surfaces, you will still feel the bumps but judder is well insulated away.
As mentioned earlier, cabin insulation is much better than what you would typically expect from a Honda.
At speeds, the Civic chases the horizon with a good level of security, with dampers well-tuned to the sort of undulations typical on our highways. However, occupants in the rear might find the ride to be rather busy. Motion is controlled, but they will feel a lot of busyness in the rear suspension, especially at higher speeds on undulating roads.
Fuel Economy
In city driving, the Civic averaged around 12 km/litre. Out in open roads and highways, fuel efficiency increases to around 14 km/litre, when driven at reasonable speeds.
Conclusion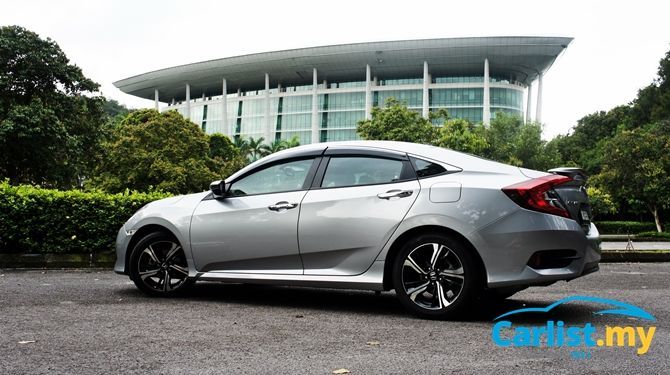 You may or may not like its looks, but it's hard to find a more compelling alternative to the Civic. As an overall package, it's hard to match the Civic's good blend of youthful image, space, utility, performance, comfort, ease of ownership experience and price.
Unless you genuinely need something with a higher ground clearance or seven seats, the Civic is the one car that's good enough to meet all your motoring requirements. It's just a very easy car to live with every day.
The Civic has got all the bases covered so well that its stiffest competitors are not C-segment models from rival brands, but its own SUV sibling the CR-V, and to a certain extent, the five-seater HR-V crossover and 7-seater BR-V crossover.
While the Civic has succeeded in growing the overall size of supposedly diminishing C-segment market, it still doesn't change the fact that the tide of car buying trend is shifting towards crossovers and SUVs.
However if you love driving, but won't compromise on utility and reliability and don't want to look like someone whose life revolves around daycare centres and tution centres, look no further than the Civic.
---
---
---
---
Comments