Review: 2017 Mercedes-AMG GT S – Distilling 50 Years Of Sheer Performance
Reviews Unlike the performance arm of other brands, Mercedes-AMG is noteworthy for developing its own range of standalone products not based upon any mainstream Mercedes-Benz model. Audi Sport admittedly has the R8, but having started off with the SLS in 2009, AMG is now looking to cultivate an entire family of AMG GT models to challenge.
It will be a family to be reckoned with – that an 805hp hybrid-powered four-door fastback is the next member to join this line of models is as strong as statements of intents get. In the present, the existing GT family is offered in coupe and convertible bodystyles, but available in no less than four different performance variants – GT, GT S, GT C, and GT R.
In Malaysia, the choices are substantially fewer. The GT was launched here in 2015 and is, at present, offered exclusively in coupe form and in GT S trim. At the time, this was the range-topping variant of the GT family.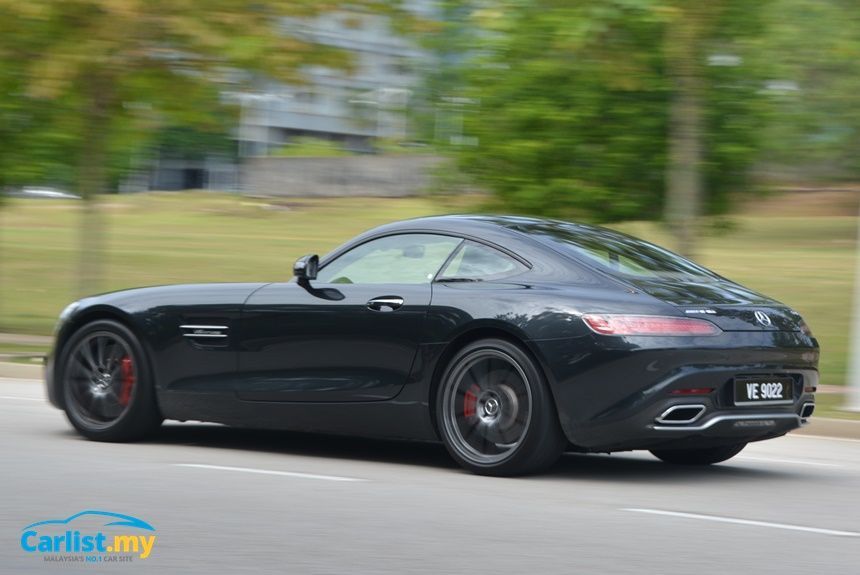 Specifications:
Price: RM1,150,000 (OTR without insurance)
Engine: 4.0-litre, V8 Longitudinal, Turbocharged Petrol
Power: 510 hp @ 6,250 rpm
Torque: 650 Nm @ 1,750 – 4,750 rpm
Transmission: 7-speed multi-clutch automatic, RWD
Safety: 8 airbags, Electronic stability control, Attention Assist, Autonomous emergency braking, Frontal collision alert, Pre-Safe, Lane Keeping Assist, Blind Spot Assist, Traffic Sign Assist, Reverse camera
Origin: Fully-imported from Germany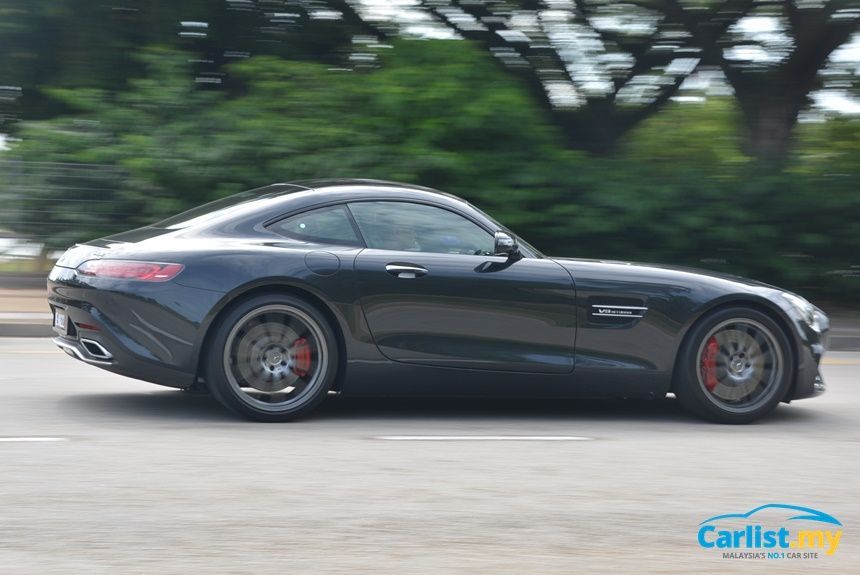 Overview
Although its launch coincided with the discontinuation of the SLS AMG, Mercedes is very clear in insisting that the GT is not developed as a direct successor.
Shorn of the trademark gullwing doors, armed with less power, and built to a smaller footprint, the AMG GT is aimed at slightly more earthly but no less demanding sports car opposition that includes the Porsche 911 and the Jaguar F-Type.
Like all AMG models, at the GT's heart beats the power of a throbbing hand-built V8, in the case of our test car, one put together by a certain Ms Jacqueline Ayasse – one of six female engine builders plying their trade at the Affalterbach engine plant.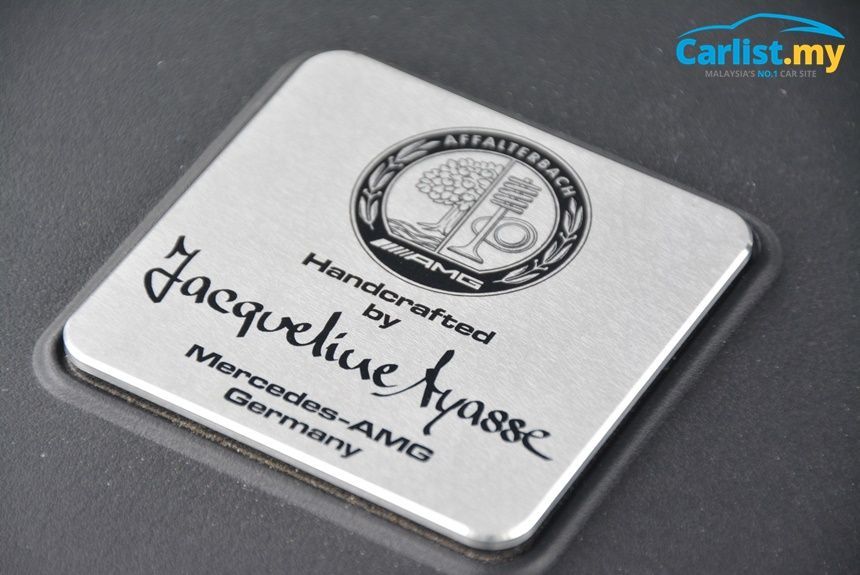 Developed to supersede the 5.5-litre M157 V8, the GT's M178 powerplant is another nod to the current trend of engine downsizing. The natural potential of its 4.0-litre capacity is supplemented by force-fed air from a pair of turbochargers nestled between its two banks of four.
Outputs of 510 hp and 650 Nm in GT S guise as tested puts it at eye level with the AMG C63S tested earlier on these pages, but well below the engine's highest known state-of-tune to date – 612hp in the all-wheel driven E63S.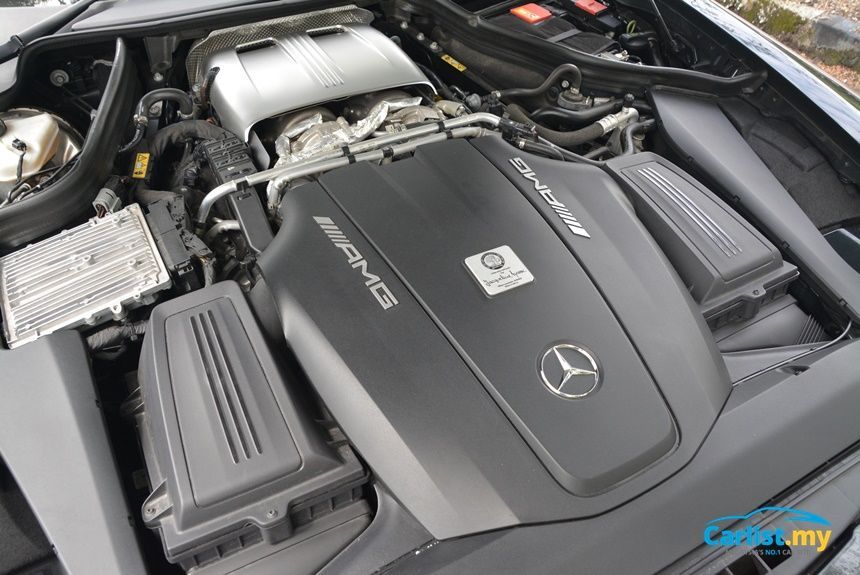 The base engine is offered in a variety of tunes and configuration across the AMG line-up; here in the GT, it operates dry-sump lubrication to ensure consistent lubrication of the engine under enthusiastic cornering forces. Additionally, this configuration enables the engine to sit lower in its bay, contributing to added cornering stability.
Besides being mounted low, the engine is also pushed backwards to sit behind the front axle; with its 7-speed multi-clutch automatic transmission mounted in a transaxle configuration at the rear, this gives the GT a rather balanced 47:53 front-rear distribution of its 1,540kg kerb weight.
Alongside its ballistic engine comes a chassis lined with a commensurate amount of high-grade materials that include 90% aluminium for its spaceframe mixed with magnesium, ultra high-strength steel, and other light alloys. Suspension is double wishbone all-round with control arms forged entirely out of aluminium.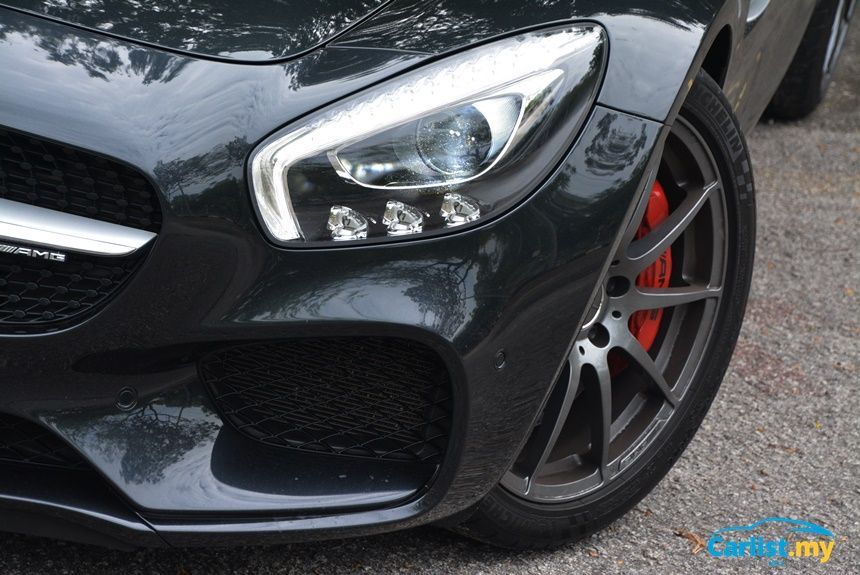 Exterior
Mercedes may have scaled this car down from the glorified heights of the SLS, but the GT is hardly lacking in exuding its own sense of occasion and drama. The SLS' familiar low-slung appearance carries over, as does the rear-ward location of its cabin to accommodate the midship positioning of its V8 engine.
Making up for its reduced dimensions, the GT attains its road presence by smart flaunting of curves at the right places, particularly at the broad shoulders around the cabin as well as flaring of the front fenders near the wheels. The overall effect is not dissimilar to that of a body builder putting on a tight singlet, in this case, the car's body panels appear barely enough to contain the vehicle's awesome power.
The bootlid houses an extendable spoiler that self-deploys at high speeds, whilst sequentially-litted LEDs for the rear turn signals further add to the vehicle's overall showmanship. The tiny AMG branding inside the tail light assembly was a particularly nice little design touch undersigning the vehicle's attention to detail.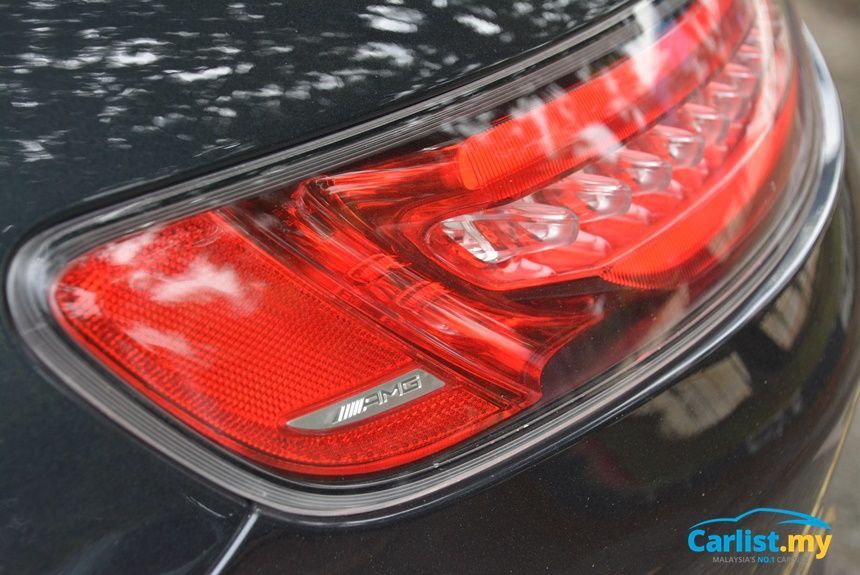 Interior
Much of the overwhelming success of core Mercedes-Benz models can be attributed to the aplomb in which their cabins have been able to outshine the competition in material selection and sense of occasion. The AMG GT has that solid base to build upon, but satisfying the demands of a RM250k C-Class customer is one thing, meeting the demands of high-rollers with seven-figure cheques to sign is quite another.
Much like its exterior, the GT's cabin does not share its layout with any mainstream Mercedes-Benz model. Certain switchgear are obvious enough items from the parts bin; given the already high quality benchmarks of recent Benz cabins, we fail to see how it can be significantly improved upon.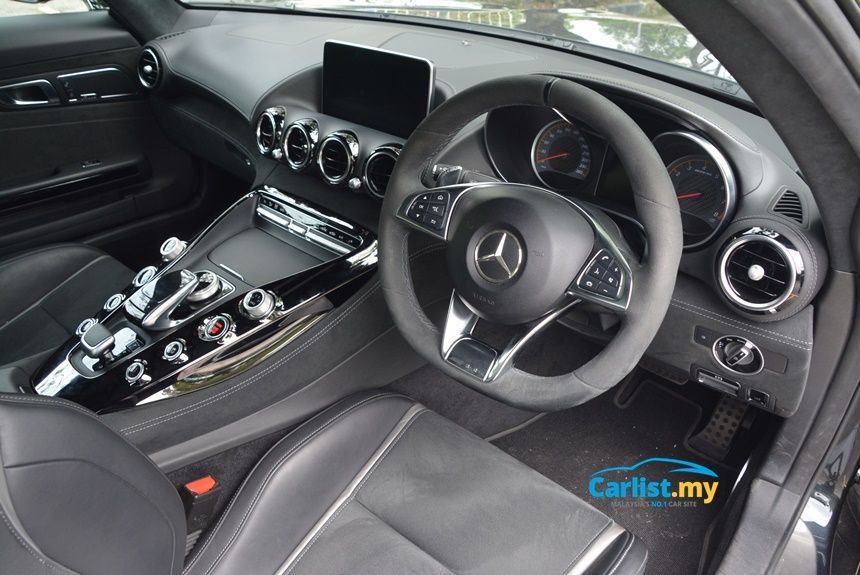 Fit and finish of certain panels require improvement, however – on our test car, there was a rattling rear panel and the centre console rear storage lid's mechanism was not operating at the expected level of smoothness. To sum up the GT's interior quality – switches and materials used are top notch, but the manner which panels are screwed together do not feel the same.
The bulging centre console is a subtly and subliminally reminds us of the car's throbbing power. The eight pop-up buttons give the driver clear and intuitive access to key vehicle functions on the move. The large storage bin at the console's front end offered useful and appreciated small item storage, but placement of the gear lever seems outright bizarre. I'm no big fan of the column stalk selector used in other Mercedes models, but that now feels like the superior arrangement – the GT's gear selector sits so far back that you can operate it with your elbows.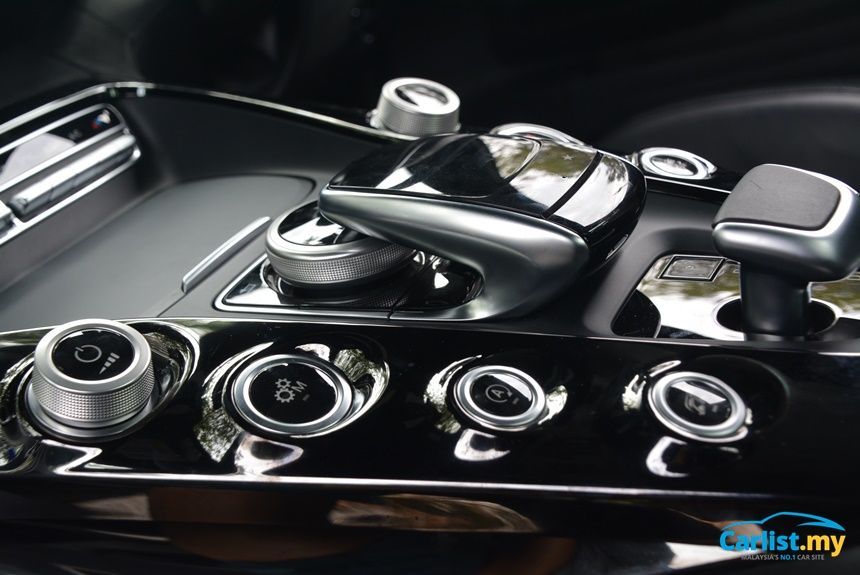 Driving Experience
The throaty baritone of AMG's 4.0-litre V8 provides the defining characteristic of the GT's driving experience. Whether you're pottering along at part-throttle pace of just giving it the beans, the engine never fails to send a tingle down your spine with its deep-sounding voice. Sport mode puts an added layer of richness to the soundtrack, and that's a button you'd be tempted to press most of the time.
The engine's provocative acoustics is backed with genuine brawn. Full-bore acceleration is outright ferocious, and the engine's bi-turbocharged flexibility ensure an abundance of grunt is available right from low revs. Yet, such is the engine's fullness of character that one does not need to exploit the full spectrum of its performance to enjoy its charms.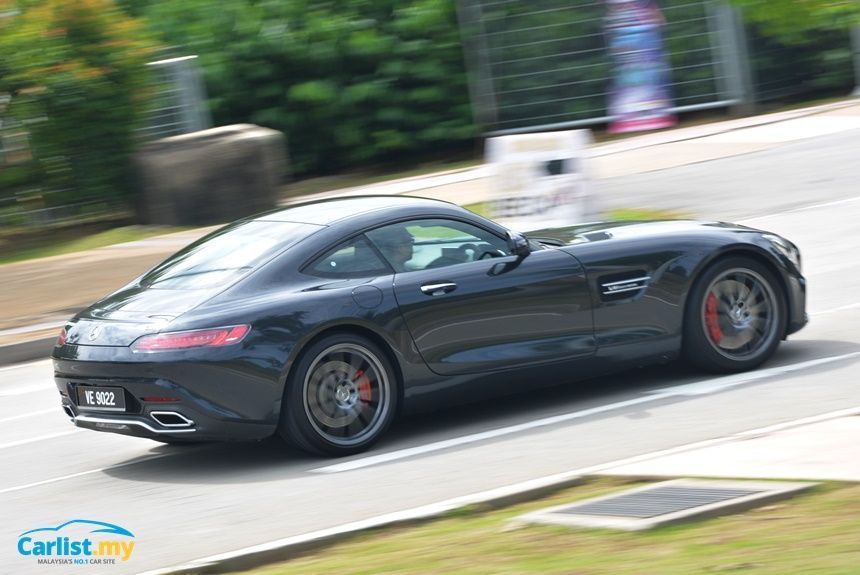 If the engine embodies the driving experience with a properly memorable sense of occasion, the steering ensures your concentration remains fully switched on at all times to appreciate it. The rack's gearing is astonishingly quick, and the axle accordingly alert to inputs. Because of the driver sits far back from the nose, the front end's eagerness to response feels even more heightened. Some drivers may call this twitchy, but either way, this is a car that interacts richly with your senses.
You will also in no way be made to feel small. Despite its relatively compact dimensions, the GT often feels bulky and imposing when squeezing through tight spaces.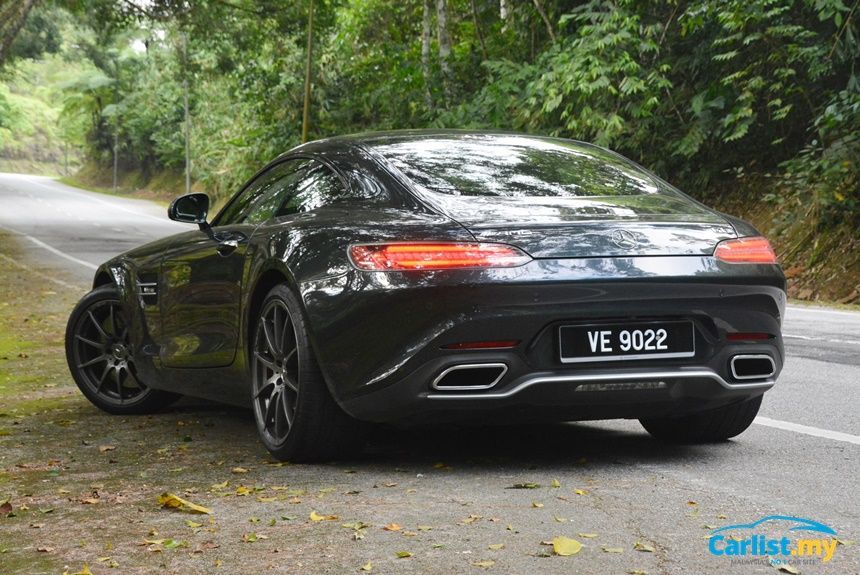 Comfort & Refinement
The AMG GT is neither comfortable nor refined. Dial the adaptive dampers to Comfort mode if you wish, but the suspension setup is clearly geared to prioritize the elimination of roll around corners. On ultra-smooth surfaces, it translates to a car which you can power out of bend with sheer confidence; introduce some patches on the tarmac, however, the car is robbed of its poise and composure.
Noise insulation, unsurprisingly, is given little due attention; an acceptable enough compromise that more of the V8's wonderful noise is let in, but along with it comes wind and tyre noise, the latter particularly prevalent over rough surfaces. It's far from ideal where day-to-day living is concerned, but if you only have space for one car in your life, you probably shouldn't have been looking at an AMG GT to start with.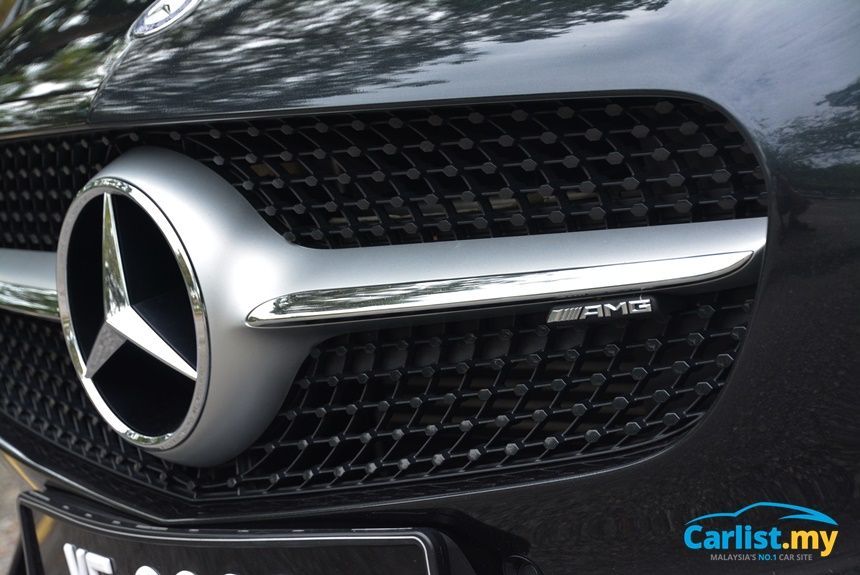 Economy & Maintenance
Not likely to be an area of great consequence for prospective owners, but our test car recorded an average fuel consumption of 15.1 litres/100km over a 246km test run. The C63S with the same engine recorded a much-lower 11.0 litres/100km, but with a greater proportion of highway driving.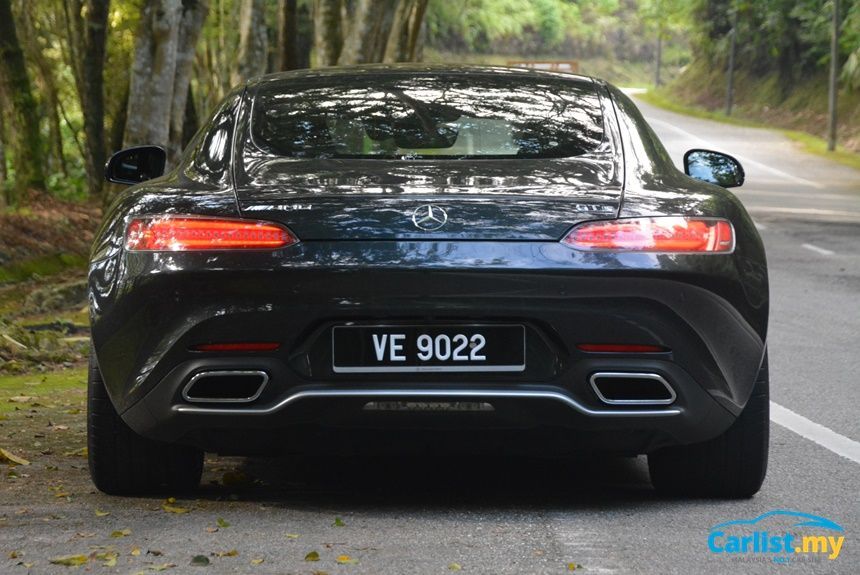 Conclusion
The GT is not a car for everyone; certainly, the breadth of its abilities are not as well-rounded as any member of the Porsche 911 family – an everyday sports car it is not. Additionally, a Jaguar F-Type is sharper at the helm and boasts no less imposing presence in the flesh, but the Mercedes replies with a standard of interior quality and ambiance that far surpasses the Jag's shockingly poor build.
Driving this car is a demanding task – not quite as much of a handful as supercars from the past, but certainly not with the consummate ease that one would navigate around in a C-Class either. In any other car, this would have been berated, but with the GT, it somehow adds to the sense of occasion every time you drive it.
An interesting thing to look at, the GT is a more brutal machine than its curvaceous sheet metal suggests. Where it lacks in delicacy, it spectacularly over-delivers on presence and charm. It can admittedly be tiresome to drive at times, but you can be assured that every drive in this car would be an occasion to remember.
---
---
---
Comments