Review: 2017 Volkswagen Tiguan Highline – Traditional In A Good Way
Reviews It's a great time for consumers who are looking to buy a car. We are in the age of two particular automotive trends: the incorporation of various high end tech and luxuries in mass market products, and the widespread push for compact SUVs and crossovers. In the case of the latter, both compact crossover and compact SUV markets have been booming over the last few months and years, with more buyers opting for these kinds of cars over the more traditional hatchbacks and sedans.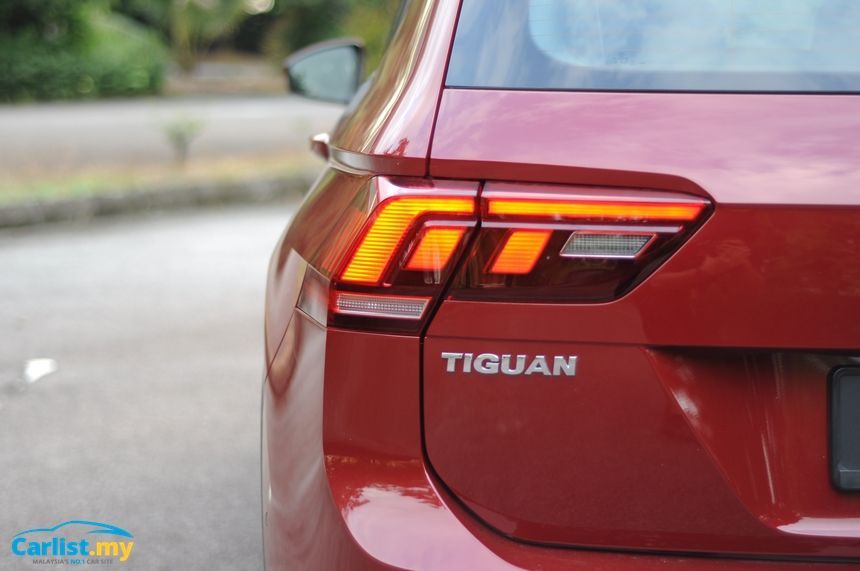 While many companies have been scrambling to develop models for these segments, Volkswagen has had a horse in the race for a number of years now: it's the Tiguan, and it's arguably one of the best-rounded compact SUVs out there. In many ways it has a traditional feel to it, and yet it also has a premium feel that comes in subtle forms, much like how the Polo and Vento feel premium even for entry-level products.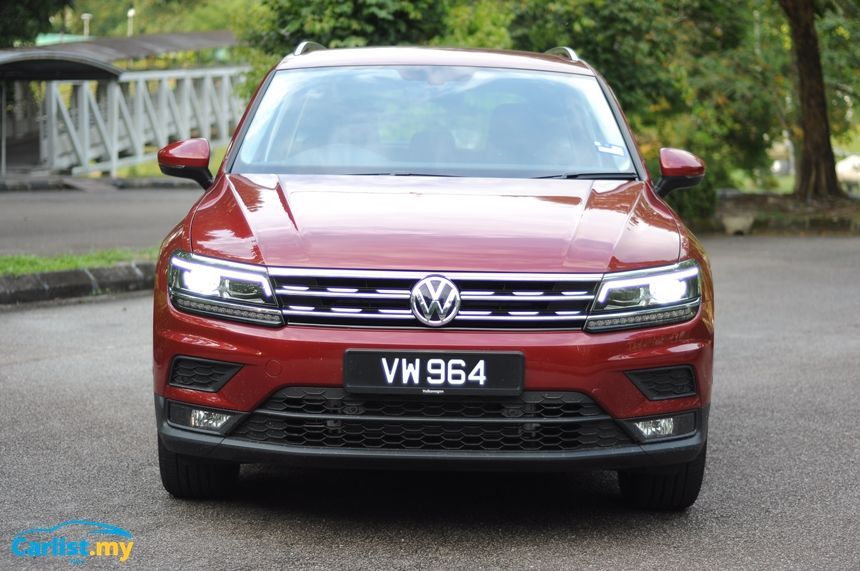 The Tiguan was a product that was born not particularly out of necessity, since at the time it was introduced there wasn't much in the way of competition or a crazy amount of demand. But that didn't change the fact that it was a well thought-out product, despite being little more than a Volkswagen Golf adapted for SUV ride heights and with a slightly classier interior. It was still a great, practical product- and while the more powerful 2.0 TSI variant didn't catch on as well, the 1.4 TSI models were fairly well received by a number of customers.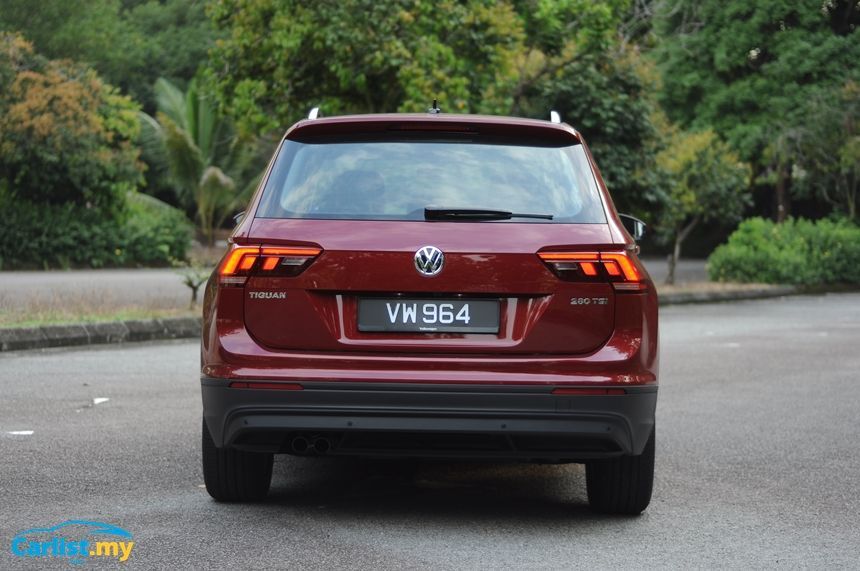 But this second generation Tiguan is more than merely a reworked Golf. While it is based on the same MQB platform, there are enough changes and tweaks to justify it as a proper standalone model, one that is resoundingly developed with the segment requirements in mind. It's larger and roomier, and more practical than ever. It's worth remember that buyers in this segment don't necessarily have brand preference; purchase decisions are based largely on what a car offers, and how well it drives and functions in everyday life.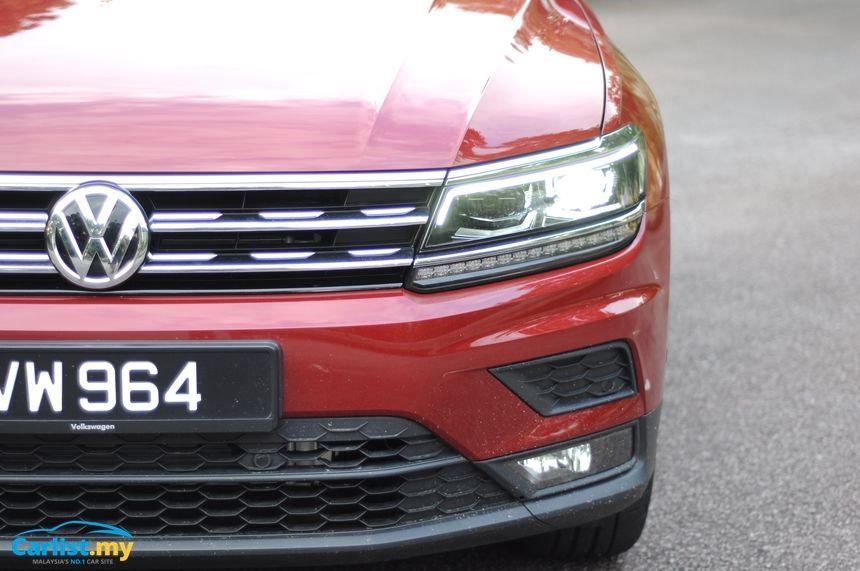 Specifications for the Volkswagen Tiguan 1.4 TSI Highline:
Price: RM169,578.00 (OTR without insurance)
Engine: 1.4-litre, Inline-4 transverse, Turbocharged Petrol
Power: 150 PS @ 5,000 – 6,000 rpm
Torque: 250 Nm @ 1,500 – 3,000 rpm
Transmission: 6-speed dual-clutch DSG, FWD
Safety: Brake Assist, 6 Airbags, ABS, Electronic Stability Control, ISOFIX
Origin: Locally-assembled in Pekan, Pahang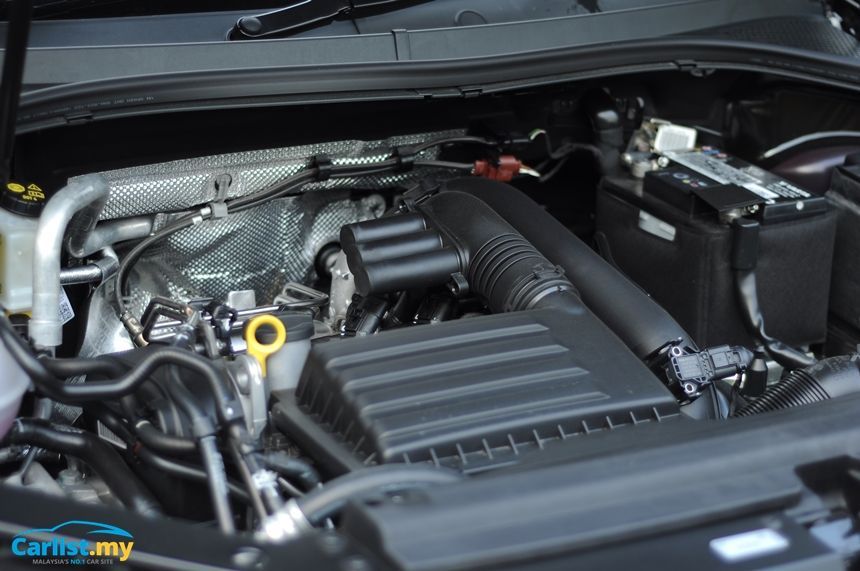 Overview:
The Volkswagen Tiguan is based on the MQB platform that underpins most of Volkswagen's range. It's a scalable platform that can go as long as the Passat, or as compact as the Polo- but no matter which application you see it in, you can be guaranteed a comfortable ride coupled with exemplary handling dynamics.
The sole powertrain on offer for our local Tiguan models is the 1.4 TSI, which is a turbocharged 1.4-litre 4-cylinder petrol engine. It produces a good 150 PS between 5,000 and 6,000 rpm, but the strong point of this punchy little engine is its torque range: 250 Nm is available between 1,500 and 3,000 rpm, giving it great off-the-line performance and allowing you to accelerate up to highway speeds without hassle.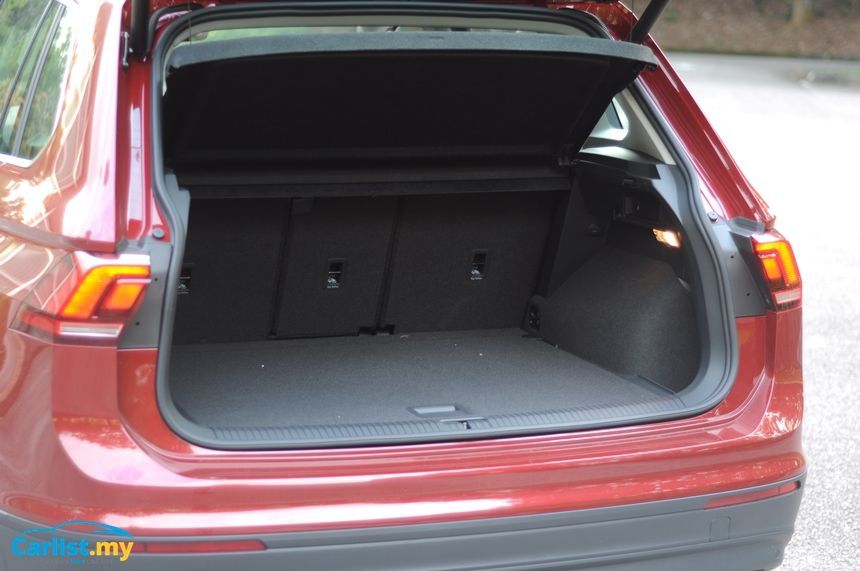 Power is sent through a 6-speed wet-clutch DSG dual clutch gearbox to the front wheels; there are no 4Motion all-wheel drive variants for Malaysia as of yet, and even the previous generation model only came equipped with 4Motion if you opted for the more powerful 2.0 TSI. That being said, the added benefit of leaving it as a front-wheel drive model is better fuel efficiency by virtue of less rolling resistance.
The Tiguan is offered locally in two different variants: Comfortline and Highline. What we have here is the Highline variant which is offered with a fair amount of extra kit, such as Park Assist 3.0, full LED headlamps with DRLs, an electric tailgate, a full leather interior, 3-zone Climatronic air-conditioning, navigation, and perhaps most important of all is the 12.3-inch Active Info Display that replaces the meter cluster. You can read more about the specification differences in our launch story here.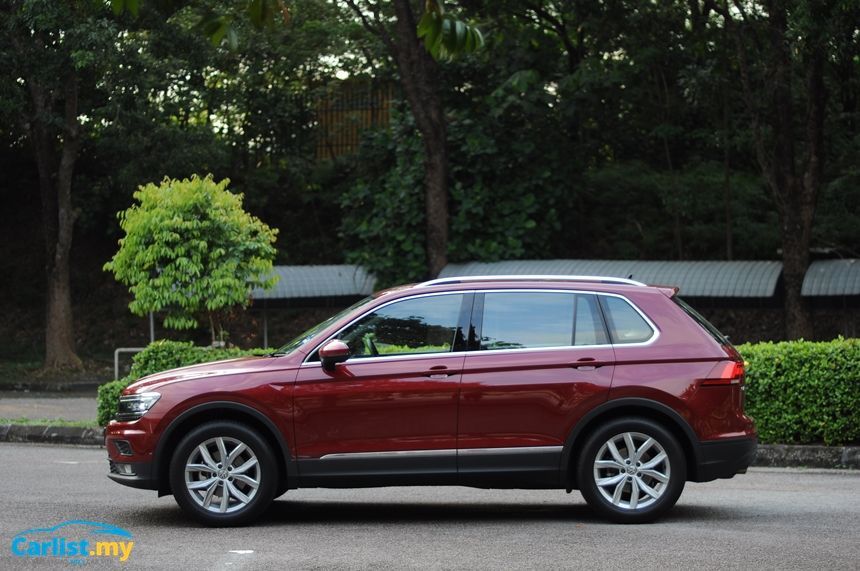 Exterior:
As we mentioned earlier, the Tiguan was traditionally more like a repurposed Golf than anything else. This time around, it has a more serious, SUV-oriented design that looks rugged yet completely at home in an urban setting. The lines are sharp and angular, without being too simple as to look cheap or unrefined.
The proportions are very much that of a traditional two-box SUV design, while the ride height isn't so high as to make it look ungainly or narrow versus the track width. Volkswagen's current styling elements are incorporated nicely as well, although it's worth noting that the 18-inch wheels of the Highline variant fill the wheel arches a lot better than the 17-inch wheels of the Comfortline.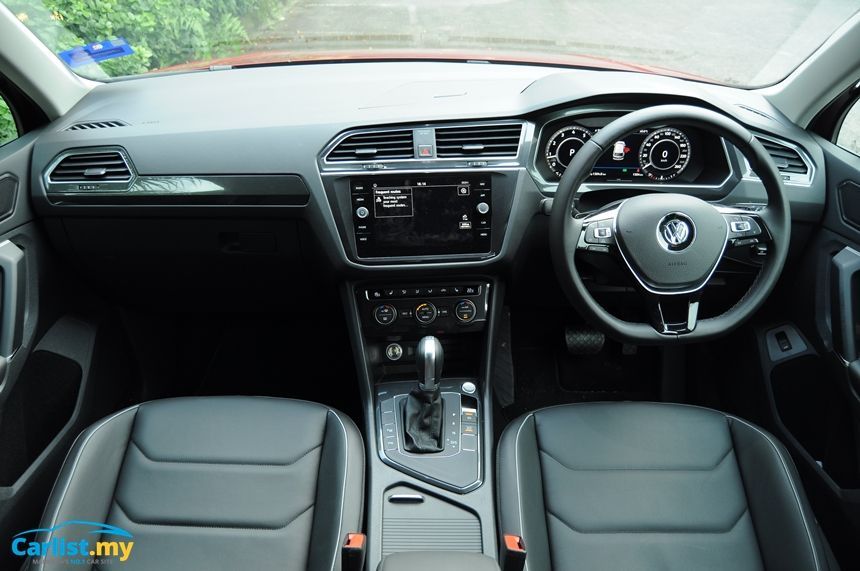 Interior:
Volkswagen interiors are fairly standardized across the range, although this isn't a bad thing by far. The dashboard is dominated by a touch-screen head unit that is intuitive and straightforward to operate. The standardized layout of Volkswagen's switchgear also makes it easy to operate climate controls and the like, and rarely does the Tiguan leave you wanting for storage space.
It's true that modern car interiors are largely dark and sombre tones, and the Tiguan is no exception. While a little bit of dark brown would be a welcome change, there is absolutely nothing wrong with a black-on-black colour scheme for the interior. The materials make up for the lack of contrast, and the leather seats feel premium to the touch. For the driver, the large 12.3-inch Active Info Display makes the car feel a lot more high-end than the price may indicate, and the flexibility of display from mere meters to full on navigation provides a level of convenience that we can't wait to see adopted by other manufacturers.
There has definitely been work put in to provide more legroom and elbow room as a proper SUV model, as was the case with the previous Tiguan. Rear legroom also sees a large improvement, and rarely do rear passengers find themselves wanting for more space to stretch out. Fold out tables in the back of the front seats are a classic feature that, while not so practical on the move, definitely help to keep children occupied and keep food or drink off the seats.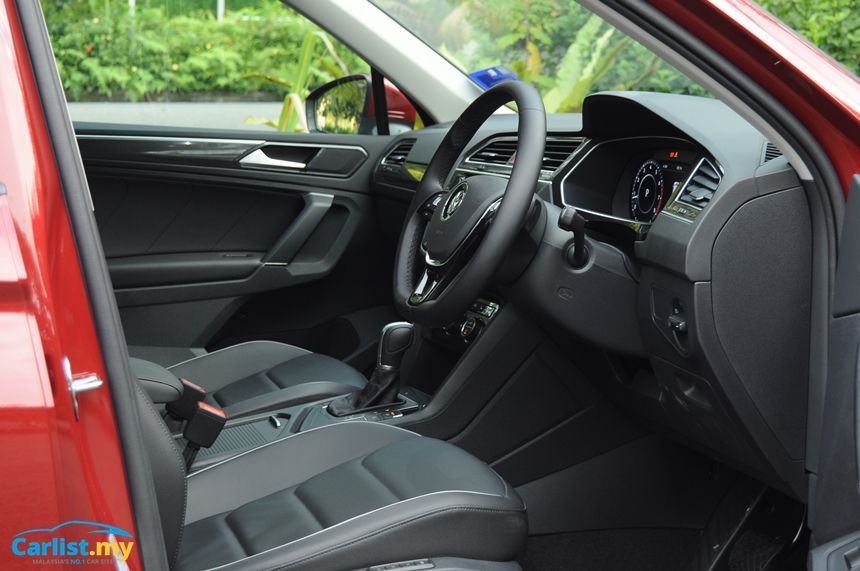 What is it like to drive?
While it has fairly average exterior dimensions for an SUV, the Tiguan doesn't feel unnecessarily large in most situations. It may be a little cliché to say this, but the Tiguan is an SUV that drives much like a regular passenger car. This is afforded by the great MQB platform on which it sits, but even so we have seen examples of manufacturers taking great platforms and screwing them up with poor chassis tuning. .
For those days when you absolutely need to hurry because your child is late for school, the Tiguan can stand and deliver. The body pitches and rolls as you apply throttle and steering respectively, but it does so in a controlled manner that doesn't catch you off guard. It has predictable characteristics, and of course should you find yourself stepping beyond the limit, the Electronic Stability Control will kick in and reel you back.
As for real-world performance, it is as you would expect from a small-capacity turbocharged engine in a heavier SUV body. It moves quickly and without fuss up to just over the national speed limit, beyond which you have to start working for your speed. In a nutshell, you won't find it underpowered when nipping around town, but you may find your right foot buried in the carpet when trying to reach higher cruising speeds out on the highway. Thanks to the longer gearing, it also allows you to cruise at higher speeds while keeping the engine speeds low for better efficiency.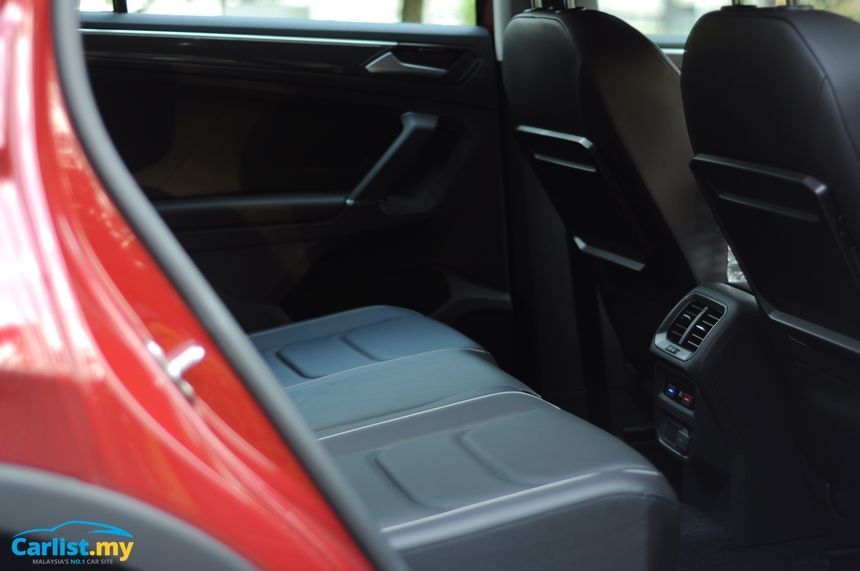 How comfortable and practical is it?
For everyday duty, the Tiguan sits well on the road and takes up bumps and potholes in its stride, damping away jolts and shocks easily. Even rear-seat passengers rarely experience discomfort; most SUVs are a little stiff at the rear to cope with potential high loads in the boot. Again, this is one of the virtues of the MQB platform, but it also goes to show that merely equipping a car with long-stroke suspension and high profile tyres is not necessarily enough to cope with Malaysian roads and driving conditions.
In terms of practicality, the Tiguan is as usable as you would expect. The boot floor loading height isn't particularly high off the floor, allowing you to load and unload cargo with ease. Quick release latches in the boot allow you to quickly drop the seats if you find yourself needing more space lengthwise for longer items. The electric tailgate adds an extra level of convenience as well, operating fast enough to prevent frustration but slow enough to let you get out of the way if you find it closing on you.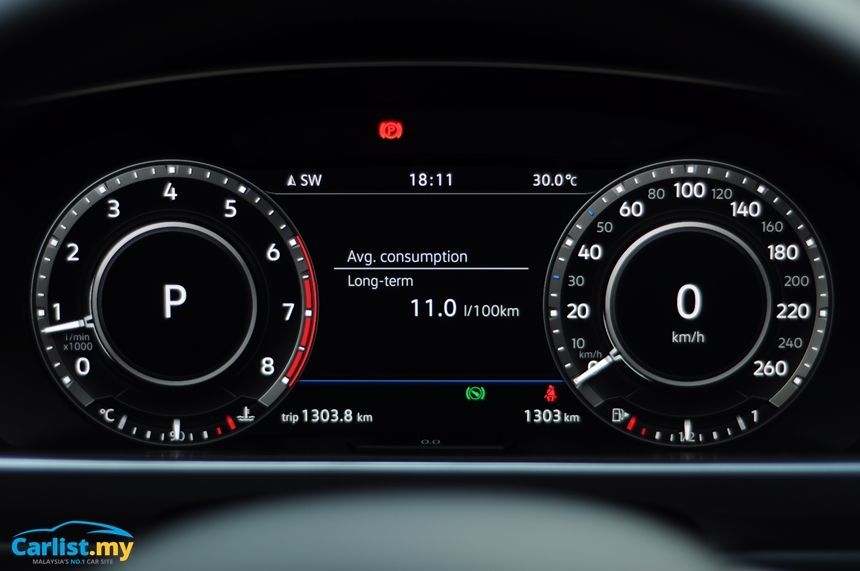 How efficient is it?
During our time with the Tiguan, we experienced a variety of conditions- from really horrible stop-start jams to high speed cruising down open highways. What it eventually returned was an average efficiency of 11.0 litres per 100 kilometres. Granted, this isn't the best efficiency you could achieve with a car that's quoted as returning a possible 6.7 litres per 100 kilometres, but we did find that at its peak efficiency, 8 litres per 100 kilometres was possible.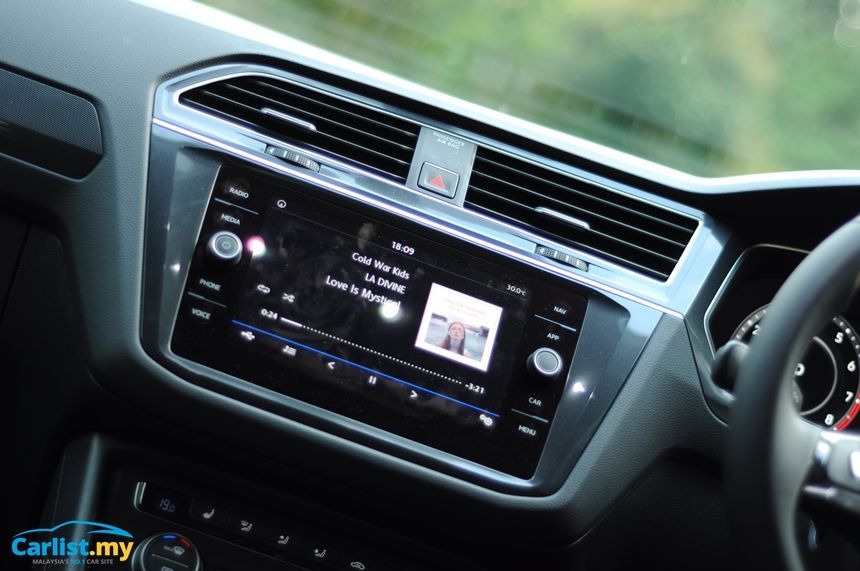 Conclusion
We stand by the Volkswagen Tiguan as a great contender within its segment, and that's even if you only compare it with its rivals on paper. We may eventually see safety systems like Autonomous Emergency Braking and the like being introduced with a facelift depending on how commonplace it becomes within segment, but this also depends on how receptive the market is of such systems. Where the Tiguan's strong points lie are in its engineering and refinement: it feels like a well put together product with thoughtful consideration of the needs of its target market, and in the SUV segment, traditional is as strong a selling point as any.
It may not have an absolutely eye-catching design, but there is beauty in simplicity. We hope Volkswagen Malaysia will eventually introduce the faster 2.0 TSI variant, we also understand there is little demand for such a product given how sales of the previous generation were distributed. In any case, the Tiguan 1.4 TSI provides more than enough performance for the everyman looking for a compact SUV with a premium touch, yet one that remains true to traditional SUV requirements and design.
---
---
---
---
Comments