Review: 2017 Volkswagen Tiguan 1.4 TSI – Last Chance Hero
Reviews The all-new MQB platform Volkswagen Tiguan is one car that Volkswagen desperately needs to make sure that it gains traction in Malaysia. Beset by a string of image denting quality issues in the past, Wolfsburg's pride in their German engineering heritage is a sentiment that's not shared among Malaysians.
Last year, the brand changed hands and the new custodians at Volkswagen Passenger Cars Malaysia had pinned their hopes to restart on a clean slate with the all-new B8 generation Volkswagen Passat, also based on the same lightweight MQB platform.
It didn't quite take off as well as they had hoped. The B8 Passat is a mighty impressive car, with enough refinement, composure and performance to hassle a BMW 320i or even a Mercedes-Benz C200.
But buyers in the D-segment market are a very conservative bunch. It's a market where the Honda Accord reigns mighty and the only alternative acceptable to this crowd is the Toyota Camry. Enthusiasts may love the Mazda 6 but in the grand scheme of things, the Mazda is merely a blip in Honda/Toyota's radar.
With prices of BMW 3 Series and Mercedes-Benz C-Class now lower than ever before, the downward price pressure on D-segment cars is immense. No matter how good the Passat is, it can't out-do the BMW/Mercedes-Benz badge.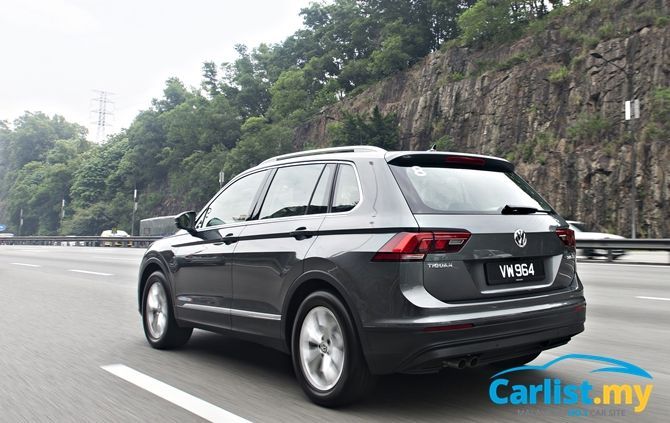 Thus this lower-priced Tiguan is the Volkswagen's last chance to redeem itself. Preliminary results have been positive. Sources at Volkswagen have told us that the order books for the Tiguan have been piling up at a pace not seen in any recent Volkswagen model.
Shortly before the Tiguan's launch in Malaysia (we are the second country in the region to receive the car, after Singapore), we were given the privilege to sample the all-new Tiguan, driving from KL to Ipoh and back again.
Specifications for 2017 Volkswagen Tiguan 1.4 TSI
Engine: 1.4-litre TSI (single turbo), transverse 4-cylinder
Power: 150 PS between 5,000 – 6,000 rpm
Torque: 250 Nm between 1,500 – 3,500 rpm
Transmission: 6-speed dual clutch (wet-type) automatic, front-wheel drive
Safety: Seven airbags, anti-lock brakes (ABS), electronic stability control (ESC), traction control (TC), ISOFIX (2x, rear)
Origin: Locally assembled in Pekan, Pahang
Price: RM148,990 for Comfortline, RM168,990 for Highline (excluding insurance)
Overview
Bigger, more spacious, lighter, better equipped and cheaper than before, the all-new Tiguan takes the fight to the best-selling Honda CR-V, Nissan X-Trail and Mazda CX-5, but it sets itself apart from its Japanese peers with its 150 PS Tiguan 1.4-litre turbocharged engine. With 250 Nm of torque twisting through the crankshaft, the Tiguan offers the highest torque in its class, equaled only by the 2.5-litre naturally aspirated Mazda CX-5.
Ignore the 280 TSI badging on the boot. It doesn't mean much apart from where the variant sits within the Tiguan's hierarchy. It's analogous to how BMW uses a 20i or 25i or 30i badge to differentiate their variants.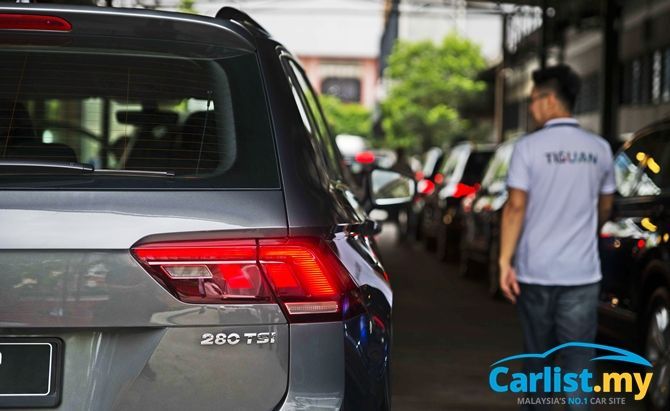 The omission of the Golf GTI engine-powered all-wheel drive 2.0 TSI Tiguan will be missed but that's understandable, as the previous generation 2.0 TSI model was priced upwards of RM240,000 and didn't sell very well.
Local assembly has also brought down the Tiguan 1.4 TSI's price by about RM30,000.
Exterior
In past, Volkswagen vehicles have been very conservatively styled, prioritizing timeless lines over short-lived trends. While they might age gracefully, they don't stand out in traffic very well.
Standing out is something the new generation of sharply creased Volkswagen models do very well. In fact, it can be argued both the Passat and Tiguan are much better looking than even an equivalent model from their sister-brand Audi.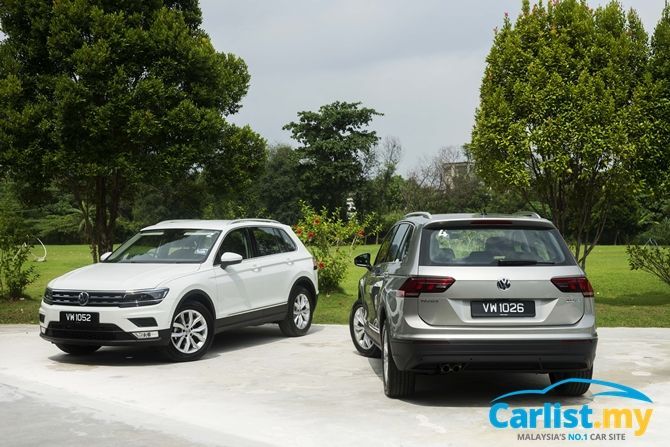 The pictures don't do it justice but the Tiguan sets itself apart with an air of sophistication not found in its Japanese counterparts. The lines are clean while the front- and rear-end are free of clutter.
The range topping Highline model is differentiated from the entry Comfortline model by its 18-inch Kingston alloy wheels, silver roof rails, full LED headlamps (with auto swivelling Dynamic Cornering Assist), and a tiny reverse camera on the number plate frame. More on the differences between the Comfortline and Highline here.
Interior
Like all Volkswagen models, the Tiguan's dashboard is still set too high for our liking. One only needs to jump into a Honda CR-V to understand significant difference in outward visibility and efficient packaging between the two.
While it's not as spacious as the CR-V or X-Trail, the all-new Tiguan's cabin roominess is slightly better than a Mazda CX-5.
Material selection is as what you would expect from Volkswagen of this class – Teutonic flavour with a sprinkle of premium brushed aluminum trims and soft touch materials.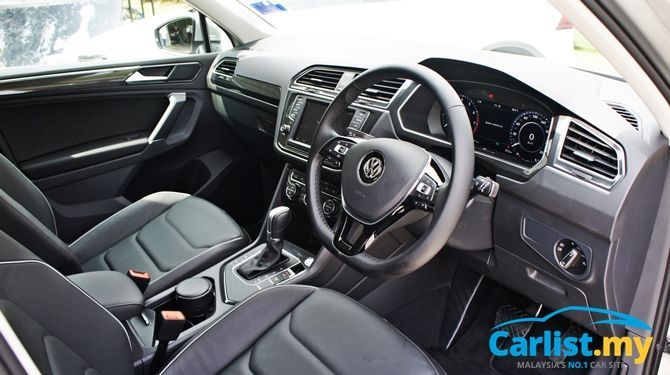 In the Highline model, your focus will naturally be drawn to the 12.3-inch full-colour full-LCD 1440x540 resolution Active Info Display instrument panel. Compared to the similar screen in the Passat with five display modes, the Tiguan has an additional 'Off-Road' mode that displays steering angle and a compass, but remind yourself that this is still a front-wheel drive vehicle.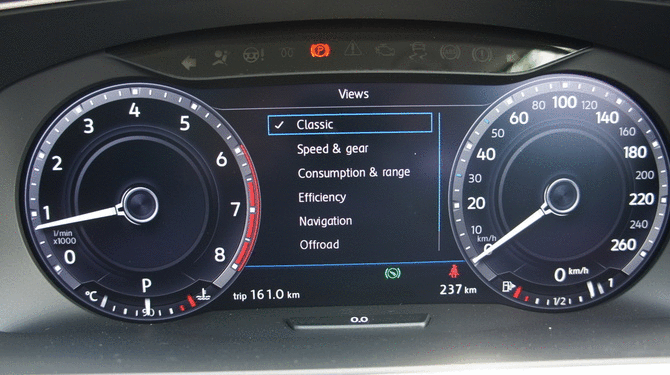 Ergonomic shortcomings include a rather short centre armrest that sits a bit too low, and the tiny centre console box makes us miss the CR-V's 'empty all your pockets inside me' sliding cover lid.
The seats are as what you would expect from a Volkswagen – firm and supportive all around for long distance drives. The Highline model's electric adjusting driver's seat comes with 3 memory position. The entry model Comfortline's makes do with fabric material but I personally find it to be a bit too rough on the skin, even when judged by the standards of regular fabric seats.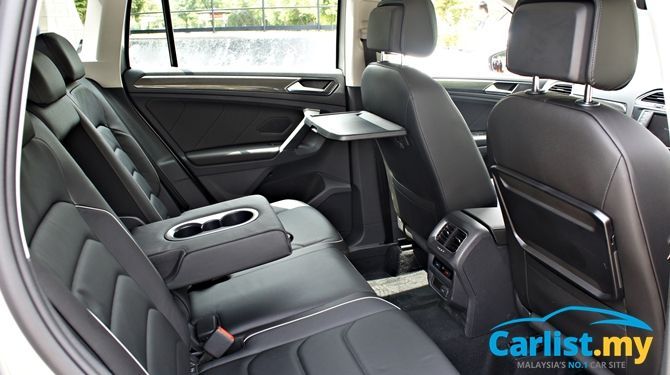 The rear seats and boot space are where the MQB platform all-new Tiguan have made significant strides over the previous model. Legroom and shoulder room are significantly improved and your feet stretches comfortably rather than pushed under the front seats.
There's also foldable table trays but frankly, it's hard to see under what circumstances it will be of any use, especially when the car is moving.
Curiously, the Tiguan's brochure makes no mention that its rear seats recline as well as slide fore/aft to further increase legroom, so do check out the feature when you test drive one.
The rear seats splits in not just two, but three parts – 40:20:40.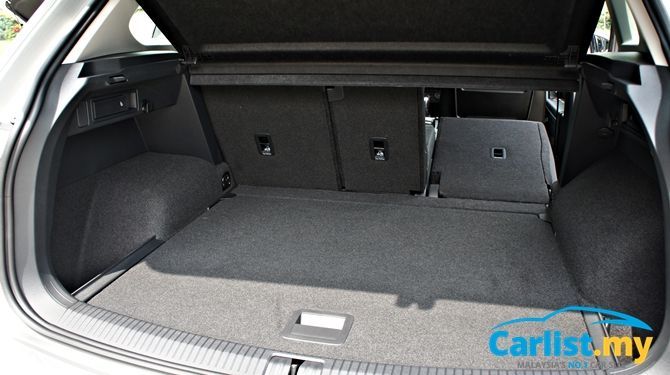 Boot space is a massive, class-leading 615 litres, even bigger than the Honda CR-V's 589 litres. Fold the seats flat, which can be done via user-friendly levers on either sides of the boot wall, and cargo capacity is increased to 1,655 litres.
The Highline's 8-inch touch-screen infotainment's App Connect feature can for RM1,099, be upgraded (software update only, no change to hardware) to activate Mirror Link, Android Auto and Apple Car Play connectivity. However, customers who bought the car during the launch period need to pay a promotional price of RM699.
Driving experience
Despite having only a 'small-ish' 1.4-litre turbocharged engine under the boot, the Tiguan is not a slow car by any measure. Sure a 2.0 TSI would've been faster but the 1.4 TSI is powerful enough to command sufficient respect.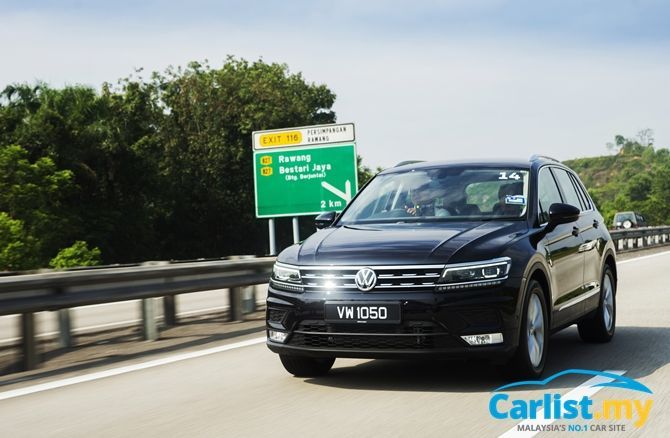 With 250 Nm on tap from a lowly 1,500 rpm until 3,500 rpm, in-gear accelerations – which are far more important in real-world driving than 0-100 km/h time – are the Tiguan's forte. Coming up to slower traffic, a brief flex of the right foot is enough to summon the necessary power to effortlessly overtake slower traffic.
The previous Tiguan had a floor-hinged accelerator pedal, which allows for finer throttle control but this all-new Tiguan uses a less costly, conventional top-hinged pedal. It's a detail that only nerds will pick on but frankly, with the current crop of turbocharged engines and their inherent turbo lag (it's minor, but it's always there), there is little point in exercising the finer tenths of throttle control.
Speeds of up to 160 km/h are sustained without much effort, dispensed with a level of confidence that you would've come to expect from a Volkswagen.
Volkswagens are not known for their steering feel and the Tiguan is no different. It's nicely weighted and is sharp but as far as feedback is concerned, it's not as communicative as say a Mazda CX-5's rack.
Despite it tall ride height, handling is rather neutral even when pushed hard.
Comfort
The Tiguan's natural habitat is in the company fast flowing traffic on long highways. Damping is Volkswagen's characteristically firm but yet pliant ride, while the cabin remains very quiet even at 160 km/h. It's not as quiet, or even as planted on the road as the very refined Passat, but as far as mid-class SUVs go, this is certainly the benchmark for long distance cruising.
Off the highways and into twisty trunk roads, you will quickly be reminded that this is still a tall riding SUV. Yes it still corners flatly, with a good level of body control but while the car's body remained stable, your body however, is often resisting a much higher level of G-forces and sway.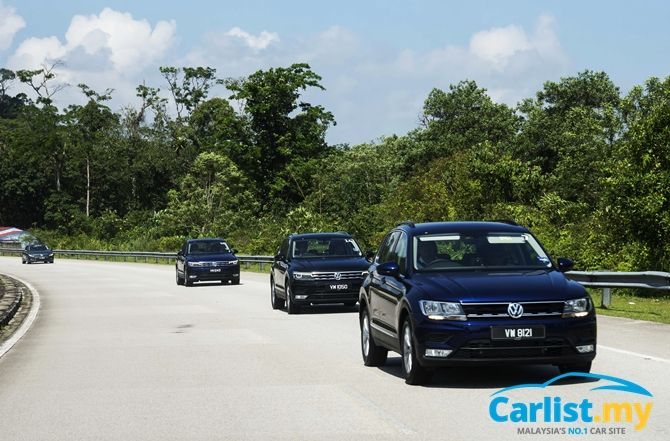 The car is capable to handle the twists and turns but it's not an experience that you will enjoy. In this aspect, a Passat or even a Golf or a Jetta, offers a much better ride.
In urban traffic, the dual-clutch transmission is not the smoothest around, and that's a criticism applicable to all dual-clutch transmissions irrespective of their make.
The 6-speed DSG might be a wet-clutch unit, which are supposedly smoother (but slightly less efficient than dry-clutch ones) but all it takes is a standing start in rush hour traffic, on an uphill slope to unravel its shortcomings.
The transmission is easily caught in a bind when inching forward uphill in light throttle, resulting in jerky start-stops, which is exasperated by the turbo coming on or off boost. For a smoother drive, leave a bit more gap with the vehicle in front before accelerating forward gently.
Fuel economy
This is certainly Volkswagen's forte. Claimed fuel consumption is 6.2-litre/100 km but our punishing driving route, which includes not just clear highways but challenging trunk roads, our swift pace saw the trip computer registering an average of 9.5-litre/100 km.
Conclusion
As a product, there is little else that the Tiguan leaves us wanting. Sure it's not as smooth in urban traffic as a CR-V or CX-5, and lacks the CR-V's benchmark user-friendly cockpit and utility bins but the Tiguan counters with its otherworldly ride and handling experience and class-leading boot space.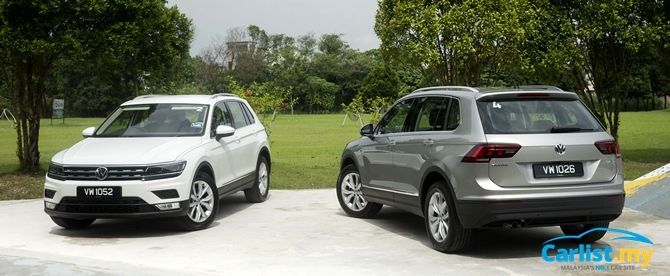 The only question that hovers in the minds of would be buyers is less about the product, but more on concerns on the dented image of Volkswagen's reputation on quality. Malaysians couldn't care less about dieselgate but qualitygate is real. True, things are now a lot better than before but regaining confidence is something that takes years to build. Whichever position one takes on the Volkswagen brand, the Tiguan is a step in the right direction. It's a right product aimed at the right booming segment, sold at the right price.
---
---
---
---
Comments