Review: 2017 Volvo V90 Cross Country – Swedish Superwagon
Reviews "It is sixteen degrees below zero over there," said a friend after checking the weather forecast. "Are you sure you can handle it?" The truth is I had never seen snow in my life- real snow, not the artificial kind you might find at Genting- and this worried me a little. Adjusting to freezing climates is one thing; driving on frosty roads is something else altogether. But Volvo Cars Malaysia was doing just that: they were flying us out to Sweden to let us test the all-new V90 Cross Country, and a couple of other models along the way.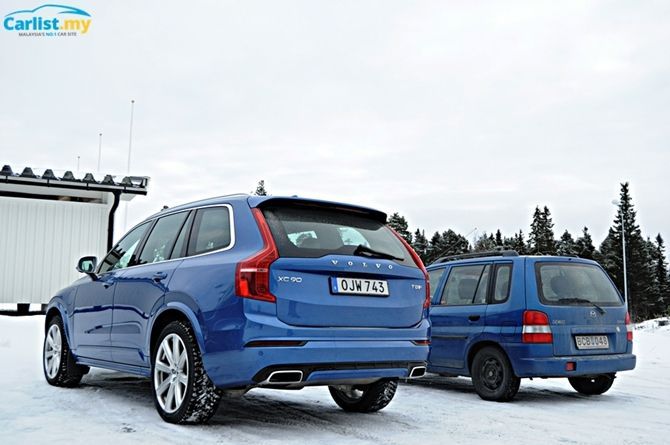 After nearly 48 hours of flights and layovers, we arrived in the winter wonderland known as Östersund. The airport that services the area is relatively small, much like one that you might find in Langkawi, and Volvo had commandeered a small section of it in order to brief us on the car and the route we would be taking, as well as to warn us of the perils we might face when out there. Speed cameras were an important talking point, but thankfully they would all be marked out properly and were few and far between (as they well should be). Rather surprisingly, the good folks at Volvo weren't too concerned about the driving conditions- perhaps because the cars were all equipped with proper winter tyres.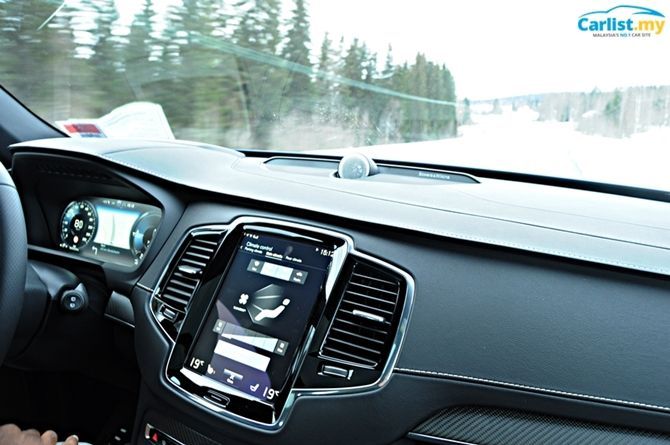 Once we were assigned our cars it was time for us to head out and drive to our hotel in the ski resort town of Åre- which happened to be a good 90 kilometres away from the airport. One of the first thing you learn when dealing with the cold is that you put your jacket and gloves on before you step out into the chill, rather than trying to fumble with it once you get out there. Thankfully the walk to our car for the day- a Volvo XC90 T8- was just a few hundred metres across the snow covered car park.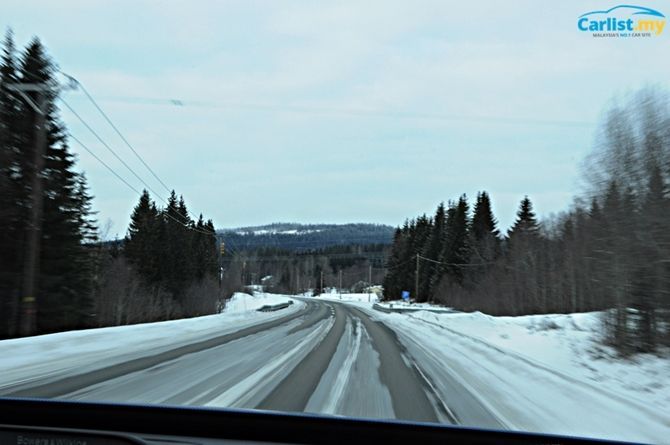 You might think that driving is the same in any country that you go to, with the only major distinction being between left hand drive and right hand drive countries. You will quickly discover that this is a flawed idea, especially if you find yourself driving through Östersund in the middle of winter. As the roads around the airport are frequented by traffic, snow and ice doesn't have much of a chance to build up- but you still find snowbanks encroaching onto the road in certain places.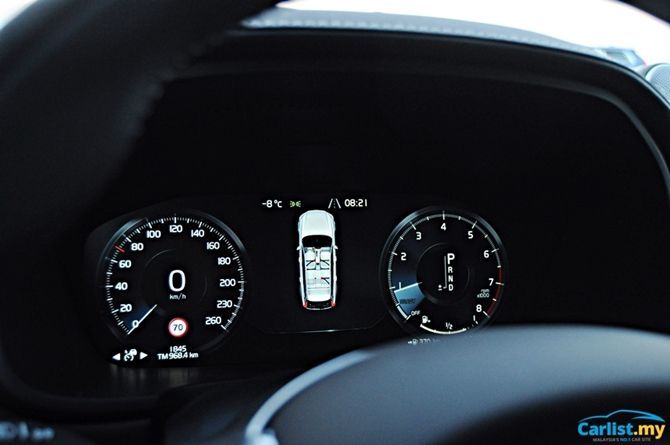 And that's when the lane departure warning suddenly makes a lot of sense. Yes, that annoying warning system that you turn off because it keeps beeping or tugging at the wheel- that little feature is a godsend when trying to keep a huge car within your lane while squeezing past snowbanks at fairly reasonable speeds. The more we drove through Östersund, the more a lot of these features began to fall into place. The automatic speed limit display on the heads up system helps you adjust as speed limits in Östersund change as rapidly as our national automotive policy. And with a scenery as beautiful as the snow covered fields and lakes and mountains, the collision detection warning is definitely useful should you find yourself distracted.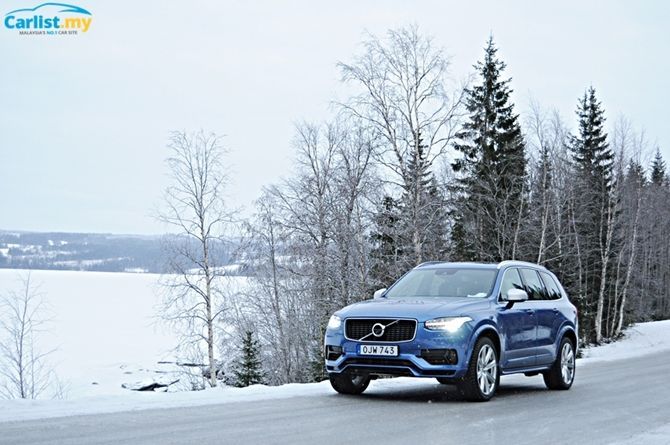 Winter tyres are a huge help as well when it comes to getting around; Nokians were the brand of choice for the entire exercise, being double studded but also tarmac friendly. They offer a fair amount of grip even on ice-covered roads; on the off chance I hopped out of the car to grab a few photos such as this one by a frozen lake, I could barely walk around without slipping and sliding. The fact that a nearly-two-tonne SUV can maintain over 100 km/h on this kind of surface is something my brain still can't quite rationalize- but eventually we made it to our accommodation and retired for the night.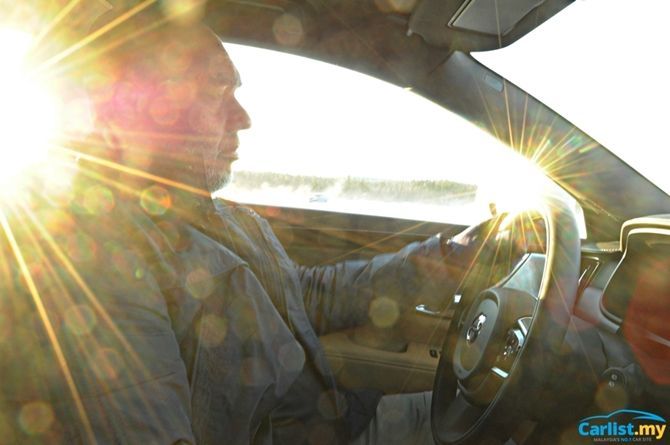 The next day started bright and early, and we once again piled into a mishmash of cars as we set off from the lodge. First on the agenda for the day was the opportunity to drive on a giant frozen lake with a high speed and low speed track mapped out for us. Does this have any relevance for our market (or really anywhere in the world without snow)? Not in the slightest. Was it some of the most fun you can have on four wheels? Without a doubt, yes. Driving on low friction surfaces in open places is the best way to explore the limit of a car; there's minimal wear on the mechanicals, and almost no risk of damaging the car in any way.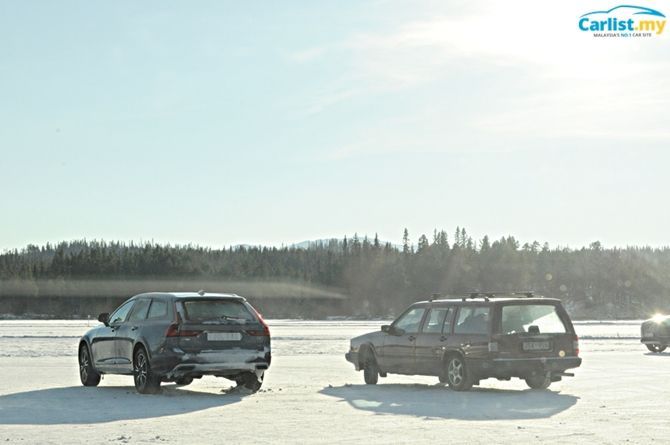 You could argue that this was done to show us how well these new Volvos handle in such extreme situations and driving conditions, but the truth is that most drivers are hardly, if not never, going to reach this point when driving their Volvos. It is still impressive to see a full-sized XC90 T8 pirouetting and snapping through directional changes not unlike a WRC car during rally Finland, but it is as alluring as it is unnecessary. That being said, we would be lying if we said it didn't leave us with a huge sense of respect for the Swedish automaker and their products, and perhaps gave us a little hope that Volvo will return to the world of performance cars sooner than we think.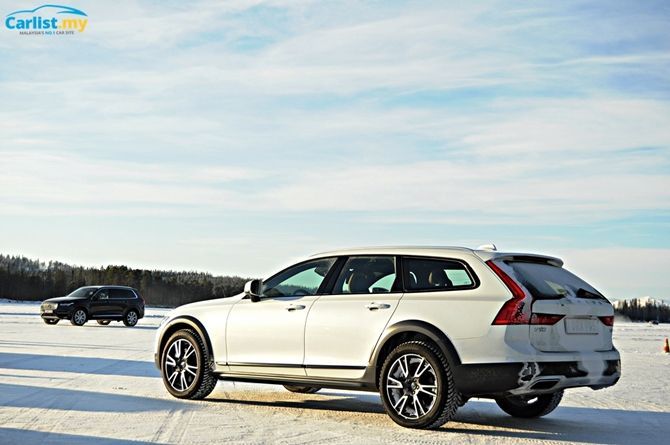 By the time we were done pretending to be Colin McRae, the lake had been wiped smooth of snow and was down to bare ice- which is also something we discovered was as treacherous as oil at times. It was time to head off, and luckily for us we had another day or so to experience the V90 Cross Country in its entirety. After all, the XC90 T8 is something already we have here, while the V90 (and the corresponding S90) are the hottest new models slated to arrive in the coming months.
For those unfamiliar with the Cross Country family, it began many years ago when Volvo was looking to create something that could handle the rigors of light off road driving, but still had all the dynamics and safety aspects that made a Volvo, a Volvo. This was before luxury SUVs became commonplace, so of course cars like the XC60 and XC90 weren't around to meet the needs of this segment. But lovers of the Volvo wagon form could purchase an XC70 (also known as a V70 Cross Country) and they would get a car that sat with just enough ground clearance to get through the tough stuff, but still low enough to be dynamically excellent.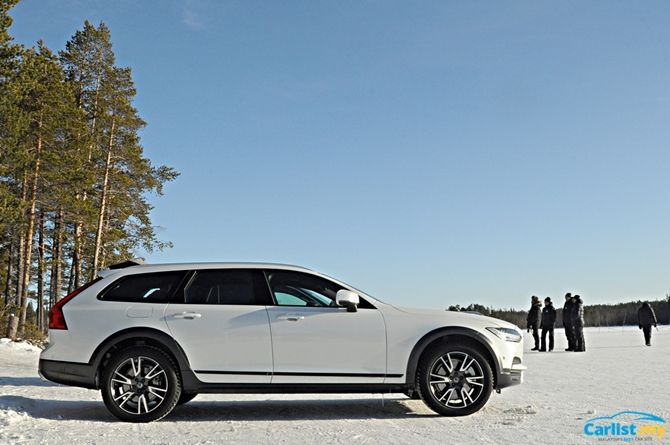 This new V90 Cross Country follows that same formula, with the overall ride height of the car increasing in order to meet those cross-country needs. There's additional body cladding and such in order to differentiate it from the normal V90 models, and our particular car was the T6 AWD model that also came packaged with air suspension at the rear. It's an exciting looking car from the outside, with perfect wagon proportions and modern chic styling that follows on from the XC90.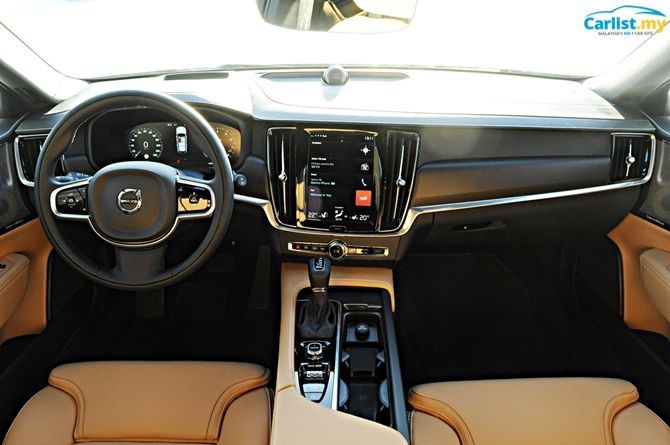 On the inside, things only get better. When the XC90 was unveiled to the world, people fell head over heels for the completely new interior- one that perhaps took a leaf out of Tesla's book: it had a huge central touch screen that controlled a variety of operations, and left the dashboard otherwise uncluttered but elegant in its simplicity. The V90 Cross Country takes this even further, with the repositioning of air vents and different material choices to make it even more luxurious (if you thought that were even possible). While Volvo held on to their previous interior design scheme for a little too long, their new look is likely to stay relevant for decades to come.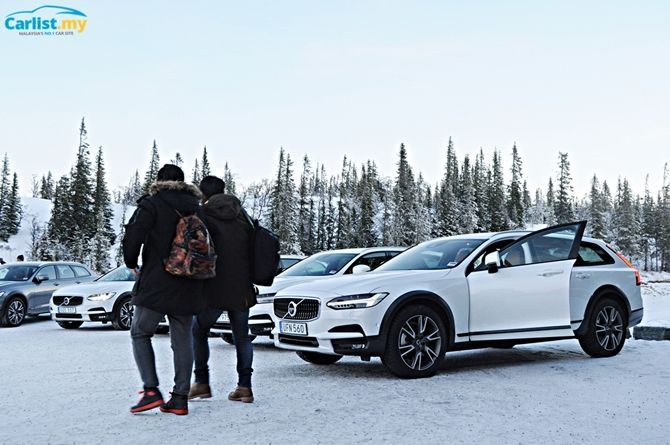 The vast majority of consumers have never really regarded modern Volvos as being dynamic, especially when the last association with "performance" was with the 850R back in the 1990s. Even then, it was only respected and appreciated by enthusiasts, and only those who were open minded enough to accept a fast Volvo. Of course things began to change with the current gen V40 and V60, both of which are more fun to drive than one would expect from the Swedish brand, but neither of these are immediately obvious rivals to offerings from the German trio. The V90 Cross Country, despite sitting taller than its regular V90 sibling, could easily change that perception.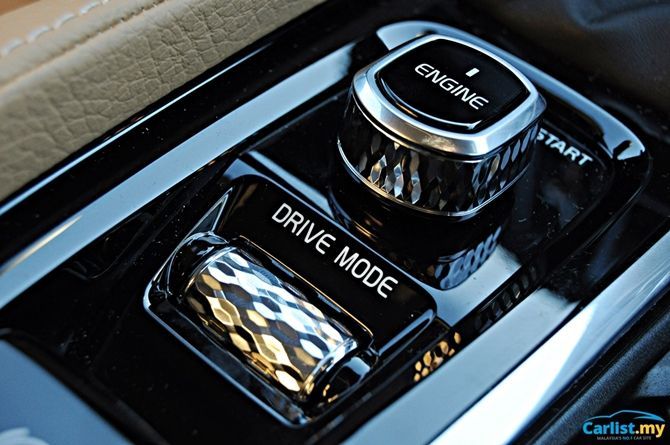 Let's bear in mind that we were experiencing the V90 Cross Country on icy, unfamiliar roads- dual carriageways to be precise. And let's also throw in a little bit of context: the locals in the area aren't particularly patient drivers and will overtake you at any opportunity, even if you're travelling at the posted speed limit. After realizing there wasn't much danger of being a little liberal with our speeds, we took the opportunity to follow the locals down through some sweeping curves and over crests, and the V90 Cross Country performed beautifully.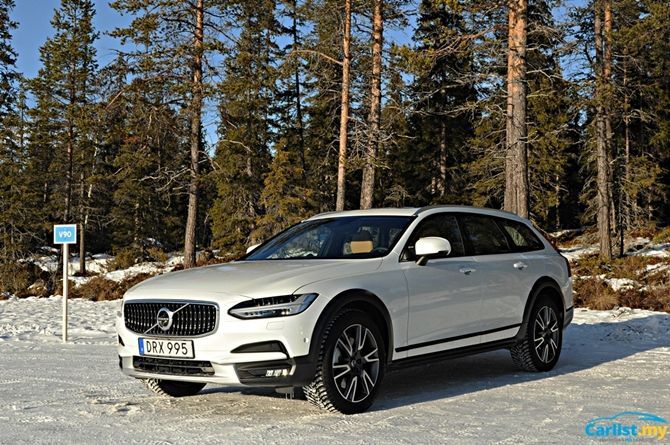 The body control is damn-near perfect while ride comfort remains largely uncompromised, thanks in part to the air suspension at the rear, but also because Volvo went through hundreds of different spring and damper settings before they were satisfied. While there is only a twin-charged 2.0-litre mill up front (as per the T6 badge), it pushes out a solid 316 hp and 400 Nm of torque- similar to that of the S60 T6 and easily rivalling the BMW 340i or Mercedes C400 if they were even sold locally. It's also paired with an 8-speed automatic (competitive within the class), but what is unique is that it has all-wheel drive.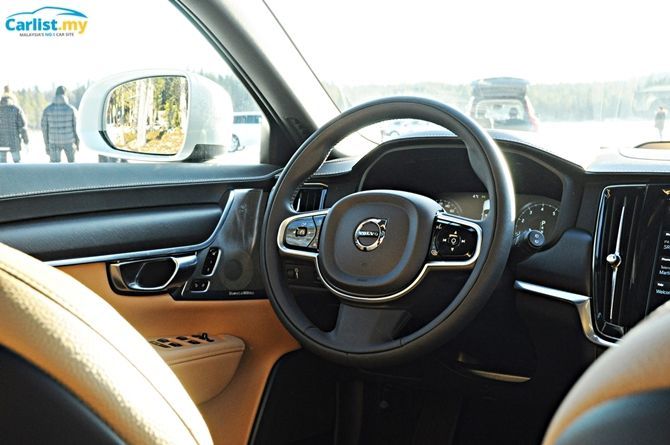 This is the major distinction. Yes, naturally all-wheel drive makes a car more effective and easier to drive in adverse conditions, but it also has the added benefit of splitting torque between the front and rear wheels to reduce torque steer. The biggest change is in the steering system when compared to the S60 T6 and the V40 T5 Drive E: there's none of that dullness in response and feedback that occurs whenever you touch the throttle. With accurate steering and excellent chassis dynamics, the V90 Cross Country is definitely a force to be reckoned with.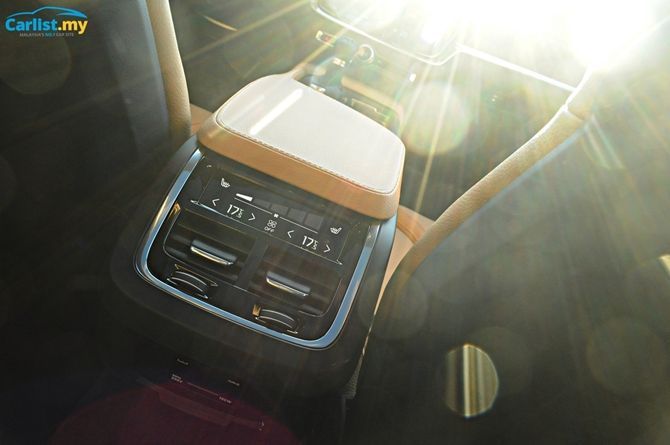 But even if you don't care about how it drives and handles, and you simply want to assess it as a luxury car, the V90 Cross Country delivers. It's not merely the choice of materials or the features, but rather the package as a whole and the refinement that is most definitely luxury-level. While it's true that these particular cars were outfitted with a number of options, such as the panoramic sunroof and heated seats, if you did away with all the bells and whistles the V90 Cross Country would still be an excellent luxury product.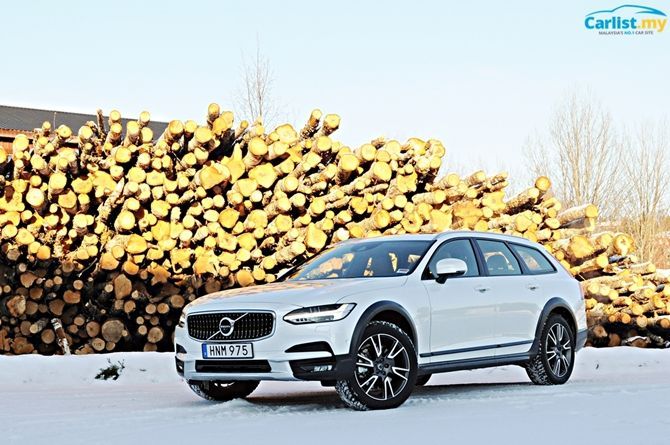 The Volvo V90 and S90 are slated for release in the coming weeks, so even though we're not likely to get this Cross Country variant here, it is a great first look at what's to come. The V90 Cross Country with the T6 AWD powertrain is the perfect blend of practicality, performance, and luxury. It looks stunning, it drives well, and it easily rivals- if not bests- the current offerings on the market in the areas that most consumers care about, and even ones that are rarely prioritized. While the S90 is likely to sell in larger numbers because of our sedan-biased market, the V90 will reward those who can bring themselves to live with and love a wagon.
---
---
---
---
Comments