Review: All-New 2018 Volvo XC60 – Better Than BMW X3 Or Mercedes-Benz GLC-Class?
Reviews Some say Volvos are incredibly tough - that they refuse to die. Few would disagree with the robustness of Volvo's mechanicals, especially the 240 generation models, but the original XC60's unending streak of record breaking sales year after year is quite unexpected, even to Volvo executives.
Since its launch in 2008, sales of the XC60 have kept climbing. Even in its final year, the near-decade-old original XC60 outsold newer SUVs in Europe. It's not just outperforming younger competitors on the sales charts - independent crash tests confirmed that the older XC60's was safer than many newer models.
If it wants to, Volvo Car can continue making a profit with the old XC60 for several more years, but that's not what a progressive company like Volvo will agree to.
So what do you do when you have to replace an overachieving model? You give it a cleaner plug-in hybrid drivetrain, a more talented platform that matches BMW's dynamics, trim it with materials better than a Mercedes-Benz - but since you are an introverted Swedish company, you decide to keep quiet about it all.
With Volvo refusing to take up its position on the pedestal, we have to step up and do the shouting on behalf of the Swedes.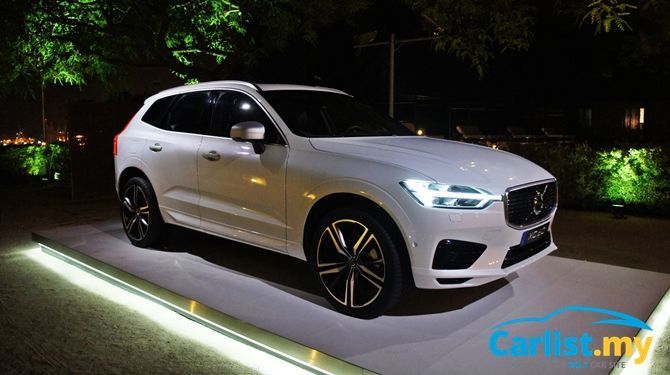 Specifications for Volvo XC60 T6 AWD
Engine: 2.0-litre transverse four-cylinder, turbocharged and supercharged
Power: 320 hp at 5,700 rpm
Torque: 400 Nm at 2,220 – 5,400 rpm
Transmission: 8-speed automatic, all-wheel drive
Safety: Six airbags, ABS with EBD and BA, ESC, TC, full suite of IntelliSafe and City Safety advanced driving aids
Price: T6 AWD N/A for Malaysia (variant tested in Europe),
T5 AWD CKD available from RM298,988, from April 2018
T8 Twin Engine AWD CKD from RM333,088, from April 2018
T8 Twin Engine AWD CBU from RM373,088, available today, more info here.
Origin: Imported from Sweden (local-assembly in April)
Overview
Sitting a rung below the seven-seater XC90, the five-seater XC60 is Volvo's answer to the BMW X3 (all-new G01 model to be launched soon), Mercedes-Benz GLC-Class (from RM291,888), Audi Q5 (RM324,900), and - to a certain extent - the segment-straddling Lexus NX.
The main highlight of the second generation XC60 is of course the all-new Scalable Product Architecture (SPA) platform; the same platform that currently underpins the 90-series Volvo models. Since it shares the basic underpinnings with a higher range XC90 and S90, the all-new XC60 benefits from superior crash worthiness, comfort and handling dynamics.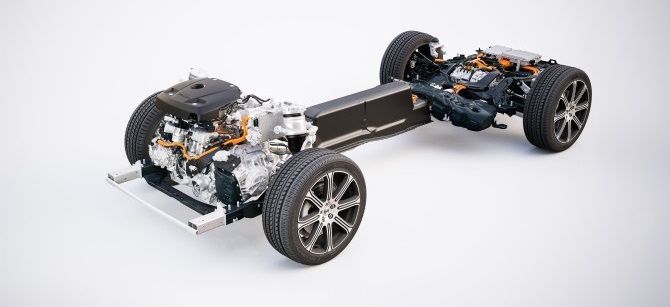 Volvo's SPA platform is also the only one in the world to be optimized for plug-in hybrids (to be introduced later as the T8 variant). Rather than mounting a heavy hybrid battery horizontally in the rear, Volvo's lengthwise installation maintains an ideal weight distribution between the front-rear, resulting in better ride comfort and handling. It's also a lot safer: in the event of a crash, the battery is well protected from all directions. Again, with this being a Volvo we wouldn't expect anything less than top-class safety performance.
On non-hybrid models like this AWD T6 variant that we tested in Spain, the centre tunnel houses the propeller shaft linking the rear axle. The T8 uses an electrical coupling to engage the independent rear axle.
It also features an expanded list of advanced driving assistance functions - improvements that weren't available to early models of the XC90. New functions include:
Oncoming Lane Mitigation (steers vehicle to avoid collision with oncoming vehicles)
City Safety with Steering Support
Blind Spot Information with Steering Assist
Improved Collision Avoidance
Pilot Assist semi-autonomous driving
For the Malaysian market, the XC60 will be launched with the fully-imported plug-in hybrid T8 Inscription Plus variant. Local assembly will follow later, adding the T8 Inscription and a turbocharged petrol T5 Momentum.
Exterior
At a glance, the XC60 looks very similar to the XC90, in a good way. You know it's a Volvo SUV just by looking at it from any angle - but at the same time it has a strong enough identity that you won't confuse it with an XC90, at least not after two or three encounters.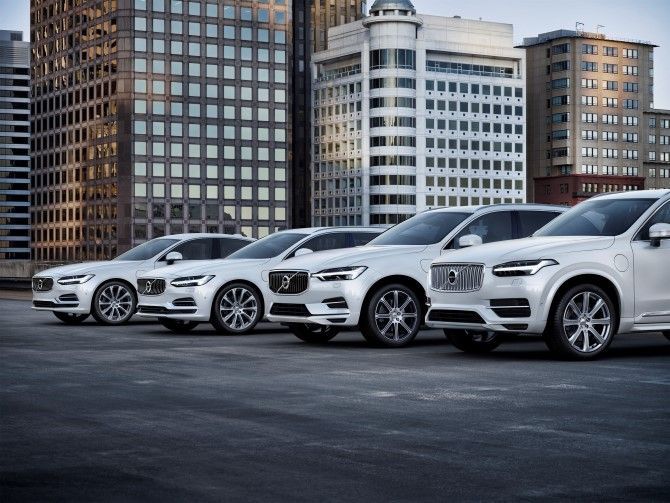 From left: S90, V90, XC60, XC90
Aside from its size, the clearest visual indicators differentiating the XC60 are the different LED tail lights, a front grille with tapered edges on the lower sides, and the signature 'Thor's Hammer' headlights that extend into the grille.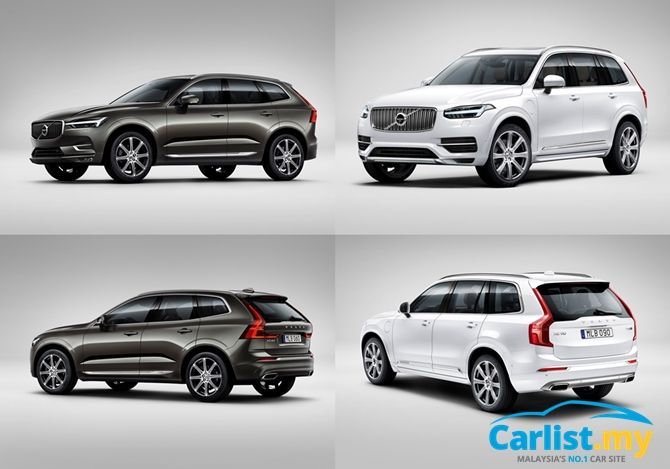 Dominated by a chunky looking C-pillar and an imposing grille, the XC60 projects an image of strength, almost as if it's hammered into form by the Nordic God of Thunder himself. The character lines are bold and chiseled sharp with a premium finish, like a suited up Thor.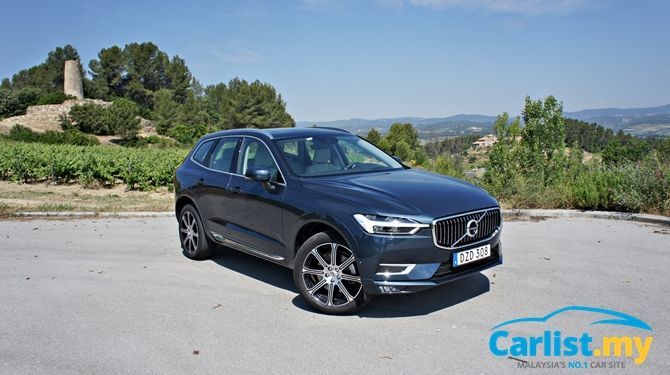 But don't let its imposing stance fool you, as the XC60's foot print is actually very compact - ideal for tight cities.
Measuring 4,688 mm long, the XC60 is actually 28 mm shorter than the soon-to-be launched all-new BMW X3. The Volvo is also 5 mm wider and lower. Wheelbase is nearly identical, with the Volvo stretching 2,865 mm.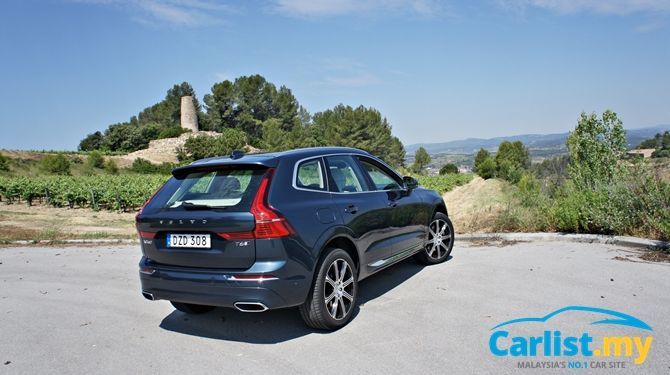 Interior
Moving inside, the XC60's theme evolves further, expanding from just Nordic strength to include Volvo's uniquely Scandinavian interpretation of restrained, classy luxury, as opposed to some of the more Teutonic themes preferred by the Germans.
Like Volvo's 90 series cars, cabin material selection is of the highest standards. The seats are trimmed in the finest leather, made from cow hides tended in Scottish highlands, in farms that are free from barbed wires to ensure that it is free from insect bites and scratches. It's not quite like a BMW 7 Series' Nappa leather, but it's close enough.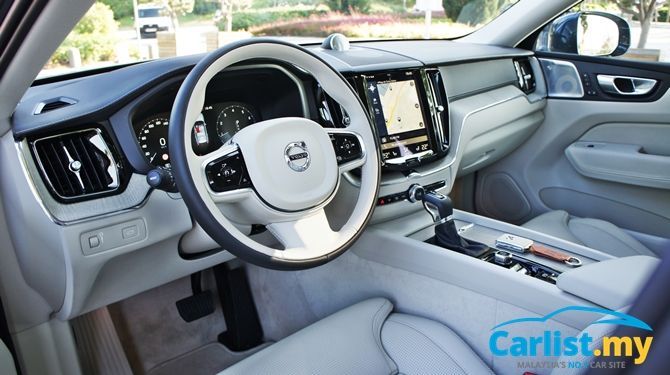 Volvo's seats are the best in the industry and the ones used in the XC60 are no different. The ergonomic seats are designed with input from Swedish orthopedic surgeons to provide the best support for minimal fatigue during long distance travel.
The wood inlays are made from the finest cuts, arranged in a way to achieve a mirror-like symmetrical finish between the driver-side and passenger-side. The aluminum inlays are genuine polished materials and not merely shiny plastics made to look like aluminum. It's very close to what folks at Bentley would do.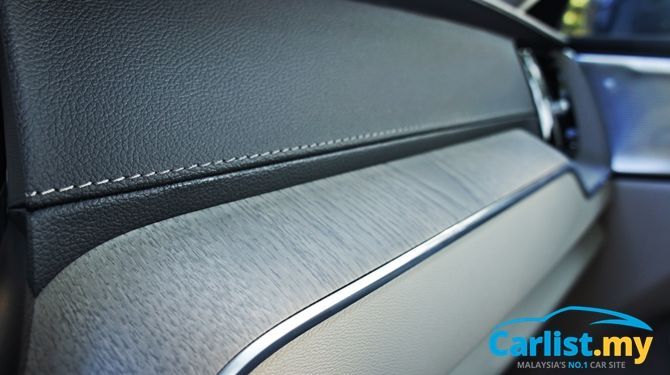 Like the 90 series cars, the T8 plug-in hybrid variants will also get an Orrefors illuminated crystal glass gear knob. Not quite a frosted crystal Spirit of Ecstasy of a Rolls-Royce, but it's pretty darn close. Even the engine start button has a diamond cut finishing to it. As far as premium materials are concerned, Volvo stands heads and shoulders above its German peers.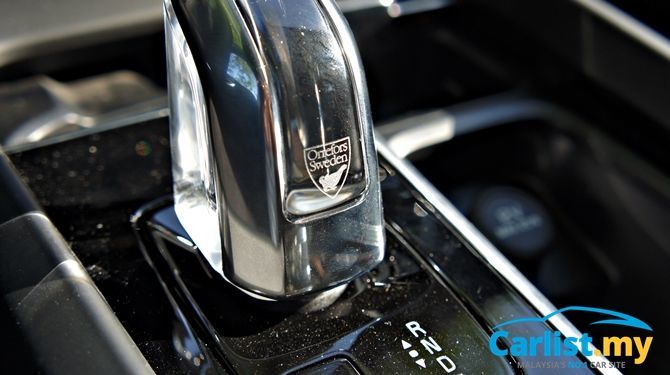 Orrefors crystal gear knob only available for T8 variants
The huge touch-screen LCD infotainment screen doubles as a control for the air-conditioning, something which we still have mixed feelings for. In our climate, air-conditioning settings are something that we fiddle with frequently; having to navigate through multiple layers of menu to change the fan speed or temperature seems like a step backward.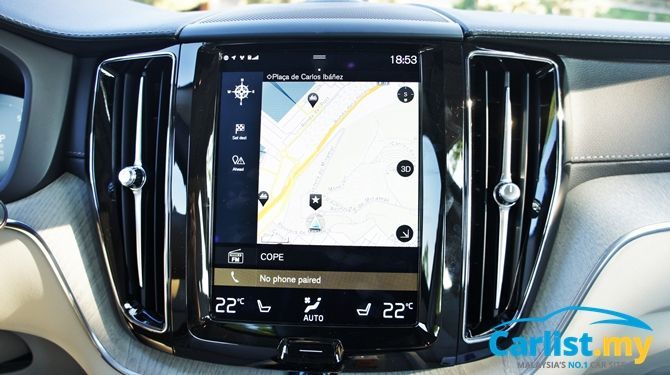 On the upside, Volvo's portrait layout makes the screen far better suited for the GPS navigation function. In the same way you won't operate Waze or Google Waps with your phone left in horizontal position, Volvo's vertical layout allows the driver stack multiple displays on a single screen, in a more user-friendly manner.
It supports both Android Auto and Apple CarPlay, and the voice-command function (requires some training in the initial setup) is the best we've tried. You can speak commands as if you're speaking to another person. "Turn the temperature to 23 degrees. Change station to 89.9. Call my wife." The Volvo understands it all. There is no need for specific keywords or format.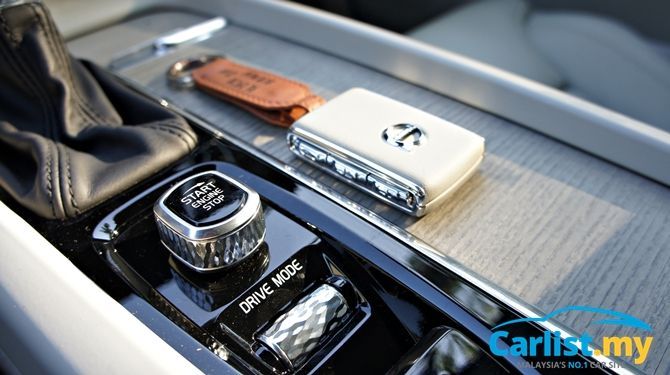 We especially appreciate the scroll button for Drive Mode – Eco, Comfort and Dynamic; the scrolling action is far better suited for blind operation. In most other equivalent models from the Germans, one has to locate the correct button amongst many buttons, and cycle through the various modes.
Behind, leg and shoulder room is ample but intrusion from the transmission tunnel is quite significant, creating some amount of discomfort for the middle rear passenger.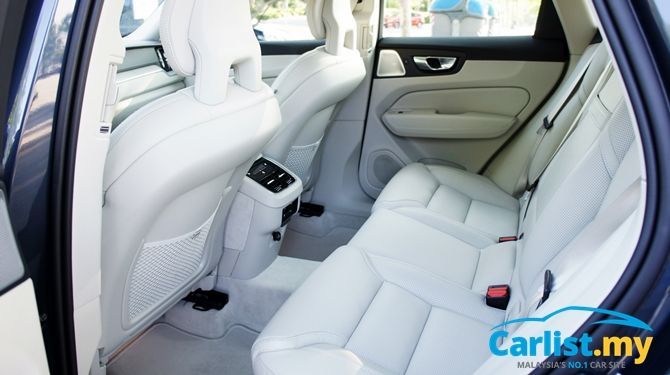 Driving Experience
This is going to be controversial, but we are going to lay it out as it is. The XC60 drives better than a BMW X5 that we recently sampled. Of course, we have to admit that the X5 is an older product, and being a tall SUV it drives nothing like say an X6 or even an X3, so the bar isn't as high as you would expect.
A better comparison would be the latest G01 generation X3. We have yet to try the all-new X3 on our local roads but our colleague Eric has driven it in Portugal and has many great things to say about it. But as the X5 is a higher range product than both the X3 and XC60, age aside, it is still a very strong validation for the XC60.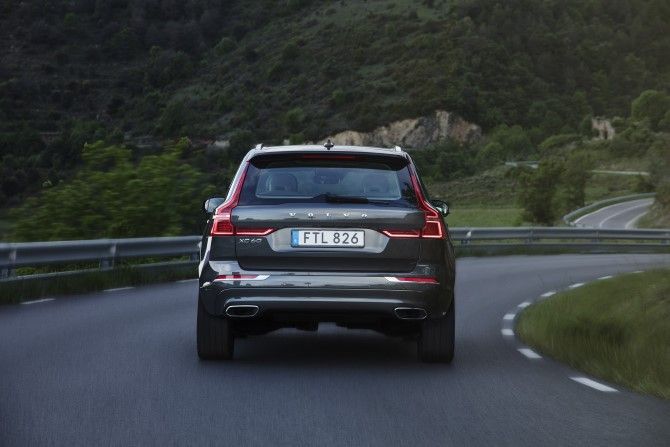 Volvo's chassis engineers describe the XC60's dynamic character as having the qualities of 'inspired performance.' What it means is that the Volvo doesn't pretend to be racy, at least not in a GTI-like or BMW M manner, but it is surefooted enough to inspire the driver to live more, to go out and drive more, enjoy the outdoors with your friends family. Volvo's definition of driving pleasure involves not just the driver but also friends and family. The Volvo doesn't pretend to be a BMW, it doesn't need to be. It's uniquely different, adding Scandinavian flavour of the same dish - and we enjoyed Volvo's interpretation just as much.
So if it's better than a BMW X5, as good if not better than an X3, where does this leave the Mercedes-Benz GLC-Class? The Volvo's transmission is certainly more responsive than Mercedes-Benz's, and Volvo's engine is both more refined and more eager. Short of an AMG 43 series model, the Mercedes-Benz is just gutless when compared to a Volvo T6, or even a T5, let alone a T8.
Earlier last year, we had the opportunity to sample a T6 twincharged variant on Spanish highways around Barcelona. Ever since Volkswagen have given up on twincharging, Volvo is now the only car maker to produce twincharged engines.
As before, the twincharged Drive-E engine performed flawlessly; despite employing two methods of forced induction, the engine pulled smoothly in traffic, exhibiting none of the jerky on-off boost behaviour experienced in twincharged Volkswagen engines.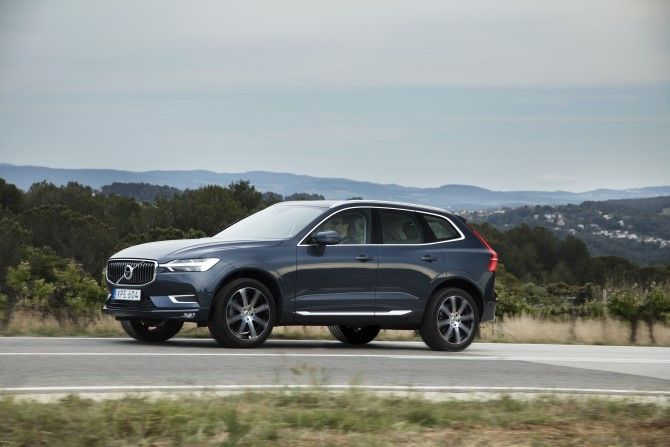 In T6 tune, 320 hp and 400 Nm pull this 2.1 tonne SUV from 0-100 km/h in 5.9 seconds - so unless your BMW or Mercedes-Benz says M or AMG, it is prudent to yield to the Volvo in the highway hierarchy.
The T6 that we sampled in Spain won't be made available in Malaysia, as we are getting the T5 and T8. The entry-level T5 pushes out 254 hp/350 Nm T5 for a 0-100 km/h time of 6.8 seconds while the ridiculously powerful T8 produces 407 hp and 640 Nm for a 0-100 km/h time of 5.3 seconds. Just for comparison, the Porsche Macan S pushes out 340 hp, but goes from 0-100 km/h in 5.4 seconds thanks to its lighter kerb weight. The Mercedes-AMG GLC 43 pumps out 367 hp but out accelerates the heavier plug-in hybrid Volvo, sprinting from 0-100 km/h in 4.9 seconds.
In keeping with Volvo's relaxed, effortless performance character, the steering wheel is light but precise. Changing to Drive Mode to Dynamic stiffens it slightly but not by much.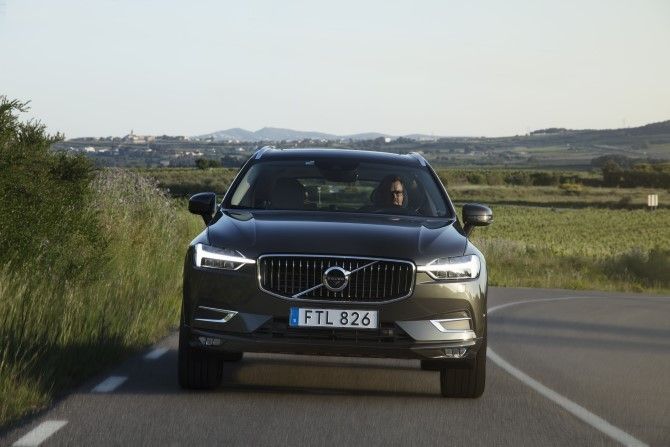 Off the highway and on to the twisty countryside roads, the XC60 is surprisingly agile. It changes direction fast and confidently, but you are still aware of its heft. There is no disguising that this is still an SUV - but for an all-weather family SUV with a Volvo badge, its dynamic character comes as a surprise, in a good way.
One of the highlights of the XC60 is the Pilot Assist semi-autonomous driving feature. Engage it and you can briefly let go of the steering wheel. The car's complex set of camera and milimetre wave radar will read the lane markings and presence of objects around it and steer the vehicle accordingly. Current regulations don't allow the function to operate for any more than 15 seconds so at most, you can only engage it while you grab something from your bag.
Trusting the computer to drive is a bit surreal but the future of autonomous driving is coming faster than you think. It's not perfect yet, as there were moments of uncertainty when entering and exiting a dark tunnel on a bright sunny day, with the car's steering showing some nervousness as the camera copes with the sudden change in contrast. However, never once did the car veer off its lane, even when entering/exiting a tunnel in a bend.
Comfort
At speeds, the Volvo is uncharacteristically quiet, even during short bursts where we momentarily hit 160 km/h. Our test car had air suspension on both the front and rear axle, riding on 19-inch wheels, and the ride quality was faultless. Its highway composure is right up there with the top-league German marques.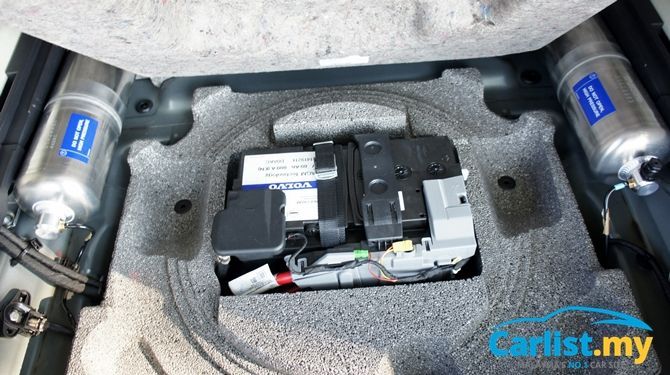 Air suspension-equipped models have pressurised tanks under the boot floor.
And did we mention that the seats are designed with input from Swedish orthopedic surgeons?
Conclusion
The 90 series Volvo models have set the tone for Volvo's re-emergence as a strong contender in the premium segment. The XC60 will spearhead the next step in Volvo's revolution on its mid-size 60 series models.
As a product, the XC60 is superior to an equivalent BMW, Mercedes-Benz, Audi, or Lexus in nearly every objective aspect. The car is ready for the big leagues. The question now is whether is the big league progressive enough to acknowledge the revolution that is playing out right outside their golf club's car park?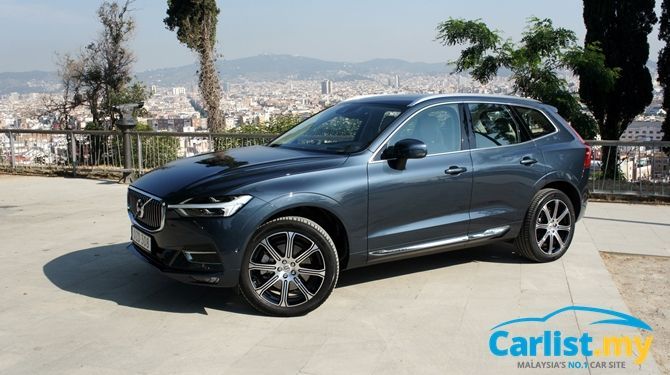 A more detailed review will follow once we've sampled the XC60 on Malaysian roads.
---
---
---
Comments