Review: Maxus T60 2.8L Pickup – Impressive Features But Unrefined Engine
Reviews We put the newly-launched Maxus T60 4WD Pickup Truck through its paces.
---
To most of us ordinary Malaysians, the name Weststar would be a relatively unknown name, granted it's a new player compared to the likes of Tan Chong and Auto Bavaria – which have a long and illustrious history with links to the automotive industry.
However, in its less than 20-year history, Weststar has grown into a multinational and multifaceted enterprise with interests in aviation (offshore and civil aviation services), defense, insurance, construction and development, and various automotive operations.
Their automotive ventures are through a 3S Honda dealership (Weststar Auto), import and recond vehicles (SAFZ Auto), and through its Weststar Maxus operations, the sales and distributorship of Maxus vehicles in Malaysia.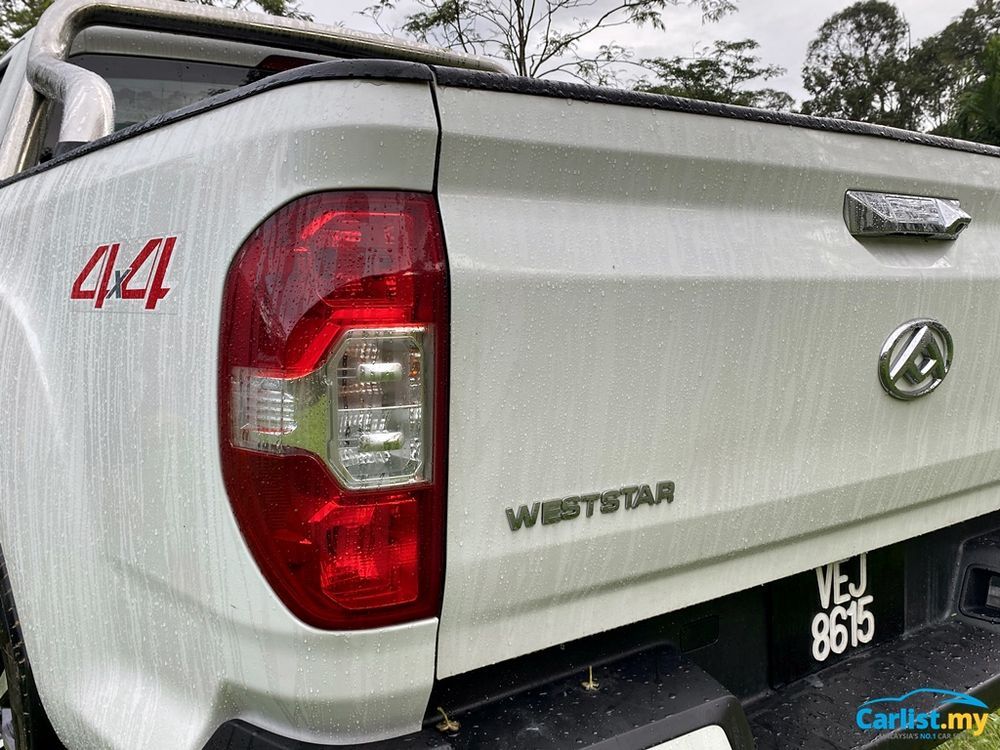 Who is Weststar and what is the T60?
Maxus is a brand under the larger SAIC Motor Corporation Limited (SAIC); the largest automaker on China's A-Share market with an annual sales volume of over seven 7 million units. The Maxus brand's roots are firmly in the British Motor industry and can be traced as far back as 1896 and the Lancashire Steam Motor Company through British Leyland, Leyland DAF vehicles, and LDV Maxus.
In 2010 the Intellectual property of LDV Maxus was obtained by SAIC with the first Maxus product unveiled at the Shanghai Motorshow in April 2011 - the same month that the Weststar Group was confirmed as the distributor for the Malaysian market.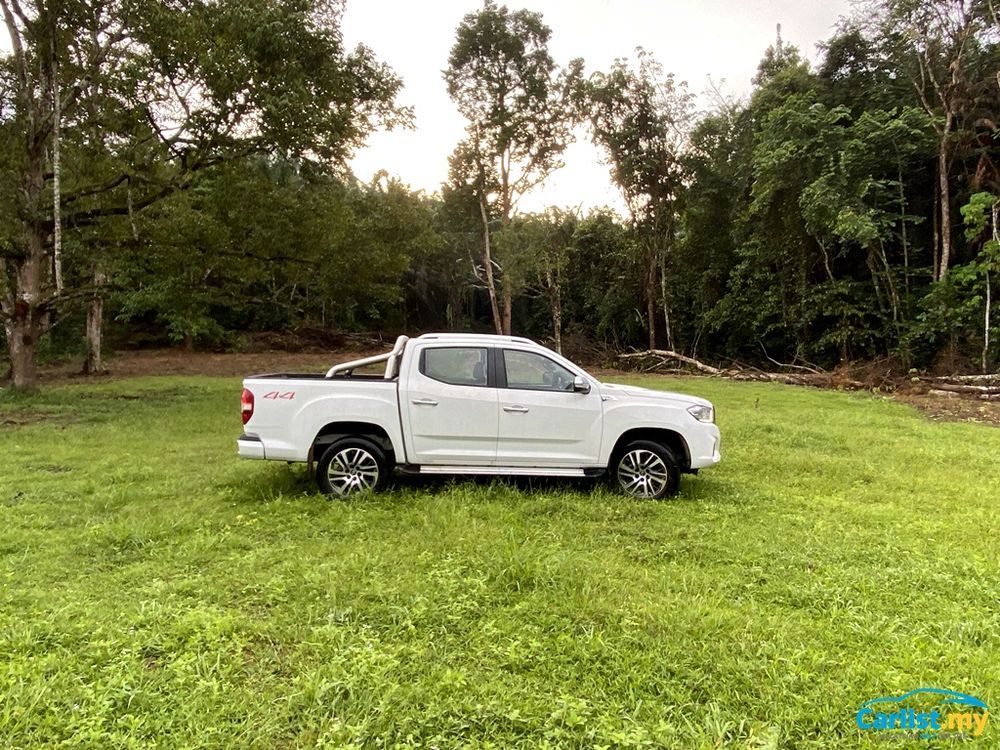 Besides Maxus vehicles, other notable brands under SAIC umbrella include the revived MG, and Roewe.
Over in Malaysia, Weststar has enjoyed considerable success with its longest running model, the V80 commercial and passenger van, finding utility in everything from tour buses, ambulance to even defence applications. Their second model, the Maxus G10 premium MPV, was first introduced here in 2016 and since then has found a steady footing amongst the niche market of large family and business haulers, matching pound-for-pound – in terms of value and equipment – more established rivals such as the Hyundai Grand Starex and Kia Grand Carnival.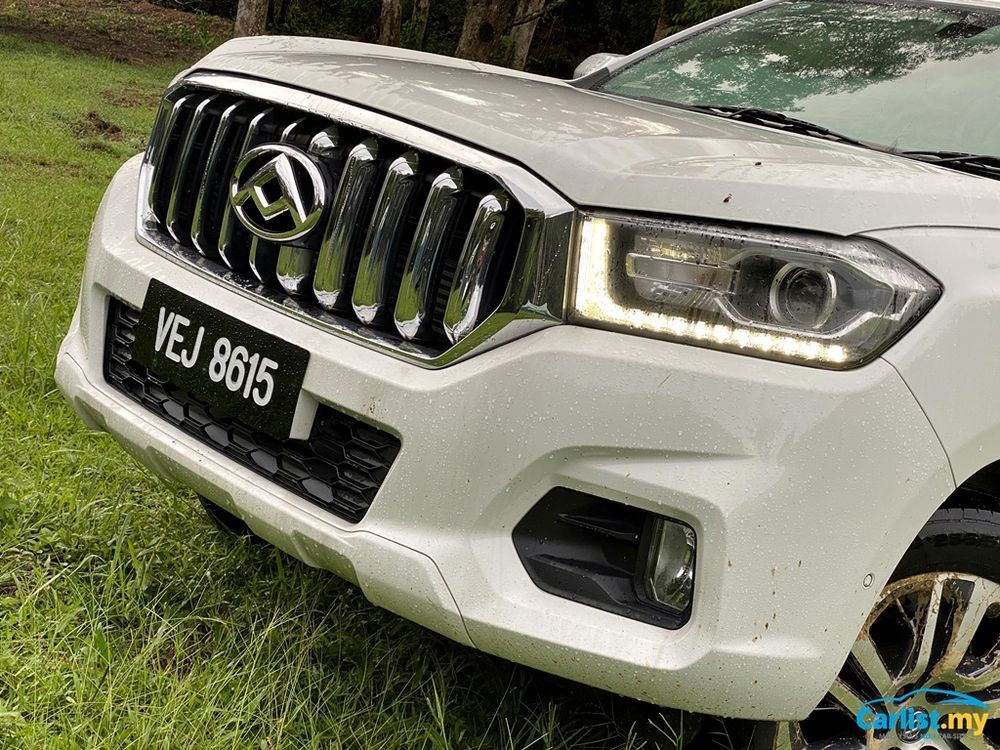 In its latest effort, Westar hopes to enter the highly competitive pickup truck market, which is a big gamble considering its latest product, the Maxus T60 has to go up against seminal rivals such as the Toyota Hilux, Isuzu D-Max, Ford Ranger, and Nissan Navara. Which as you might surmise, is no easy task.
But in playing to their strengths – offering abundant features and technology and very attractive prices, does the Maxus T60 have what it takes to get into the ring with the big boys?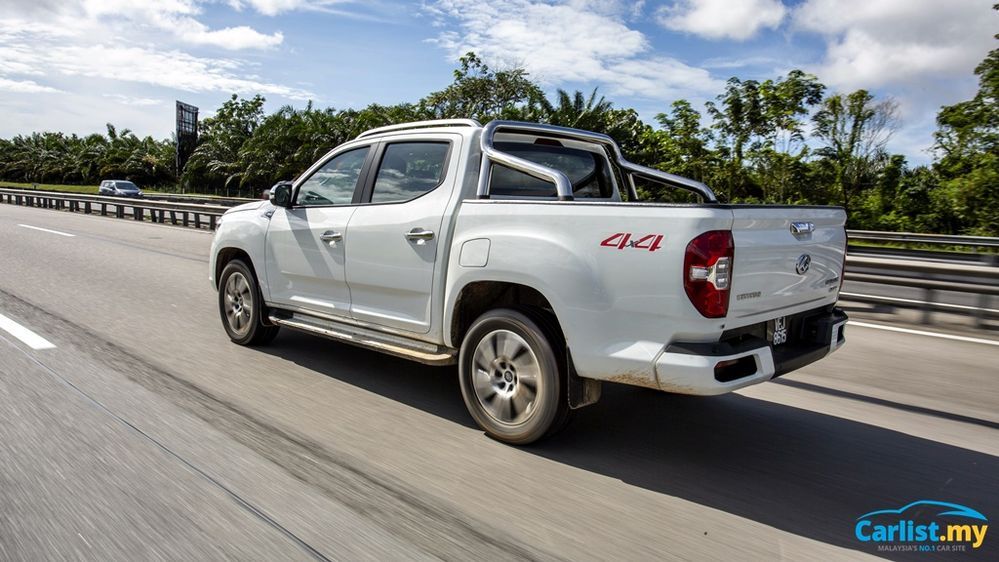 Specifications of the Maxus T60 2.8l 4WD
Engine: 2.8-litre VGT four-cylinder turbodiesel
Power: 150PS at 3,600rpm
Torque: 360Nm at 1,600rpm - 2,800rpm
Transmission: 6-speed automatic, 4WD
Safety: 4-airbags, ABS with EBD, Brake Assist, Stability Control, Traction Control, Hill Descent Control, Hill Start Assist, Reverse Camera, Blind Spot Monitoring, Adaptive Front-Lighting System (AFS)
Assembly: Locally assembled in Johor Bahru (OASB).
Price: RM105,888 (OTR excluding Insurance)
Driving Experience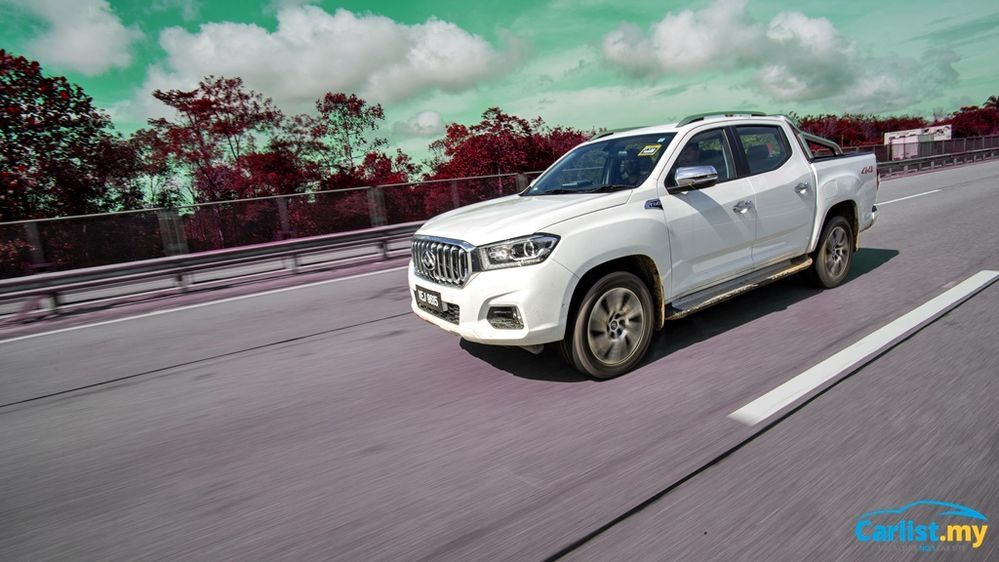 Though a competent vehicle, the Maxus T60, does have areas that need improvement.
Starting with the strong points, it's undeniable that the T60 offers superb value for money, pound for pound, which we will get to, it offers more safety and convenience equipment for the same type of money as many of its rivals. It offers more airbags, better infotainment (read 10-inch touchscreen system), a better interior and additional features such as cruise control and keyless entry (and start).
In practice, one would find the interior a nice place to be in for the most part. The seats are pleasantly nice and supportive, the switchgear is well thought out and ergonomic, the steering wheel feels nice and sturdy in your hands and the overall architecture is somewhat premium, despite some hard plastics in the most upper and lower regions of the dashboard.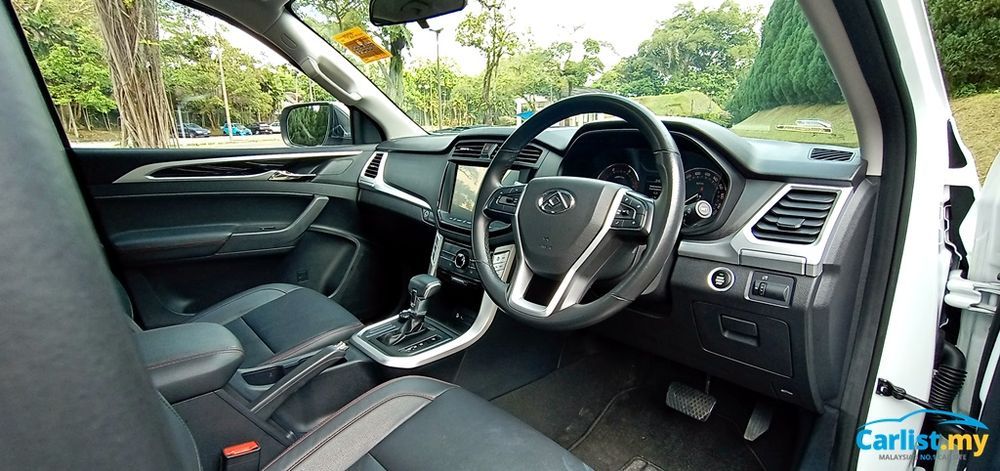 The chassis, given SAIC's ties with General Motors features some tech know-how and bits from the Chevrolet Colorado, which is a capable truck in all aspects, the T60 does offer rather capable handling at low speeds in the city and decent surefootedness on the highway. The brakes, though are a tad squishy during initial pedal travel, but offers adequate stopping power for the most part, it is an easy pickup to get in and get used to.
We also had no qualms with interior space and loading boot space, the T60 is as good as its established rivals in this aspect.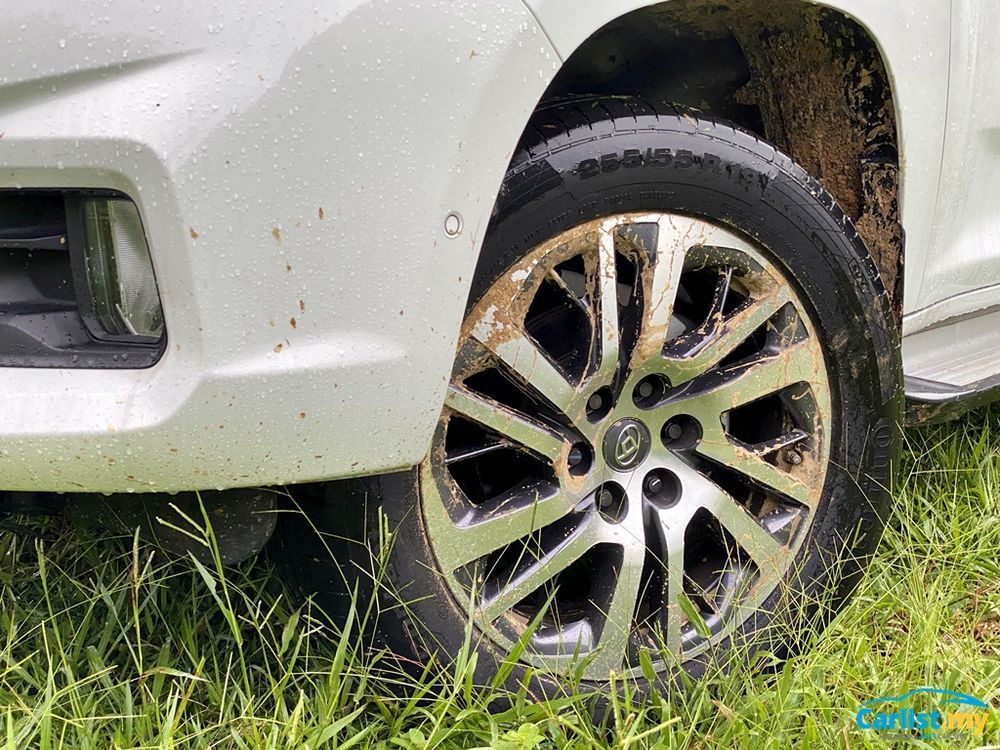 One drawback, however, is the massive 19-inch wheel and tyre package that comes as standard. We understand Maxus will only offer smaller 17-inch wheels in 2021, and this is a good idea. The 19-inch wheel requires tyres with smaller sidewalls which in turn offers less impact absorption on the road, something a truck needs especially with leaf-spring rear suspension optimised for heavy loads.
Drivers will feel the effects of this especially at the rear when the Maxus T60 negotiates bumpy roads in the city or those small menacing rubber bumps you typically get in a shopping mall carparks – the rear will typically react very abruptly unsettling passengers in the process. An upshot though, is the fitted tyres, which are otherwise more suited for luxury SUVs are grippier and quieter than most commonly fitted pickup tyres, so take this with a pinch of salt.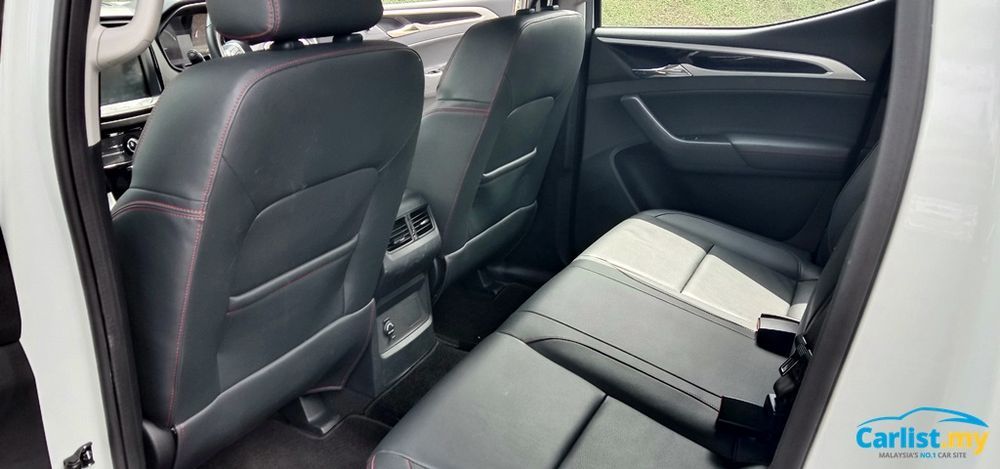 On the highway though, the Maxus T60 actually settles into a nice cruise, at the speed limit, it settles into a nice stride, with the long gearing from its six-speed automatic gearbox giving it the legs for long hauls. The transmission itself shifts quickly and cleanly.
However, where I feel the Maxus T60 needs the most improvement is the engine. It is powered by a 2.8-litre, 16-valve, DOHC VGT turbocharged engine, which outputs 150 bhp with a maximum torque of 360 Nm between 1600 and 2800 rpm. Now while those numbers are good, the engine is unrefined and makes its presence known at low revs, especially when in the city. The aforementioned long gearing of the six-speed automatic means the engine has to be worked hard to get up to speed, so the transmission can select the next cog.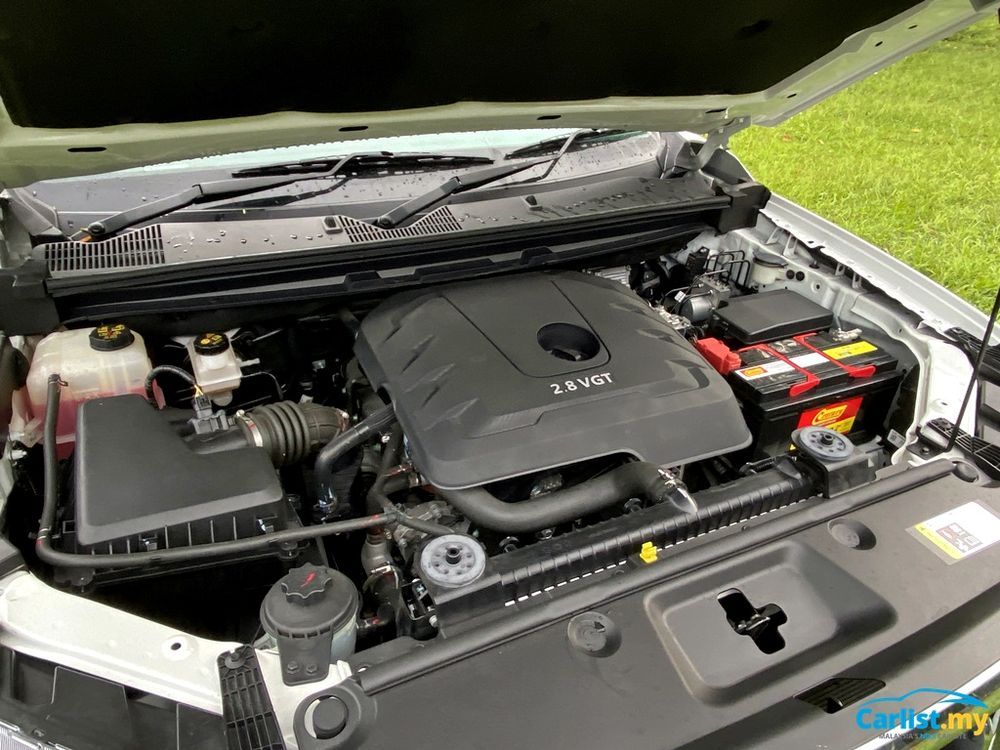 This of course adversely affects fuel economy – which settles into a range of 13-14 litres/100km in the city, making it quite thirsty. On the highway though, fuel economy drops to around 9.0 litres/100km, which is okay for what it is.
Now, we're being critical of the engine, but the drivetrain of a pickup truck is at the heart of the decision-making process, so we suspect this matters to any prospective customer.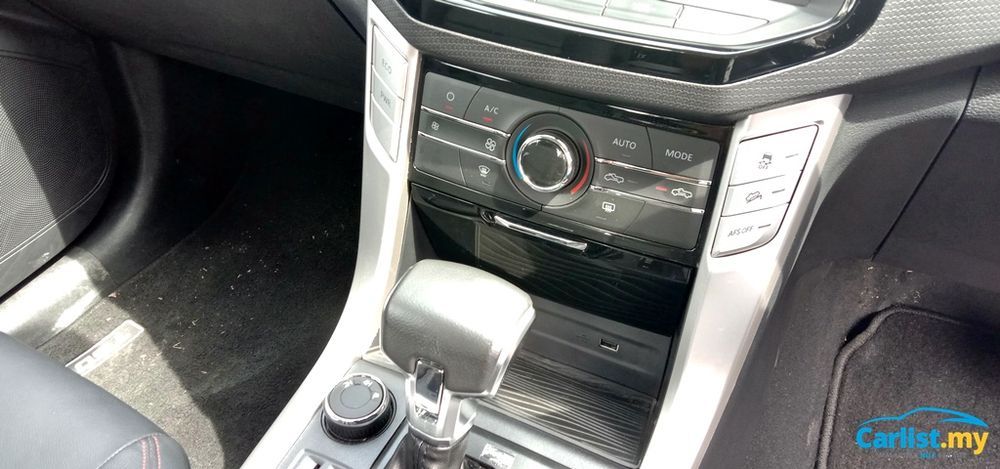 While it's not a bad engine (we've tested worse), the game has moved on a bit with the latest range of pickup trucks on the market. Isuzu's D-Max 1.9L, Ford's 2.2L engine and especially the latest generation Toyota Hilux, all offer better engine refinement, economy, and torque response from the get-go.
Rivals
For the same money you pay for the Maxus T60 – dollar for dollar, the competitors range from the Isuzu D-Max 1.9L Type B AT (RM 103,850), Toyota Hilux Double Cab 2.4E AT (RM108,880), and Ford Ranger 2.2 XL AT (RM 103,888).
Now it's worthy to note, at those prices, competitor offerings are pretty bare, none of them have keyless entry, a reverse camera, reverse sensors, LED headlights, or auto wipers. Also, note that some are not offered with a sports bar which comes in handy when carrying taller loads.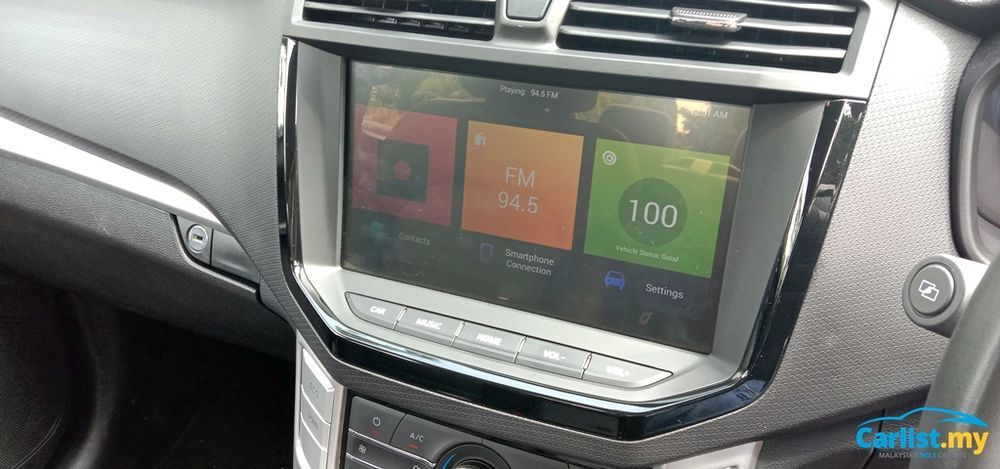 Conclusion
The Maxus T60 is better suited for the lifestyle buyer who would appreciate the feature and equipment package at unbeatable pricing. It would also matter if the customer uses his/her Maxus T60 for long hauls which it performs better in, rather than in the city or offroad which it is less optimised for.
With that said, it is a competent vehicle, and hardly a bad effort by Maxus to introduce into a rather competitive segment locally.
---
---
---
---
Comments