Throwback: Borneo Safari 2019: Isuzu BluePower Takes On The Greens Of Borneo
Insights The state of Sabah has been hit particularly hard by the COVID-19 pandemic. In addition to the many social and economic changes, Sabah has also had to lose out on hosting one of the most celebrated annual off-road expeditions in the world - the Borneo Safari Expedition.
---
What started out has as a small group of 4x4 aficionados taking to the jungle to escape the hustle and bustle of city life, would have celebrated its 30th consecutive instalment in 2020.
Alas, as a four-time attendee, I hope it returns in 2021, bigger and stronger than ever. Until then, we can still revisit the action and excitement of the 2019 expedition. Here's a throwback for your reading pleasure.
The Borneo Safari has no shortage of quick quips and catchy phrases.
I suppose if one spends nearly eight days in the jungles of Borneo, without little or no outside communication – there is quite a bit of time to think up catchy phrases and conversation starters.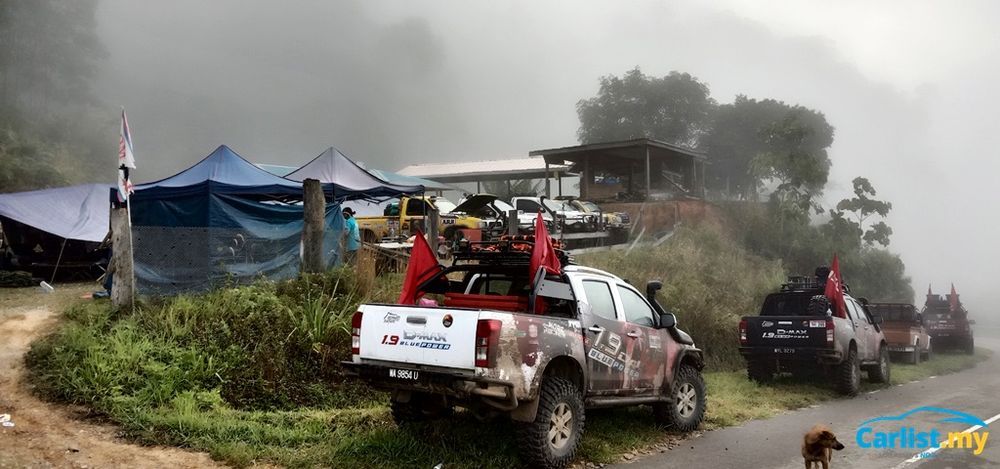 Two of my favourite cliché's are "We come for the Safari, but we stay for the suffering", and the second and more important one, "While you may come as a stranger, you will leave with a family", last year I found this to be especially true.
This was my fourth attempt at this hallowed international off-road expedition, which returned for its 29th consecutive instalment. Organized by the Sabah Four Wheel Drive Association (SFWDA), the 2019 edition proved to be the most successful one yet – having attracted over 400 vehicles and over 1000 participants from as far as Thailand, Japan, and even Russia.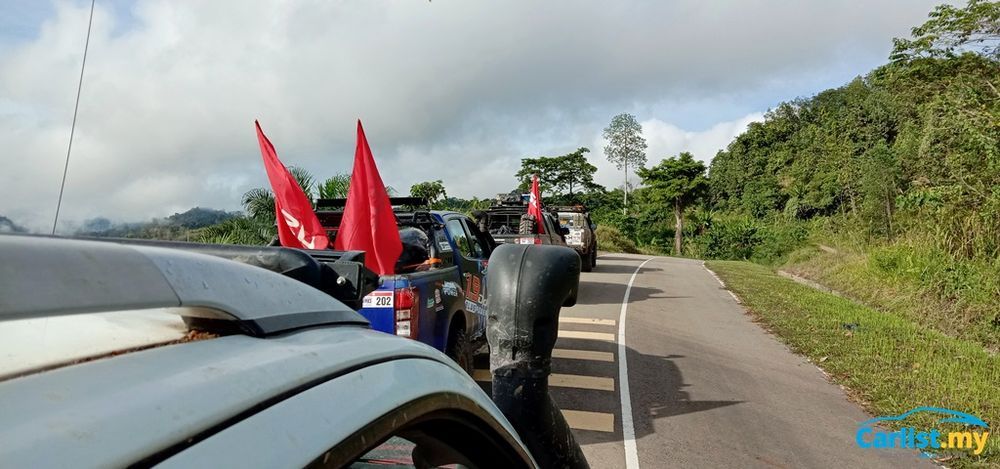 In the early days, small advertisements were taken out in local dailies in the hopes of attracting like-minded off-roading enthusiasts. The Borneo Safari was, after all, started by just a handful of off-road aficionados, who simply wanted to escape the hustle and bustle of city life.
Some of whom, who started the Kinabalu Four Wheel Drive Club (the predecessor of the SFWDA), are still involved with the Borneo Safari and the larger off-roading scene in Sabah, all bonafide legends in their own right.
Fast forward to 2019 though, I was part of a full-fledged media entourage made up of both international and local press, photographers, and video crews.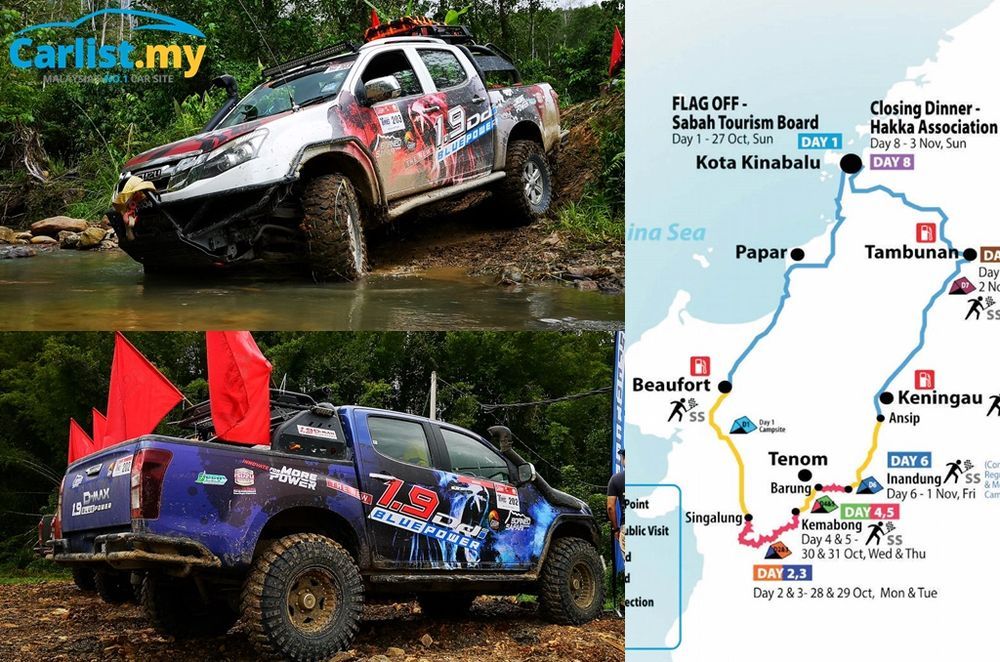 The expedition route starts from the flag-off at Kota Kinabalu (at the site of the Sabah Tourism Board building) down to Beaufort, before setting camp at Singalung at the end of Day 1. Days 2 to 4 saw the entire convoy slowly making its way from Singalung to Kemabong for the first of two Hardcore Sections. It was here where proceedings get very challenging.
Day 5 saw the convoy pass through the town of Tenom, before making its way to Barung where the second Hardcore section began. The convoy will then make it out to Inandung on Day 6. From there on, it's a straight shot back to Keningau for Day 7, before returning to Kota Kinabalu on Day 8.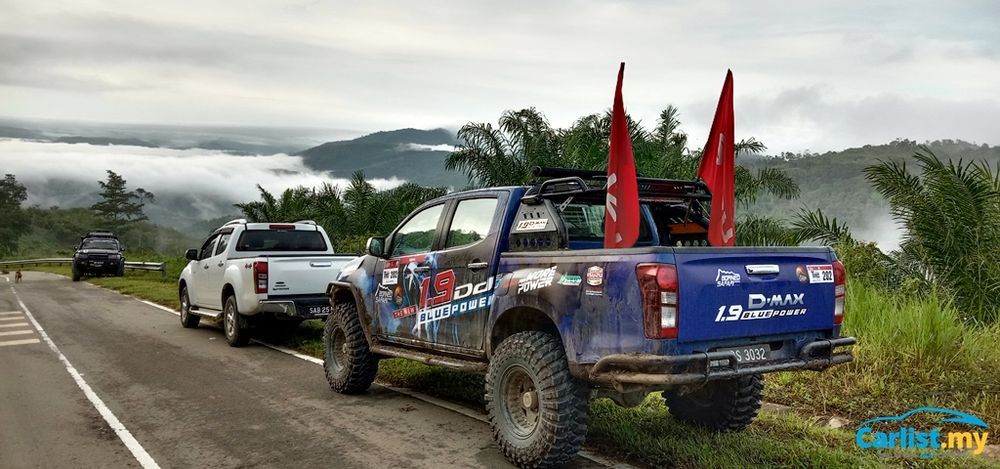 Isuzu has become almost synonymous with the Borneo Safari event, both as the Diamond Sponsor and as an enthusiastic purveyor of all things tough and muddy.
The stakes for Isuzu were particularly high last year. Having built a solid reputation for the D-Max as one of the toughest and most capable off-road vehicles in the annual Borneo Safari off-road challenge, the year before, it's the turn of its newest member: the D-Max 1.9L Ddi BluePower.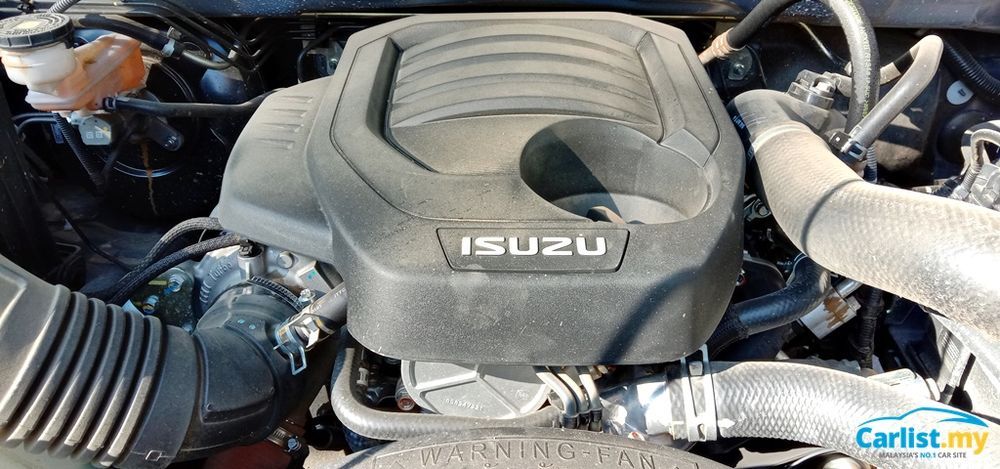 The smallest engine ever fitted to a D-Max pickup truck had to prove it is not only fuel-efficient – but tough enough to survive the strain and stress of the expedition, and live up to the heritage of its well-known forebears. Two of which – the Red and Black D-Max Monsters respectively – have each endured more than five Borneo Safari expeditions prior.
Come to think of it, any car company can claim that their pick-up trucks are tough and reliable, but only Isuzu can say that their trucks have survived one of the world's toughest 4x4 expeditions 13 times.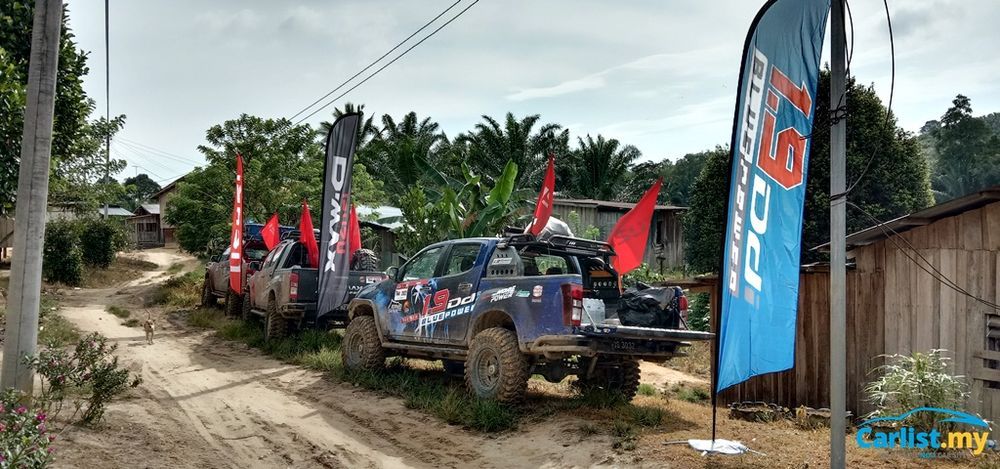 Isuzu trucks might not offer the most power or have the latest electronic toys, but you can count on the fact that when civilization goes into an apocalypse, a D-Max will keep going where others cannot.
Fresh from its launch the new Isuzu D-Max that entered the event – aptly named the Blue Monster – had barely clocked 200 km on its odometer before it was positioned at the starting point, and then driven in earnest into the jungles of Sabah.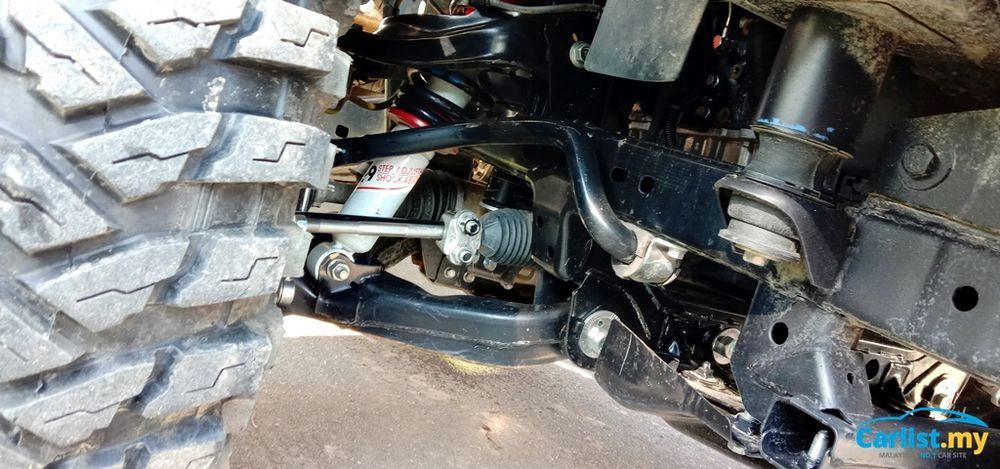 The 'Blue Monster' was virtually stock standard save for a few additions to make it more suited to the terrain and obstacles including a body lift kit to fit the extreme mud terrain tyres, long-travel shock absorbers, a snorkel, winch, and heavy-duty guards to protect the vehicle underbody from hard impacts.
Isuzu has employed this formula across all its "Monsters" over the years. Electing to keep the drivetrain, transmission and electronics just as they left the factory, to remain a true representation of the vehicle's intrinsic ability.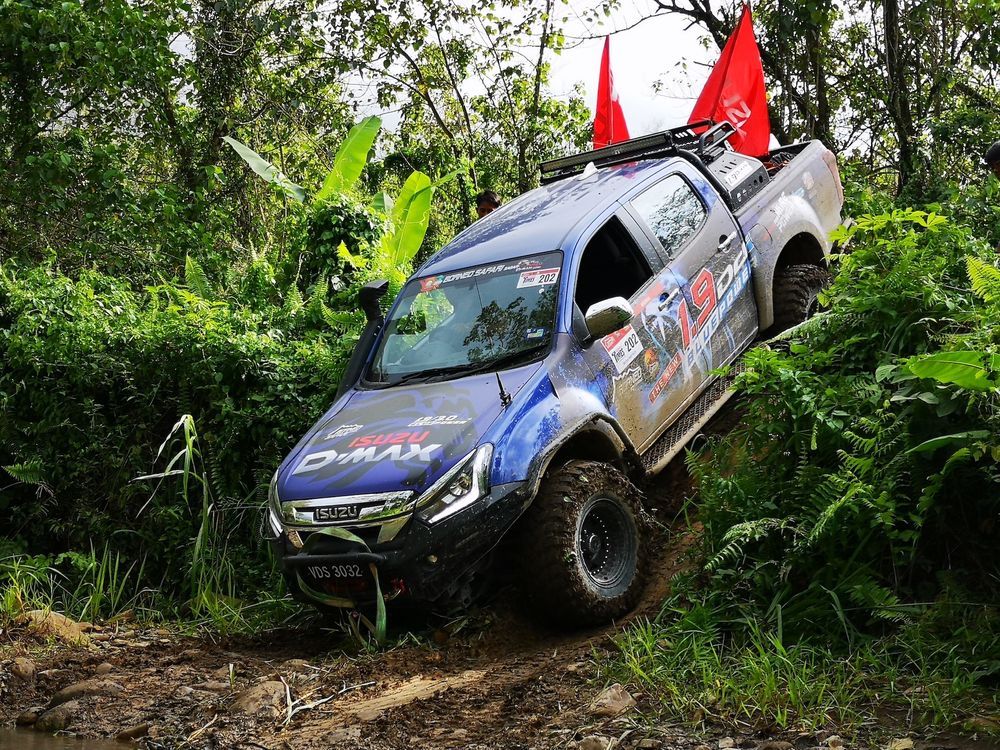 The new Isuzu D-Max BluePower model features a breakthrough 1898cc engine dubbed the RZ4E which replaces the older 2.5-litre VGT (4JK1) turbodiesel. The new mill promises even better fuel economy, bulletproof reliability, lighter weight, and lower emissions.
It featured lightweight moving components and more finely-honed parts to reduce internal friction and a Variable Geometry System (VGS) turbocharger system to improve engine response, particularly at low RPM. Elsewhere, an updated common-rail injection system and intelligent Exhaust Gas Recirculation (EGR) system are claimed to contribute to an overall improvement in fuel efficiency of approximately 19 percent.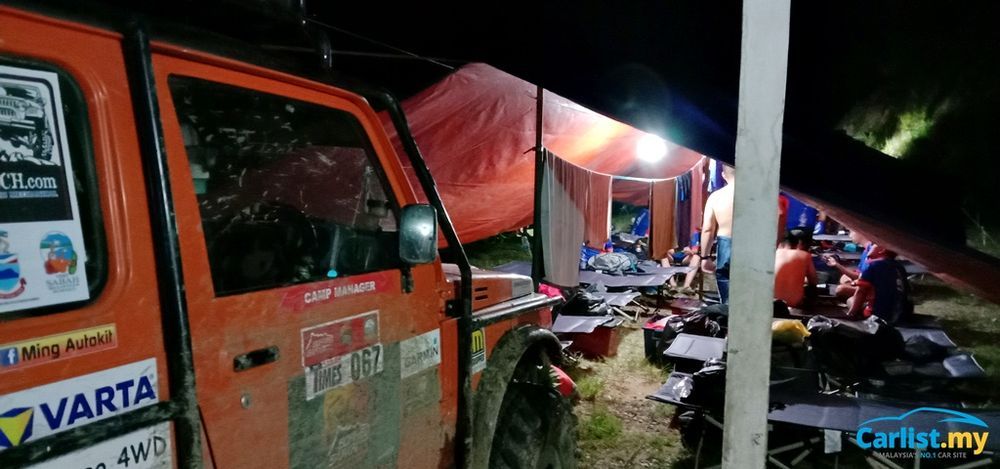 Having joined the convoy on Day 4 in the Kemabong campsite, with the Isuzu convoy having successfully completed the first Hardcore Section, there was optimism and a lot of joy around camp. This is the first time the convoy has seen a paved road in two days and all four D-Max Monsters were all present and accounted for.
Early reservations about whether the 1.9-litre engine would hold up to the abuse of the terrain have all swiftly been nullified. Once packed with luggage, supplies, and occupants, the Blue Monster weighs in excess of two tonnes – no less riding on large, heavy 35-inch tyres – the engine and transmission are put under tremendous strain.
However, the new D-Max took it all in stride.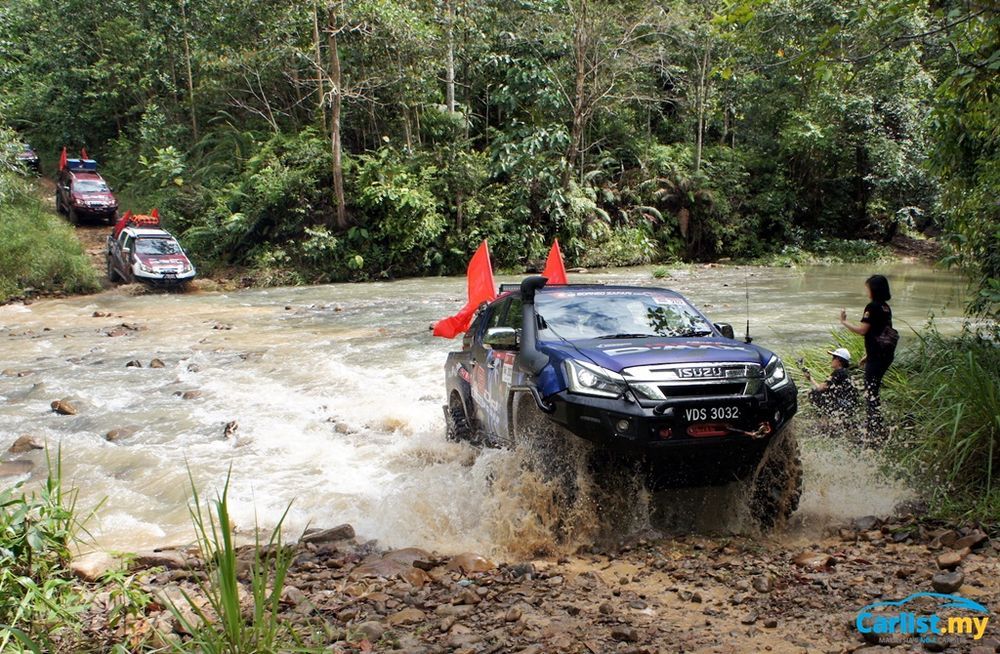 Once settled, the Isuzu convoy headed to Pekan Kemabong for a special event organised for the locals to welcome last year's competitors. Another aspect of the Borneo Safari is the many CSR activities that it conducts for rural communities along the way. Activities conducted last year included free health check-ups, food donations, and even supporting a local talent show – much to the delight of the warm and friendly people of Sabah.
On Day 5, the Isuzu convoy headed out almost as soon as daylight breaks. This day will be pivotal – we returned to the jungle for the second Hardcore Section which started at Barung and ends in Inandung. We are told it's a short stint, roughly 5 km long, but extremely critical given its rising altitude, and extremely tight trails – with sheer drop-offs at certain points.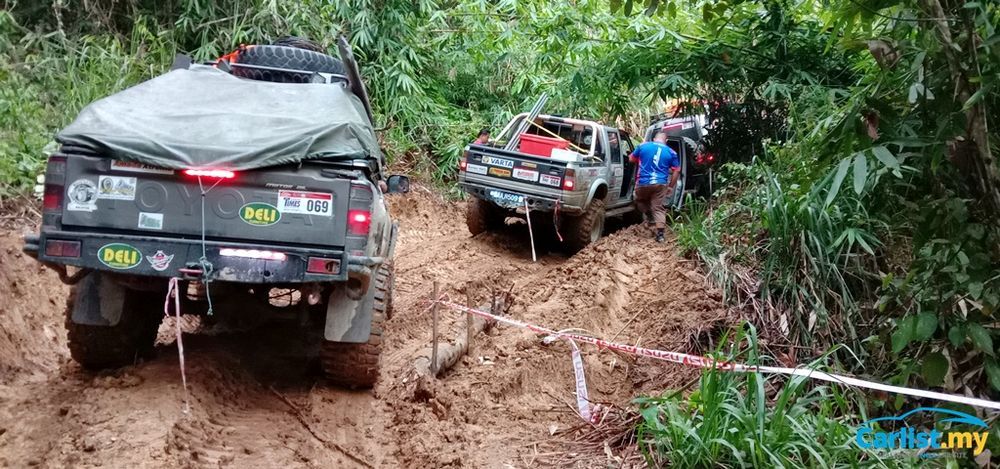 But we're fortunate to not encounter any rain for the most of Day 1. In all my years of being here, I have come to understand one thing, the moment it rains – all hell breaks loose. The ground becomes slick like a pasty clay, visibility is reduced, darkness falls faster, and tyres become donuts of mud.
Towards the evening, a short but strong stint of rain falls, and the quick progress made in the morning now slows down. Many cars are struggling at one point with a narrow turn, with a sheer drop at one end, and soft soil on the other – another truck, just before us, had almost toppled. The shovels come out, time to dig up the soil, level it out, so everyone can get through it safely.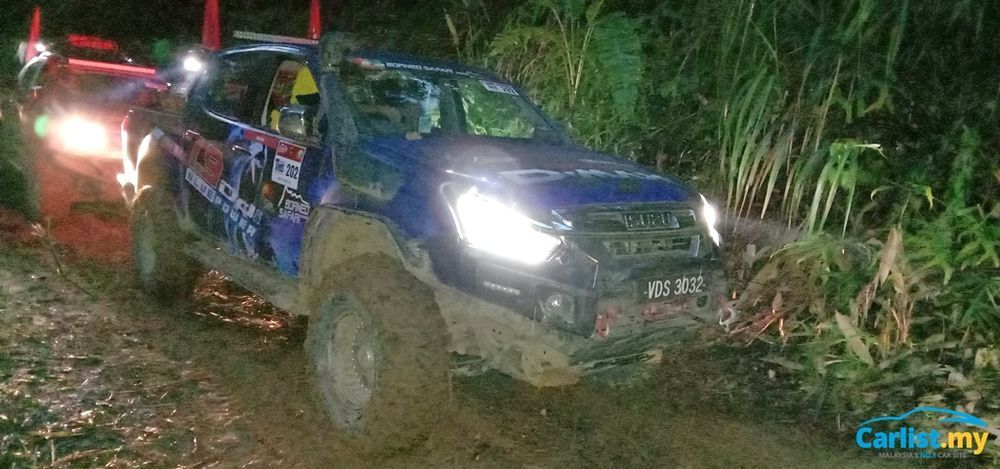 From then on, the convoy proceeds slowly but surely, inching ever closer to Inandung. Though we were seated in the cool D-Max cabin, underneath, it was doing all the hard work – clawing across bumps, gulleys, rocky sections without ever needing a winch. The traction levels of these trucks are simply immense.
In the dead of night, around 11 pm, having travelled for almost 12 hours. We finally see the faint glare of a streetlight on a pole.
Which seemed more like a beacon of joy, because that bulb meant electricity, and that meant we had possibly reached the campsite at Inandung. Not much is said at camp that night with most participants falling asleep almost as soon as they could set up their camp beds.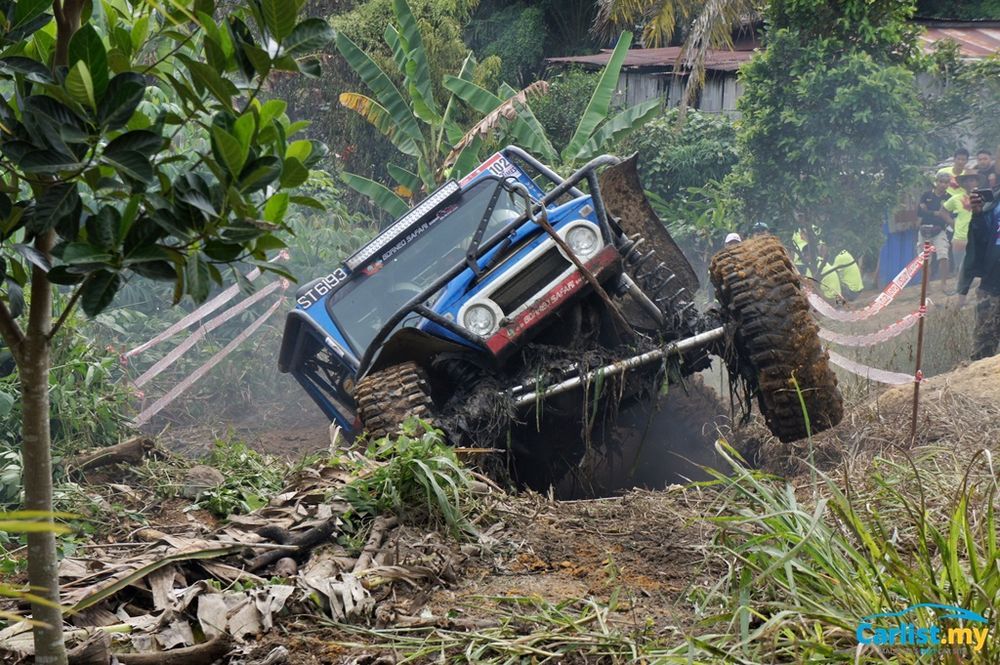 Having made superb progress the day before, Day 6 allowed us to get up close to the locals, and enjoy a few Super Special (SS) stages set up nearby.
SS stages are set up for competing teams with highly modified buggies over the toughest of terrains Sabah can throw at them – from rocky hill climbs, to river sections, to swampy trails.
The fastest teams with the most powerful and reliable machines and the most cunning – all vie to take home big prize money, and more importantly, bragging rights for having conquered what has come to be known as "The Dakar of Malaysia".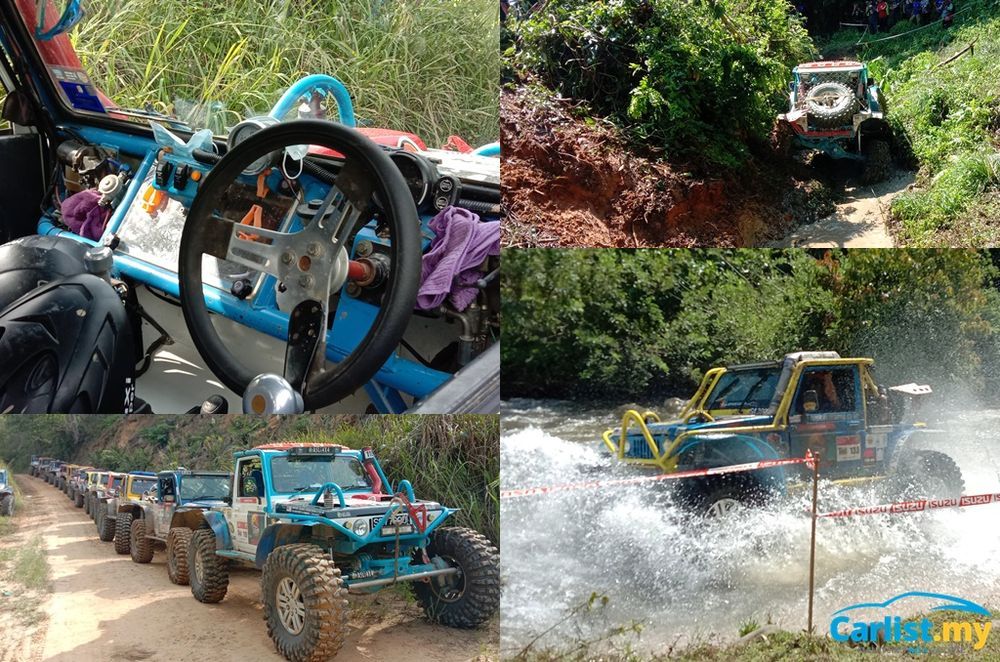 Day 7 involved a straightforward drive down to Keningau and then onto Tambunan for our last campsite of the 2019 Safari. As the sun goes down, we are treated to another gathering with locals, whilst enjoying cultural shows and a well-deserved dinner.
As tea and beer are drunk, friendships warm – by now, having endured days of drama and fun, everyone is part of a larger family. An exclusive club of intrepid individuals who find joy and friendship amidst the staggering beauty and adversity of our great Borneo rainforests.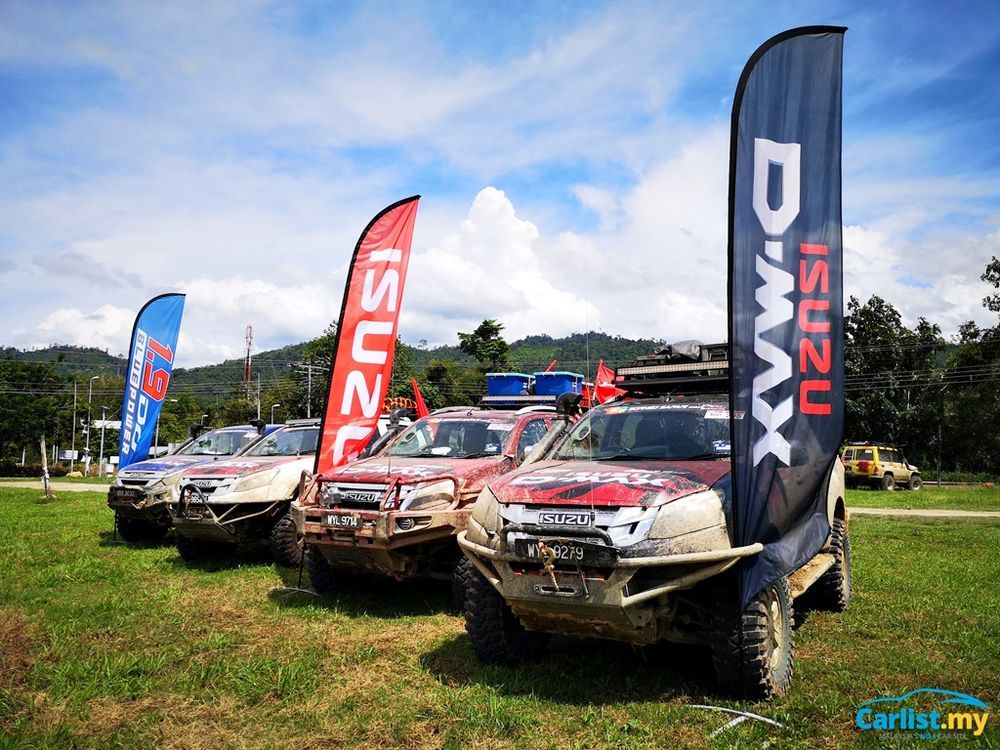 The Borneo Safari in 2019 once again served as the ultimate test of man and machine. As always, the experience leaves the jungle with footprints and the explorer with memories that can last a lifetime. There is little wonder why the Borneo Safari leaves a lasting impression on everyone, it touches everyone in different ways.
Lo and behold there was no Borneo Safari in 2020, an event that I was most looking forward to. I only hope that 2021 brings with it open borders, the death of COVID-19, and the reestablishment of the Borneo Safari!
---
---
---
---
Comments