Review: Mazda 3 2.0 Liftback High Plus - A Hero's Journey...Upmarket
Reviews The Mazda 3 2.0 Liftback High Plus pulls out (almost) all the stops to fit the premium mould. Is it enough?
---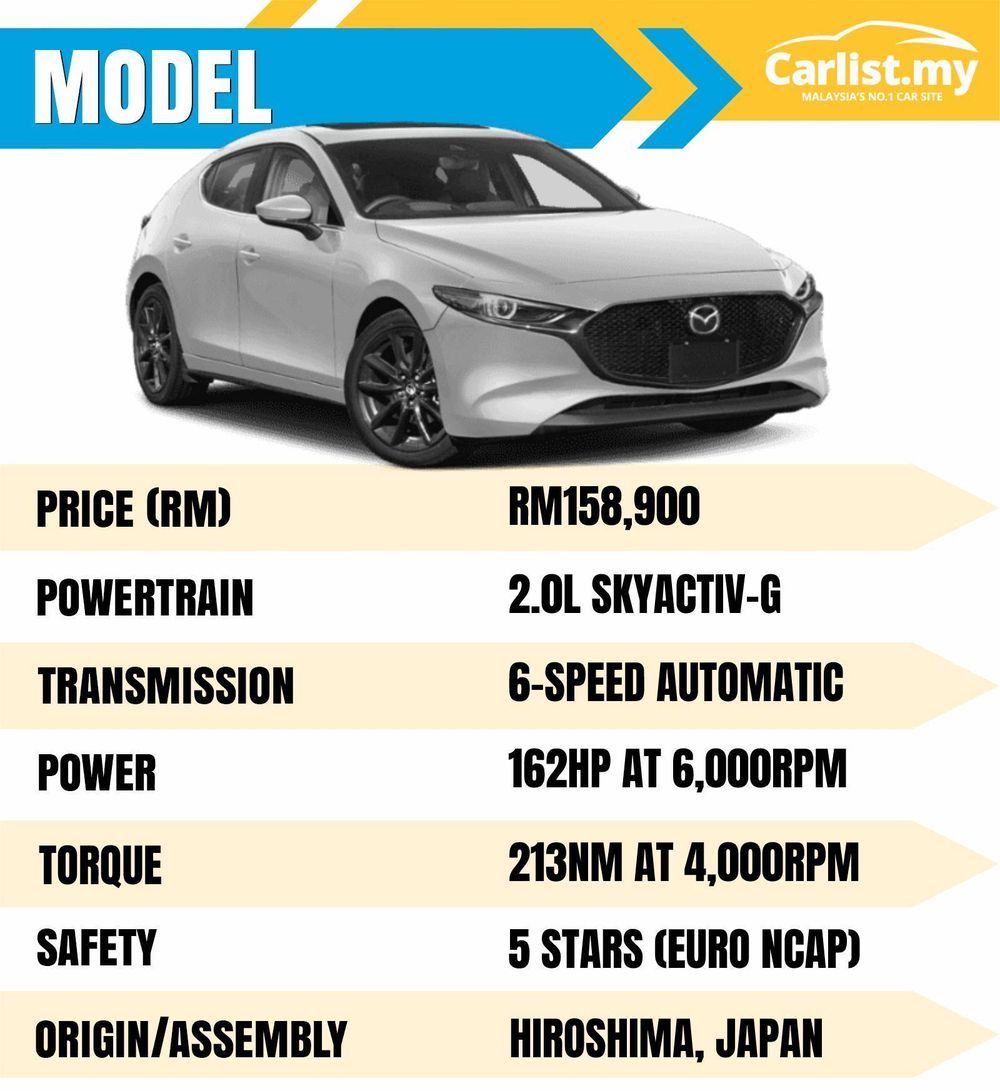 The Mazda 3, if nothing else, is a car with ambition. But it also has a lot of weight on its shoulders; the result of the automaker's near century-long history as a champion of the everyman.
You cannot talk about the 3 without talking about its price point (RM158,900 in this test-spec) nor can you dismiss its design, its materials, fit and finish, build quality, the handling, and yes, that ambition. The likely question Mazda has regularly asked itself is whether it should choose to thrive in its arena, or reach for something higher.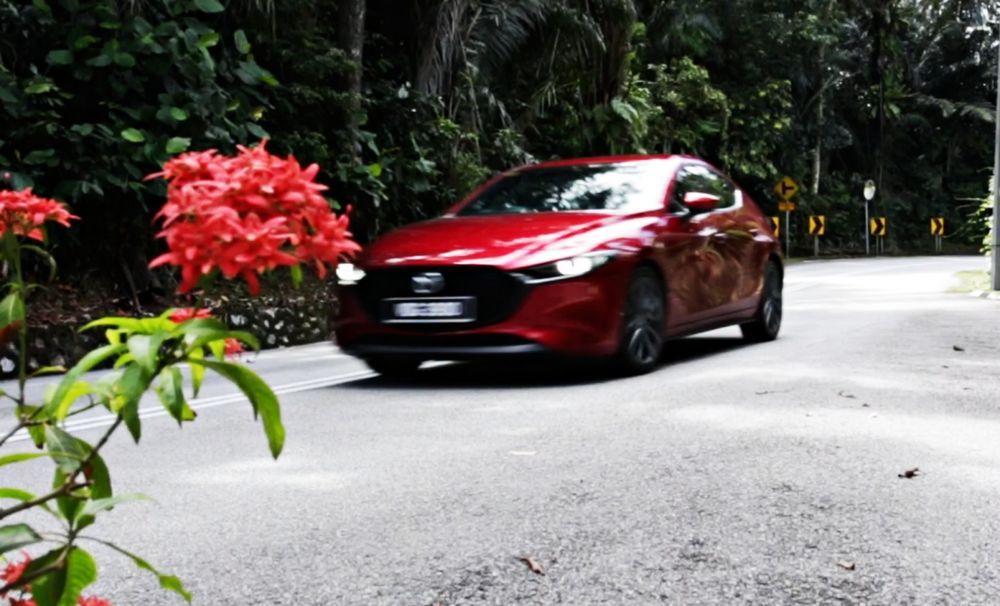 It took other automakers decades to be able to offer a RM160k-ish five-door hatch and get away with it, usually by either being best in class or by being a brand so closely tied to the upper classes that a higher price only comes naturally.
Mazda isn't in that 'premium' category yet, though it's clear that's where it has set aim. That transition is very much akin to a personal one, where your perceived value or competence does not match your true level because of the established preconceptions from family or society.
The world hasn't yet embraced Mazda as the semi-premium player it now peddles itself, despite it working hard over the last half decade trying to embody exactly that. It will take even more time, and like it or not, the all-new 3 needs to be another well-oiled cog on that arduous campaign trail.
Unless it's revolutionary, the most impact the Mazda 3 can hope to make is to give a nice big shove toward that all-important momentum the Hiroshima-based automaker needs to overcome that final plateau from which it will unquestionably be compared to, and only to, the industry's big dogs.
You can't exactly blame the buying public either, as the Japanese market isn't exactly littered with so-called premium offerings, so we're just not used to something 'more expensive' from that Easternmost land that isn't wearing a Lexus or Infiniti badge.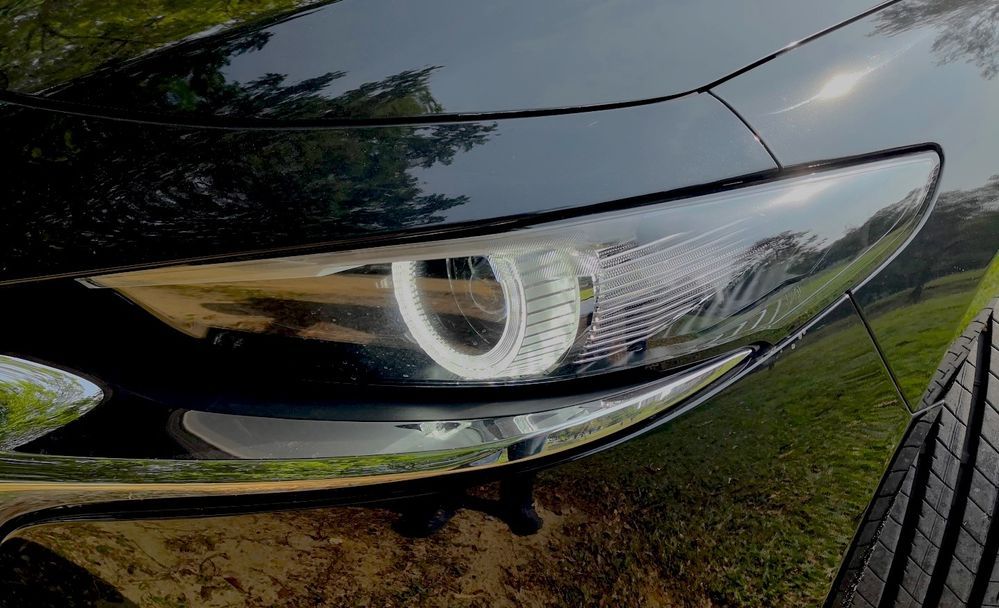 Honestly, if Mazda were German, it would have a much easier time at this. Then again, this is the kind of good fight that has, for many fans, defined it. It could be argued that it has made the company even hungrier and more innovative as a result.
Back to the 3 hatch here, and specifically the 2.0 High Plus in hatchback form (Mazda calls it a 'Liftback', confusingly). Its on-paper specifications are hardly inspirational; a five-door hatch with decent interior space, above average boot space (351-litres), and a 2.0-litre naturally aspirated engine and transmission from the previous generation? For RM160k? It's a tough sell.
That's a shame, though, as you'd be passing up on a car that very well could be a class-leader, especially if you fit the profile of driver and owner Mazda had in mind during its development. It's also clear from driving it that they had a very clear idea of the kind of person that would fall in love with this car.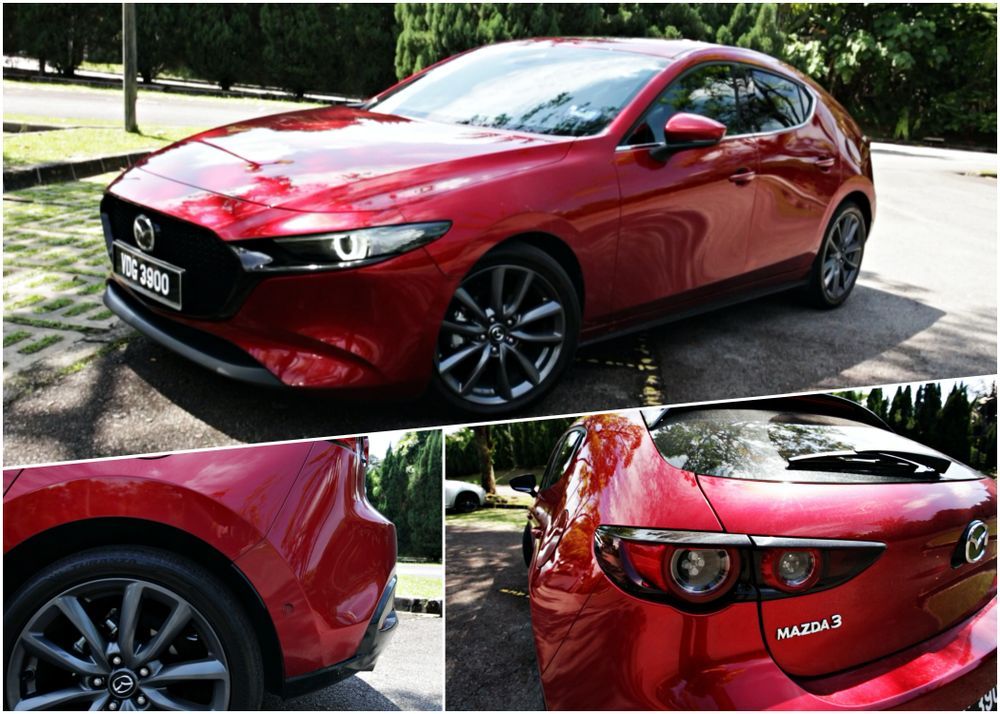 Exterior
There are a lot of little details that collectively makes it obvious that Mazda have put a lot of care and attention to the experience, typically a marker of a premium product. This begins as soon as you walk up to it.
First impressions matter, something which the 3 seems engineered to excel at. Our test car was in Mazda's new signature exterior colour, a brilliant shade of deep crimson called Soul Red Crystal Metallic which paired nicely with its 18-inch dark gunmetal wheels. It cuts a menacing stance if you walk up to it diagonally towards its nose or rear end, as I did at first.
There are a lot of contours to the body, all very subtle, which is contrasted by the more sharply angled front end with its deep-set headlights and its larger near-vertical front grille. Overall, a very well executed evolution of the KODO language used on its predecessor. Except for that huge C-pillar blind spot, which I'll get into later.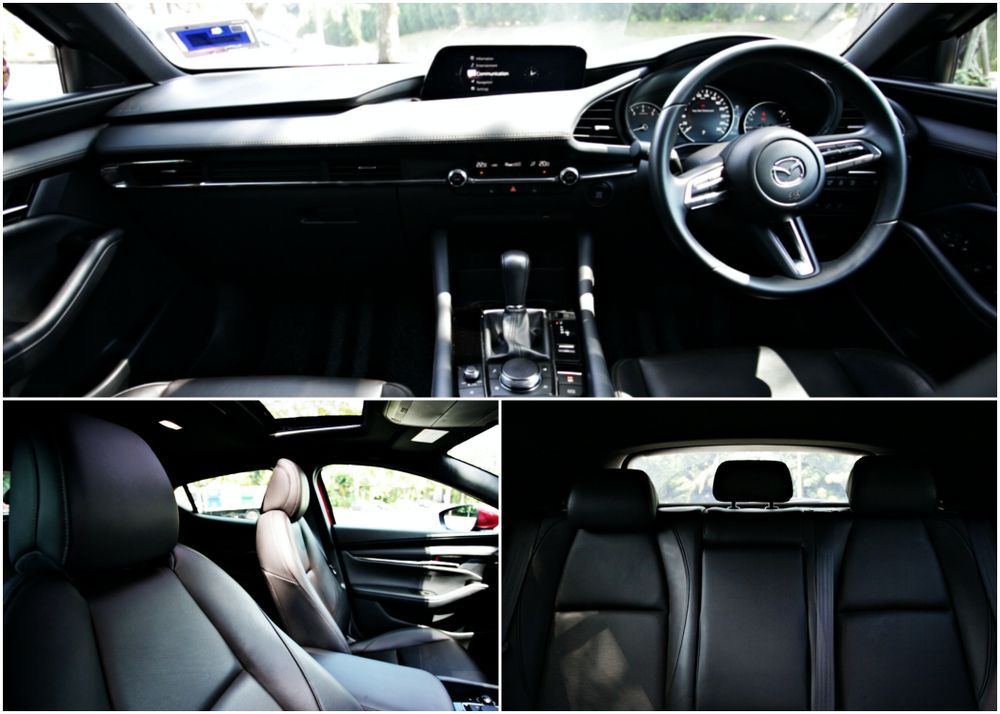 Interior
Sitting inside, the doors are lighter than you might expect but closes with an assured thump. Getting situated was easy enough, despite manual seat adjustments being a glaring feature disparity. It's so easy to get comfortable and attuned with the car that's its actually possible not to notice it. New yet so quickly familiar.
This is what I meant when I said the details on this car are so pleasant once found, but so difficult to condense through a brochure. The steering wheel, for example, fits the hand so snugly and easily. The seating position, the pedal feel, the paddle-shifter action - they all feel like they've had a lot of time invested to fine tune them.
On top of that foundation, Mazda has laid on a good amount of style for its own sake. There isn't much to distract you from driving and the dashboard is expectedly minimal, which goes nicely with the material choices and presents a visual motif consistent with the exterior. If only Malaysian variants of the 3 hatch offered more interior colour tone options other than the rather cold and formal black on black.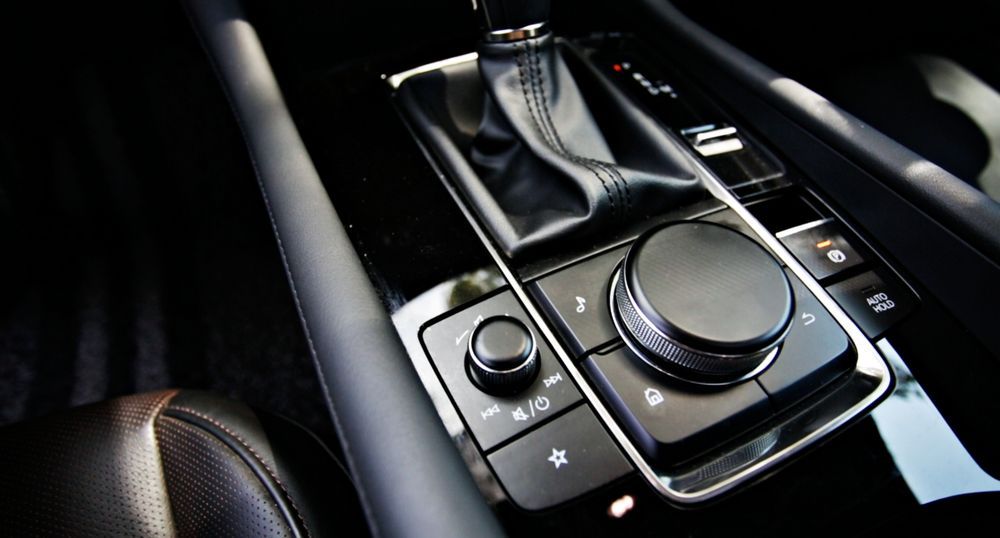 The new infotainment unit is partially hidden if viewed dead-on straight, but the driver's elevated line of sight allows clear visibility of everything displayed on the sharp 8.8-inch screen. Its interface, too, looks far more elegant than in the previous Mazda 3 and works very well. I'll also never stop proclaiming the superiority of the BMW-style rotary control knob over purely touch-based systems.
However, step into the rear seats, and things seem decidedly less expertly executed. The leather seats, I should note, are plush and supportive, but again the dark upholstery only amplifies the relatively dim rear section.
The car's rear window is already somewhat small, and the large C-pillar doesn't let in enough light despite the sunroof, not to mention making for a sizeable blind spot for the driver. For larger rear occupants, it could even be a little claustrophobic on longer journeys. The 3 sedan doesn't suffer from this design flaw, mind you.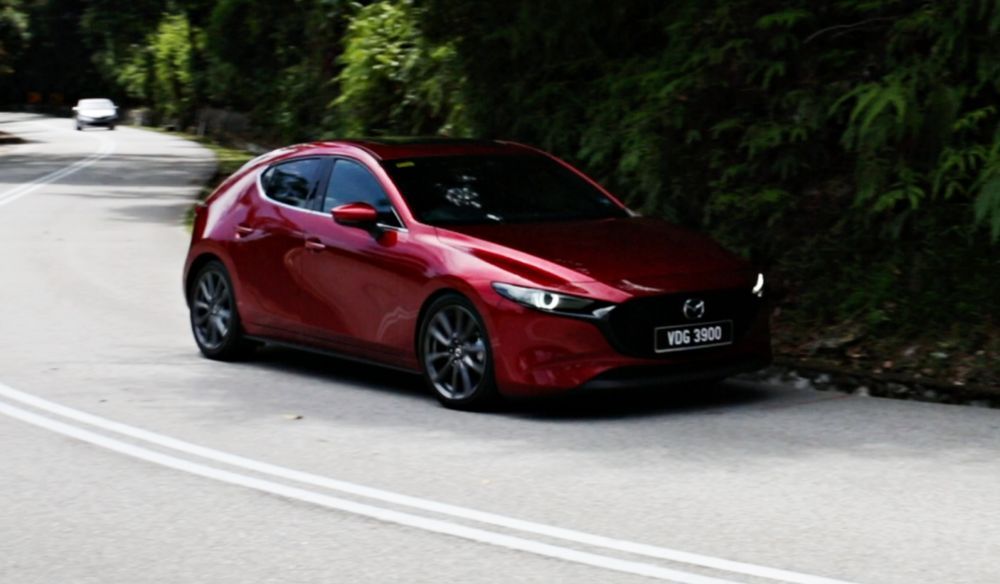 Drive
Under that rather flat bonnet lives a familiar engine: the 2.0-litre SkyActiv-G. This naturally aspirated four-cylinder now produces a little more grunt at 162hp and 213Nm at their respective peaks, but certainly isn't anything to shout about. Mated to it is a 6-speed torque converter automatic, dubbed SkyActive-Drive.
It's a common Mazda combo, but time will tell if future Malaysian-spec cars will be fitted with the very interesting SkyActiv-X or the rumoured turbocharged engines for 2021.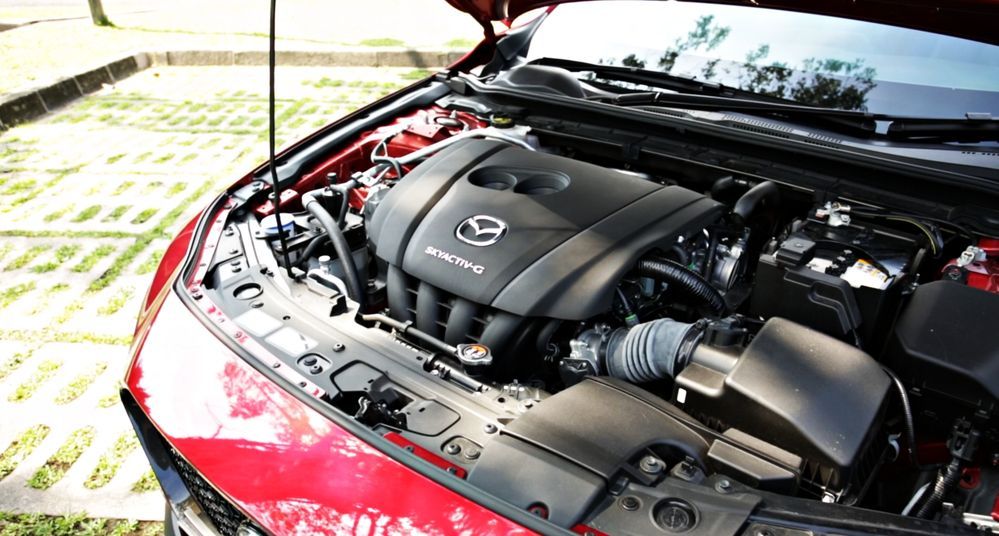 What it lacks in sheer punch, it makes up for with a rev-happy character, something it loves doing as you move up and down the ratios. It's also surprisingly gutsy at lower RPMs, which is where this engine struggles the most against its competitors in previous implementations. No complaints when driving about normally, but it can certainly seem a little breathless if asked to haul a car packed with adults along with a boot full of cargo - at least more so than something with a turbocharger.
That said, the atmospheric engine never lets you get ahead of yourself if you're driving a little more aggressively. Power comes in a very linear fashion accompanied by a satisfying growl, though the car can probably never be called 'fast' in the traditional sense. It is fun, though.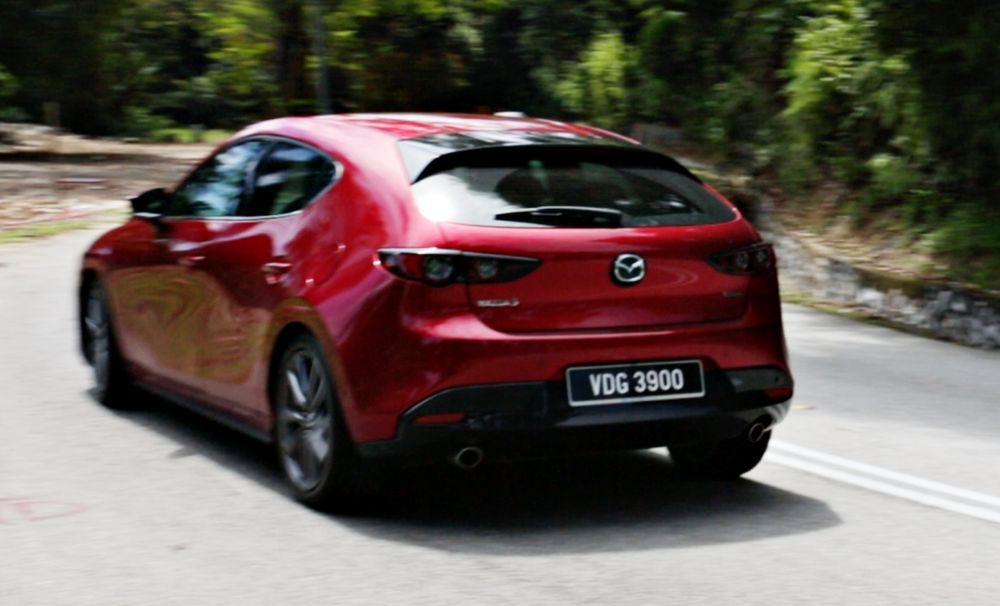 The taut suspension and, as previously mentioned, superbly judged controls, makes this a car you feel confident with behind the wheel. At normal speeds it loves to be chucked around but that's girded by quite a lot of safe understeer if you push too hard. It has proper hot hatch dynamics, but not hot hatch pace, which might also explain the fitment of more comfort-oriented Bridgestone Turanza tyres.
Fit a set of sportier rubber and this Mazda 3 could have the most agile front end of any front-drive hatch (at lower speeds). Sadly, the company has more or less confirmed that there will not be an MPS or Mazdaspeed version, so we probably won't see this car reach its full potential.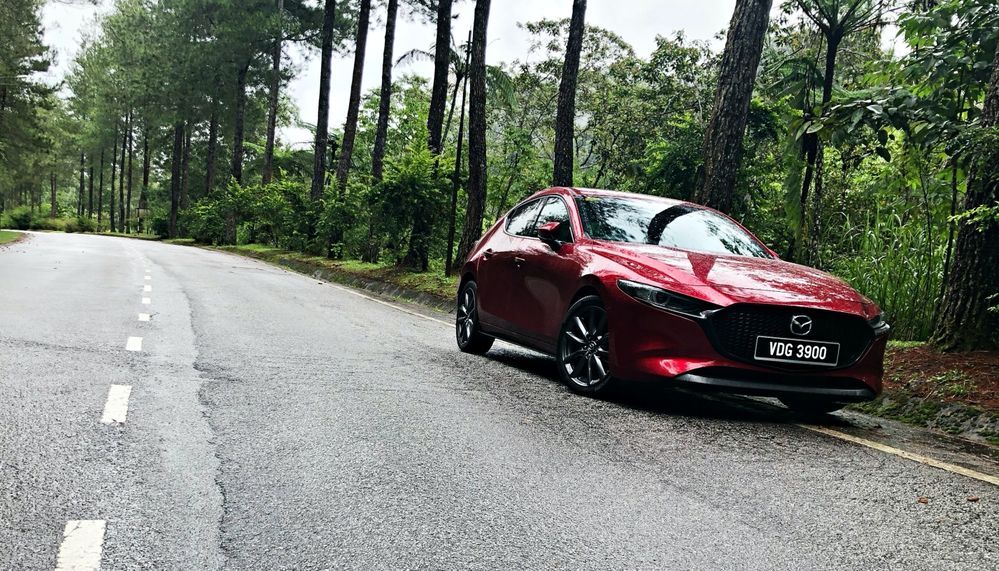 Summing Up
This fourth-generation 3 is a car that won't please everybody, but is perhaps the clearest statement of intent from a marque on the rise. It's been obvious for a long time that Mazda isn't interested in being second rate, and while many of us still struggle to see them in that different light, the company's impressive rate of innovation and the sheer quality of their cars is nonetheless the best remedy to serve that ongoing pursuit.
It's also a clear descendant of the past Mazdas like the Familia, 323, and Lantis. Far from perfect, but is so easy to like and very eager to please. Instead of creating a car that immediately appeals to everyone at the risk of perhaps even end up a little too similar to its rivals, the company has distilled what made their previous 5-door cars so unique and loved in their own right, then infused it into this newest Mazda 3.
The build quality and care given to the overall experience is exceptional, but is sadly not translatable through a brochure or spec sheet. Evaluating the Mazda 3, then, is a surprisingly subjective affair. Before making up your mind, you need to take it for a test drive - it's just one of those cars.
---
---
---
---
Comments