Review: Volkswagen Tiguan 1.4 TSI – Last of the Twin Charged Ones
Reviews In a market that's dominated by the Honda CR-V and Mazda CX-5, the Volkswagen Tiguan never made a strong enough dent into the Japanese-controlled fort. Initially offered with only a 2.0 TSI turbocharged engine from the Golf GTI, the Tiguan was priced on the wrong side of the RM200,000 divide. The introduction of a 1.4 TSI version brought prices down, it's now front-wheel driven instead all four, has a less powerful 1.4 TSI Twin Charged engine and loses leather trimming.
Opting for the RM10,000 Tech Pack option adds Bi-Xenon headlamps that automatically adjusts for range and swivels according to your speed and steering angle, dual zone automatic air-conditioning, cruise control, RCD 510 infotainment system with reverse camera.
Despite the lower price, the Tiguan still fares poorly in terms of value. Specs-for-specs, the Tiguan's equipment levels are well below that of the Honda CR-V 2.4-litre 4WD (RM172,600). And let's be honest, the hard beating that the Volkswagen brand took recently isn't really helping matters.
Still, the Tiguan has its charms, despite the brand's recent snafus.
Specifications:
Price: RM188,888 (Tech Pack option), excluding insurance
Engine: 1.4-litre TSI direct injection, twin charged, inline-4, transverse
Power: 160 PS @ 5,800 rpm
Torque: 240 Nm @ 1,500 to 4,500 rpm
Transmission: 6-speed dual-clutch automatic, wet clutch type
Safety: Six airbags, ESC, ABS with BA, ISOFIX
Origin: Fully imported from Germany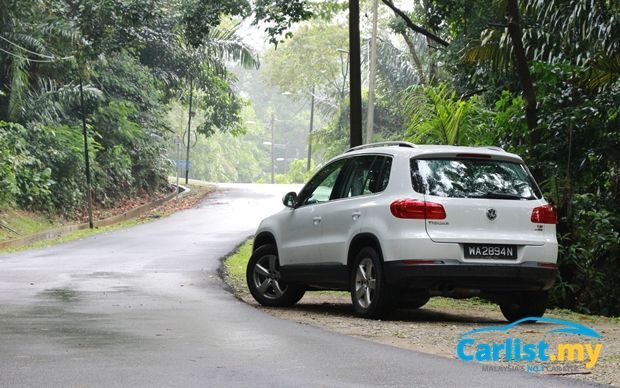 Overview
A new generation, all-new Tiguan has already been preview at last year's Frankfurt Motor Show, but the model will only go on sale in Europe sometime around the third quarter of this year, with sales of right-hand drive models to commence slightly later. We don't expect to see the all-new MQB platform-based Tiguan on this side of the world until 2017.
With this in mind, we do expect Volkswagen dealers to be offering some attractive offers on the Tiguan. At the moment, there are no on-going promotions for the Tiguan, apart from the usual dealer initiated offers.
Surprisingly, despite the less than stellar reputation that the current generation of Volkswagen models suffer from, dealers appear to not have much problems shifting the Tiguan off their showroom floor.
It's one of the few Volkswagen models that you actually have to wait for it – some say the Tiguan's wet-type 6-speed DSG transmission, which was less affected by the snafus that afflicted the 7-speed dry-clutch unit, helped. Of course, the Volkswagen Malaysia has repeatedly assured customers that problems with the DQ200 7-speed DSG unit has already been solved, but realistically, even though the problems have been dealt with, it will take at least one model generation to come to pass before a new group of consumers move in to fill the void.
Exterior
"Boring." That's a common response elicited by the Tiguan's exterior styling, which frankly I never quite agreed. Personally, the Tiguan has a rather understated, timeless design and just like many Volkswagen models in the past, the Tiguan wouldn't look too out of place even when parked next to a newer model. The same cannot be said for an older generation CR-V.
In terms of size, the Tiguan is significantly smaller than its Japanese competitors. On the upside, that would mean that it's easier to park. On the other hand, the smaller real estate also means that its cabin is a lot more cramped than its peers.
The lack of keyless entry also shows the Tiguan's age. Having said that, the Germans are, for whatever reasons, slow to adopt convenience features, preferring to focus on driving related features. For the record, even the all-new BMW X1 doesn't have keyless entry. So it's something that potential buyers will have to accept, despite paying the high price for the car.
Interior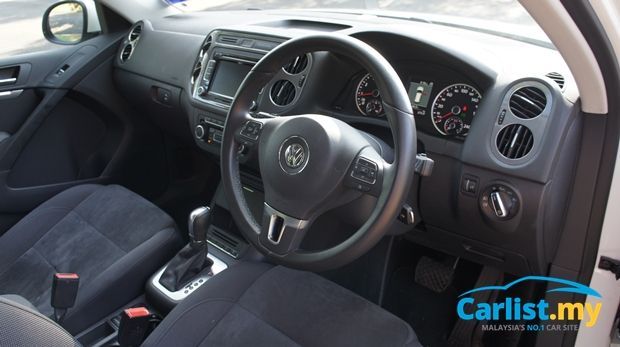 "Boring," again that was a common reaction from those who stepped in to the car, but this time around, I shared the same sentiment. Even when it was first launched, the Tiguan had a rather unattractive interior.
I wished to say that its bland cabin was compensated by top-class ergonomics and practicality, but sadly there was no saving grace for the gray-ville that surrounds the occupants.
It was difficult to get into a comfortable driving position. The driver's seat adjusts for height as well as fore and aft, while the steering wheel adjusts for both reach and rake, but despite the high level of adjustability, you can't quite settle into a comfortable driving position. The dashboard sits a bit too high, but pumping the seat height adjuster merely tilts you a bit too far forward rather than raising you vertically.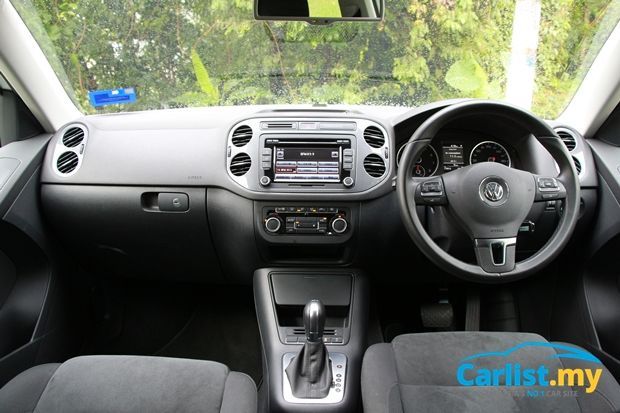 My almost six-foot tall colleague Daniel Wong also complained of the same, less about the height, more about the relative distance of the pedals, and the steering rack's limited range of telescopic adjustment, which was a shame because the floor hinged 'organ pedal-type' accelerator pedal would in theory, allow for a sharper control of the throttle.
In comparison, we had no issues settling in our preferred driving positions when we got behind a Honda CR-V or a Mazda CX-5.
Curiously, I don't remember having the same problem in the Tiguan 2.0 TSI, which came with thicker padding leather seats.
The front-centre armrest was also positioned too far behind, and was too low to be of much use during long distance drives. You can tilt rear-hinged armrest it upwards, but that position wouldn't allow you to rest your arm anymore. Maybe the interior designers see it differently, that you must keep your hands at the 9 and 3 o' clock position on the steering wheel.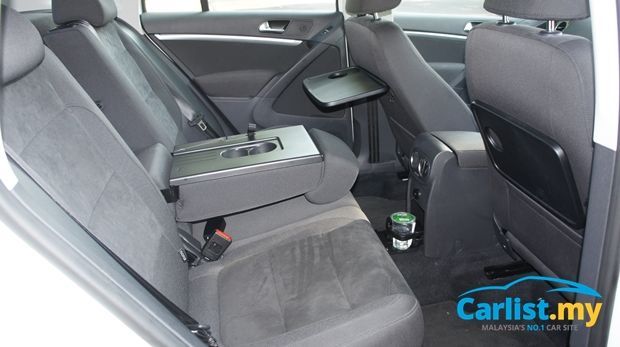 Behind, there is ample room for two adults, but three could be a bit of a squeeze, and the transmission tunnel intrudes quite a fair bit into the cabin, but no more than the CX-5. Only the CR-V offers a truly flat cabin floor in the rear.
Parents however, will appreciate the Tiguan's fold-down tray tables, which is able to hold small cups and water tumblers. There's also a pair of air-conditioning vents behind.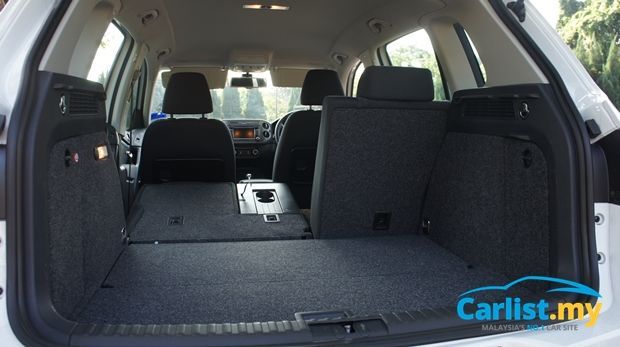 The rear seats are splits and folds flat in 60:40 ratio, but there are no convenient one-touch controls that you can operate from the boot to fold the seats, unlike the Honda CR-V. To fold the seats, you first have to open the rear doors, pull a strap to collapse the seatback forward, before going back to the boot.
So not very impressive then is it? Don't be too quick to strike the Tiguan off your list yet.
How does it drive?
Together with the Jetta, the Tiguan will be the last two Volkswagen models to be powered by the 1.4-litre TSI Twincharged petrol engine. It's a unique, one-of-a kind setup that combines the benefits of a turbocharger with a supercharger.
The only other brand that makes similarly setup engines is Volvo - the XC60 T6 and XC90 T8, and they cost RM318,888 and RM453,888 respectively.
Yes the Volkswagen TSI 1.4-litre don't have a very reliable reputation, with many reports of cracked pistons afflicting earlier models, but on their part, Volkswagen assures us that it has since corrected some gaps in its casting and curing process, and all earlier affected engines have already been replaced under warranty.
On the move, the engine's 240 Nm of torque made light work of pushing the Tiguan's 1,551 kg along.
While it has ample torque, the delivery was rather jerky, especially in stop-go traffic. Below 1,500 rpm, there's almost nothing but shortly before the tachometer winds past the 2,000 rpm mark, the engine dumps a huge load of torque to the front wheels, pulling you ahead as if you were being swept away by a strong wave. It's good for traffic light duels, but not good when all you want is just to move a few feet forward in traffic.
The engine's idle start-stop function was quite smooth for a four-cylinder engine, good enough that I left it on in all but the worst stop-go traffic.
Out on the highways, it has more than enough power and a quiet enough cabin to make for a relaxing drive. The Tiguan's powertrain is remarkably able to cruise its way to triple digit speeds on the motorway. It really feels effortless in its power delivery, and whilst it doesn't have the outright speed or high-speed stability offered by its four-wheel drive 2.0 TSI predecessor, this front-wheel drive variant already feels well-endowed and capable enough as it is.
Round the bends, the steering is well-weighted while body lean is controlled – which is a better than what you would expect from a family-focused SUV.
How Comfortable Is It?
The Tiguan's excellent sound proofing makes for a very hushed cabin ambience even at high speeds, whereas its suspension tuning manages to deliver a supple and yet planted car-like ride, which is saying something, considering that this is still an SUV with an elevated ride height.
Ruts, gaps on the tarmac surface and road undulations – the Tiguan absorbed it all in stride.
It's a pity that the composed ride could not shake off some of its earlier mentioned ergonomic foibles. Otherwise, the Tiguan would have been a very capable companion for many families.
How economical is it?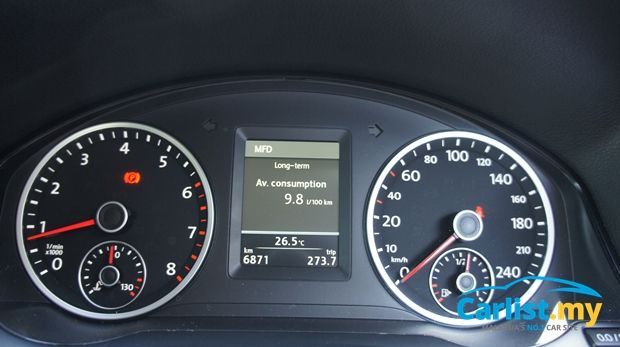 Over a nearly 300 km distance of mostly city and inter-city driving, with only a fair bit of highway distance in between, the Tiguan 1.4 TSI's trip computer was showing an average fuel consumption of 9.8-litre/100 km. That's slightly less than a Honda CR-V 2.0-litre 4WD, so it's pretty good.
Conclusion
Overall, the Tiguan 1.4 TSI doesn't offer a very attractive package especially when you compare it against the very-practical Honda CR-V.
But if you are going to do a lot of long distance driving in it, then the Tiguan's forte in delivering an effortless cruise comes into play very well. It's a pity that the Volkswagen is still hounded by the stigma of being an unreliable ride.
Find more Volkswagen Tiguan models on sale at Carlist.my.
---
---
---
---
Comments