Slowing Economy Impacting Proton and Perodua Hardest
Auto News As Malaysia's economy slows and consumers hold back on discretionary purchases like a new car, national brands are feeling the ill effects of our weakening economy.
Data from the Malaysian Institute of Economic Research shows that Consumer Sentiments Index has now dropped to an all-time low of 70.2 points. The index has been hovering well below the critical baseline of 100-points - the first time in almost five years - since Q2 2013, and it has not recovered ever since.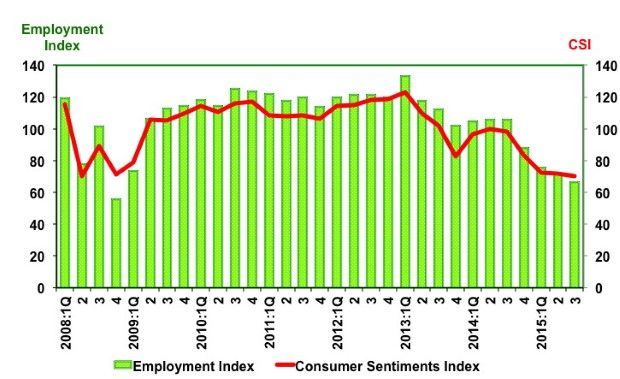 Although Perodua's cumulative sales for 2015 is up 12.3 percent year-on-year, it hides the fact that the company's sales for the month of September 2015 is Perodua's lowest in 12 months.
The improved year-on-year numbers for year-to-date September 2015 is mainly attributed to a one-off spike in March 2015, partly due to the pre-GST rush, and clearing of the backlog of orders made in 2014 for the very successful Perodua Axia, which was launched in September 2014.
Perodua's sales has been falling sharply for three consecutive months already, dropping by nearly 20 percent in just 3 months.
It's a similar story with Proton, whose sales have also dropped by nearly 20 percent over the last three months.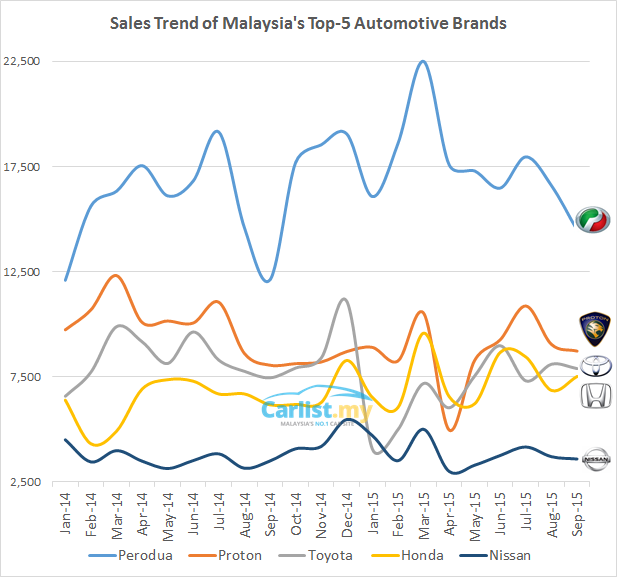 In comparison, sales of non-national brands have dropped by only 6 percent over the same three-month period.
Within the non-national segment, Honda and Toyota continues to be locked in a tight race for the top non-national brand spot. Honda has already overtaken Toyota in the passenger car segment, with a cumulative sales of 66,411 passenger cars within the first nine months of 2015, versus Toyota's 42,658 passenger cars.
Overall, Toyota still leads over Honda, with 62,097 vehicles sold, aided by Toyota's wide range of commercial vehicles like the Hilux and Hiace, segments which Honda doesn't participate in.
The poor market sentiments are expected to continue into 2016, and car companies will remain weighed down by a weak Ringgit, and increased spending in sales promotions to attract an increasingly cynical buying public.
---
---
---
---
Comments