Swire Motors Opens Volkswagen's Third Technical Service Centre
Auto News With a total display area that can accommodate 15 cars, and with two vehicle delivery bays, the newly opened Volkswagen Puchong 4S Centre is the largest Volkswagen showroom in the country. In total, the 92,000 square facility, which also includes a body and paint repair centre and a service centre, is the largest in the Southern Klang Valley region.
Built with a total investment of RM20 million, 70 percent of it invested in after sales, the spacious showroom is complemented with a workshop that houses 24 service bays, which can be expanded to 35 in the future, as well as an authorized Body and Paint centre. The centre uses newly-designed stainless steel air blow guns for paintjob with waterborne paints - a new and improved product that requires lesser clear coats and has a cleaner and brighter results as compared to solvent based paint.
Operated by the Hong Kong-listed Swire Motors, whose parent company Swire Pacific owns Cathay Pacific airlines, the cash rich Swire Motors entry into Malaysia will give a much needed boost to the quality of services provided to Volkswagen owners in Malaysia. The company was previously operating from a temporary showroom at another location in Puchong.
Swire Motors is also known as Taikoo Motors in Taiwan, where the company operates Taiwan's largest network of Volkswagen dealerships. The company also represents many other makes in Hong Kong and China.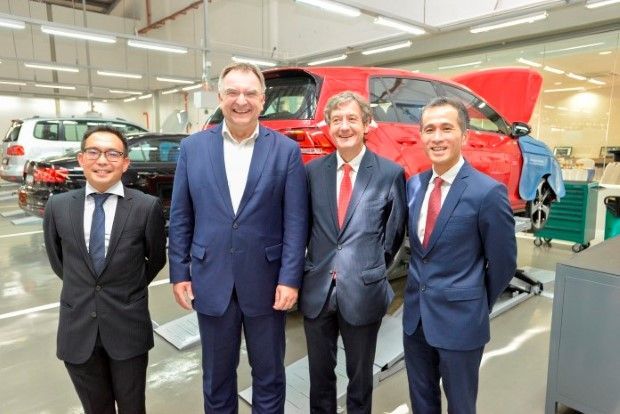 Speaking at yesterday's opening ceremony of Volkswagen Puchong, Mr Armin Keller, Managing Director of Volkswagen Group Malaysia said, "This is our third Volkswagen Technical Service Centre launched within a span of one year and this is testament that our customers are our top priority. Volkswagen Malaysia works closely with our dealership partners to ensure the right investment on infrastructure is made so together we can strive to improve our offerings and improve the overall ownership experience. This year will be a year for Volkswagen Malaysia to focus on improving overall ownership experience for our customers. Congratulations Swire Motors on today's launch and thank you for your commitment to the brand."
The other two Volkswagen Technical Service Centres are Cergaz Autohaus's Volkswagen TTDI and Goh Brothers's Volkswagen Selayang.
Mr Derrick Chan, Managing Director of Taikoo Motors said "Swire Motors is proud to present our largest Volkswagen centre in the Southern Klang Valley. We agree that our customers are our top priority and with that in mind, we have invested in equipping this centre with the right equipment and right people and other necessities in making this a full fledge service centre and more. Our investment today will benefit in the long run and will help in building the Volkswagen brand here in Malaysia. Thank you to Volkswagen for the continuous support and faith in Swire Motors."
Volkswagen Puchong 4S Centre operates from Monday to Saturday from 8:30am to 6:00pm and on Sundays and Public Holidays from 9:00am to 6:00pm for its showroom. For after sales it operates from Monday to Saturday from 8.00am to 8:00pm. Other facilities such as a customer lounge with four computers for customers use, TV with various Astro channels, a café and high speed WIFI is also available.
It is located at Lot 895, Jalan Subang 10, Kampung Kenangan, 47100, Puchong, Malaysia. Customers can make their service appointment by calling 03-8069 9099.
---
---
---
Comments