Takata Airbag Crisis: Honda Extends Operation Of Service Hubs
Auto News Honda Malaysia has announced that it will extend the operational duration of its hubs set up for the replacement of defective Takata airbag inflators.
In a written statement, the company confirmed that operations of temporary Service Central Hubs will be extended until 31 December 2016. They were originally planned to be in operation only for two months from 1 August to 30 September.
To date, the three Service Central Hubs have managed to replace a combined total of 11,200 airbags – central region hub completing 4,200 units, northern region 3,200 units, and southern region 3,800 units.
According to Honda Malaysia's records, some 23% of affected Honda vehicles in the central region of Peninsular Malaysia have yet to have their defective airbag inflators replaced, compared to just 9% and 8% in the northern and southern regions respectively.
As such, the company is urging affected Honda customers, particularly those residing in the central region, the make an appointment to replace their affected Takata driver airbag inflator as soon as possible.
In view of the high number of affected vehicles in the area, Honda Malaysia is also expanding the operation of its mobile hubs in selected shopping malls across the central region. These mobile hubs provide on-the-spot replacement at the mall itself and are operation on Saturdays and Sundays from 10:00am to 7:00pm.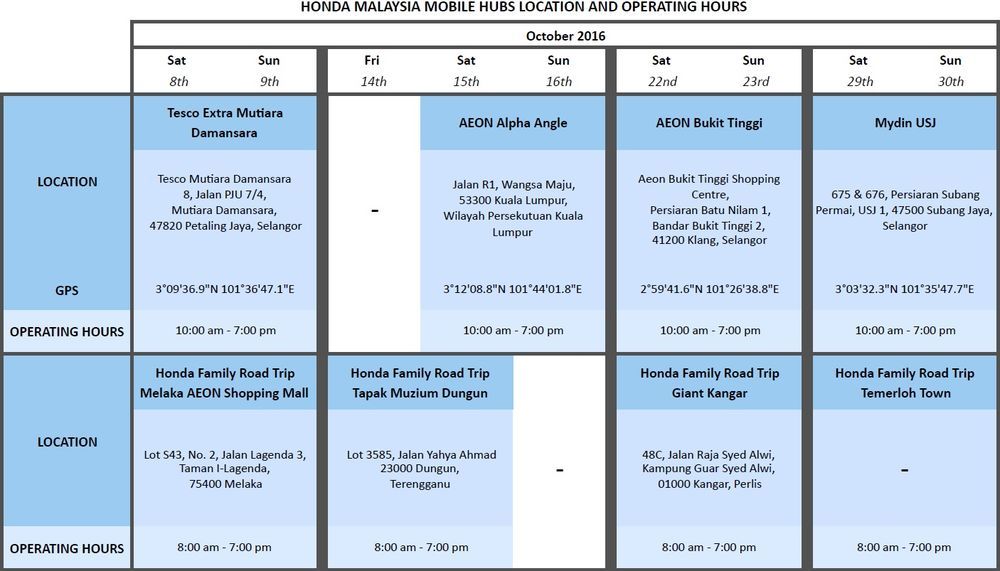 Click to enlarge
During the period between 1 August and 30 September 2016, Honda Malaysia was able to replace over 62,200 units of the defective Takata airbag inflators, with about 11,300 units changed at the temporary service hubs.
As announced in August 2016, Honda Malaysia has secured 100% stock availability of replacement airbag modules for the driver side of all affected vehicles. Stocks of passenger side modules are coming in slower, with stock levels expecting to reach only 55% by December 2016. Customers can check the available of stock for the passenger side inflator at either www.honda.com.my or www.productrecall.honda.com.my.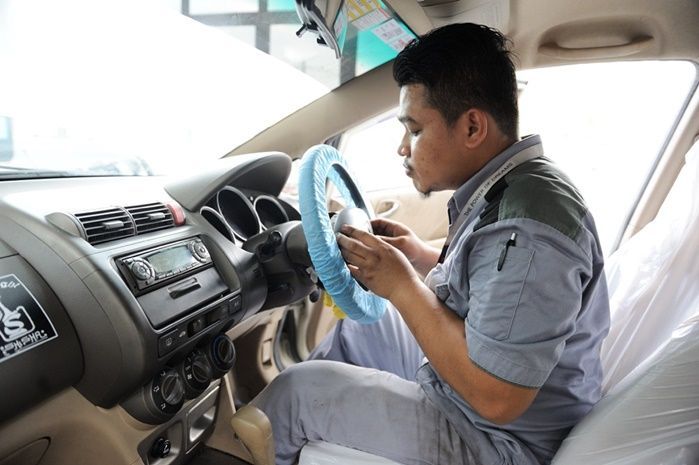 Defective Takata airbag inflators have been responsible for no less than four fatalities on Malaysian roads, the latest incident happening on 24 September. This is the worst and most far-reaching recall in the history of the automotive industry, affecting multiple manufacturers on a global scale. Over 600,000 cars of various makes are reportedly affected by this recall in Malaysia alone.
Latest figures break down as follows:
Honda – 329,059 cars
Toyota – 145,685 cars
Nissan – 110,860 cars
Mitsubishi – 36,010 cars
Mazda – 1,003 cars
Subaru - N/A (small number of cars only)
Despite being the worst hit among all manufacturers, Honda has also stood out in this crisis as being the most pro-active in their management of the situation. In addition to the setting up of these temporary hubs, Honda is also notable for being the only manufacturer who have officially extended help to cover for grey-imported models as well.
Read our FAQ here for more info on the Takata airbag crisis.
---
---
---
---
Comments