The Kia HabaNiro Is An All-Electric, All-Wheel Drive Concept
Auto News Yes, we get it. SUVs are more important than sedans. This has been a message that manufacturers have been hammering home, motorshow after motorshow as they roll out concept SUVs - and the market agrees with them, or rather they're simply giving the people what the people want. The latest to join this burgeoning group of concept SUVs is something called the HabaNiro - by Kia.
It's an all-electric (naturally), all-wheel drive (but of course), four seater concept vehicle that's shaped a little like a modern dune buggy. Kia Motors America unveiled this vision of the future, which was imagined and created in Kia's California design studio, in Manhattan, New York of all places. Kia is also coining a term known as ECEV, or "Everything Car Electric Vehicle". What they're basically trying to say is that the HabaNiro is so versatile, it can't be placed in any particular category.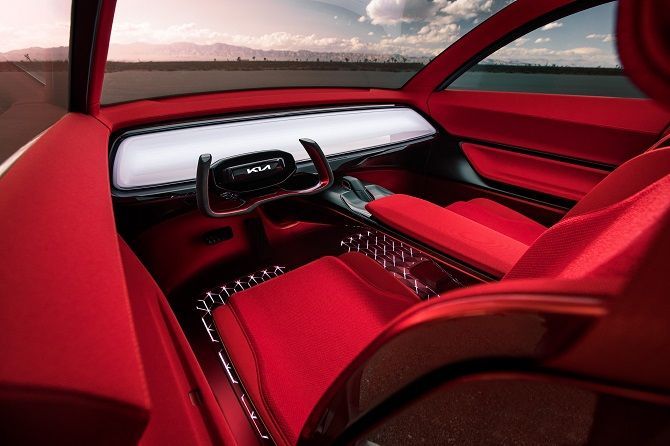 Technical specifications on the car is as you'd expect with a concept: brief. This theoretical car can go a theoretical range of over 480 theoretical kilometres, which Kia is called AER (All Electric Range). We find that a little strange seeing as it's an all-electric car, so the range being all-electric should be a bit of a given.
The inside is as concept car as you would expect. The entire interior is an intense shade of Lava Red, revealed by butterfly doors at the open. There's a minimalist vibe to the control layouts, as well as a Heads-Up Display and a large interactive touchpad display, as well as a system that lets you move settings and options around the various screens of the car. There is also a trick ventilation system and ambient lighting, both of which seem to need their own unique acronyms.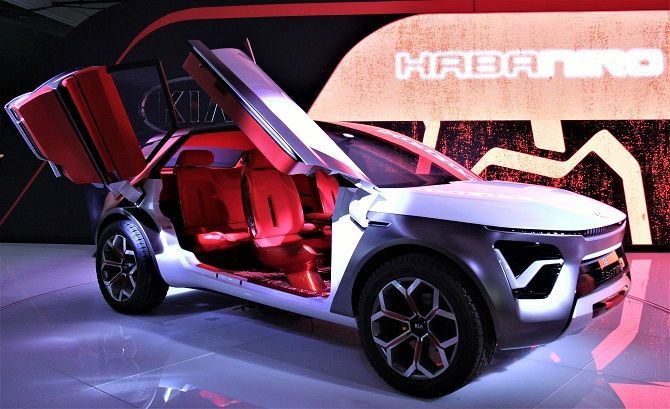 Perhaps the most interesting of all is the proposed level-five autonomous driving, which would make this a lovely commuting car for the city. This level of autonomous driving allows users to rest and relax, allowing for conversations and work that needs to be completed. There's even a Real-time Emotion Adaptive Driving system that essentially optimizes and personalizes cabin space to a driver's needs, The system is so advanced that it can even detect when you want to look in the rear view, and changes the view to a 180-degree field of vision feed from a rear view camera.
Kia, for some bizarre reason, is saying that you shouldn't write off the HabaNiro as being just a concept car - citing both the Stinger and the Telluride as an examples of concepts coming to life after excellent public reception. That being said, as we're seeing with other manufacturers, the transition to electric vehicle production can be a tricky and arduous process, and perhaps Kia isn't quite ready to make that seismic shift.
---
---
---
Comments