The Race For The 2016 ASEAN Car of the Year Awards
Auto News Over 100 models from 20 different brands are in the running for the most important automotive awards in the ASEAN region.
Jointly organised by individual motoring journalists from Thailand, Indonesia, and Malaysia – the three largest automotive markets in the region – this year's ASEAN Car of the Year Awards (ACOTY) saw an unprecedented number of participating judges, doubling from last year's inaugural event.
For the Malaysian category, a total of 73 vehicle models from 22 brands have been shortlisted for the final scoring.
In each country, the qualifying vehicles are scored by a panel of judges that includes not just motoring journalists from the respective countries, but also consumers participating in the largest online automotive consumer survey.
A panel of experts from banking and finance, insurance and warranty service providers will also be judging the vehicles on their reliability, and running costs and depreciation rates.
Meanwhile, the motoring journalists will assess the product attributes of the nominated vehicles, evaluating them from on price, equipment, safety, ride comfort, handling, overall performance, as well as interior and exterior design of the vehicles. Each judge's individual vote will be casted in isolation, before it is combined with the weighted average scores given the participating panel of experts.

A model that has won in its individual country-level category will automatically be in the running for the prestigious ASEAN-level awards if it is sold in all three participating countries.
Last year, the Porsche Macan was the Overall Winner in the inaugural 2015 ASEAN Car of the Year Awards, with the Nissan X-Trail and Mazda 2 coming in at second and third place respectively.
Alongside European Car of The Year, North American Car of The Year and the prestigious World Car of The Year awards, the ASEAN Car of The Year awards is a timely recognition for the men and women who work in the one of the fastest growing automotive markets in the world.
The award seeks to better acknowledge the vehicles that exceed the expectations of ASEAN consumers, and to encourage car makers to compete to deliver the best possible vehicles for consumers in ASEAN.
The scoring mechanism used by the ASEAN Car of The Year is the most comprehensive and most in-depth scoring system ever introduced to any Car of the Year awards in any country or region. Through this, car makers will be able to extract valuable information that was never available before – performance in after-sales and value retention for example.
The transparency of the scores will also guide savvy consumers in making the right purchase.
*ASEAN Car of The Year Awards does not require any financial contributions from car makers to participate. The commercial rights to use award's logos, findings and studies from the research and reports are provided to car makers free of charge.
Below are the finalists for ASEAN Car of the Year 2016 (Malaysia category):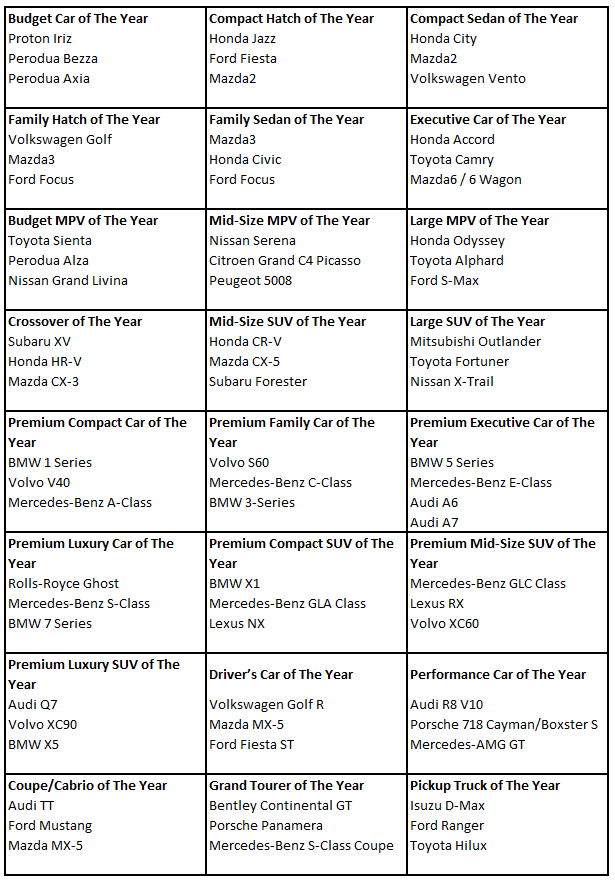 Below are the participating publications and their representatives who casted their votes:
Autobuzz - GC Mah
Autobuzz - Matthew Hernandez Tong
Autofreaks - Chris Wee
AutoRepublic - Chung Yi-Shen
Autoworld - Zachary Ho
Carlist - Kon Wai Luen
Carlist - Gokul Kandiah
Carsome - Jason Loo
Carsome - Eu Jin
China Press - Chew Wooi Fu
EVO – Bobby Ang
EVO – Keegan Doorai
KeyAuto – Alson Wong
KeyAuto – Allyson Tham
Live Life Drive - Arvinda Kumar
Live Life Drive - Aswan Yap
Mekanika – Syukran Zainuddin
Mthfkwin - Won
Motorsportchannel – Chee Tun Poey
Motor Trader - Chips Yap
Motor Trader - Keshy Dhillon
Pandu Laju - Gan Yong Li
Roda Pusing - Hisham Jahudi
Roda Pusing - Albakry Salehuddin
WeMotor - Teha Rashid
Zerotohundred - Amirul Hazmi
---
---
---
Comments