Toyota Develops New 2.0-litre Engine, Three Powertrain Solutions
Auto News Toyota has announced details of its new 2.0-litre naturally aspirated petrol engine which is based on the Toyota New Global Architecture (TNGA). The new engine will then have three different powertrain setup – a full-hybrid system, a continuously variable transmission, and a 6-speed manual transmission.
The newly developed 2.0-litre engine, whilst maintaining the long stroke design from the 3ZR (bore x stroke: 80.5 mm x 97.6 mm), adopts many new technologies from its larger 2.5-litre Dynamic Force Engine.
Through various high-speed combustion technologies and variable control system, the engine achieves world-leading thermal efficiency of 40%. Output levels are high too, rivalling Mazda's and Hyundai's naturally aspirated 2,000 cc four-cylinder engines.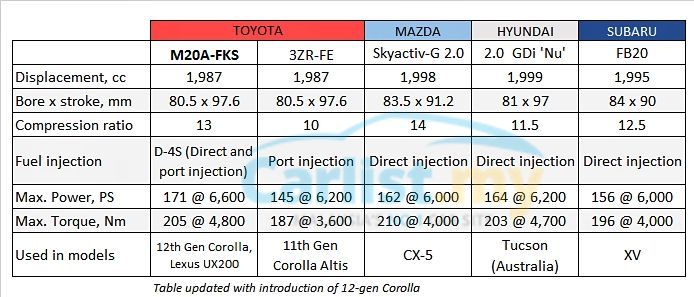 The availability of this new engine also allows Toyota to offer a medium-level system output in their hybrid line-up. Currently, there are only two four-cylinder hybrid systems, displacing 1.8 litres and 2.5 litres.
The new 2.0-litre hybrid system is aimed to improve the emotional driving sensation that the other two hybrid system did not offer. During full-throttle acceleration, the engine revolution will increase in a more linear method (does not shoot up to high rpm, and hold it there), while the electricity deployment is at its highest to deliver a lengthened sense of acceleration.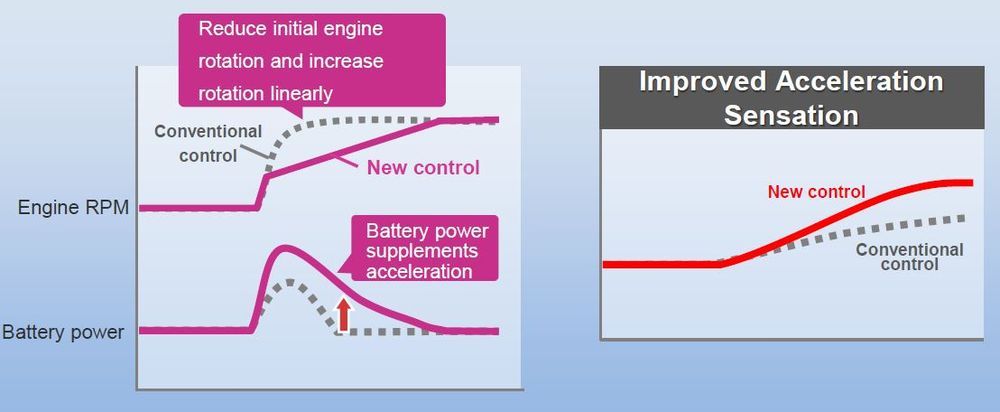 Compared to the 1.8-litre hybrid system, this new 2.0-litre hybrid system has a power control unit (PCU) that is 20% smaller and 10% lighter, which allows it to be placed directly above the new transaxle. The new transaxle features a 109 PS, 202 Nm electric motor and charges/discharges a new compact nickel-metal hydride (Ni-MH) battery.
The new Ni-MH battery occupies a smaller space with more number of cells and higher voltage.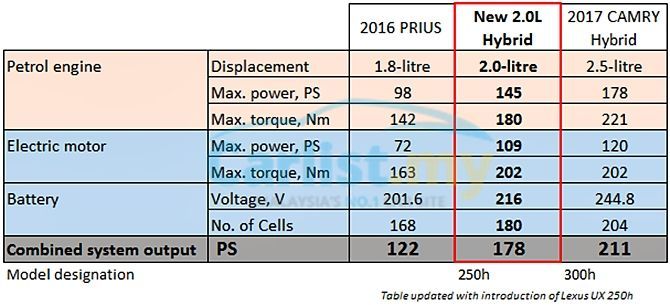 Toyota has not disclosed the combined system output of the new 2.0-litre hybrid system, but we expect it to be in the region of 175 to 185 PS, just slightly more than its petrol-only powertrain.
Moving on to the newly developed CVT-type transmission, called 'Direct Shift-CVT', features the world's first launch gear in a passenger vehicle CVT. The transmission utilizes a gear drive when starting from a full stop, resolving that sluggish feeling that many CVT tends to exhibit.
Having the launch gear also expands the CVT ratio coverage, which in turn contribute to better fuel consumption and acceleration time.
The new powertrains are expected to debut in the new generation of Toyota and Lexus models, with the all-new Toyota Auris and the Lexus UX being slated to have their global premiere at the Geneva Motor Show 2018.
By end of 2023, Toyota intends to install the new powertrain units in approximately 80 percent of Toyota vehicles sold annually in Japan, the U.S, Europe, and China, thereby reducing C02 emissions by 18 percent or more.
Learn more :
---
---
---
---
Comments