Ultimate Man Cave – We Go Inside BMW Group Classic In Munich
Insights It's hidden in plain sight and yet the location couldn't have been any more obvious. Apart from a discrete signboard that says BMW Group Classic Munich, there is nothing to suggest that this unassuming two-storey building sitting on the intersection between Moosacher Strasse and Lerchenauer Strasse, is keeping BMW's most precious collection of cars.
In fact, No. 66 Moosacher Street, Munich, 80809, Germany is BMW's oldest address. This is where BMW built its first manufacturing plant in 1918, when the company made aeroplane engines.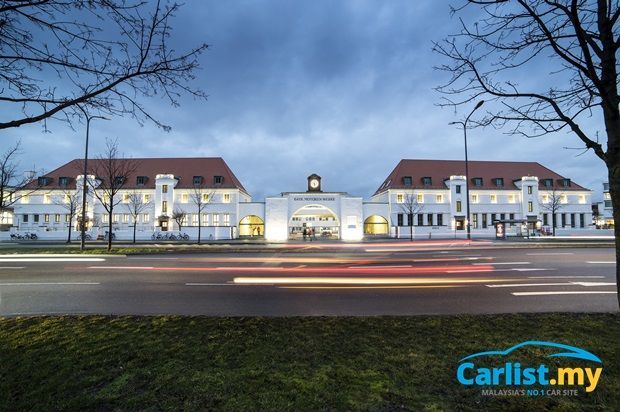 Considering the shocking value of classic cars that are kept here, it's surprising that this place is not guarded like a high security vault. Apart from a simple security boom gate, there is nothing to suggest the value of what's kept inside beyond the beautiful arch fronting the main street.
What's more ironic is that every day, many tourists, including casual BMW fans unaware of this location, bypass this building to head towards Olympia Park further down, where the BMW Welt and BMW Museum (below) are located.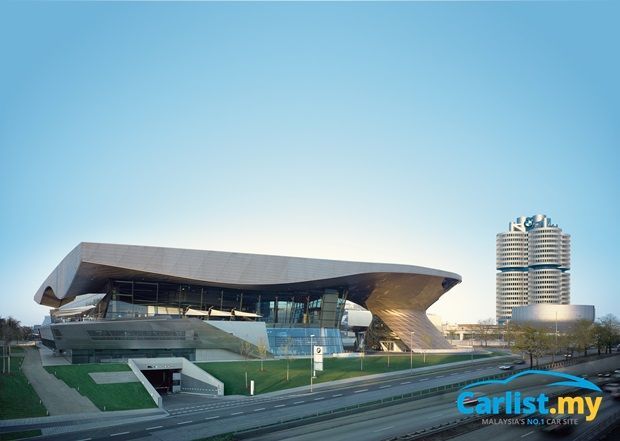 At the moment, the Group Classic centre is not yet open to the public, but you can take a stroll around the publically accessible area, it is after all just a 15 minute walk from BMW Welt and Museum, which you must visit if you are in Munich.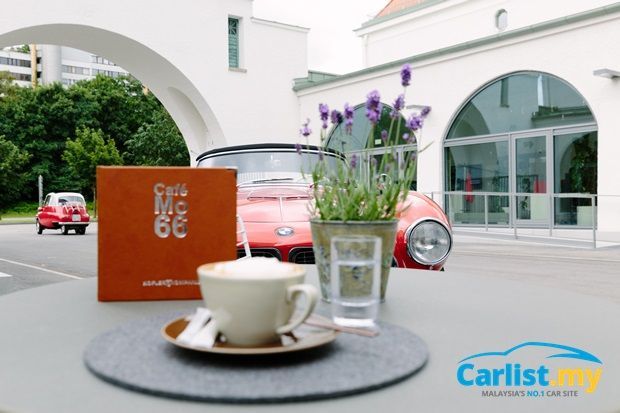 You are welcomed to have coffee at Café Mo 66 and watch the Group Classic's expert technicians go about their work restoring and servicing beautiful BMW classics inside one of the two glass walled workshops next door.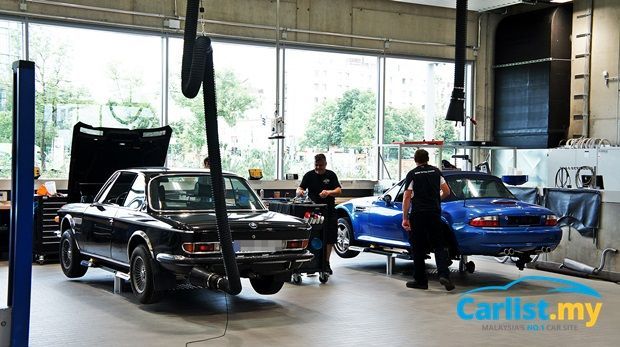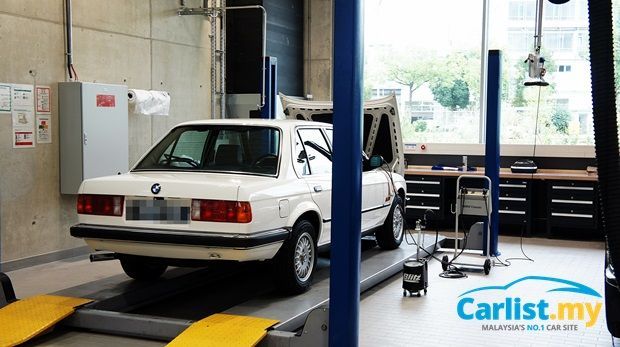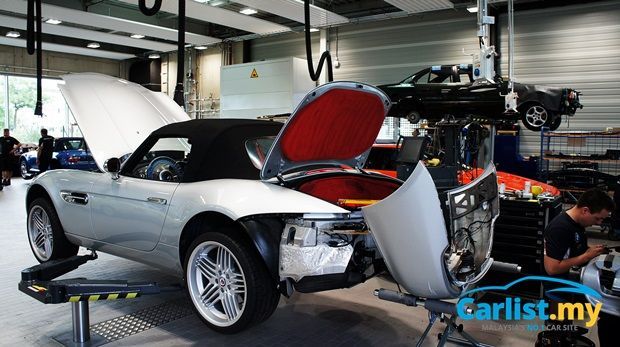 If you are lucky, you will be able to see trailers transporting rare classics in and out of the centre. Some of them owned by BMW themselves, on their way to various exhibitions while others are customer-owned cars sent in from various countries around the world for restoration work.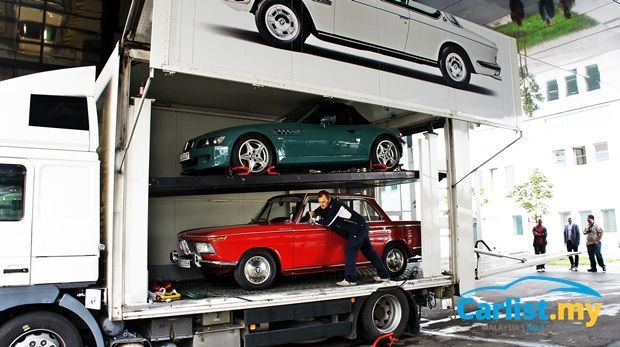 Within Café Mo 66 is a small gallery featuring various BMW memorabilia, including rare examples of BMW cookingware. Yes, cookingware. In the dark days for BMW after World War 2, the had to do whatever that it could to survive, including making pots and pans to stay afloat. Let that sink in a for a moment, the type of humility the early pioneers of BMW had to swallow. Not long ago, they were winning races on the Nurburgring.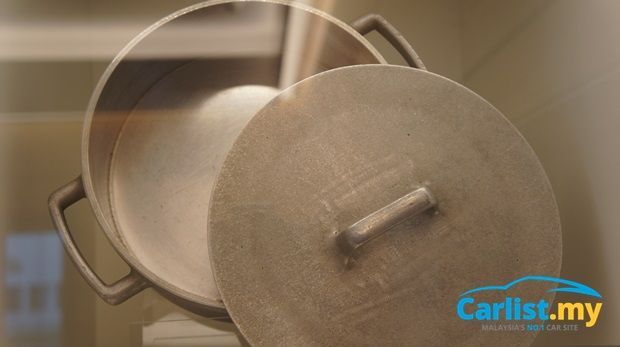 There's also a helmet that Hans Stuck Senior wore when he won the 1960 German Hill Climb Championship in a BMW 700, a victory which spurred his son Hans-Joachim Stuck to race for BMW.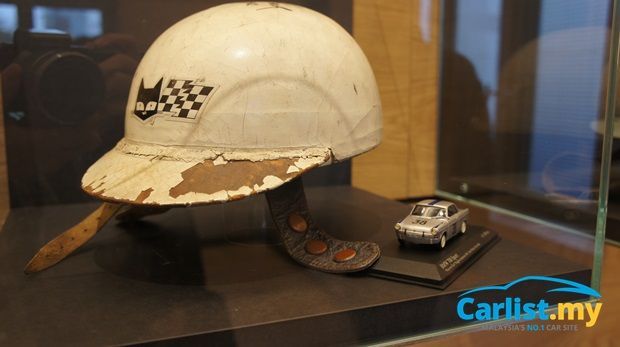 You can also marvel at the original license plates and steering wheel frame used by Elvis Presley's BMW 507, which BMW had recently acquired and restored. Elvis had a 507 when he was serving the US Army's outpost in Germany, before shipping the car back to USA.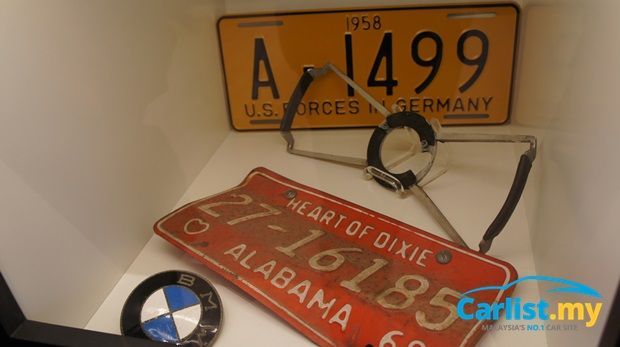 There's also replica copies of the original company registration document, dating BMW's founding to 7 March 1916.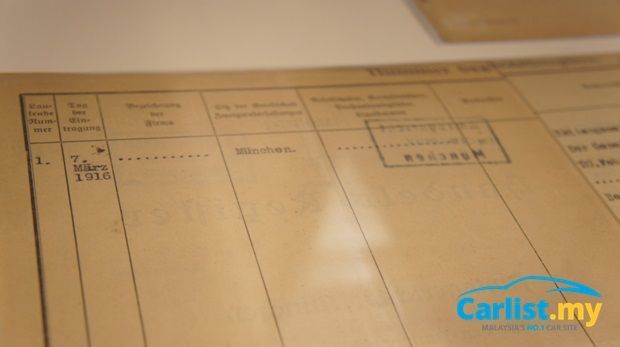 Later this year, BMW plans to include the Group Classic as part of a premium guided tour for visitors of the BMW Welt brand showcase centre and the BMW Museum.
Carlist.my was deeply humbled to be given early access to the collection hall, a strictly off-limits area typically only accessible to ranked priests and priestesses of BMW Group Classic, formerly known as BMW Mobile Tradition.
As an owner of a classic E30, the visit is so special to me that I had to make another trip back to Munich, at my own cost, to have a second look at the facility. An odd request which Benjamin Voss, spokesperson for BMW Group Classic, was kind enough to accommodate.
The best thing about the Group Classic's collection hall is that the cars are often on the move. Some cars might be off to the Mille Miglia classic car race, while others might be at concourses at Pebble Beach or Amelia Island or Techno Classica in Essen.
So no two visits to the collection hall is the same, thus explains the different position of the same cars in the accompanying pictures here.
But first, a short mandatory lesson in the history of No. 66, Moosacher Strasse, München 80809.
Planes before cars
In 1916, BMW was known not for cars but aeroplane engines. The Mossacher Strasse plant, built in 1918 was their first manufacturing plant.
After World War 1, BMW was barred from making war planes and the company, along with the Mossacher Strasse plant was sold to train brakes maker Knor-Bremse in 1920.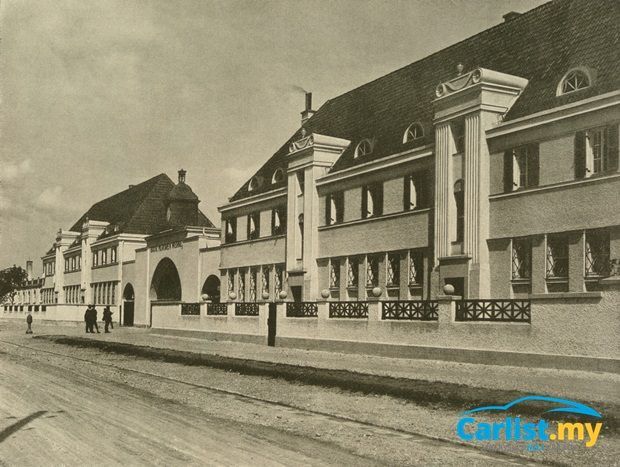 At the same time, Gustav Otto, the son Nikolaus Otto, the inventor of four-stroke engine used in nearly all modern cars, had on March 1916 reorganized his aeroplane engine company Otto Werke into Bayerische Flugzeug-Werke (BFW).
Camillo Castiglioni, the financier of the previous BMW company that was sold to Knor-Bremse, had bought over BFW and renamed it into BMW.
In 1922, the new BMW restarted manufacturing work by repurposing BFW's plant in Oberwiesenfeld, located less than 1 km away from their former location in Mossacher Strasse. The Oberwiesenfield plant will continue to operate until today as BMW's Munich plant, producing the 3 Series and 4 Series. The plant is also open to tourists and reservations can be made at BMW Welt.
For over 90 years, BMW's first factory remained in the hands of Knor-Bremse but in 2014, BMW managed to buy back a portion of the building, which was promptly turned it into the Group Classic centre that you see here today.
However Knor-Bremse still keeps the other half of the building. This explains why the Group Classic centre and Knor-Bremse's factory next door are separated by a fence. However if you look at the archived photos, you will see that they used to be one building.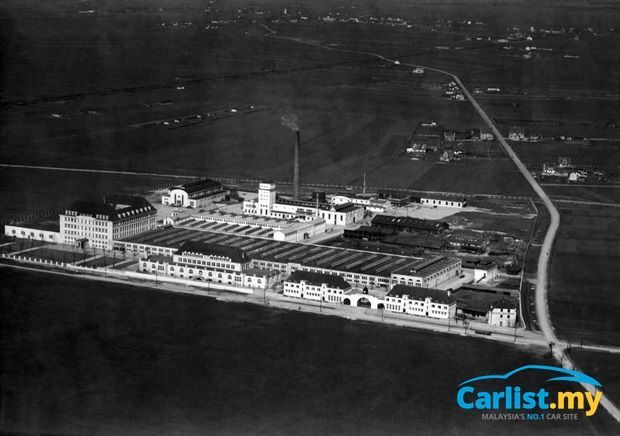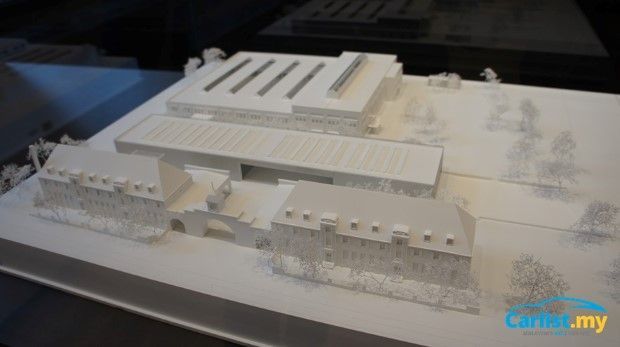 Where possible, BMW retained the building's original design but in some areas, reconstruction had to be done as the building was no longer safe.
Today, the Group Classic Centre houses the company's archives, classic car workshop and its collection of cars. The centre is not a museum, but it complements the museum as it's not possible for the BMW Museum to house and maintain this extensive collection of classics.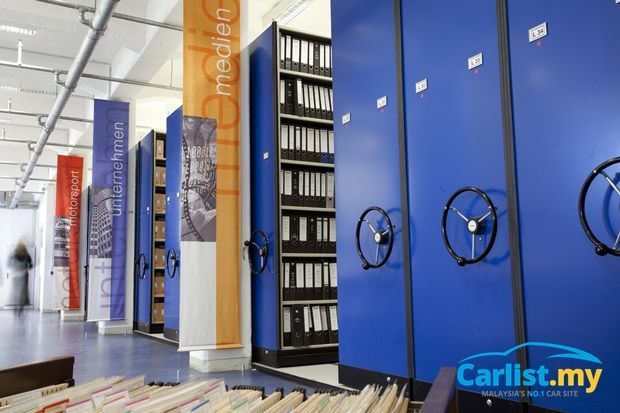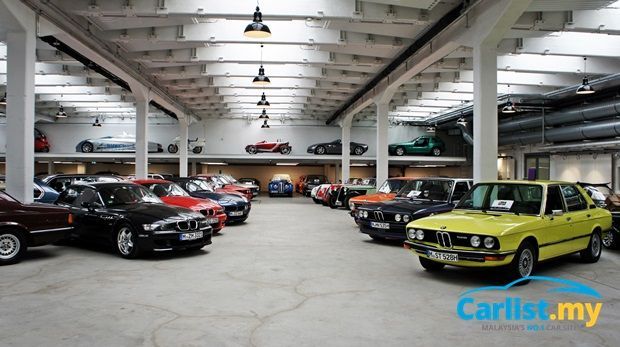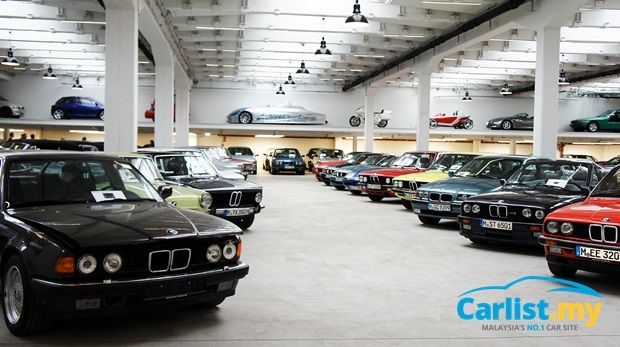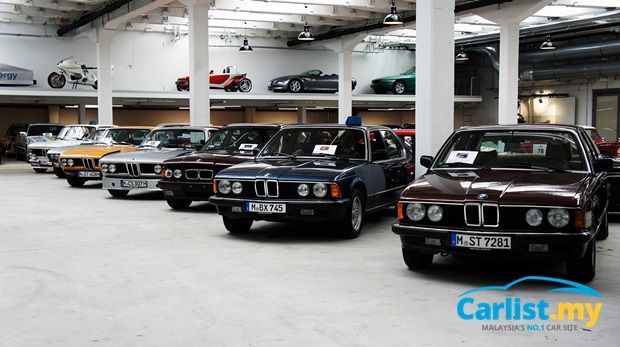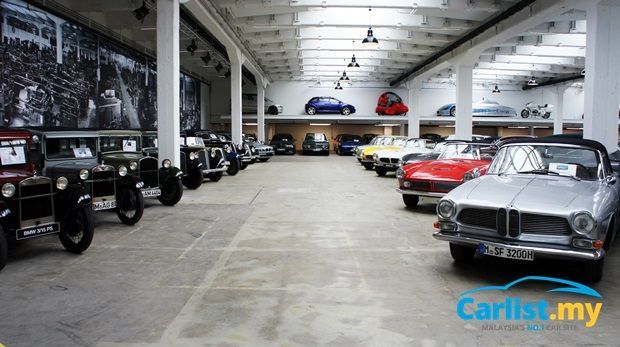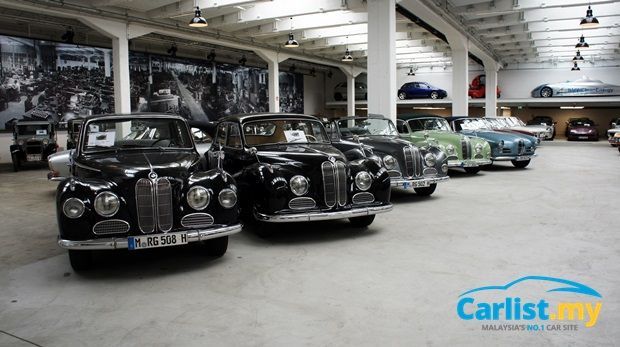 There is just so much history in each of the exhibit here that it's quite impossible for us to explain every car in the collection.
Here are just some highlights, and a brief overview of their significance to BMW's illustrious history.
E32 BMW 750iL 6.7-litre V16 – Project Goldfish, the only V16 BMW in history
This has to be one of most thought provoking car in BMW's collection. This E32 7 Series prototype packs a 6.7-litre V16 engine under the hood, and because the engine is so huge, the radiator is installed in the boot, which explains the odd intake ducts in the rear.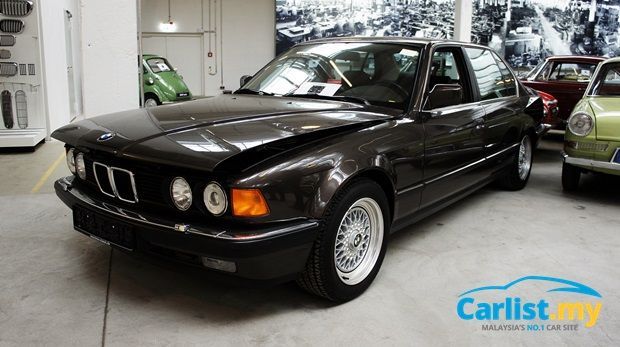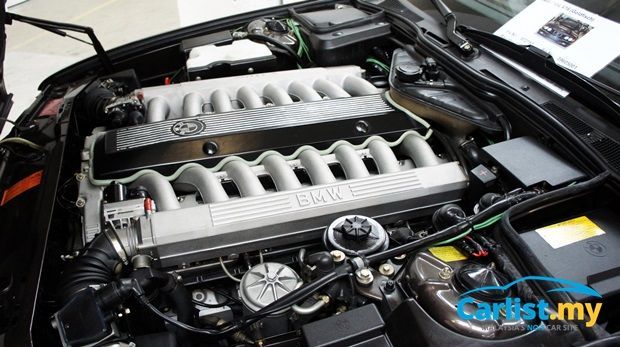 Drive is sent to the rear wheels via a 6-speed manual transmission from an 8 Series.
In the '80s, BMW upstaged Mercedes-Benz by unveiling the V12 powered 750iL. It was the first V12 by a German car company since World War 2. The engineers at BMW were expecting the ever proud Mercedes-Benz to stage a counter-attack, probably in the form of an even larger V16 engine. This V16 7 Series is BMW's counter-defense.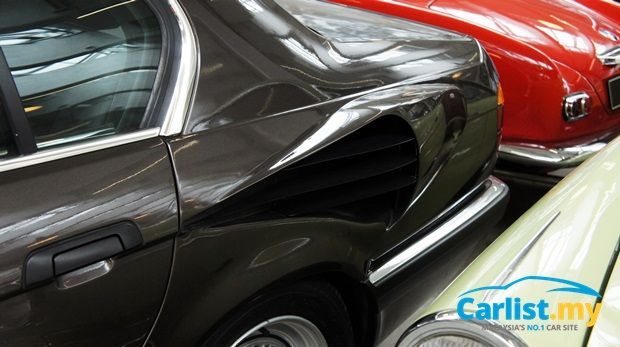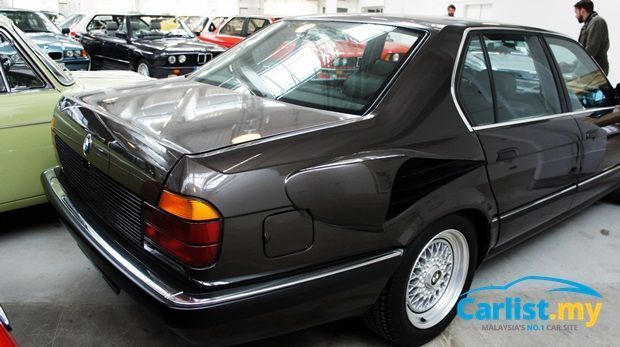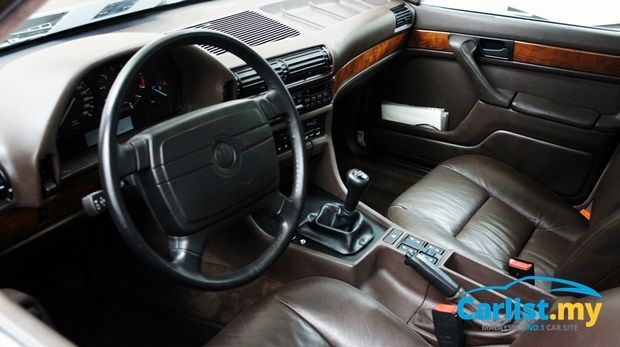 Thankfully, both BMW and Mercedes-Benz were sensible enough to stop at a V12, and this V16 7 Series never made it to production.
James Bond E38 BMW 7 Series
Those of you old enough to remember Pierce Brosnan's James Bond Tomorrow Never Dies will remember that 007 had a BMW that can be controlled from his Ericsson handphone. To achieve the effect, this film car has been modified so a stunt driver can drive the car from back seat, with a tiny cameras hidden within the side mirrors providing video feed to a display monitor for the driver to see.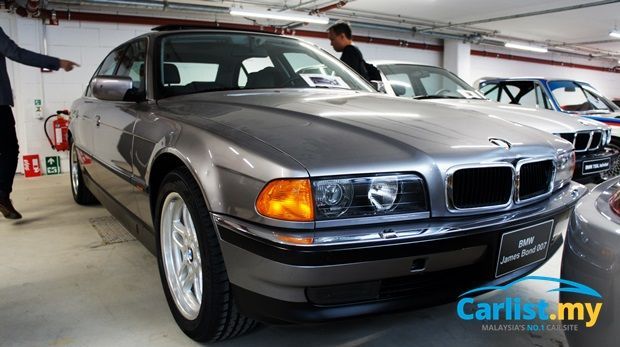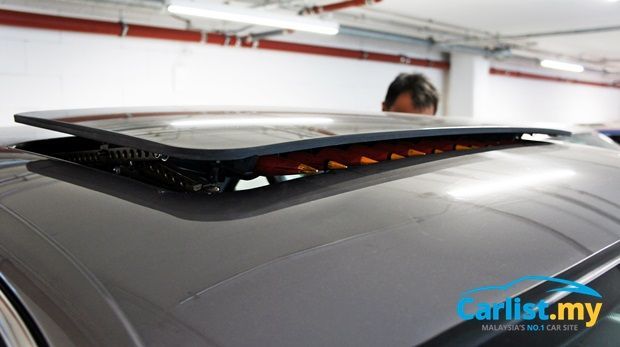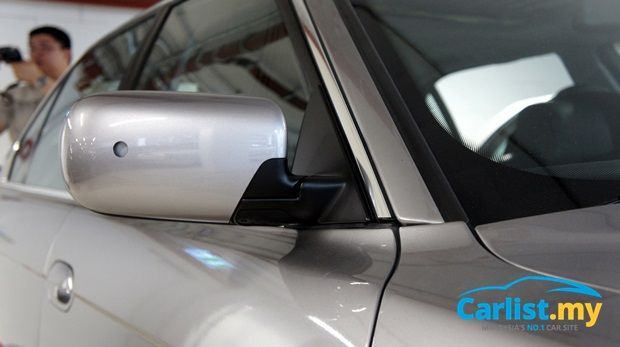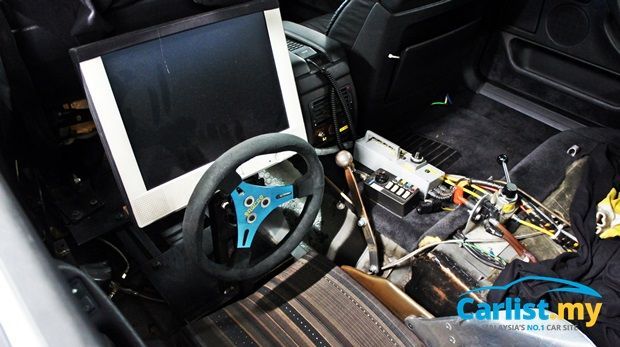 Yes, this is the actual car used in the movie. There are several identical looking units used throughout the filming but this is the only one where the steering and pedals have been moved to the back seat to allow the cameramen to shoot the car driving 'driverless.' Notice what car the bad guys drive in the video below?
In 1997, the idea of driving your car using your handphone sounds very outlandish but who would knew that in 2016, BMW would actually launch a 7 Series that allows you to do just that – not exactly with your phone, but your key fob.
Available in some markets, the G11/G12 generation 7 Series can be driven forward or reversed at low speeds via remote control functions on the key fob, allowing occupants to get and out of tight spaces easily.
Not only that, the latest G30 generation 5 Series's Remote 3D View function uses a similar camera array hidden around the car, including the side mirrors, to remotely provide remote video feed to the driver.
Who would have guessed that Bond's car would be a preview of things to come?!
E12 BMW M535i
Although it's not the first full-on M Series model (that honour goes to the M1), this M535i is closer in relation to today's M Series cars than the M1 ever did, simply because it's based on a standard 5 Series.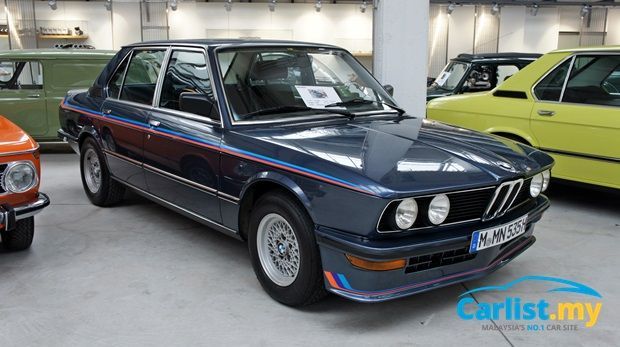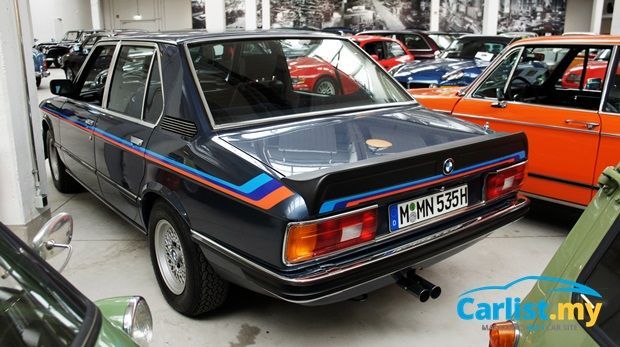 The E12 M535i was the origin of BMW's 'sleeper' performance sedans – packing a huge 3.5-litre inline six-cylinder engine within an unassuming, almost standard looking body.
It laid the foundation for the E28 M5 – the first M Series sedan.
BMW Turbo Concept, 1972
Before BMW sold the M1, it produced two examples of the Turbo Concept. Powering this gullwing-door sports car is a turbocharged engine from the BMW 2002 Turbo but the main highlight is its radar-based collision warning system, a precursor to the Driver Assistance features fitted in today's BMWs.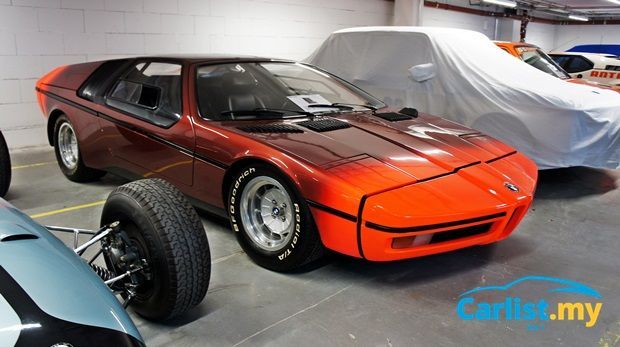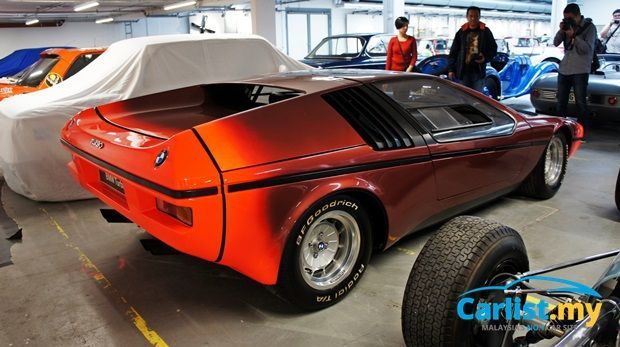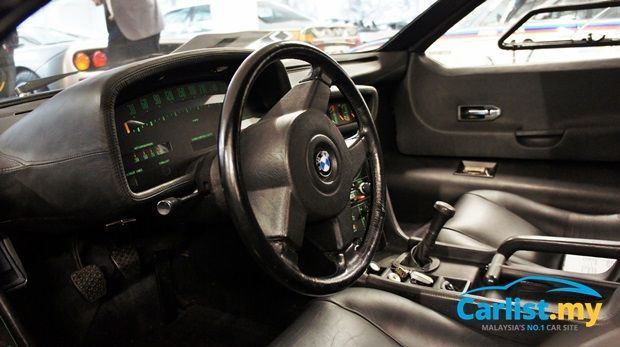 BMW E30 M3
The motivation behind every single AMG-badged Mercedes-Benz, RS-badge Audis, F-badged Lexus models today can be traced back to this car.
It's not exactly the first high performance variant of a sports sedan. Prior to the M3, Ford already had RS-badged Escorts while Alfa Romeo had Cloverleaf-badged cars but none of these were part of a cohesive marketing exercise, and there was limited trickledown effect to the regular bread and butter cars.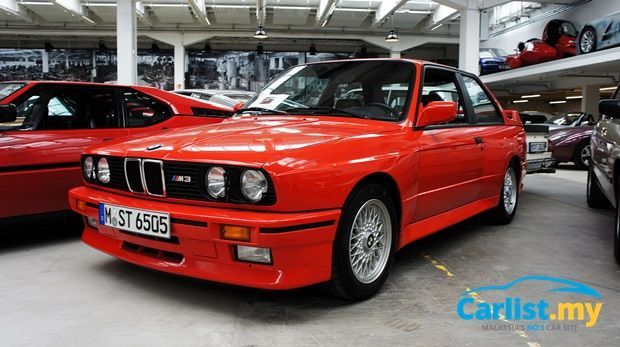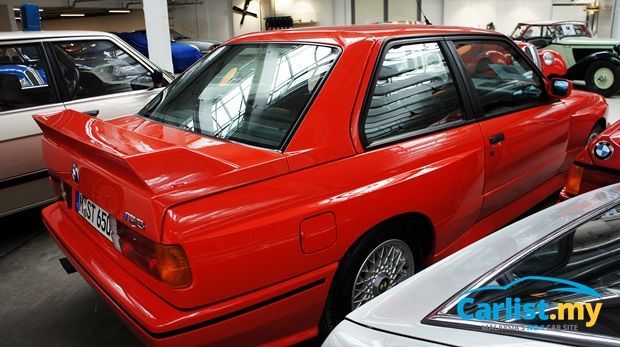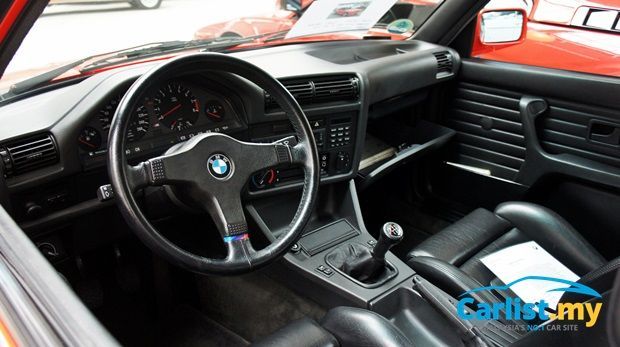 The consistency and deft management of the tri-colour BMW Motorsports brand taught everyone else on how to use halo cars to create desire and uplift the image of the rest of the model range.
BMW 2002 GT4 Frua
If you are familiar with BMWs, you would've read about the 2002. But it takes a special kind of BMW nerd to know about the 2002 GT4 Frua.
If you are looking for a rare BMW, it's hard to top this, because only 2 units were ever made. One is kept by BMW, the other is reportedly owned by a collector in Japan.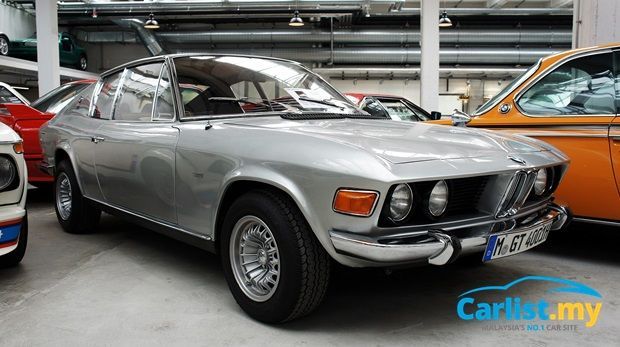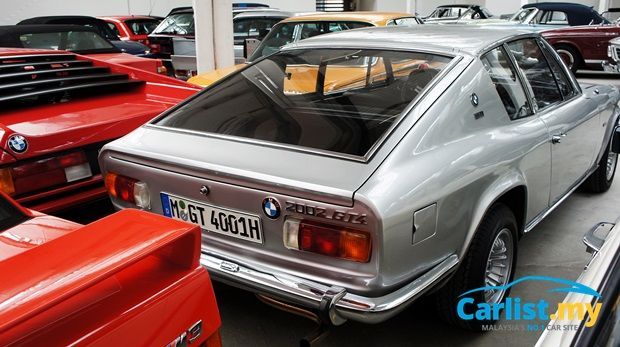 The 2002 GT4 Frua is one of the best examples of what happens when German engineering meets Italian styling.
Based on the 2002 coupe, two units were built by Pietro Frua between 1969 and 1970, with the hope of impressing the bosses at BMW to secure a large order contract.
However BMW had other ideas for a two-door 2002 wagon, and the GT4 Frua never went into series production.
BMW 3200 Micheloti Vignale
The 2002 GT4 Frua was rare, but this 3200 Micheloti Vignale is even rarer, as this is the only unit in the world.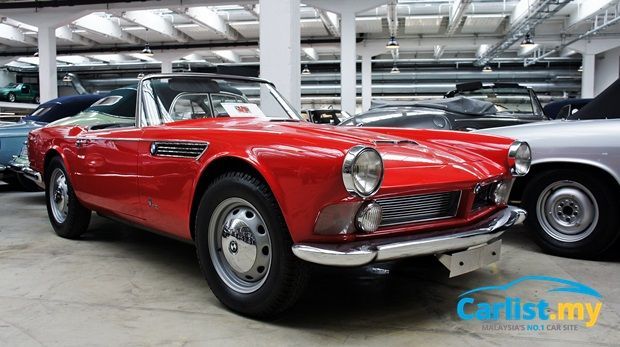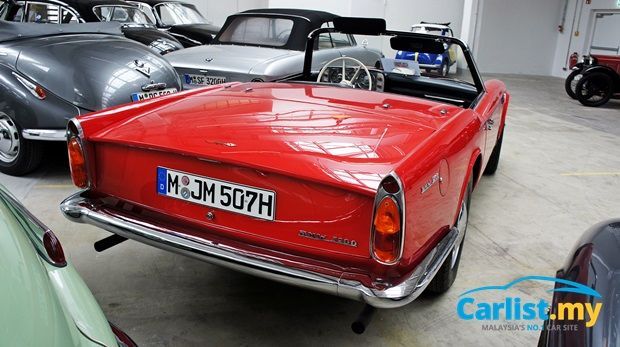 Built in 1958 by Giovanni Michelotti as a design study of sorts for the next generation BMW 507. But as we all know today, BMW lost a lot of money on the 507 and the model would not be replaced until the Z8 was made in 1999.
Despite being penned by an Italian, the 3200 Micheloti Vignale was aimed at the American market and the car's angular styling is a reflection of that.
BMW 2002 tii, manufactured in 2005 (no it's not a typo)
To prove a point regarding the wide selection of brand new parts for classic BMW models that are available for order at BMW Group Classic, BMW produced this '70s era 2002 tii - the one that started the 3 Series's lineage - model in year 2005.
It is not a restored car, but a car that was built in 2005. The vehicle's documentation lists the car's manufacturing year as 2005, making it the 'newest' 2002 tii in the world.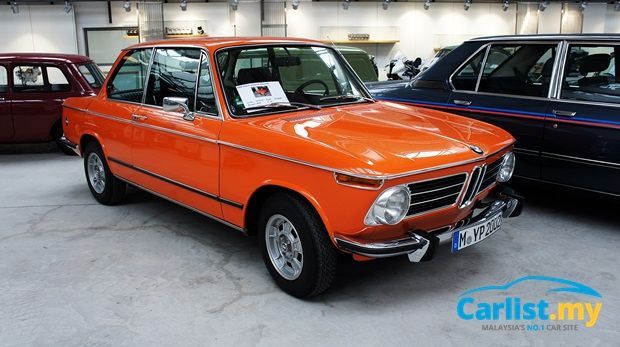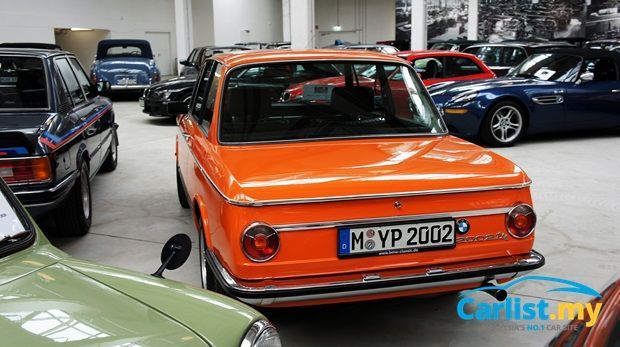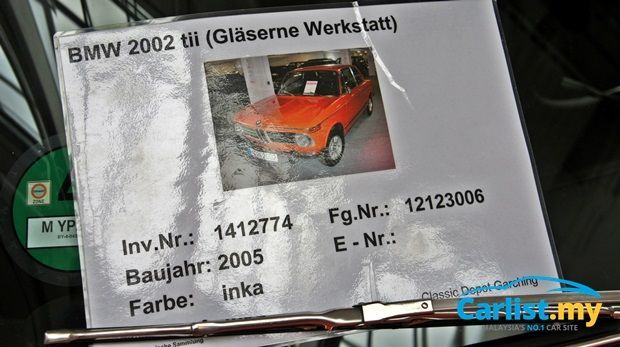 The basis for the car is an original body shell from the '70s, but the car was finished using new parts provided by BMW Group Classic. For the small number of parts that were not available, they were either taken from a donor car or were remanufactured.
Thanks to BMW's close working relationship with many German parts suppliers, many of the original mouldings for major components are still kept either by BMW or the supplier. If needed, BMW can restart production of most components.
As long as there is demand for at least 10,000 units of a particular part, BMW Group Classic can restart production. For some very rare models like the 507, where there are only few hundred units surviving, it doesn't make sense to produce the 10,000 units of a part so this is where 3D printing comes in.
BMW have yet to adopt 3D-printing on a bigger scale, but they have adopted this method to produce parts like a door handle for very rare models like the 507.
Speaking of 2002 models, this 2002 Turbo is the most famous of all 2002 variants.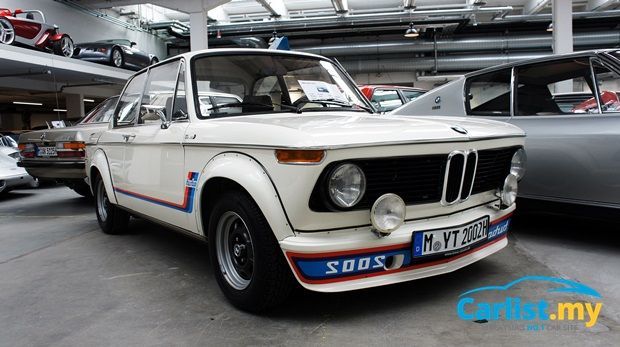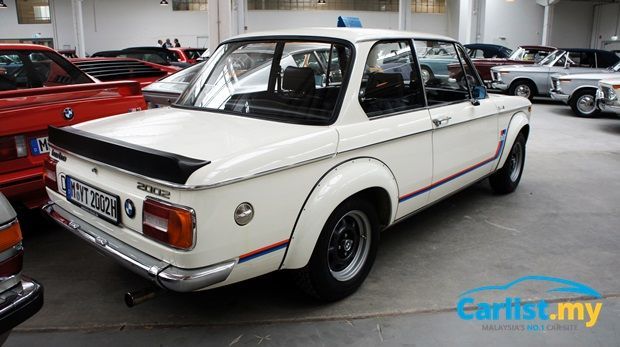 McLaren F1
It's the only non-BMW Group model in the collection, the McLaren F1 was an icon of the '90s. Designed by legendary F1 car designer Gordon Murray. Between 1998 and 2005, the McLaren F1 held the title of the world's fastest production car, beaten only by the Bugatti Veyron in 2005.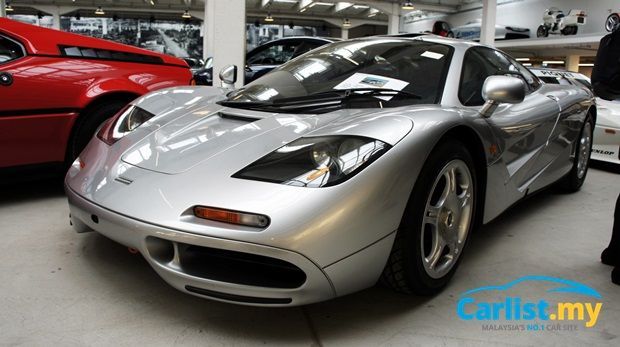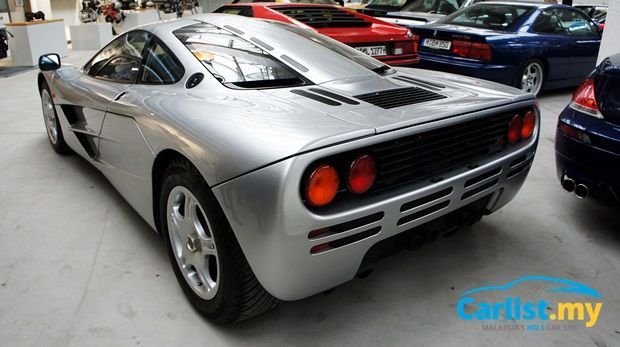 The top-speed of 386 km/h was made possible by the BMW Motorsport-built 6.1-litre V12 engine that developed (depending on variant) over 620 PS of power.
The Sharks – E9 3.0 CSL and E24 6 Series
Said to be one of the most beautiful coupes ever, the E9 generation 3.0 CSL and its successor the E24 M635 CSi, were commonly known as the sharks.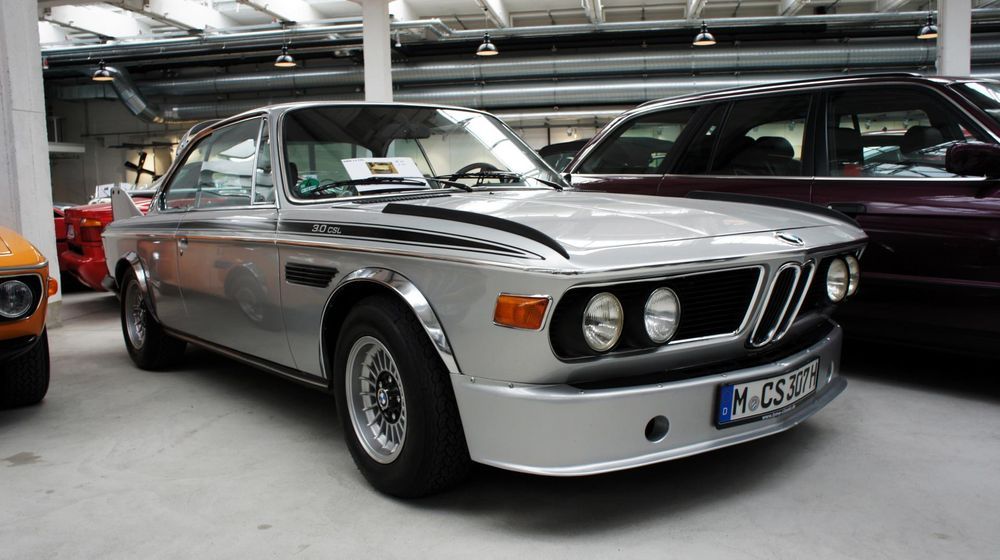 The E9 C.0 CSL, also referred to as the 'Batmobile,' laid the foundation for BMW Motorsports, a precussor to today's BMW M GmbH. The 3.0 CSL was BMW's first homologation special car. Its success in the European Touring Car Championship paved the way for the legendary E30 M3 to stake its dominance in European racing circuits.
The E9 was succeeded by the E24 6 series.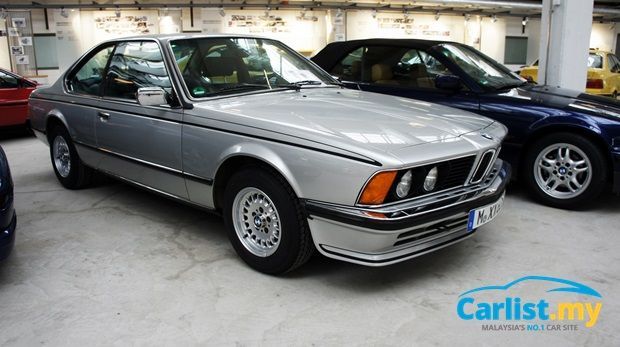 Today, pristine examples of the E9 and E24 are highly coveted among collectors, especially the 3.0 CSL and M635 CSi variants.
BMW M1 Procar
The BMW M1 Procar was one of the best racing series ever. It pitted top racing drivers from F1 and the European Touring Car Championship in an identical car. With everyone driving the same car, it's the fairest way to settle debates on who is the best racing driver. Nikki Lauda won the 1979 championship while Nelson Piquet won in 1980.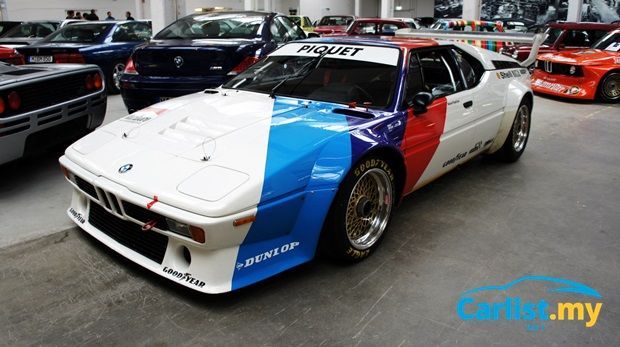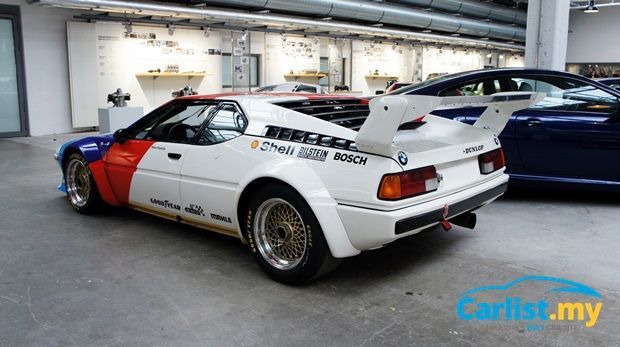 It was a short-lived series though, created only as a preview to BMW's entry into F1 as an engine supplier to Brabham.
The BMW M1 was the first BMW to wear the M badge. Originally intended to be built by Lamborghini, but poor management and subsequent financial woes forced BMW to go at it alone. Urban legend has it that BMW personnel had to literally break into Lamborghini's factory to recover the blueprints for the car.
BMW 3/15 – BMW's first car
Originally made by Automobilwerk Eisenach and sold under the Dixi 3/15 name, it was a clone of Britain's Austin Seven. When BMW bought over Automobilwerk Eisenach in 1928, the Dixi 3/15 became the BMW 3/15.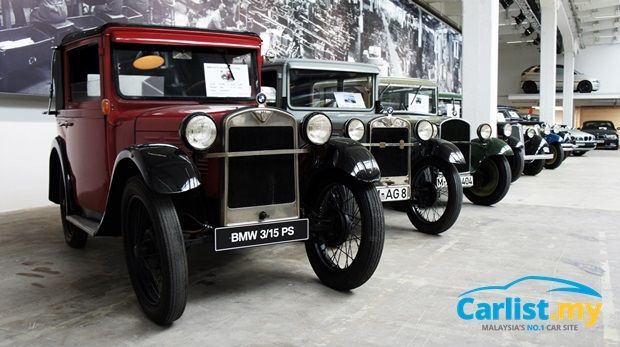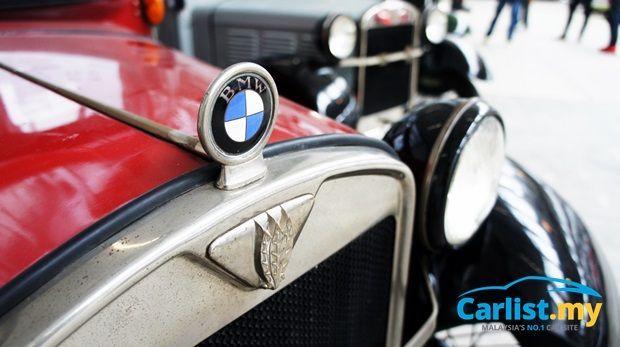 Its name might sound odd today, but it was logical to German customers in the late '20s. The 3 was in reference to its vehicle tax category (3 PS of taxable horsepower), while 15 is the engine's output (15 PS).
There are many more stories of icons of BMW's 100-plus years history that we would like to share, but as it is, this article is bordering on becoming TLDR, So we hope you can enjoy the gallery below.
---
---
---
Comments