Unparalleled Peace of Mind with Toyota's 10-Star Care
Auto News Among the factors that have made Toyota one of the most trusted car brands in Malaysia is the sense of trust and reliability the products give customers.
However, now that the after-sales services have become just as important as the products themselves, manufacturers have to ensure that it is not only the products that have to satisfy the customers, but also other services revolving around the whole ownership experience.
So, in an effort to not just meet the expectations of its customers but to exceed them, UMW Toyota Motor, the authorised distributor of Toyota vehicles in Malaysia has introduced the 'Care that Amazes' 10-star personalized ownership program.
How this program works is that various forms of assistance, benefits and incentives are provided by the company to owners' right from the moment they walk into the showroom, until many years of owning a Toyota vehicle.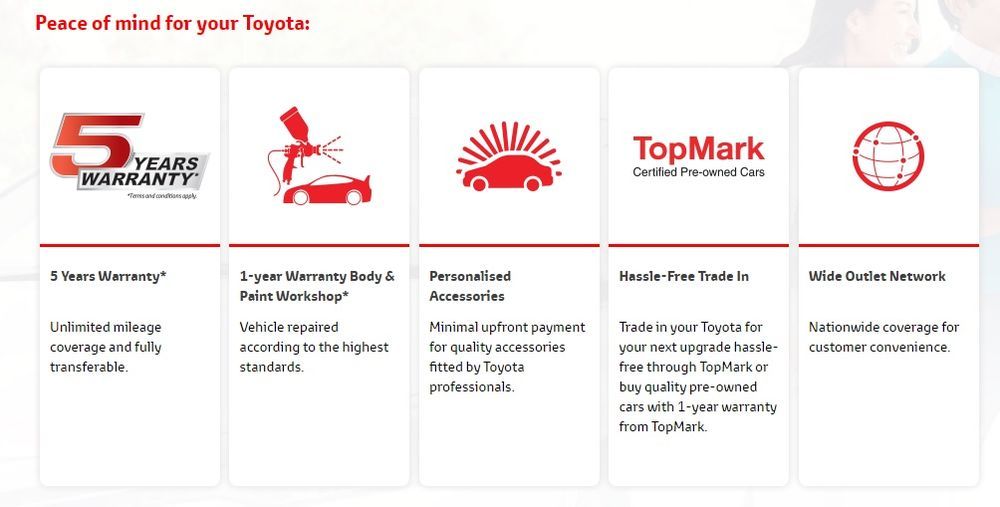 With more than 100 Toyota showrooms around Malaysia to view the latest models, potential owners who have decided to buy a Toyota can sit back and relax as virtually every aspect of the buying process is handled by UMWT and should financing be required, Toyota Capital Services and other financing institutions in the brand's panel offer various solutions for the individual as well as company.
To top it off, new Toyota vehicles come with a 5-year warranty and unlimited mileage subject to terms and conditions so, the owner enjoys the full 5 years of coverage, providing greater peace of mind. This warranty is transferable to the next owner should the vehicle be sold off within the first five years; this consequently helps maintain the high resale value which Toyota vehicles are renowned for.
With the 10-star programme, owners can also enjoy the exclusive Toyota 24Seven Road Assist service which provides support in an emergency anywhere in Malaysia. It's complimentary for the first year with every new Toyota vehicle and is available 24-hours a day, 7 days a week. Toyota vehicles are reliable but sometimes the unexpected can occur – like a flat tyre or an unfortunate accident. In such situations, one call will get assistance which includes towing services to the nearest authorised Toyota service centre.
Throughout the ownership of the Toyota vehicle, the owner can call on UMWT to assist in renewal of roadtax and insurance. Should he or she fancy adding Toyota Genuine Accessories, these are also available while any damage to the vehicle can be professionally repaired at any of the nationwide Toyota Body & Paint Centres. All repairs come with a 1-year warranty for the parts used, subject to terms and conditions.
The authorised Toyota service centre network covers the entire nation to choose from for the convenience of customers. A Customer Support team is also available to provide assistance in special situations so that disruption to the owner's mobility is minimised.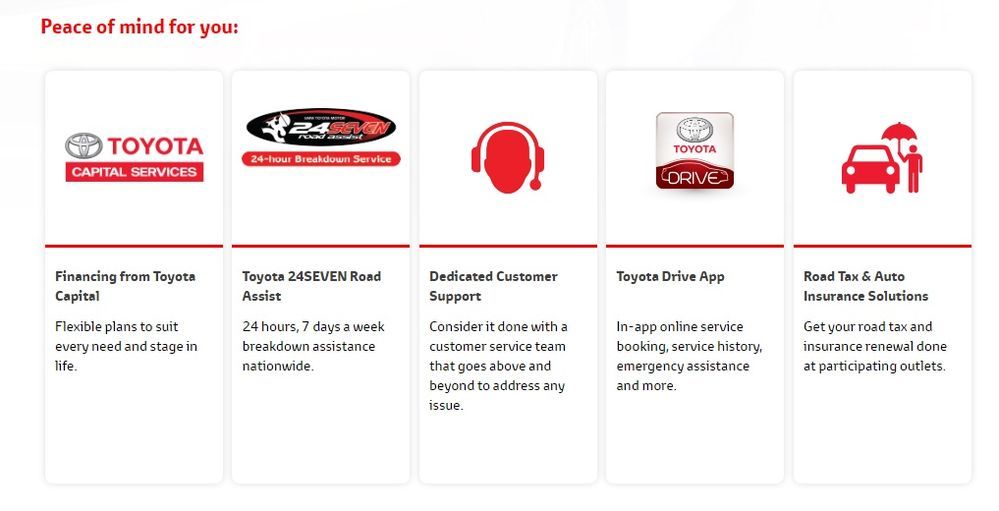 While many think of UMWT for new Toyota vehicles, TopMark (a wholly-owned subsidiary of UMWT) also offers top-quality pre-owned Toyota vehicles. This is the best place to purchase pre-owned Toyota vehicles as they have been thoroughly checked (even to the extent of whether there are any encumbrances like unsettled H-P ownership) and are almost as good as buying a new unit. A minimum 1-year warranty (subject to term and conditions) is also provided for extra peace of mind, something which is not always offered to used car buyers.
In this connected age, most people now rely on smartphones not just to make calls but to get information via the internet. UMWT provides all the necessary information via its free mobile app known as Toyota Drive which is applicable for both iOS and Android smartphones. For those who register with UMWT, there is also access to their service history and they can conveniently make appointments for servicing while on the move.
For information on Toyota product and services in Malaysia, please visit the official website or call the Toyota Freephone at 1800-8-TOYOTA (869682)
---
---
---
Comments