 You may have seen it on the road, zipping in and around lunch-time traffic with no windows and without any air-conditioning, and finally, TC Euro Cars, the official distributors of Renault vehicles in Malaysia, have actually launched the Renault Twizy here.
It'll cost you RM74,117 (OTR with GST and insurance) for the privilege to 'Get Twizy With It', and we wouldn't be too surprised if you weren't as pleased to learn of its price being nearly three-times that of a Perodua Axia, which itself offers cosy seating for four, air-conditioning, doors with windows, and a boot.
Just to clarify, the little French Twizy doesn't come with any of that. Or actually, it does come with a boot. Albeit a very small one, and you'd have to forego the rear seat to go with that option. No windows either, and the good news there is you can carry some tall cargo if you're creative, but the bad news is that you're at the mercy of Malaysia's weather. The scissor doors are pretty cool, though, and the Twizy's interior is water resistant. Unfortunately, your clothes and nostrils probably aren't.
So yes, if you're in the market for affordable personal mobility, the recently-launched Twizy is certainly not for you.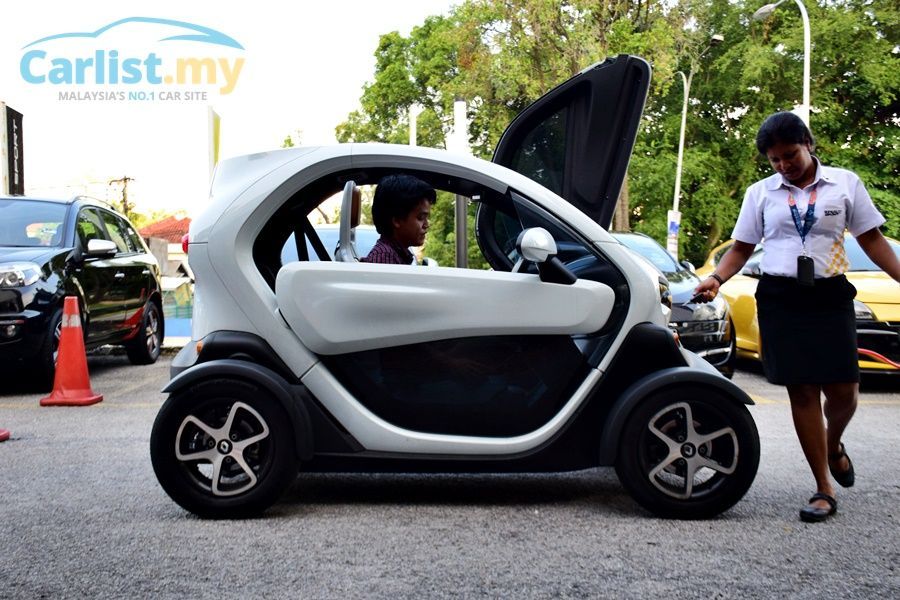 What's it for?
Well, having a friendly chat with my colleagues Daniel Wong and Gerard Lye about it, we're torn. Daniel, who did manage to have a quick drive in it is in favour. While Gerard, young and full of energy, equally shares a similar opinion.
First off, you'll need money – I think we've covered that point. And you'll need to live and commute to nearby places so your charge can take you there and back where the all-important plug-point lies.
There are plans for publicly accessible charging stations, which is great when the time comes, and you could technically charge it at work (for example) if there's an outlet handy. Renault says it will take around 3.5 hours to fully charge its 6.1kWh lithium-ion battery - good for around 100 kilometers of range. Impressive.
It's designed to be a compact and should make easy work of city traffic. The trouble is it's not really slender enough to weave through traffic like a motorcycle. So if they're stuck, you're stuck. And worse, you'll be breathing in a lot of fumes when you're sandwiched by congestion. But parking should be a cake walk.
Get going, and despite the 17hp and 57Nm of torque not setting the roads on fire, the Twizy should be quite zippy in low to medium speeds due to the electric motor's instant shove and the 475kg. Being so light, it should be quite fun in the corners too with its quick, light, and unassisted steering, even if everyone is overtaking you. Its top speed is 80km/h, by the way.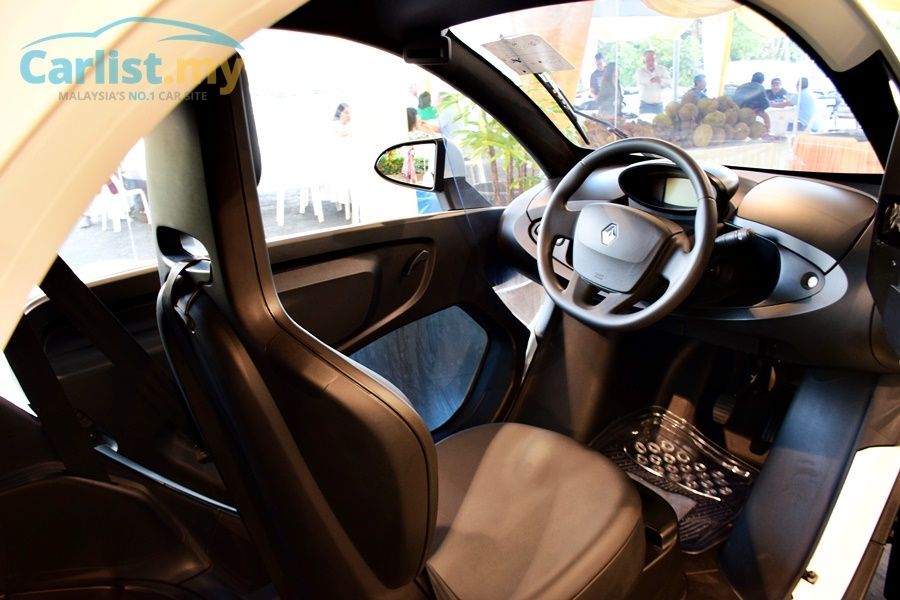 The Good Points
Yes it is electric, which means zero emissions and charging it should cost way less than a refill of petrol over the same distance covered. It also has a Bluetooth handsfree kit that offers music playback and an audio-in jack. A nice addition, if its you can hear the music.
It's a fun little thing to see and to drive. Struggling as we are to make a practical case for it here, people will smile when they see it and that sense of light-heartedness permeates its design and character.
A perfect ownership scenario: If you lived on an island or rural-ish area with a relatively developed levels of modern amenities but don't need to get anywhere in much of a hurry and can appreciate the fresh air and quiet of the outdoors. For example, if you lived in Langkawi and travel around 100 kilometers a day or less, the Twizy would be ideal.
Speaking of which, renting a Twizy while on holiday would also be rather fun. Think about it, keeping with the Langkawi example, if you were to exit the hotel lobby and go exploring in the Twizy and how involved in the trip you'd feel.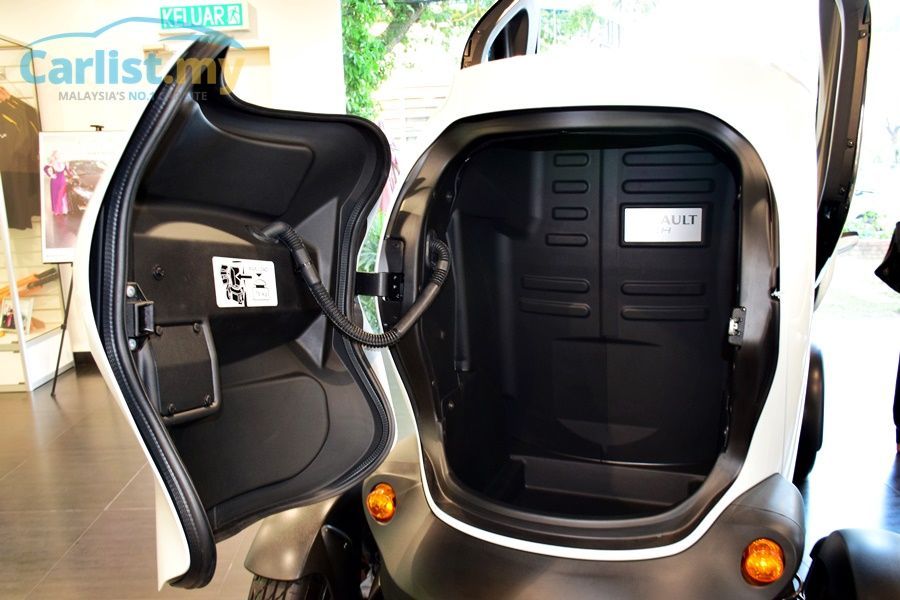 But…
Despite how fond we are of it, we're struggling to find a practical use case for the Twizy here in the Klang Valley. We live in a country with hot, humid, and often very wet weather, and conditions would have to be within a narrow spectrum for you to drive the Twizy comfortably.
Even if the weather was cooperating, there's still the small matter of fumes, noise, and, sorry for belabouring the point, the depressing realization that everyone else on the roads (on four wheels) is likely far more comfortable than you but paid far less for the pleasure.
It is, after all, meant to be thought of and used as a replacement for a scooter and not an alternative to your car. And for that, RM74k is a big ask.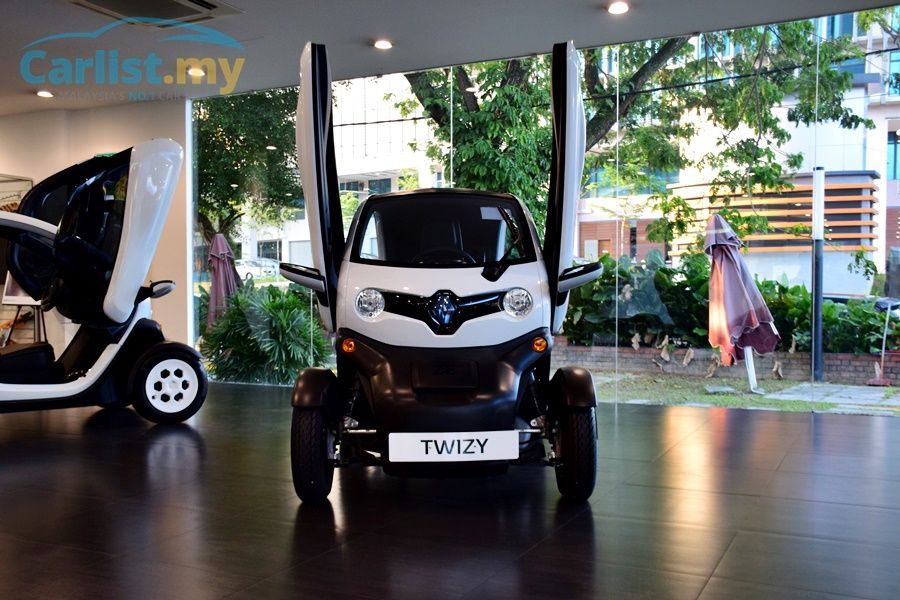 ---
---
---
---
Comments