2015 BMW X1 Review In Austria: Coming To Malaysia Q4 This Year
Reviews To be fair, when the all-new BMW X1 was first revealed, the lot of us were far more bemused by the fact that this was yet another one of them sacrilegious front-wheel drive BMWs, inevitably missing out on a lot of what the new car had to boast.
Yes, this is the brand's third attempt at FWD now, and since, hardcore enthusiast would have probably found it easier to let slide the fact that the first two FWDs. The 2 Series Active Tourer and 2 Series Gran Tourer were completely new MPV models, without the heritage of rear-wheel pushing power.
In the case of the X1, however, gone is the wheel-spinning, drift-able baby Sports Activity Vehicle, in favour of a more efficiently-packaged and new-world friendly vehicle. There's going to be a lot more forgiving required with the X1.
And as you can tell, we're still not quite done bemusing the elephant in the room.
*READ ALSO: All-New BMW X1 Makes Global Debut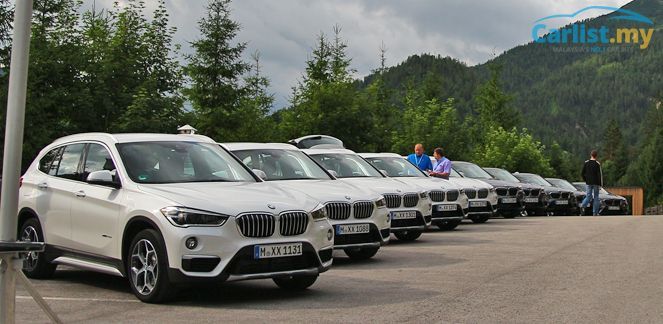 Off we were taken, then, to Achenkirch, Austria, where we'd been kindly invited by BMW Malaysia to drive the all-new BMW X1, front-wheel drive and everything, all the way to Munich, Germany.
At first glance of the car before us we thought, "Hey, this actually (and finally) looks like an X1 we'd be proud to call our own" (if ever a journalist could be so lucky): the out-going model had a snout too long for the good of its overall proportions, and a mug that just didn't belong. Sorry BMW, but we're only about to heap praise on the new one's looks, so let us get off some hard truths to the old one first.
And, if Mercedes-Benz are getting away with their compact range of front-wheelers without too much gripe, what's to stop the new, handsome, and purposeful X1 from the same?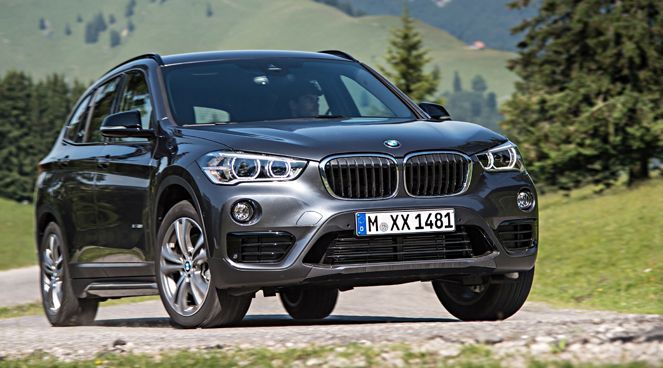 Buyer's Guide:
Because this has been an international drive in a foreign country, there's little we can tell you about our coming Malaysian-spec all-new BMW X1. We can only tell you that it will be coming to this part of the globe in Q4 2015, and just like the new 1 Series, local-assembly is very likely from the start. Currently, prices for the out-going X1 range from RM240k to RM270k for the two 2.0-litre sDrive and xDrive variants.
*READ ALSO: What is the BMW X1's Biggest Competition in Malaysia?
Back to the car to drive from Achenkirch, and two variants were up for our tests: an X1 xDrive25d, and the X1 xDrive25i. By some luck, we were in the petrol xDrive25i for both legs of our journey, which is the more likely model to make its way to Malaysia anyhow. The diesel, we hear, could come trumpeting BMW's latest three-cylinder engine.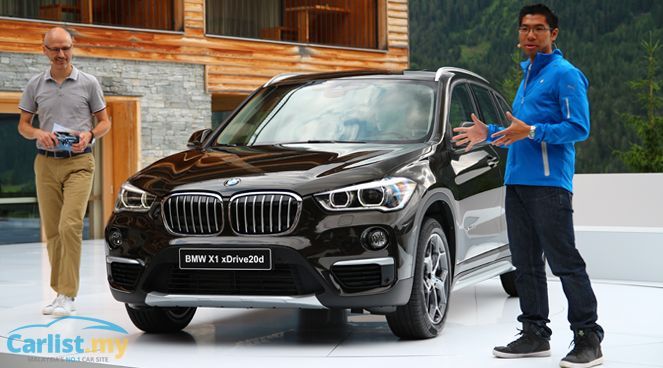 Exterior Design:
If photos were all you had to go off on, we wouldn't blame you for mistaking the X1 for a full-on X5. Rather than sport its own unique look, BMW's designers, led by one 29-year old Calvin Luk from Korea, have seemingly sculpted this one to look a lot more like its larger siblings: leaving little room then to imagine what an X2 might look like if they ever made one (clue: think baby X4/ X6). The rumour mill suggests its very likely, though.
Nevertheless, the X1 is also far more approachable in design than before, adopting what is said to be a 'softer' and 'gentler' styling approach, rather than the aggressive and sharp, without losing the 'X' brand's masculinity. No longer having to align its engines front to back (longitudinal) has also allowed the baby Sports Activity Vehicle to reduce its bonnet length, and make the car appear a lot more proportionally appealing than before.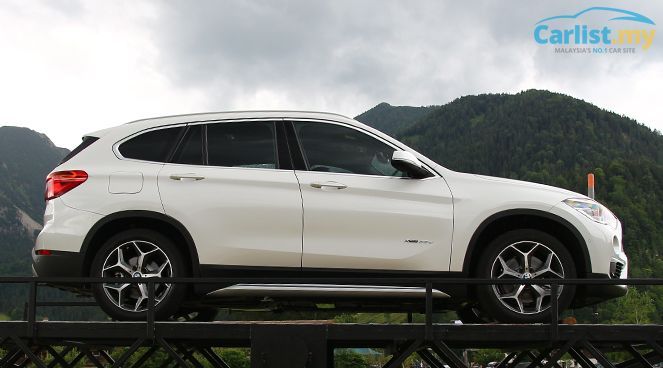 While you've probably read all there is about it's the X1's new design from our global launch report, let us be amongst the first few to tell you what it looks like in reality (yes, this story has been on bench for a while to adhere to BMW's international embargo).
It's handsome, to say the least – we don't think we could do any better at imagining the latest-gen X1 ourselves. The overall design is masculine, the styling is reminiscent of its larger siblings (which we like) and the rear doesn't do a boring flat-line drop, its angled rear windshield tucks nicely into the rest of the tailgate, and check out those exhaust tips, two of them on each end, no less.
We love how the X1's shape can be traced back to that of the awesome X5, and is no longer a cut-and-paste job more reminiscent of a 3 Series that's been stretched awkwardly into a wagon, then put on short stilts. This is a proper Sports Activity Vehicle, rightfully belonging to the BMW X line-up.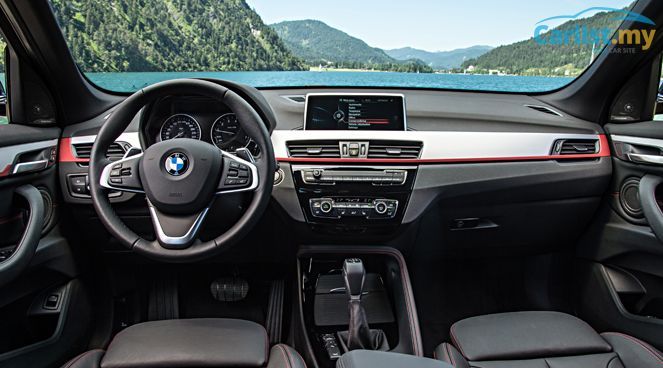 Interior Design:
As you would already know, adopting the transverse engine layout through the new front-wheel drive configuration has allowed BMW's designers to lengthen the cabin space significantly: most notably introducing up to 66mm more rear knee room (rear seats slid back).
Else, the interior design largely resembles what you'd get from the latest BMWs: large infotainment display screen on the dash (now free-standing), iDrive Touch controller (optional) on the centre console, sporty BMW steering wheel, the works like you've seen it before.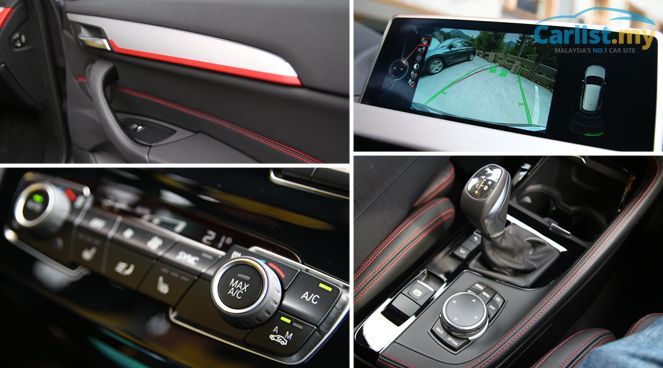 IMPROVED QUALITY: Where the difference is made for passengers is with the new and improved quality of materials used in the all-new X1. Just like we've seen in the Active Tourer and Gran Tourer MPVs, the switchgear, instruments, and displays are far more refined to exude the kind of premium BMW quality we've longed for with the previous model.
Speaking of similarities with the 2 Series Active Tourer, you may also note that the 8.8-inch touchscreen is now a free-standing affair (rather than the old one which was embedded in the dash), while the gear lever is also a departure from the previous X1's design, now featuring a taller lever that mimics the design of an actual manual stick. All amber-colour displays have also been thrown out in favour of the new white-coloured digital ones.

STORAGE: Addressed is the lacking cubby hole issue of the previous X1: look just ahead of the new model's gear lever here, and there's a large compartment that splits into two sections when opened: dual cupholders and a slot for other items and a power source.
For more storage, the all-new X1 has also adopted the Active Tourer's handy centre armrest design, which doesn't just fold upwards to a large and deep storage opportunity, but the top layer itself (the cushioned bit) can be opened as well to reveal yet another storage compartment most appropriate for your mobile phone or other similarly slim objects.
SEATING POSITION: Just like the 2 AT and 2 GT MPV models, the all-new X1 also gives its passengers a higher seating position than before – escaping the sedan-like approach, and favouring to offer a higher view out the windscreen for its driver and front passenger.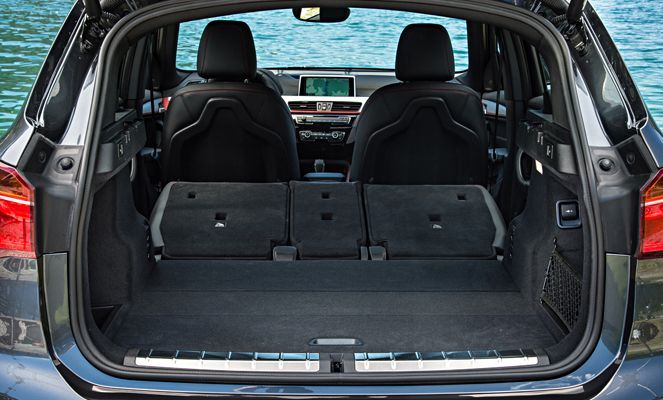 CARGO SPACE: As covered in our global debut report, the X1 has grown significantly in width and height, but has however reduced its overall length marginally. This has led to lots of space created in the cabin, yes, but also more cargo space.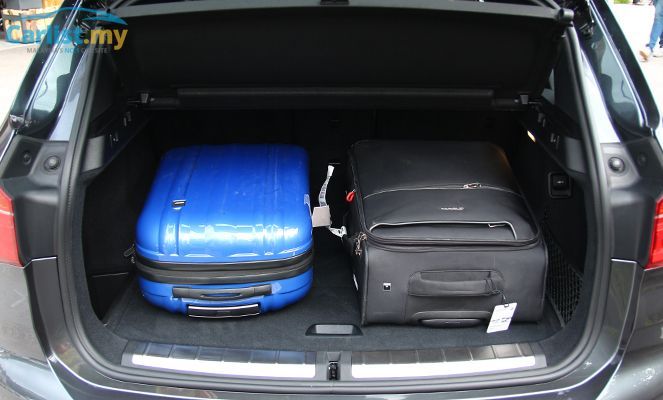 With the rear seats upright, there's 85 litres more space than before, for a total of 505 litres. As it is, the space was enough to pack in two of our large travel bags laid out flat on the floor, with enough room for our backpacks to sit alongside. On top, you could easily fit a few more items, such as a duffel bag etc.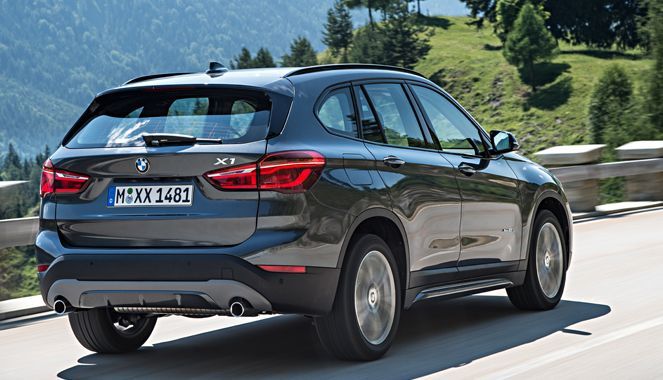 Driving a 2015 BMW X1:
Where would we be on a trip from Austria to Munich if not for the immaculate BMW Head-Up Display (optional) system and the excellent Navigational Professional infotainment program guiding us along the way: lost, for sure? We've no doubts. Here equipped with the optional 8.8-inch infotainment screen, the BMW X1 is the rightest thing for the exploration of unchartered routes, sufficient GPS data provided and connectivity, of course.
POWER: Hurrying us along is the power of BMW's 2.0-litre TwinPower turbocharged four-cylinder engine, developing 231hp and 350Nm of torque for the xDrive25i we were driving. The engine is a step up from the xDrive20i we have offered right now in Malaysia, but rest-assured whatever mill BMW Malaysia decides on for us, will bring more power and fuel efficiency than its predecessor.
As BMW powertrains go, there's an instantaneous gallop forwards every time you plant the throttle – not that you'd need to, because a flick of a button to send the car into Sport mode (Sport + if you're feeling brave) adds lots of throttle pedal linearity to power delivery from the acres in reserve.
There's also a sense of BMW having worked on the auto start/stop feature, with a lesser jolt felt each time the engine was brought back to life after coming to a stop. If or not this was in any way influenced by the cold weather is hard to say, but we do know four-pot BMWs to stir a cabin very noticeably back home in Malaysia.
Drive within the realms of what's normal for a car like this, and you'll quickly come to your senses over any qualms of its FWD nature.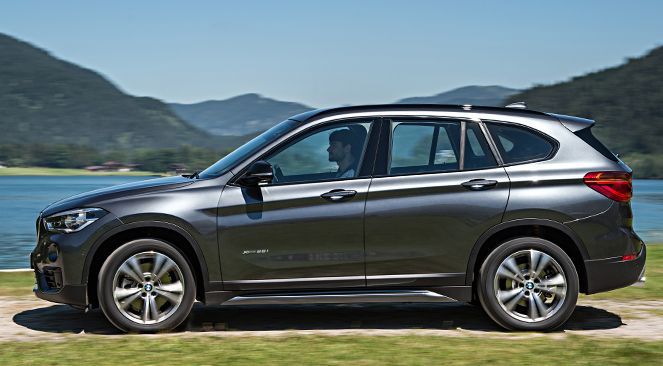 VISIBILITY: Seated high, seeing out the vehicle is no problem at all. Despite what appears to be a narrowly slanted rear windscreen, you are very aware of the X1's surroundings – there's no sense of losing sight of where all four corners of the vehicle are in relation to the nearest objects around it. We would know, having easily navigated around Austria's smaller towns with very narrow roads, where two lanes with opposing directions seamlessly merge to become one under stone arches. And did we mention, in a left-hand drive vehicle?
RIDE & HANDLING: Should you request it, BMW will now for the first time be able to spec your car up to feature adaptive dampers (local availability may differ), but they really weren't a necessity on the kind of silky smooth roads we were on. More so were we able to brave the X1's dynamic handling abilities, which you'd be highly mistaken for thinking has gone out the door with the changes from RWD to FWD.
Let's get things straight: despite the FWD architecture, the xDrive all-wheel drive system equipped here has the ability to send maximum power to the rear wheels when needed: particularly when front wheel traction isn't doing the best job of propelling the car forward as quickly as possible (in wet or loose surfaces, mostly).
We hate to say it for how it may sound on paper, but the Sports Activity Vehicle here handles very much like the brand's newest MPVs – an obvious point, though, given that the X1 shares the same UKL 1 platform as the 2 Series Active Tourer.
But as we found out with the 2 AT and 2 GT, they're very capable of delivering BMW's promise of properly dynamic driving. And so too the X1, which despite yielding the expected lateral body roll of a tall SUV, returns lots of willingness to handle whatever corners you throw at it, within reason for a car of this nature, that is.
Cruising down the autobahn demonstrated a very quiet cabin, with wind noises only breaking in at the 120km/h mark. Driving there in access of most normal highway speed limits, up to 180km/h even, the X1 is remarkably comfortable with the speed – not that we encourage exploring those limits, ever, unless on a track: this was Germany's autobahn.
COMFORT: Paired up two per car, the time this writer spent in the passenger seats for hour-long stretches at a time was surprisingly comfortable. With space enough to accommodate my six-foot self in the front and rear, the chassis did well to soak up any unevenness. The measure may yield different results locally, where as we all know, Malaysian roads are of a special kind of terrible. From Austria to Germany, I'd be glad and relaxed to ride shotgun all the way.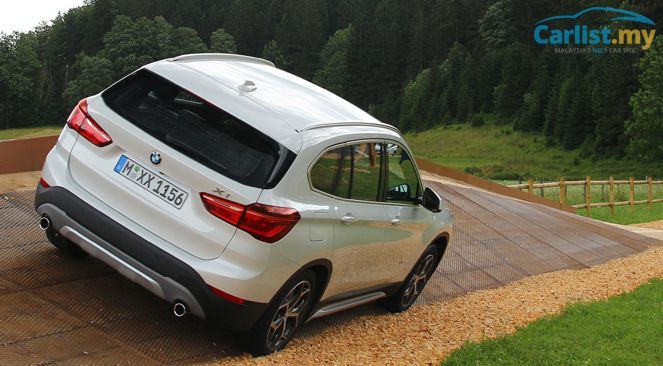 GOING SIDEWAYS: Literally, that is. Kindly, BMW had set up for us a bit of an obstacle course to show off the nature of the beast we were driving. Needless to say, the 35-degree slants, stair slope and seesaw gave opportunity for the vehicle's new downhill speed regulation system, low centre of gravity and more to shine, and so the car did perform without a hint of struggle. Check out the photos in the gallery to see more of this in action.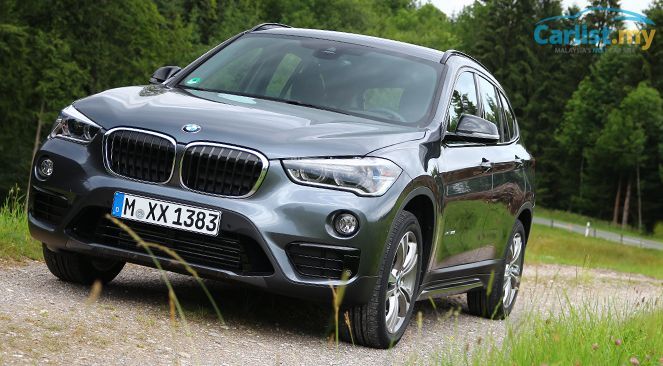 Verdict:
Overall, the all-new BMW X1 is to us a success. A far more sensible choice to buyers with a passion for a premium compact SUV than the out-going model it's here to replace, let alone many of its competitors. As a daily driver that could ferry the family to school on weekdays and then brave a little bit of the wilderness on the weekend, I'd personally put my confidence is this to do the job.
Priced and specified right, this is going to be a hit when it comes to Malaysia, so start budgeting for it come Q4 2015, and get in that early booking where possible – don't say we didn't warn you in advance.
---
---
---
Comments