2015 Ford Ranger Review – More than the average Tough Guy
Reviews It's exhilarating to know how times have changed; Women have the freedom to go to work and pickup-trucks are no longer limited to being bought by those working in the construction industry. What a time to be alive. While some may be championing equal rights, I on the other hand am having the time of my life driving around the 2015 Ford Ranger pick-up truck and terrorizing puny cars while making my way from Citta Mall, Petaling Jaya to Tadom Hill Resorts in Banting.
The scenario played out superbly well, but it was all in my imagination. In reality my experience of the Ford's new Ranger was done in a civilised convoy comprising of the XLT and Wildtrak models, as we pitched it along an organised route to test its on- and off-road abilities. It is no surprise that the pick-up truck segment has long been a competitive market within the Malaysian industry as they are offered by various manufacturers at various price points. The Ford Ranger is contending strongly against a number of popular 4x4 which includes the Toyota Hilux, Mitsubishi Triton, Nissan Navara, Chevrolet Colorado, Mazda BT-50, and the Isuzu D-Max.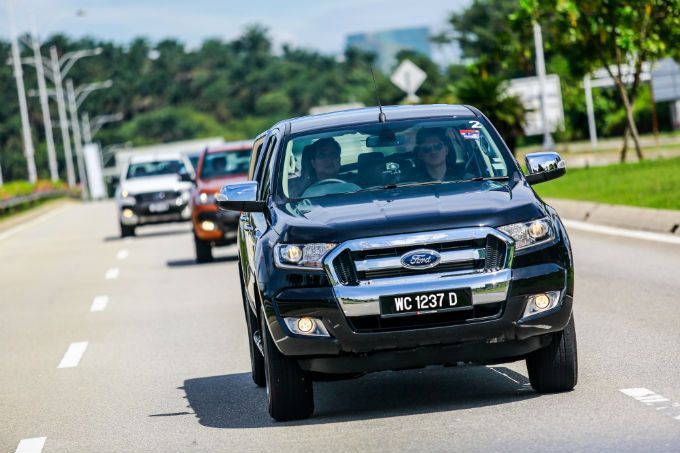 Confident with its own legacy, the new facelift Ranger didn't only offer the customary rough and tough features that was usually expected of pick-up trucks, but incorporated numerous car elements in its latest model to target urban owners. Its gamble has indeed paid off as the Ford Ranger was recently awarded as the Best Pick-Truck for the Malaysian category for the 2015 ASEAN Car of the Year Awards.
Ford Ranger 2.2L XLT Auto Specifications:
Price: from 108,788.00
Engine: 2.2-litre, inline-4, turbocharged, diesel
Power: 160PS @ 3,200rpm
Torque: 385Nm @ 1,600-2,600rpm
Transmission: 6-Speed Automatic with Sportmode & Electronic-shift-on-the-fly (ESOF)
Ford Ranger 3.2L Wildtrak Specifications:
Priced: from 132,188.00
Engine: 3.2-litre, inline-5, turbocharged, diesel
Power: 200PS @ 3,000rpm
Torque: 470Nm @ 2,500rpm
Transmission: 6-Speed Automatic with Sportmode & Electronic-shift-on-the-fly (ESOF)
Exterior
Launching its face-lifted range back in October, the new line of Rangers packs quite a number of updates from its predecessor. During the one day drive organised by Ford's local distributor, Sime Darby Auto Connexion, onlookers at sight certainly noticed the new Wildtrak's extremely proud Pride Orange, which stood out from the sea of cars on the road. Another colour choice for the Wildtrak is Cool White, which is suitable for those who aim for a subtle look, or possibly for Stormtrooper fanboys (deep down, we all know what it looks like). Meanwhile, the XLT variant offers a wider colour choice which includes the orange, Aurora Blue, Aluminium Metallic, Black Mica, Metropolitan Grey, and white.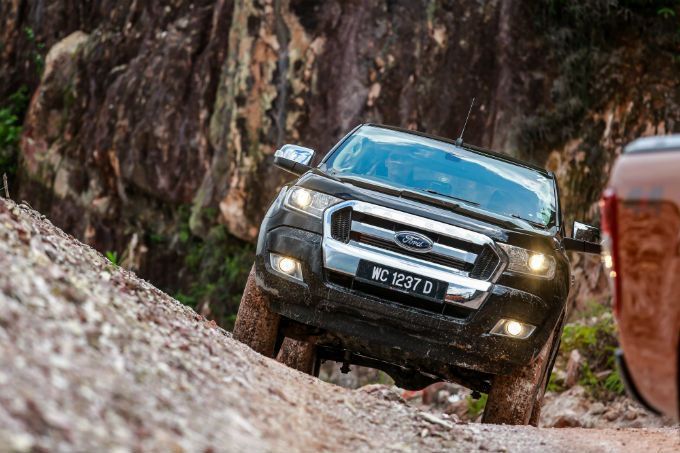 Colour schemes aside, both the XLT and Wildtrak model can be spotted with an obvious improved front trapezoidal centre grille along with a bulging muscular hood and a set of gleaming halogen project headlamps, which gives it a resilient yet modern appearance is actually pretty good to look at.
Going to its rear, the Ranger offers a great addition of cargo light which should be a must for all pick-ups as it would definitely come in handy during wild adventures.
Interior
Besides its renewed exterior, the Ranger's interior is anything but boring. Featuring a fresh new look for the dashboard, the beautiful stitchings and leather work all around the Wildtrak range gives it a very exquisite premium look. Apart from its unparalleled style and comfort amongst its kind, the Wildtrak variant is also furnished with numerous gadgets and gizmos. A brand which priorities in safety, the Wildtrak is equipped with an 8-inch colour touchscreen SYNC 2 connectivity system, a hands-free technology for the driver to operate entertainment, phone and climate control with a simple voice command.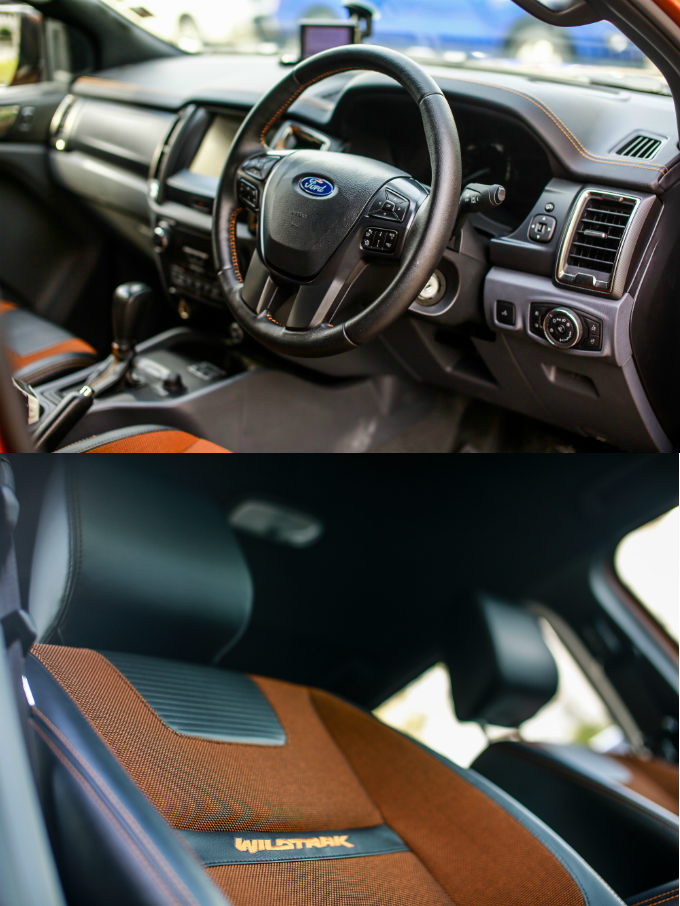 Meanwhile, the XLT might not have all the fancy traits of the Wildtrak but you can still expect quite a number of features to be fitted onboard, including its quality interior. Clean trimmed fabric and ergonomic hand rest for the rear seats that doubles as a cup holder, pushes the XLT Ranger apart from the traditional pure utilitarian pick-up truck offerings. Other than that, the Remote Keyless Entry and the 4.2-inch display SYNC connectivity system is a nice touch to have as well on the XLT.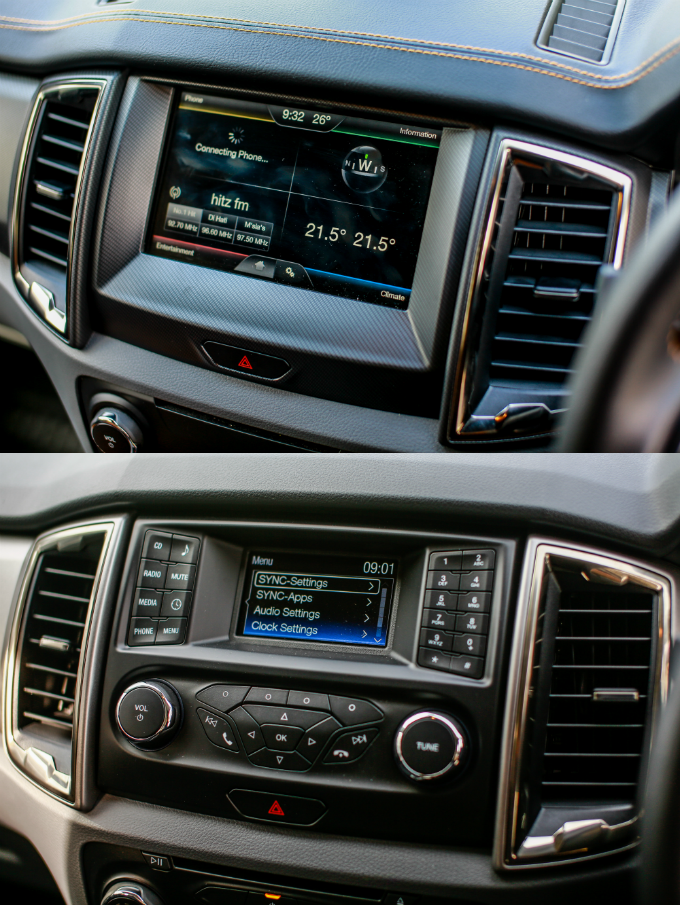 How Does it Drive?
Urban buyers are purchasing pick-up trucks as their daily drive vehicle and Ford made a great move by integrating car-like features within its new Rangers to open up a new segment of lifestyle pick-up trucks. Car owners would instantly be familiar with its functions and driving the new Ranger would make them feel like they are driving their own car.
It was a fairly decent drive on the highway after our departure from Citta Mall. Cruising at an average speed and later spirited drive, the Ranger was comfortable. Rolling over the city potholes like a boss certainly makes it apparent that a 4x4 might be just what we need to survive our Malaysian "rough" road terrain.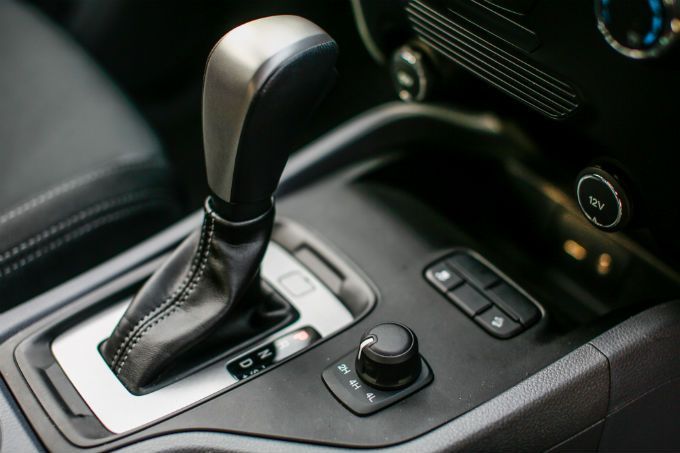 All was fun in the Ranger until the Lane Keeping Aid and Lane Keeping Alert kicked in. The function act as a warning to the driver that the vehicle is swaying out of line and gently steer it back on track. The new feature is part of its driver assist technology, a great attribute to the Ford Ranger if you mostly travel in straight distance, however it can an inconvenience when comes to shifting lanes. The feature takes a little bit of getting used to and can be uncanny for those who are not familiar with it.
Once we got to Tadom Hill, we were all given a safety briefing after lunch to explain the course where we would explore the Ranger's capabilities in conquering the rough terrains. A driving route was specially constructed for us to experience a number of off-road activities to exhibit the new pick-up truck's potential.
The first challenge of the course was water-wading. The Ford team wasted no time in getting us down and dirty by demonstrating the Ranger's ability to wade through water up to 800mm deep, and with 230mm of ground clearance. A good bonus for our constant city flash flooded road terrain. Additionally, the Ranger's seating position was high enough that gives drivers a clear view of what they are driving over.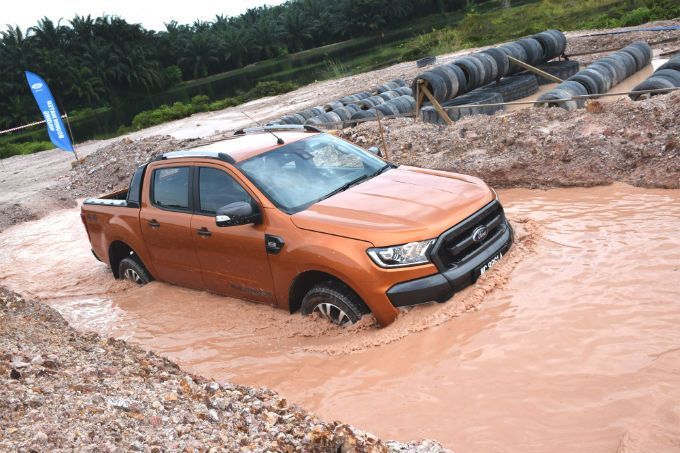 After that we were off to another obstacle to test its Hill Launch Assist feature. As we all know, the pick-up isn't exactly a lightweight day-to-day car, so eventually going up a 50-degree hill might be a little nerve-racking but Ford proof that high slope terrain is not an issue for its Rangers. Going up the steep terrain was a breeze with its Hill Launch Assist function. The Hill Launch Assist holds the Ranger in place up to three seconds when the driver removes their foot from the brake.
What goes up must come down, so the next challenge is to try out the Hill Descent Control. For those who have been off-roads, might have had nightmares of vehicles rolling down a steep hill. Well the team at Ford had enhanced their new Rangers with a Hill Descent Control where it uses the 4x4's anti-lock brakes to give the driver control while descending a hill. By hitting the button, the speed of the Ranger is set automatically to allow the pick-up to slowly decline without slipping down so the driver can have full control of the Ranger and braking wasn't required when going downhill.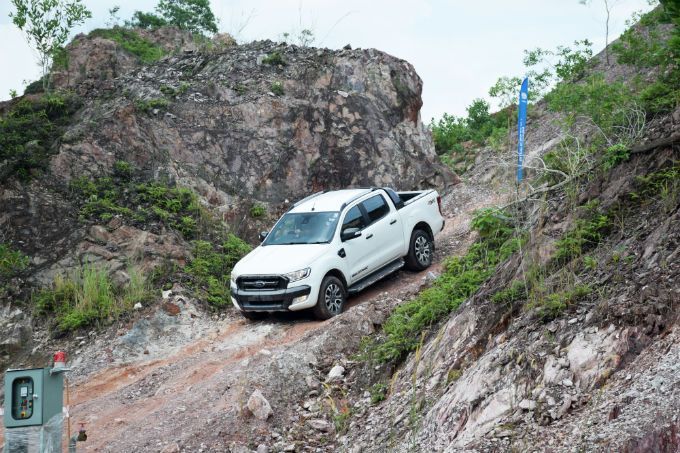 Conclusion
Let's be honest, if you are seeking for a pick-up truck the Ranger is not the most affordable in the list, but if you have money to spare and is looking for something which can provide you the comfort of a car for your everyday drive and still manages to take on the ruggedness of the off-road terrain – if a zombie apocalypse (ever) do happen – then the Ranger might do the trick.
Packed with a wide selection of features and safety technology, the Ranger is certainly a great contender in the pick-up truck segment. Buyers of the new Ranger just need to keep in mind that you are getting plenty for its asking price. With the facelifted Ranger, Ford has indeed stepped up its game to compete against other notable 4x4 workhorse brands, so perhaps this can be the catalyst for other pick-up trucks to follow?
---
---
---
---
Comments