2015 Kia Cerato Koup Turbo 1.6 T-GDI Quick Review @ 1 Utama
Reviews It's a busy day at the on-going Naza Kia On-Tour roadshow happening at the 1 Utama Shopping Centre, with the distributor of the brand launching the facelifted Kia Rio, and revealing the Cerato Koup Turbo for our market at an estimated RM150k, they were also kind enough to let us drive the new turbocharged coupe.
Given a brief hour-long session with the Cerato Koup amidst KL's 10am traffic, we'll be honest to say that properly tuning our senses to the car's handling and what not was a little bit trickier, so we'll have to save the juicy bits for a proper test drive review we'll get done at another time.
*FULL REPORT: 2015 Kia Cerato Koup Previewed In Malaysia, Est. RM150k
Here, however, we did manage to squeeze three adults into the car, and bumbled our way to the Publika shopping mall and back to our starting point at the 1 Utama – exceptionally brief, yes, but it was a designated set by Naza Kia's kind team who did let us have a quick go at all.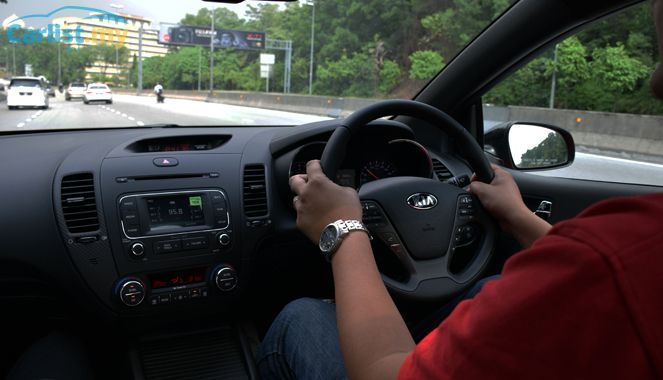 First impressions:
The initial encounter revealed that the Koup Turbo is quite a cosy car to be in. Getting in, the seat-belt extenders were a major bonus, given how far B-pillars are typically positioned away from you in cars with such body styles.
Once in, everything feels exactly like it is in any regular Cerato model: with all the switchgear familiarly located, it was a quick adjust of the mirrors, seats and steering wheel position, and we were off.
First thing this writer noticed was that the seats can't be positioned downwards enough to bring my six-foot self low enough to where best left enough headroom, and kept my eyes looking straight and far ahead. My colleague, Gerard, however, would find this a perfect fit for his 5.6-feet stature.
Stuck in a bit of traffic, we began to fiddle with the car, and upon rediscovering all that's usual to the Cerato, I switched on the seat-cooling function, which is a charm on these typically warm Malaysian days. Gerard, who sat passenger, only had a heating function for his seats, discovering it the hard way.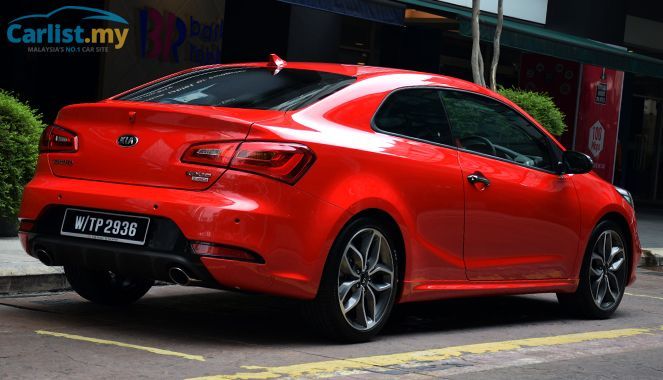 KEY SPECS: 2015 Kia Cerato Koup Turbo 1.6 T-GDI
Price: RM150k (estimated)
Engine: GAMMA 1.6-litre T-GDI (Turbo Gasoline Direct Injection)
Transmission: Six-speed torque converter automatic
Power: 204PS @ 6,000rpm
Torque: 265Nm @ 1,750 to 4,500rpm
Driving a 2015 Kia Cerato Koup Turbo
Once we cleared the morning traffic, it was time to see what the 1.6-litre T-GDI's 204PS and 265Nm could offer, and to no surprise, we rather quickly arrived at further traffic just after exiting the Penchala link toll gate.
What we can tell you is that all the power you imagine to be there, is well accounted for so long as you keep your expectations of a 1.6-litre turbo in check. We wished the transmission shifts were in better sync with our inputs, but you've got to expect these things with a slush box.
Gunning it out of the toll booth, the Koup Turbo's claim to 7.4-seconds to 100km/h almost doesn't feel verified, but understandably so, because this test unit had literally just 88km on the odometer. Engine tightness will have naturally played a part in sedating the actual performance possibly available.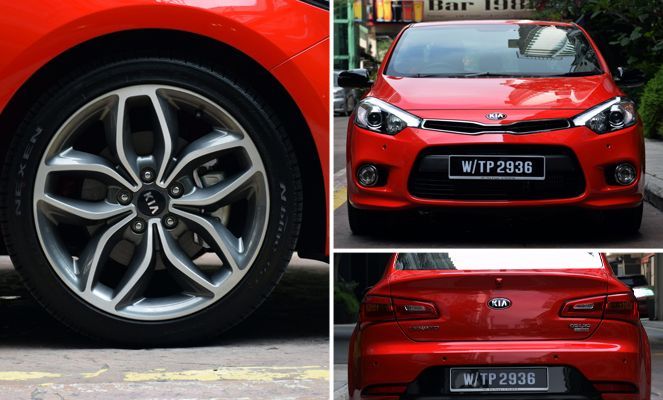 Ride & Handling:
Ride comfort is noticeably harsher than your regular Cerato, with Naza Kia confirming that the front springs have been stiffened to help the car's responsiveness into a corner. Still, Gerard found himself quite cosy for the ride back there.
Thanks to Kia's minor tweaks, the Koup feels fairly planted in a corner, showing no signs of being unsettled at the brisk pace we were driving. We can't report on too much more than this, given the nature of our drive session, as explained earlier.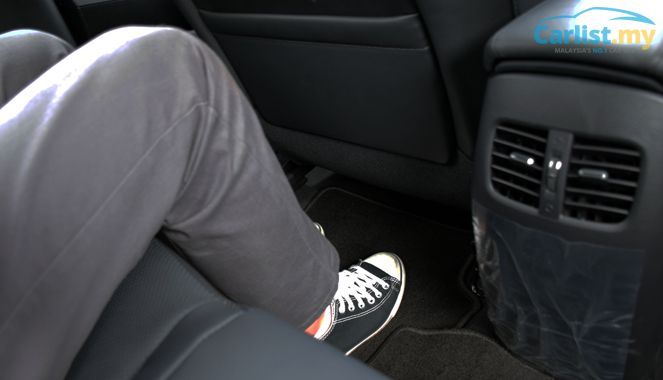 Spaciousness & Rear Seating:
Speaking of throwing Gerard in the rear, he did actually highlight how extremely spacious it is back there – made obvious by the pictures we've managed to grab of his legroom. The rear bench is wide and will easily accommodate three passengers his size (in only a slight squeeze), and comes equipped with lots of creature comforts: rear air-conditioning vents, cupholders on either side of the car and a foldable center armrest.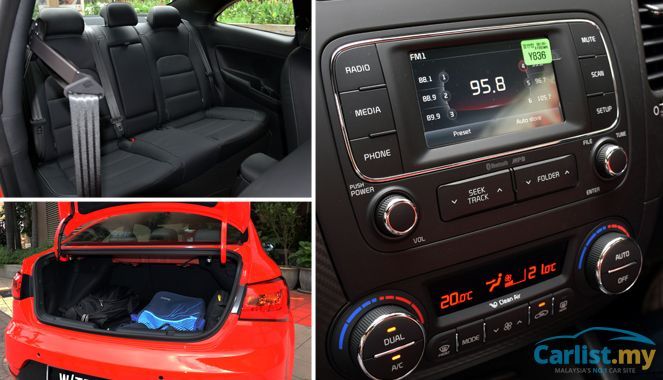 Verdict: So here's what we think…
On the surface, it's easy to assume why Naza Kia Malaysia have brought the 2015 Kia Cerato Koup Turbo to Malaysia: Hyundai's done it with the Veloster Turbo, and they're plainly responding in kind. Well, you could be right, but even removing the Hyundai's existence from the picture, Kia does really have something here.
You could argue that its specifications, like featuring the 4.3-inch screen rather than the new 8.0-inch screen, are a little bit dated, but the simple fact is that this will effectively displace the Peugeot 208 GTi, in our minds, as the most affordable and sensible 200hp brand-new car money can buy.
Don't get us wrong though. The Pug 208 GTi, the previous discipline champ, is a little under RM10k cheaper, and does have about 10Nm of torque more. It's also faster in a 0-100km/h sprint by 0.6 seconds, and comes feature-loaded.
But the B-segment Pug's hatchback body style means its rear seats are nearly unusable by anyone over five-feet tall, and its boot is equally limiting.
The Kia Cerato Koup, on the other hand, has rear seats usable by almost everyone within (or slightly above) the average height range in Malaysia, a full-size boot, and still offers 204PS and 265Nm of torque. It's also a much larger vehicle, classified in the larger C-segment, and poised to compete with the likes of the Honda Civic, Toyota Corolla Altis, and Mazda 3.
Another positive trade-off for what some might call "dated" facilities of the Koup Turbo means that its price is only marginally above that of the Pug 208 GTi, estimated for now to be RM150k.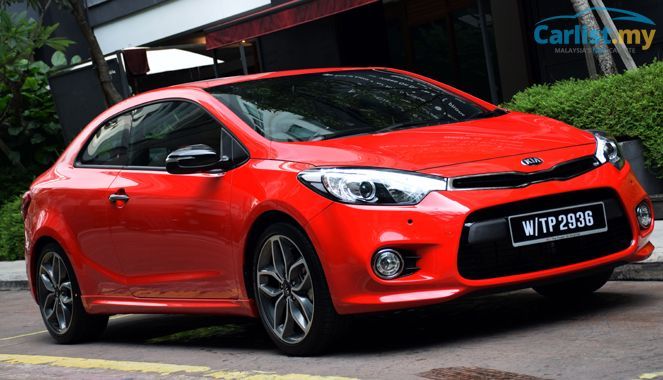 The Hyundai Veloster Turbo is a more direct competitor for the Koup Turbo, with a similar engine, tuned for fewer horses, and a seven-speed dual-clutch transmission. We haven't driven the Veloster Turbo yet, but plan to do so in the near future. We'll have to reserve any judgement for later.
On the surface of it, the Veloster Turbo does offer a more modern interior, and is finished exceptionally well. It's even properly feature-loaded, so you can't discount the very impressive package offered there.
However, having tested the non-turbo version a while back, I remember that while rear access has been made easier with a single rear door, space there wasn't as massive as it is in the Cerato Koup, nor would passengers appreciate having their heads under direct sun light with the rear glass hovering just over with no protection other than whatever tint you can manage.
So… which will it be for you then? Cerato Koup? Veloster Turbo? 208 GTi?
---
---
---
---
Comments