2015 Mazda 3 CKD Launch Confirmed For April 8th As Bermaz Announce Post-GST Prices
Buying Guides In revealing the company's latest price list, Bermaz Motor Sdn Bhd also took the opportunity to sneak in what we figure is pretty much the official launch date of the new, 2015 Mazda 3 CKD.
We've been following the coming CKD Mazda 3's arrival for quite some time now, and despite previous speculations pointing only to a mid-April date, we can now pin it down to the 8th, which is next Wednesday!
Unfortunately, prices still haven't been revealed yet, but going off our last scoop, we've been assured of a few estimates, and as of the last official update from Bermaz (Mar 17), they are:
Mazda 3 SkyActiv CKD Sedan Mid: RM 105,000
Mazda 3 SkyActiv CKD Hatchback Mid+: RM 119,000
Mazda 3 SkyActiv CKD Sedan High: RM 125,000
*UPDATE: Since we published this article, Bermaz has provided a full list of their official prices, which we have also attached below. Be mindful that the Mazda 3 1.6-litre that you see listed is for the previous-generation model, and not the latest SkyActiv version.
With this, Bermaz Motor hasn't really revealed the full scale of their new price list post-GST implementation, but we understand that not all models have seen prices differences. What they have disclosed for now are just a few of their models which have been affected, and these have been showed as below, with price reductions between RM500 to RM7,000 (update after receiving full price list: RM23 to RM10,000). For the models that we don't see here, it's probably safe to assume that their prices haven't changed.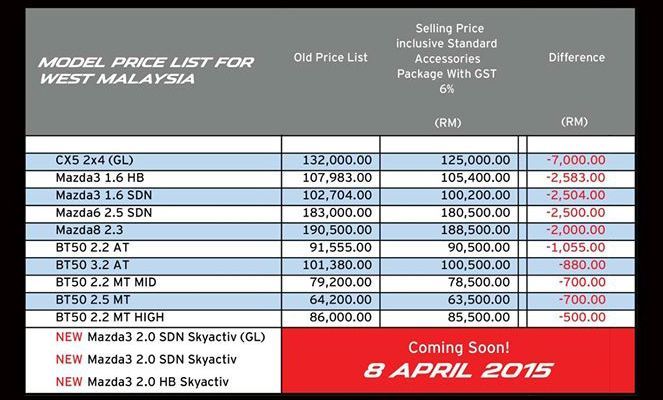 However, don't forget that Bermaz is far from done here. As reported before, we've expecting to see a total of three model launches from the official Mazda distributor this month alone (CX-5 facelift, Mazda 6 facelift and the Mazda CX-3). Bring it on!
UPDATE: Full list of Mazda vehicle prices in Malaysia: (click to view larger)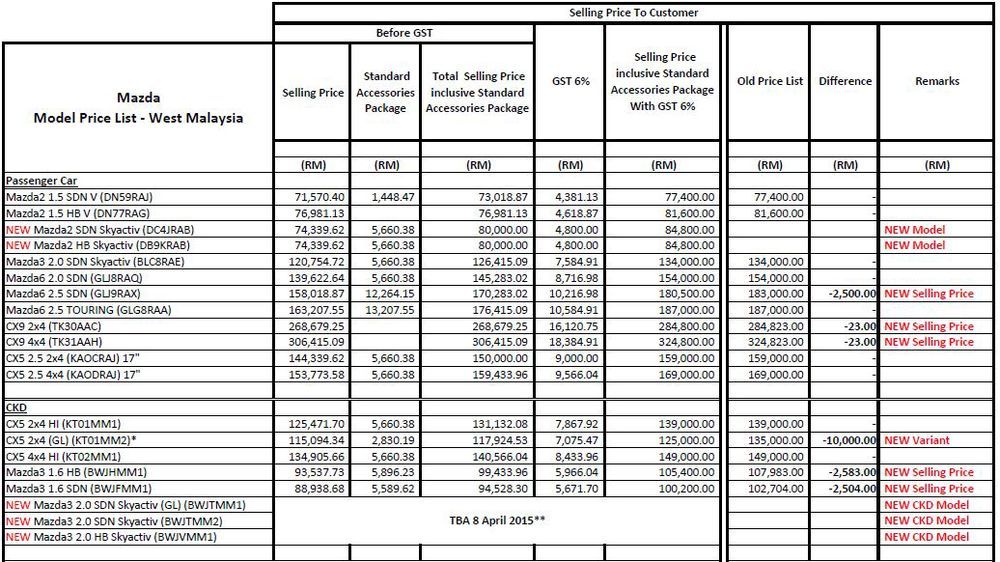 ---
---
---
Comments