Anthony Loke promises JPJ will move license, road tax renewals online and via smartphone app
Auto News Anthony Loke IS pushing JPJ to provide smartphone services for renewing driving licenses and road tax.
---
Whenever it's time to renew your driving license and road tax, many dread the process, as it usually involves spending some time in a queue.
Well, the undercover minister is at it again, this time saying that an online platform is in the works where if completed, it will allow you to renew your driving license and road tax via a smartphone.
According to Anthony Loke, Malaysia's Minister of Transport, JPJ is not only working on digitalisation on the kiosk level, but they are also working towards an online platform.
He said this after visiting JPJ Negeri Sembilan, where he wanted to see the newly installed kiosk at the location.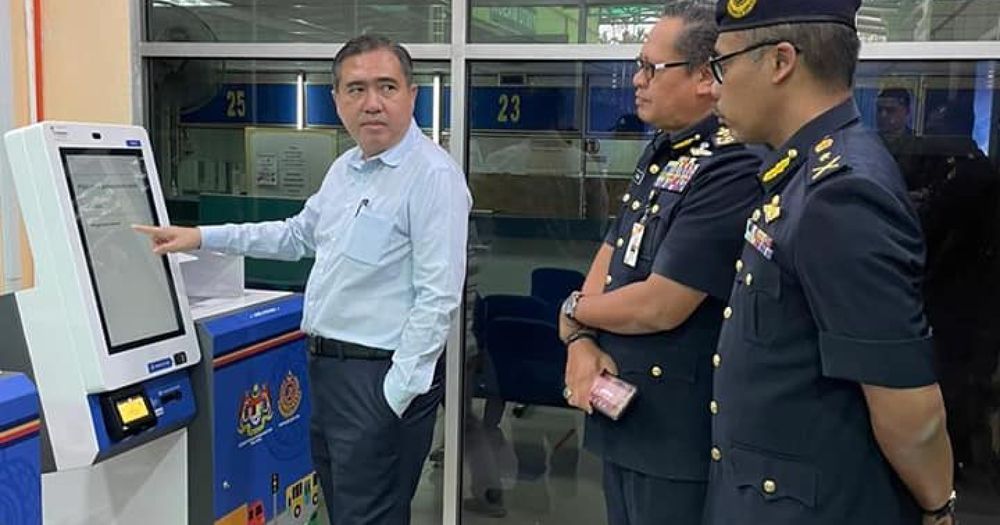 "JPJ has added new kiosks at branches across the country to facilitate road tax and license renewal to reduce congestion at the counter."
"Business hours at this kiosk will be extended outside office hours.The digitalisation process of JPJ will not stop at the kiosk level only, but will continue to strive to offer services online."
"Imagine renewing your driver's license and road tax through an application on your smartphone! Wouldn't it be easy and fast?"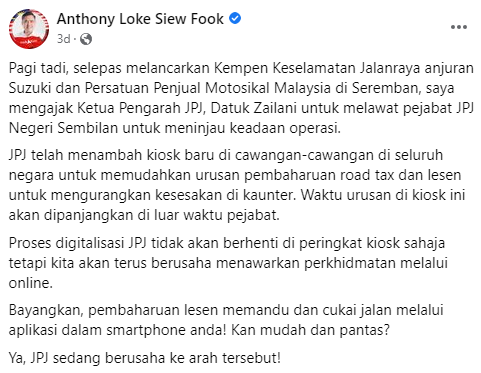 It seems that Anthony Loke is starting to become of Malaysia's favourite ministers, as he is always trying to push, fix and implement new things which will help relieve stress off Malaysians, especially when it concerns all things transportation.
Yes, we can go to MyEG to renew our driving license and road tax, but the more ways we can do it, the better, as competition always brings out the best in someone or something.
---
---
---
---
Comments