Audi Showcases Future Tech & More At CES Asia 2015
Auto News The Consumer Electronics Show (CES) is one of the most renowned electronics and technology trade shows in the world. Held annually, at Las Vegas in the United States, the show now makes its inaugural debut in Shanghai for the first time this year.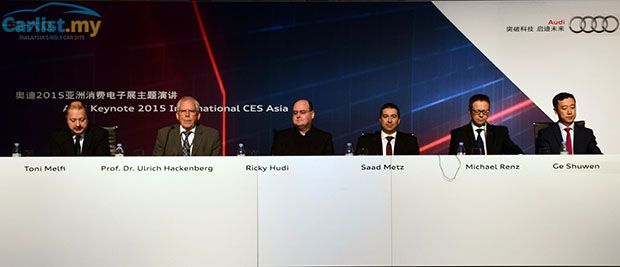 For Audi, China is one of its largest single markets in Asia. Not only that, the average customer for the brand is aged around 36 years of age according to Michael-Julius Renz, President of the Audi Sales Division at FAW-Volkswagen. This means modern Audi customers are relatively more tech savvy than before and expect the same from their vehicles.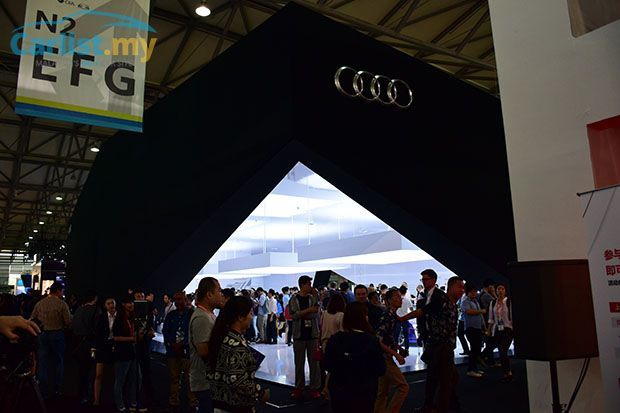 Which is why we're here at Shanghai for CES Asia 2015 courtesy of Audi Malaysia, to see what the latest tech Ingolstadt had to offer for current and future Audi models.
Connectivity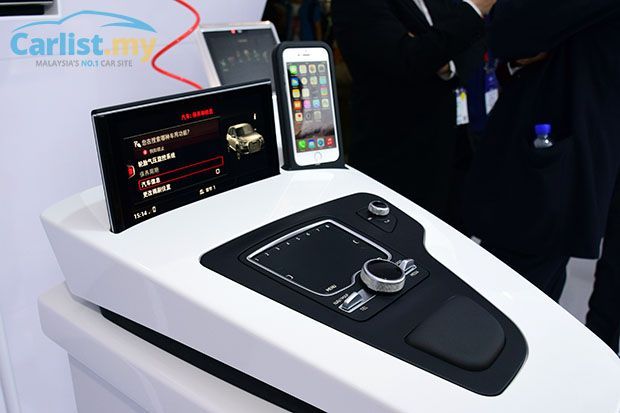 Look around and you'll spot a smartphone in almost every hand. Apple, Samsung, iOS, Android, they all have a part in Audi Connect, the brand's all-round networking system that will make its way into models of the future.
The system serves to connect an Audi with the driver, infrastructure, and other vehicles as well as the internet. With the smartphone serving as the system's access to the Internet, users will be able to gain up-to-the-minute traffic information linked to the on-board navigation interface which can also pull up Google Street View images, providing a preview photo of the intended destination.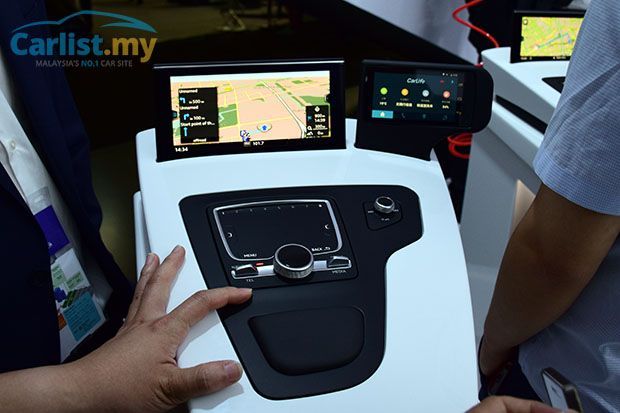 An Audi MMI connect app is currently being developed for China with partner Baidu to integrate Baidu CarLife in the proprietary system, which works in a similar fashion to Apple CarPlay and Google Android Auto.
For China, Audi has paired up with local company Huawei to develop an Asia-specific LTE module for faster Internet access. Currently, the module only works with two standards that exists in China, Japan, and Korea: FDD-LTE (Frequency Division Duplexing) and TDD-LTE (Time Division Duplexing). With LTE capabilities, faster data transmission is accessible by occupants via a Wi-Fi hotspot.
Infotainment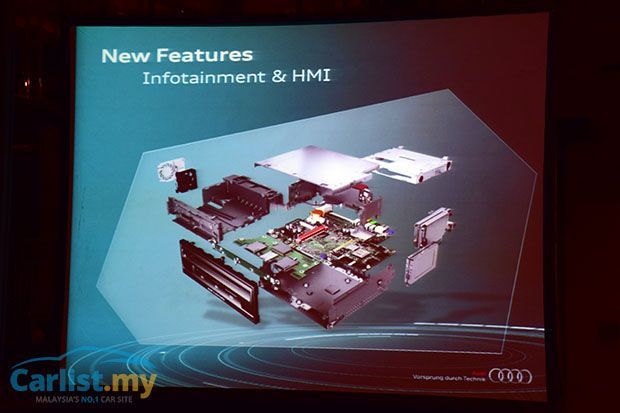 With Nvidia as its partner, Audi's second-generation modular infotainment platform (MIB) is not only more feature-packed and connected as before but allows for shorter product cycle times as well. Its modular electronic architecture approach allows quicker implementation into other Audi models with its flexibility.
Already utilised in the all-new Audi TT, R8, and Q7 which also uses a redesigned MMI system that adopts a concept used in modern smartphones. Interaction is done via touchscreen, voice control, and a multi-input touchpad.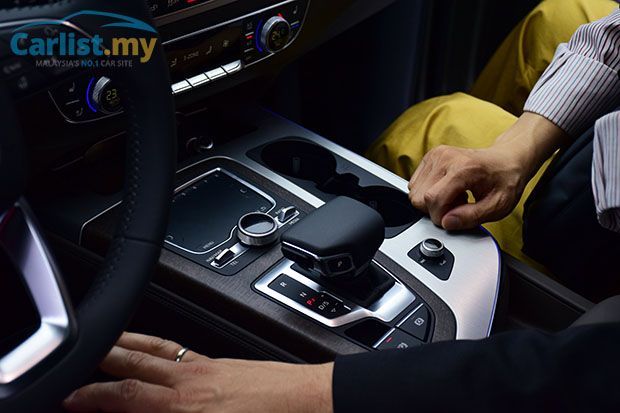 The Q7 also debuts the Audi Tablet. Equipped with a Nvidia Tegra 40 chip and powered by an Android 4.4.4 operating system, the 10.1-inch tablet serves as mobile rear seat entertainment and in-car entertainment system. Linked to the MMI Navigation Plus via Wi-Fi, the tablet can be detached and used outside the vehicle.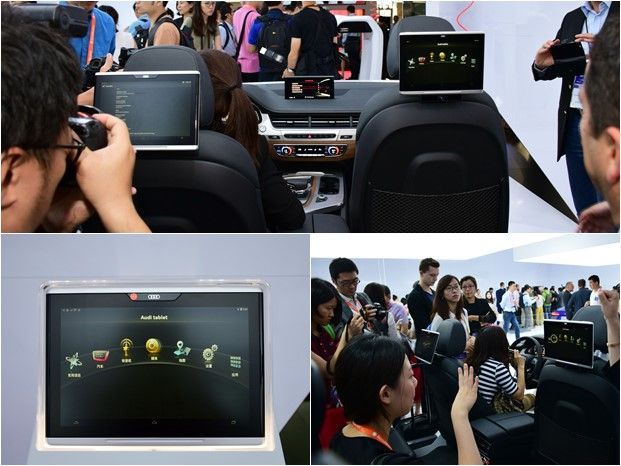 More impressively, the tablet can be used in the Q7 without the need of using its touchscreen. Gesture controls allows passengers to sit comfortably and access functions with a wave of a hand.
An Audi phone box also adopts wireless charging according to the Qi standard which will be available for the Chinese market after the all-new Q7 is introduced there
Lighting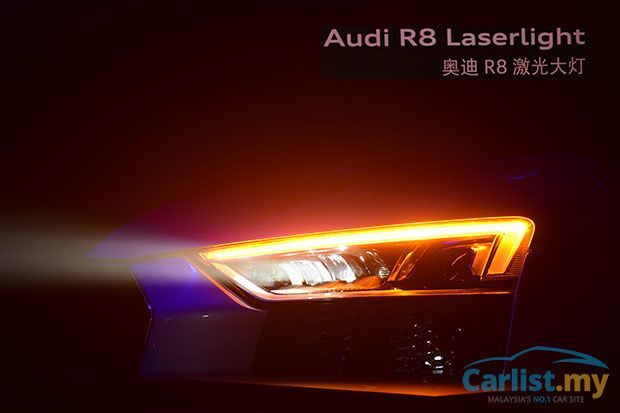 Audi's Matrix LED headlights are currently installed on many of its newer models. We Malaysians will have seen it on the recently launched Audi TT (available as an optional extra). For CES Asia 2015, they've also brought to the show their Matrix Laser technology, first debuting on the R8 LMX.
The lighting system on display was set to fraction of its full lighting potential because if the Audi personnel in control of the Matrix Laser terminal were to push it to its normal operating levels, all the attendees in the darkened room would be blinded by the intensity of the light source. We've also been told that the system works with the onboard camera to block out or isolate lighting away from oncoming cars, meaning the system can be left on high-beam mode without the risk of blinding other road users.
Audi Virtual Cockpit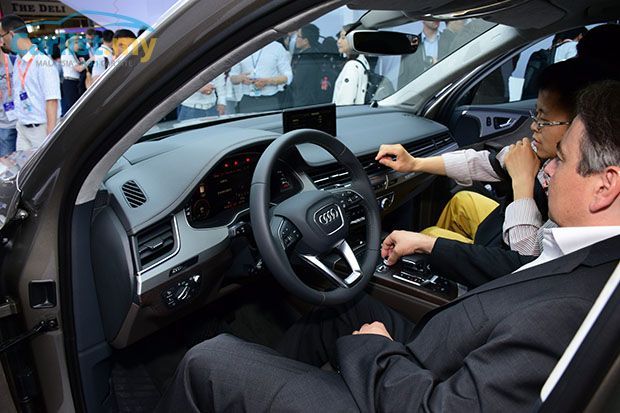 The Audi TT which was launched in Malaysia recently debuts Audi's Virtual Cockpit, the fully digital instrument cluster displayed on a 12.3-inch TFT monitor. With different views available to the driver, the Nvidia Tegra 30 graphic chip that powers it allows customisation as well.
Seen here in the Audi Q7 E-tron, the system displays key driving information and links to the MMI Plus system for further functionality, including infotainment details and navigational directions as well.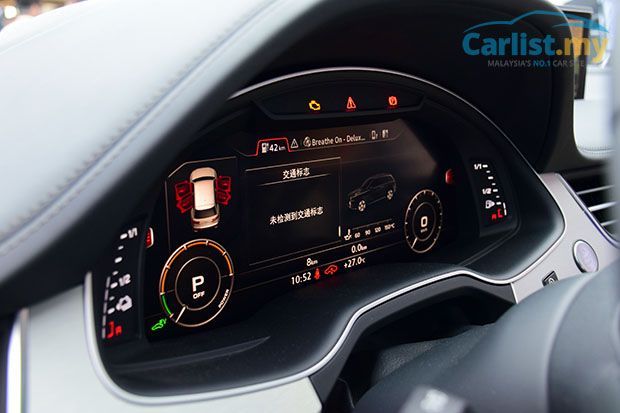 All three vehicles on display – the Audi R8 E-tron Piloted Driving, Audi TT, and Audi Q7 E-tron will debut the Virtual Cockpit which will also make its way into future Audi models.
All these technologies which are on display at CES Asia 2015 will make their way into future Audi models if the haven't already. However, this is highly dependant on the market whether they will be offered.
---
---
---
---
Comments