 Though their roots can be traced back to the dawn of Gran Prix racing, much of Maserati's racing days are long forgotten as the company focused their attention on building beautiful grand tourers, rather than supercars, as their Italian counterparts did. In the early-2000s, when the decision was set on making a return to competitive racing with the FIA GT Championship, Maserati turned to their sister company, Ferrari, to develop a race car that would dominate the racetracks.
Rather than building a racing car from scratch Maserati recognised the potential Ferrari's then-new flagship supercar, the Enzo, had. Built for the road, Ferrari had no intention of turning the Enzo into a race car, and as such Maserati was given the go ahead to turn the Enzo into the ideal race car that would bring racing glory back to the Trident brand.
The resulting car, the MC12, was built on the chassis of the Ferrari Enzo, whilst using a slightly modified version of its V12 engine and the same single clutch automated manual transmission. From the outside however there were very few clues that could draw one in to the relation between the MC12 and its road-going relative. As compared to the futuristic Enzo, the MC12's body was wider and longer, and it also came with a large fixed spoiler, all fitted in the quest to extract more downforce. Also unlike the Enzo, the road going versions of the MC12 came with a removable hard top, so that drivers could enjoy some alfresco driving, although it made for an odd combination with its functional racing-focused development.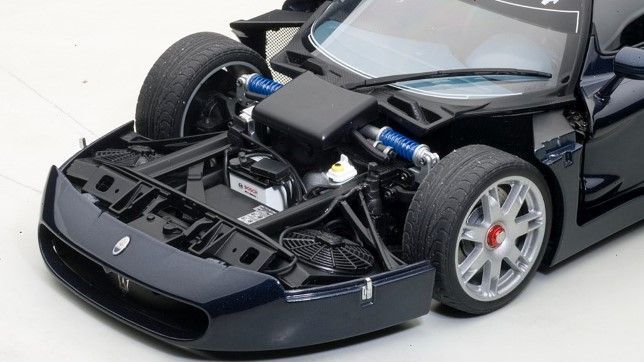 When Maserati campaigned the MC12 in the 2004 FIA GT race series, it made a dominant return for the Maserati name, after 37 years of absence from competitive racing. Between 2004 and 2009, the MC12 race cars managed to bag five consecutively team championships in the racing series, but the MC12 didn't need to win races to win the hearts of its audience.
In 2004, Maserati made 25 examples to meet the FIA's homologation regulations, with another 25 built the following year. Despite its €600,000 price tag, all road-going MC12s found buyers before officially going on sale, which is a high price to pay back in its day.
Even though it was produced in limited numbers and is based off a Ferrari, the MC12 is still recognised as one of the most seminal of Maseratis in the company's 101 year history. And while an MC12 on the road would be a rare sight indeed, scale model produces AUTOart has faithfully reproduced the MC12 road car with great detail in 1:18 scale form with a removable front cowl that reveals the MC12's motorsports-inspired inboard suspension and vast engine cover. The MC12 is available in the metallic blue (pictured) version or the iconic white and blue colour scheme.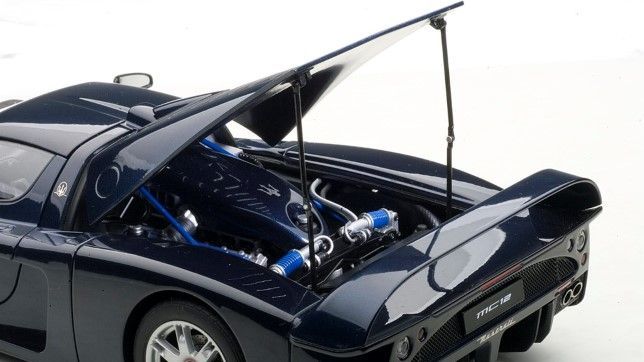 ---
---
---
---
Comments