Bargain Basement Coupes: 5 Sporty Cars That Could Reignite That Coupe Love Affair
Insights Cheap fun coupes should not be swept underneath the carpet, but then again, can you even get one for around RM30k?
---
Coupes. The one car body type that gets the heart pumping, girls chasing and haters hating. To say the least, that's what it once was, because these days, people have gone all mad and gone head over heels for boxes on stilts - what is the world coming to?
The classic coupe is dead, and instead of it, we now have hybrid coupe body shapes on vehicles from SUVs to luxury four-door sedans. The only place you can search and buy anything coupe-ish is the premium market, and that's a shame because once upon a time, cheap sports coupe was all the rage.
Honda was practically the king of that segment coming out with fantastic cars like the Integra, Prelude, Civic Coupe, CR-X and even the Accord Coupe. It was at a time where four-door cars were meant for parents and old-age pensioners. These days however, it seems to be the opposite with the young opting for utility instead of flashiness.
Despite this, we still like coupes but are there any cheap coupes out there? You bet there is and you can probably own one for around RM30k. With that in mind, here is a list of coupes that can potentially put a smile on your face for the same price of the cheapest new econobox.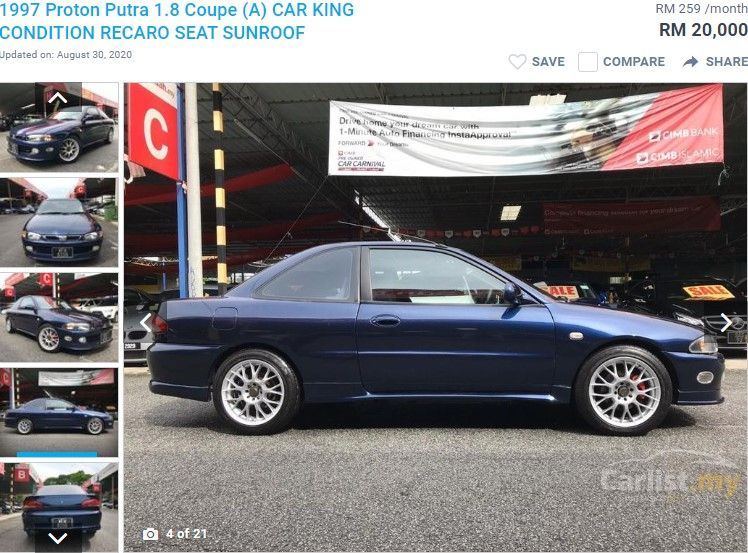 The one and only coupe that Proton ever produced still lingers strongly in the heads of many petrolheads. The Proton Putra was manufactured between 1996 to 2001, and it featured a Mitsubishi derived 1.8L 4G93P engine that produced 138bhp and 164Nm of torque. The Putra was essentially a two-door Wira and it was a very quick machine for its time.
There was no performance variant to purchase throughout its production life, but towards the end, there was a rally-prepped unit developed by Prodrive in the UK to compete in the WRC – ultimately it never managed to, but it was a cool experiment nonetheless.
Prices for the Putra are starting to climb as they become rarer by the day, and it's definitely a fun front-wheel-drive car to pick up and mess around with if you're looking for a project. Leave it stock, and you've got a fun and reliable coupe that you can daily drive. Be quick if you're interested, there are not many good ones left.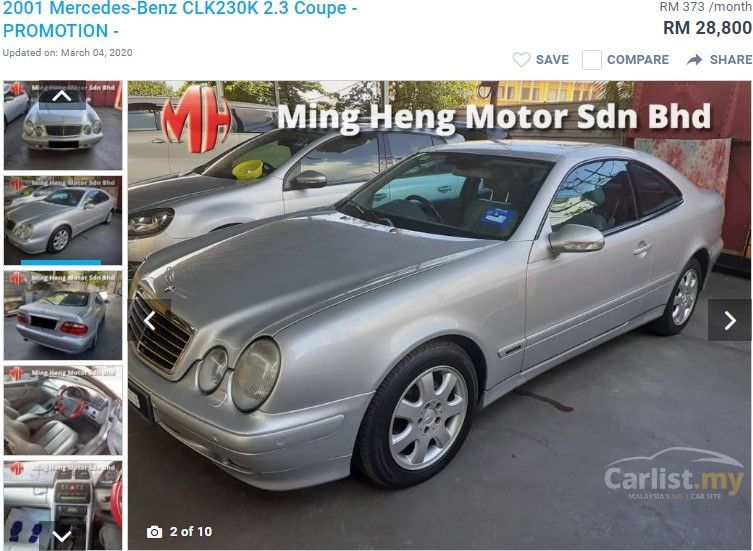 Okay, buying an old Merc is always risky but if you know what to look out for, you could potentially buy one of the finest machines ever built. The first generation CLK was first introduced in 1997 and continued production up until 2002. Although it was mostly a C-Class underneath, the CLK opened up a new market for Mercedes-Benz. Initially, the CLK only came in two guises, with the CLK200 (134bhp) coming in as the entry-level car and a more powerful CLK230 Kompressor with 194bhp topping the range.
To purchase the CLK200, you would need to have a lot of patience as the power is lacking. The CLK230 on the other hand has enough power to keep up with modern day traffic and that's all thanks to the supercharger (Kompressor in Mercedes speak). Although it has forced induction, the power delivery is smooth and not like an on and off switch like some turbo cars. It really gels well with the car's overall luxurious and sophisticated feel.
The vehicle is mechanically sound but electrical gremlins are its main Achilles heel. So be sure to check that our before proceeding with the purchase.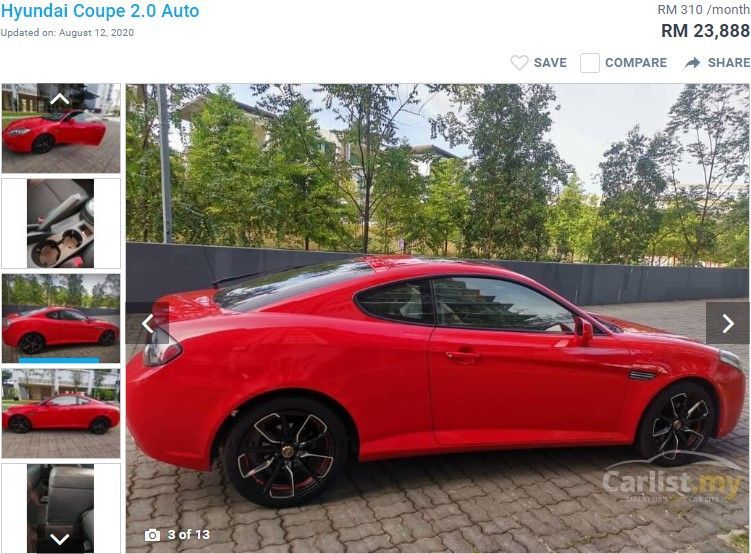 We must admit, we were not the biggest fan of this car when it was brand new, but at RM23,888 and in a market where cheap coupes are hard to find, the Hyundai Coupe starts to become appealing. It's also been said that the Hyundai Coupe in some angles looks like the Ferrari 456GT.
We can see what people are talking about but you'd really have to squint your eyes to see the similarities. Nevertheless, one thing is for sure, the Hyundai Coupe is probably more reliable than the Ferrari and will not have the Ferrari's running cost. With a modest 2.0-litre 136hp engine, it's not going to win any races, but chuck it down some B-roads and you can still throw it a bit about and have some fun.
Despite the sharp-ish handling, the Hyundai Coupe is more about that sports coupe looks, and being a Hyundai, it'll probably be as rugged as the Proton mentioned earlier. For those looking for a good looking coupe at cheap running cost and purchase price, it's hard to beat the Hyundai Coupe. If it can impress Richard Hammond, we're pretty sure the car is alright.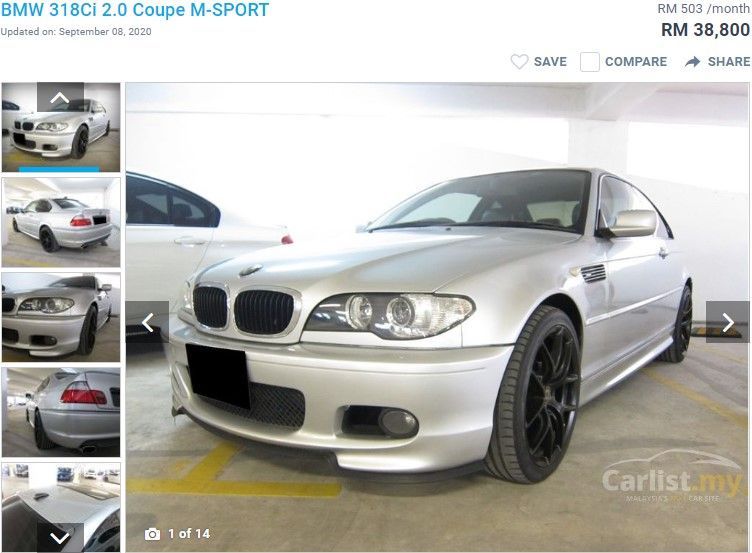 Fair enough, this car is not around the RM30k mark but if you can just beg, borrow and steal a bit more money then you should really consider the BMW E46 Coupe. Unfortunately, at this price range, you will only be able to buy ones with a small engine but that's okay because the slower you go, the more time it gives bystanders to appreciate the sweet and sexy lines of this Munich masterpiece.
The Ci models are generally mechanically reliable (except for the normal BMW failures like oil leaks) but the ones to avoid is the 2.0-litre engines (facelift or LCI in BMW language) as they have oil build-up issues and weak head gaskets. However, the 1.9-litre in the pre-facelift car is robust, so better aim for those. We're sure that there's plenty of playing around that can be done with the 180Nm of torque anyways.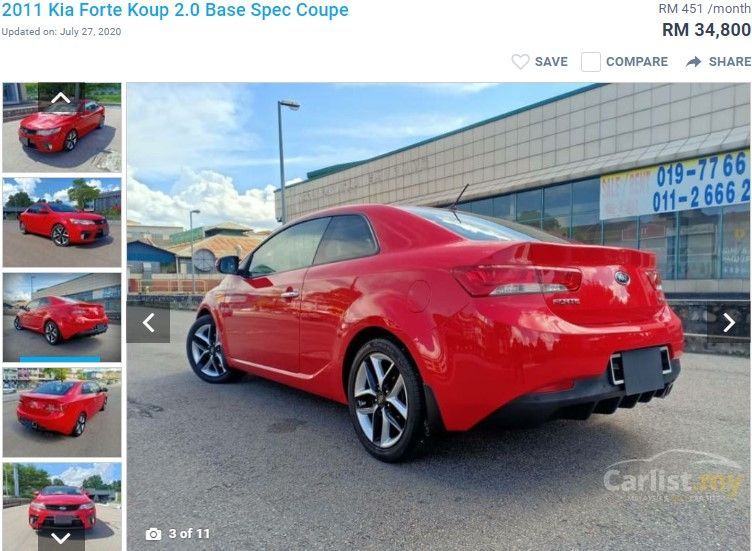 KIA has always been underrated in Malaysia, but the most underrated KIA vehicle that we have come across when it comes to KIA vehicles in Malaysia is the KIA Forte Koup. The Forte that the Koup was based on can be considered as one of the most robust vehicles that have landed on our shores. Give that vehicle two doors, lowered roofline as well as sleek coupe body lines, you now combine sleek and robust together.
The KIA Forte Koup was designed at the time when legendry Audi TT designer, Peter Schryer joined KIA, so it's no surprise that together they produced one brutishly handsome coupe. With a reliable and good performing 2.0-litre engine with 154hp and around 200Nm of torque, the Koup was not the slowest car on the road nor was it the fastest. If we had to describe the performance in one word, we would say it is adequate.
It also never really presented any mechanical problems but if it ever does, parts might be just a little bit pricier than what is expected of a KIA. Nevertheless, at the price of RM35K, this Koup can be considered a steal, so all that is left to do is make sure it has not been in an accident. The KIA Forte Koup really is a homage to the cheap sporty coupes that were made in the nineties.
And there you have it, five coupe options with the latter two just above RM30k. If you're in the market for some coupe fun and you're hovering in the 30-40k range, then give any of the above a test drive and one might just leave you smitten. Happy hunting!
---
---
---
Related News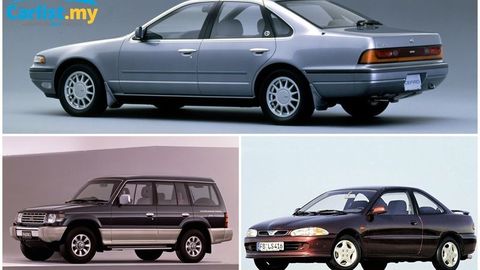 Buying Guides
Ten cars, all for under RM20,000 - while still managing the unquantifiable quantum of being desirable and delivering on that all important cachet of ...
---
Comments