Bentley Bentayga SUV Revealed In Full By Unexpected Source
Auto News Ah, the Bentayga: Bentley's leap of faith into the ultra-premium SUV segment, that's been under wraps for the longest time, all the while teased over and over.
Well, spy no more friends, because the good folks at CarNewsChina have uncovered the car in full, from a most unexpected source: from a 1:18 model car that has been leaked ahead of its big Frankfurt Motor Show debut come September.
It's not the first time we've seen an all-new model leaked in model form (remember the Land Rover Discovery Sport from 2014?), but this one's pretty mega. Logically, Bentley must have been preparing for the car's debut reveal by preparing a few model car door gifts for visitors of the Frankfurt Motor Show, when this unfortunately got out.
The front grille isn't as much of a surprise to us, with the company teasing it on several occasions already, but never before have we seen the rest of the car, until now.
The silhouette of the car is largely similar to the curvaceous Porsche Cayenne and Audi Q7, of which it also shares a common platform with: the Volkswagen Group's MLB Evo platform reserved for its larger models.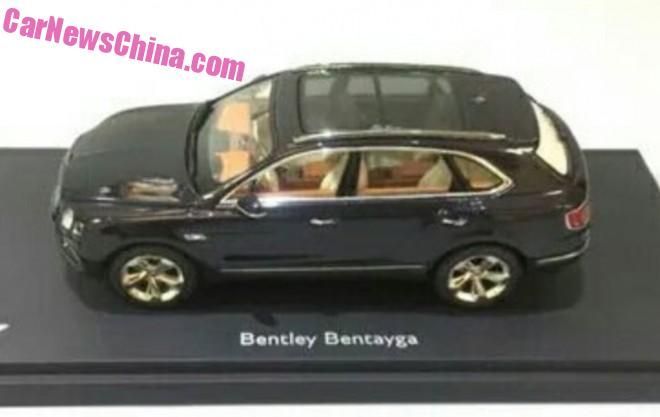 The car itself is properly "blinged" out, with large five-spoke wheels, while the roof itself is a double glass panel type with roof rails alongside. The taillights are massive and square-ish going off what we can see, and there's a lot of decorative chrome bits used throughout.
It's reported that nothing short of a 4.0-litre twin-turbo petrol V8 that develops 521hp will be offered amongst two other powertrains, with the range-topper being nothing other than a 6.0-litre W12 engine sourced from the Volkswagen Group. The latter is expected to make the Bentayga the fastest and most powerful SUV on the planet.
Stay tuned for more as we get closer to the 2015 Frankfurt Motor Show mid-September.
Here's more on the Bentley Bentayga
---
---
---
---
Comments