 Recently, Nokia's mapping and location service HERE was sold to a consortium of three German carmakers including BMW Group, Daimler AG, and Audi AG for €2.8 billion.
Now, you may or may not have heard about HERE and why this deal is very significant so to get you up to speed, here's eight facts about HERE that you should know:
HERE has been mapping roads for 30 years
The history of HERE started in 1985 when a start-up firm began by mapping the San Francisco Bay area. This start-up became NAVTEQ and was eventually acquired by Nokia in 2008, transforming it into HERE. Soon, the detail of its maps increased rapidly and in 1994, it installed its first ever automotive-grade map in the BMW 7 Series.
Today, HERE is building the map of the future for automated cars
Getting up-close with the Audi A7 piloted driving concept, you learn that automated cars require extremely detailed high definition (HD) maps in order to work properly, making it a vital component of automated driving technology. These HD maps allow automated cars to precisely position themselves on the road and serve as a foundation for real-time data about the road environment as well.
HERE already provides map data to the majority of car makers
In Europe and North America, four out of five new cars with in-dash-navigation are fitted with HERE maps which also provides additional features and functionalities like routing, traffic, and local search to a number of premium car manufacturers.
HERE helps businesses to be faster, cost-effective and efficient
The world's leading enterprise software and logistics companies like FedEx, Oracle, SAP and UPS are working with HERE. Location intelligence from HERE helps to make fixed and mobile asset management more safe, productive, efficient and sustainable.
There are hundreds of HERE cars mapping the world's roads right now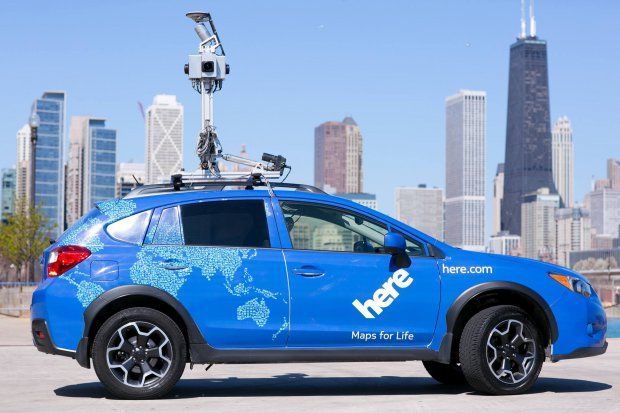 With the use of laser-based LiDAR technology, HERE's cars map roads around the world to centimetre-level accuracy. In total, HERE calls upon 80,000 data sources to constantly update its maps including cars, land-registry data and a global community of cartographers.
HERE can predict traffic 12 hours into the future
Using predictive analytics and cloud computing, HERE can help predict traffic up to 12 hours ahead of time. Its real-time traffic service covers 50 countries with up-to-the-minute information including current traffic conditions and incidents that could cause delays.
You can use HERE maps for free on your smartphone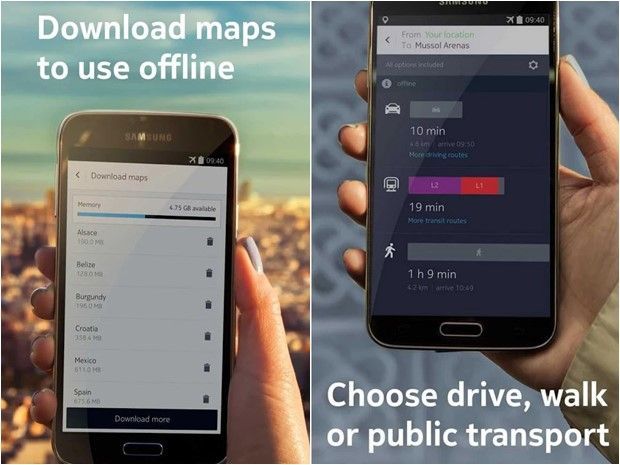 The HERE maps app is available to download for Android and iOS for free, with users able to download offline-accessible maps to their device to reduce mobile data use at home and abroad. It offers turn-by-turn navigation for 131 countries, real-time traffic information for 50 countries and public transport routing for 1.000 cities worldwide.
HERE maps public transport, too.
HERE doesn't just map roads, it also has up-to-the-minute information on public transport routes and timetables. It offers public transport information for 1000 cities across 44 countries globally.
---
---
---
---
Comments