Euro NCAP, ANCAP, ASEAN NCAP – What's The Difference?
Buying Guides Just in case you are wondering why the Mazda CX-3 has two different crash safety ratings – four stars from Euro NCAP and five stars from ANCAP, here are the reasons why.
While there is a general guideline for all Global NCAP-affiliated organisations around the world - which includes ASEAN NCAP, Latin NCAP, ANCAP, Euro NCAP, JNCAP, C-NCAP and IIHS – each NCAP organisation has the liberty to introduce additional requirements which best reflects the requirements of consumers from its region.
The Euro NCAP for example, is located in a relatively wealthier part of the world. As such, it needs to introduce stricter requirements to keep the bar for a five-star rating sufficiently high.
Conversely, it is unrealistic to expect ASEAN NCAP or Latin NCAP, which are from developing markets, or even small markets like Australia and New Zealand (ANCAP) to adopt a similarly tough stance as Euro NCAP as doing so will only result in prohibitively expensive cars, which defeats Global NCAP's purpose of making safer cars accessible to all.
Starting 2015, the requirements for a Euro NCAP five star rating have been made stricter with the introduction of a 50 km/h full width frontal collision test with a rigid barrier, using two smaller dummies representing smaller frame female occupants, seated front and behind.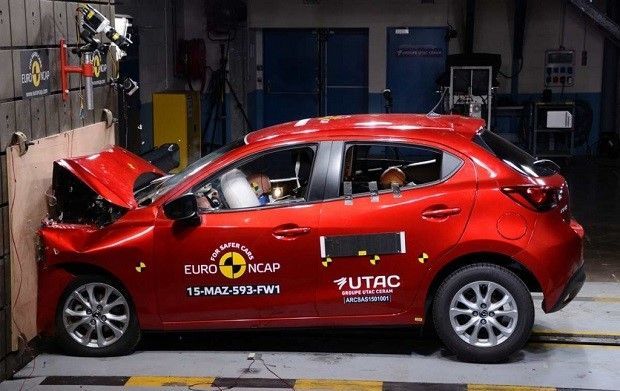 Above: Full width frontal collision test with a rigid barrier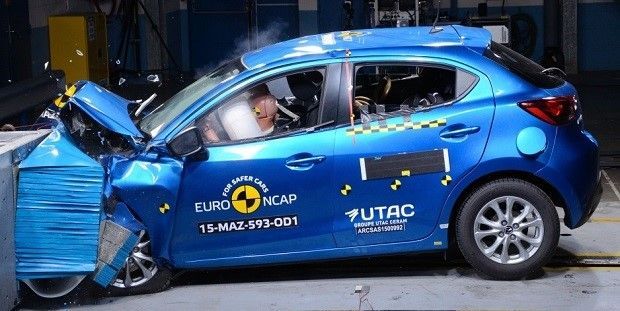 Above: 40 percent frontal offset test with an aluminium honeycomb deformable barrier.
In addition to that, the side barrier test now uses a larger, heavier impactor and the side pole test is made tougher by altering the angle of impact (from 90 degrees perpendicular to 15 degrees off perpendicular).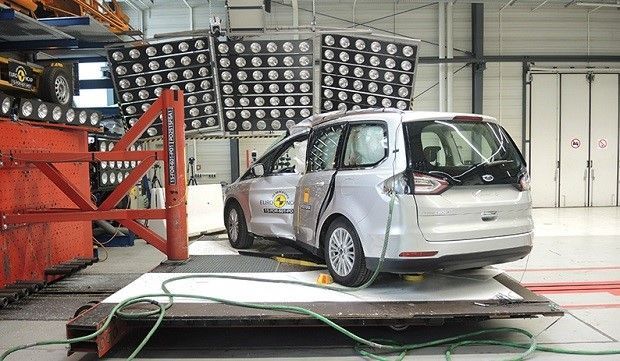 This is on top of the requirements introduced in 2014 that demands for advanced driver's assistance features – autonomous emergency braking and lane departure warning - to be fitted in at least 50 percent of the cars sold.
Generally, one should avoid comparing test results that are more than two years old, as the requirements are likely to have changed, and also to avoid comparing results from different NCAP organisations as the tests conducted are different.
So just because Proton Preve scored a five stars in ANCAP in 2013, it doesn't mean that it is better than the Mazda CX-3's four stars rating from Euro NCAP in 2015.
We should also point out that NCAP is a consumer rights organisation. NCAP bodies does not enforce any laws and the tests are voluntary. Manufacturers can either sponsor a car for testing (vehicle to be chosen at random by staffs from the test lab) or wait for an NCAP body to purchase a vehicle for testing. NCAP tests are not compulsory.
Overview of the tests
As you can see from the table below, different countries have different areas of emphasis.
The United States's IIHS for example, places very high importance on passive safety, which is rather odd, but that's how it is over in the US.
The particularly demanding small overlap front collision (25 percent frontal offset) test, done with a rigid barrier, is only conducted in the US. Even the side barrier impact test conducted by the IIHS is particularly severe, done with a mobile barrier that is 200 kg heavier than those used by Euro NCAP, 550 kg heavier than ANCAP.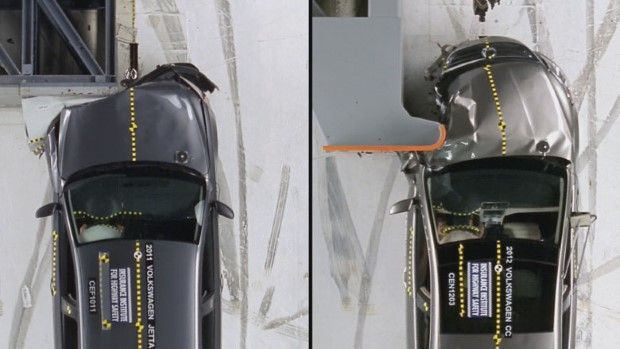 Above: IIHS's moderate overlap front test (50 percent offset) on the left and small overlap front test (25 percent overlap) on the right.
Across the Atlantic, European safety experts place less emphasis on passive safety, but more on pedestrian safety and active safety.
In between the two are ASEAN NCAP and ANCAP, which tries to strike a balance between promoting better safety for all while maintaining a realistic standard that will not force car makers to fit too many expensive safety features.
Car Maker's Own Internal Standards
At the same time, you have some car companies who go beyond what is required by government regulations or NCAP standards. If you had noticed from the table above, all NCAP tests involves only a single vehicle. Obviously this is not reflective how a lot of car crashes happen in the world.
The real world safety performance of the car can be very different if it is subjected to a collision against another vehicle of a different size and ride height, at a different angle.
In 2001, Honda setup the world's first indoor omni-directional crash test safety facility in Tochigi, Japan as part of its efforts to improve the real-world safety performance of its cars.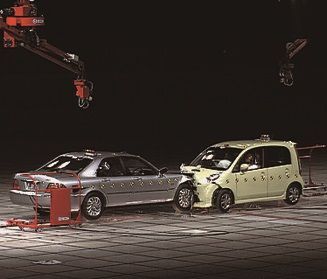 Honda's proprietary G-CON technology and ACE body structure for example, ensures that a small Honda Jazz will still fare relatively well in an accident with a much larger CR-V.
All Honda cars are designed to cope with a moving 50 km/h deformable barrier hitting the rear of the car, a test which is not done by any NCAP organisation.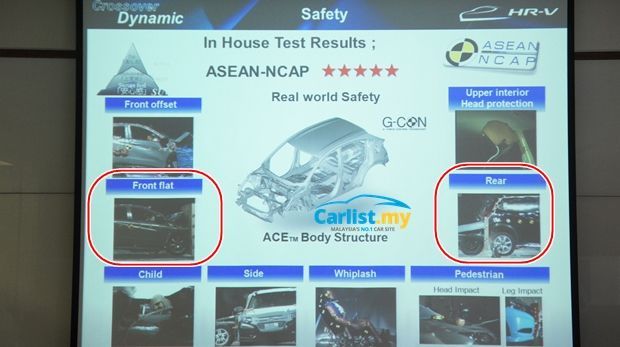 Euro NCAP only introduced the 50 km/h full width frontal collision test in 2015, but Honda has been doing it for the past 10 years already, at a higher 55 km/h speed too. It's the same with Honda's side impact tests, which are also done at 55 km/h, 5 km/h higher than NCAP requirements.
Another company that goes beyond NCAP ratings is Volvo. The all-new XC90 for example, has its seat frames specially engineered to absorb the impact resulting from a run-off road crash to minimise spinal injuries.
Run-off road crashes are very complex situations in which occupants often move in random directions – which puts high demands on the seatbelts, airbags, and seats.
There are not yet any regulatory or rating tests to examine a car's ability to handle run-off road crashes.
Prof. Lotta Jakobsson, Senior Technical Specialist Safety at Volvo Cars Safety Centre said, "Committing to safety is not about passing a test or getting a ranking. It is about finding out how and why crashes and injuries occur and then developing the technology to prevent them. To reach our Vision 2020, we have to cover all accident types that occur in real-life traffic."
Volvo has also been designing its cars to cope with a 25 percent offset frontal collision since 1992, twenty years it was required by IIHS. Internally, Volvo calls it SPOC (severe partial overlap collision) protection structure, which was first introduced in 1992 in the Volvo 850.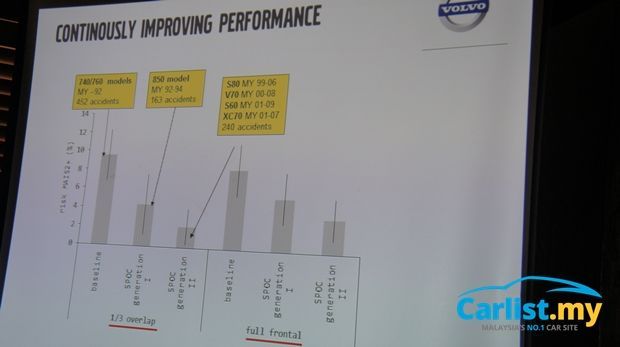 Thus, it is no surprise that when the IIHS introduced its small overlap front test in 2013, the Volvo XC90, a model that had already been in the US since 2003, aced it with the maximum Top Safety Pick+ award while many other newer, more expensive models performed poorly.
Even IIHS themselves were impressed, saying "While many vehicles have had to undergo significant structural changes to earn good ratings in the small overlap front collision, the XC90 has had the same basic platform since 2003."
It was the same with the S80, whose basic design of its body structure had not changed since 2007 but won the Top Safety Pick+ award anyway.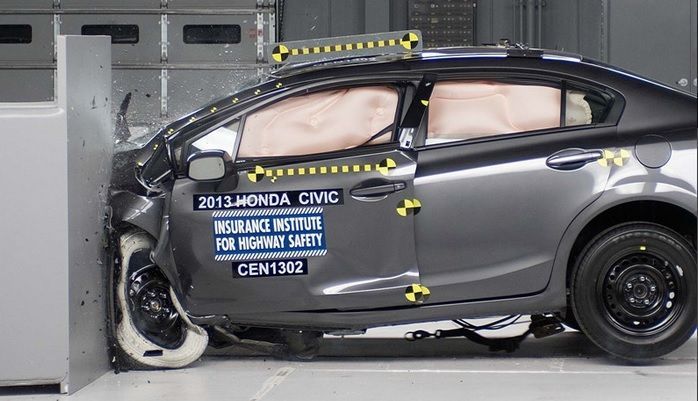 Honda also had the most models winning the Top Safety Pick+ in the first year IIHS introduced the small overlap front collision test.
In comparison, Toyota, BMW, and Volkswagen had to redesign some of their newer models to meet the new requirements.
In summary, NCAP ratings should only be used as a guide, and should not be compared directly against test results from different years or different NCAP organisations. When all else are equal, some cars, like Volvo and Honda models, feature better occupant protection designs that may not be immediately apparent in lab tests conducted by NCAP organisations.
---
---
---
Comments