Falken ZIEX ZE310R ECORUN - The Everyday Tyre For the Everyday Driver
Insights With the ZIEX ZE310R Ecorun tyres, Falken set out to bridge the gap between their Ultra High Performance (UHP) offering, the acclaimed AZENIS FK510, with more versatile attributes to meet the needs of everyday drivers.
---
Armed with the resources of a Top 5 global tyre manufacturer, Japanese-based parent company Sumitomo Rubber Industries spent years engineering and testing the bespoke compounds and unique tread patterns that would come to be featured on the ZIEX ZE310R Ecorun, which can be seen as a 'baby' version of the aforementioned UHP flagship, the FK510.
Without a doubt, the tyres on your car are one of the most important parts of any driving equation, yet so often overlooked. Some people are of the mind that "as long as it isn't totally worn down and not punctured, why worry about it?"
However, even when someone does take the time to consider what tyre is being put on their vehicle, it's easy to get sucked into purchasing a set that isn't the right fit for your car or driving style. Like most things in the automotive space, tyres come with their own set of trade-offs.
Typically, you might be dispensing with ride quality and low noise when fitting a high-performance tyre, gaining improved grip and steering response. Conversely, these attributes are less of a priority in comfort or touring-oriented tyres, which will yield a much calmer drive but might be out of its depth if driven aggressively.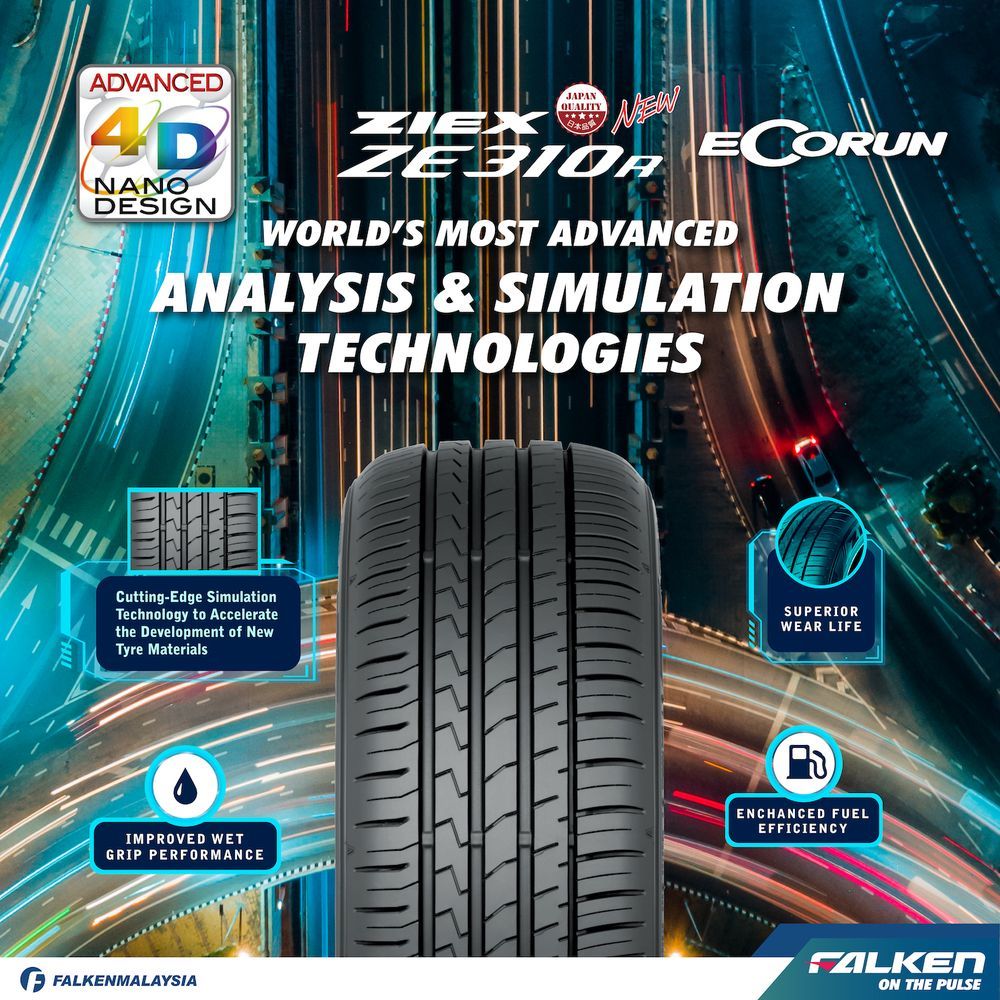 The Falken ZIEX ZE310R Ecorun intends to merge the two ends of that spectrum, offering outstanding levels of grip in both wet and dry conditions and confident steering feel for quick direction changes while also delivering on long wear life and premium levels of comfort and refinement.
It is through these qualities that the new ZE310R proves itself as an ideal choice to contend with Malaysia's challenging roads and weather conditions, ensuring you remain comfortably in control of your car at all times.
At a quick glance, the ZE310R Ecorun's overall design bears an obvious relation to the AZENIS FK510, Falken's UHP flagship tyre from which it also derives its name and plenty of performance-optimised innovations.
Like its bigger brother, ZIEX ZE310R Ecorun has won international acclaim from sites such as Autobild and Auto Motor und Sport. The ZIEX ZE310R also scored high marks in multiple high profile independent tyre performance group tests with experts praising its dry handling and wet weather ability. The tyre features multiple main grooves to quickly and effectively evacuate water and maintain a wide contact patch with the road surface even in very rainy weather.
There are a total of 3 grooves for tyres under 195mm width to maximise profile stiffness and tyre footprint while tyres above 205mm width receive 4 channels to enhance straight-line performance in the wet.
Speaking of measurements, there are 63 different sizes for the ZIEX ZE310R Ecorun that fit wheels between 15 and 18-inches in diameter, but at the moment local distributors have 37 sizes. They plan to bring the full selection of sizing in based on market demands. These include 40-65 series profiles with speed classes of H, V, and W (210km/h - 270km/h).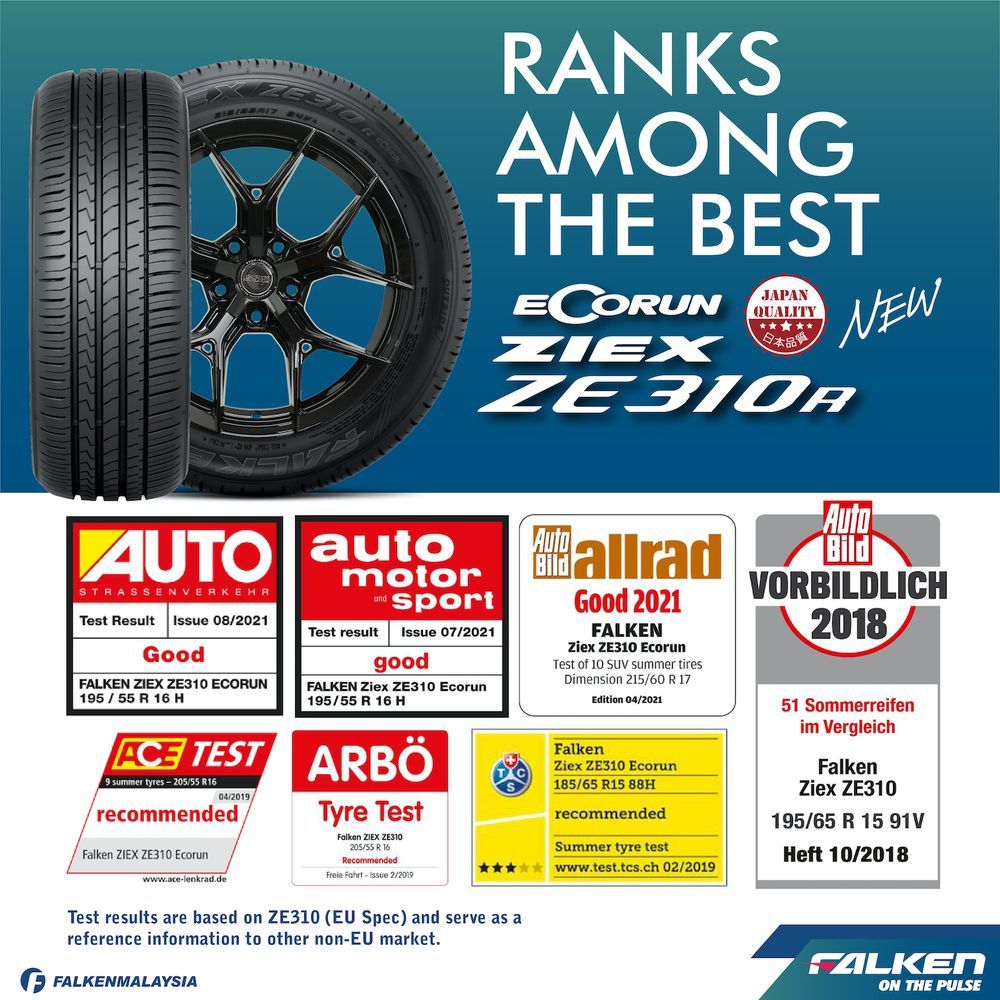 To meet these diverse objectives, Sumitomo Rubber's top engineers used advanced 4D Nano Design technology to develop a softer compound for the ZE310R that would yield UHP-like levels of traction and stability but with the long wear life and lower rolling resistance qualities typical of a harder compound material.
Another advance is its familiar Adaptive Constant Pressure (ACP) tread design. This works in conjunction with Falken's proprietary Tension Control Technology and new multi-function SBR (Styrene Butadiene Rubber) to absorb shock while providing enhanced handling capability via the rigid outside shoulder tread and bead area of the sidewall.
This pattern was specifically designed to quickly and intelligently adapt to different surface conditions and driving styles to maximise the surface area which is in contact with the road, expanding and contracting the compound spread for greater adhesion.
The result is high levels of directional stability, lower noise levels, and most importantly, an even level of wear throughout the life of the tyre.
No matter which car you own, the ZIEX ZE310R Ecorun is able to provide drivers with the long-lasting comfort, fuel efficiency, and refinement they need on a daily basis, but is always more than ready to reveal its impressive levels of traction, confident wet performance, and high-speed stability when you need it the most.
For Retail Branches, contact:
Glenmarie Tyre Mart: Hwa https://wasapp.me/+60176691219
Cheras Tyre Mart: James https://wasapp.me/+60197317988
FB: Falken Malaysia
IG: Falken Malaysia
---
---
---
---
Comments