Ferrari F12tdf Revealed – 799 Will be Built, Debuts Rear-Wheel Steering on a Ferrari
Auto News Ferrari has just taken the wraps off the hardcore brother to the F12berlinetta, the F12tdf. Its snappy collection of alphabets in its name comes from the Tour de France, an endurance road race which Ferrari dominated in the 1950s and 1960s, not that other bicycle race Lance Armstrong once dominated. If you think that the F12tdf looks like a touring car, that is because it sports plenty of racing know-how that is said to elevate its performance beyond that of the already fast F12berlinetta on which it is based.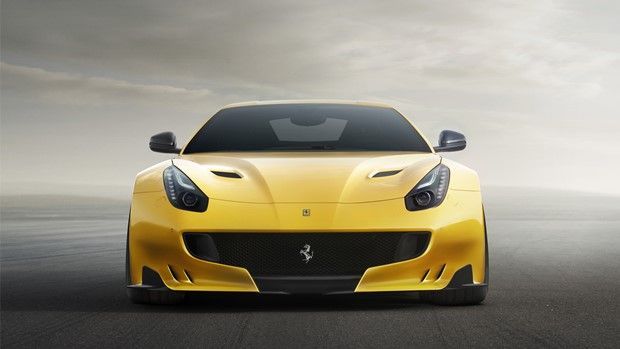 More Power, Less Weight, More Speed
Just as everybody is going turbocharging, Ferrari has stuck to their guns with the F12berlinetta's 6.3-litre naturally-aspirated V12 engine, with power turned up from 740hp to 780hp at 8,500rpm, with its red line now sitting at 8,900rpm, 200rpm higher. Torque on the other hand has been increased from 690Nm to 705Nm at 6,750rpm, with 80 per cent of which is ready from 2,500rpm.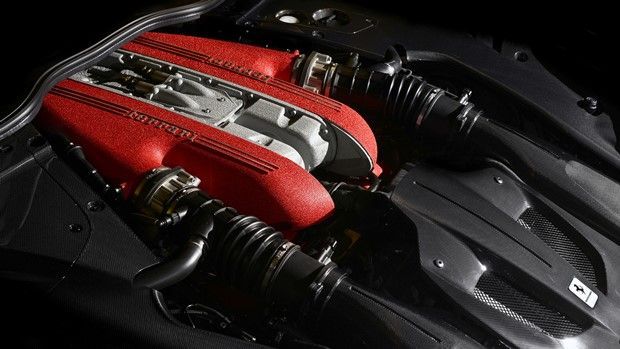 Its seven-speed F1 DCT dual-clutch gearbox on the other hand has its ratios shortened by six per cent, while upshifts are now 30 per cent faster, and downshifts speeds are quicker by 40 per cent.
Thanks to the abundant use of carbon-fibre inside and out, Ferrari says that they have managed to slash 110kg off the car's overall weight.
Put together the F12tdf is capable of going from 0 to 100km/h in 2.9 seconds, and 0 to 200km/h in 7.9 seconds (0.6 seconds quicker). According to Ferrari the F12tdf is able to lap Fiorano in 1 minute 21 seconds, which is 2 seconds quicker than Ferrari's claims on the F12berlinetta's lap time.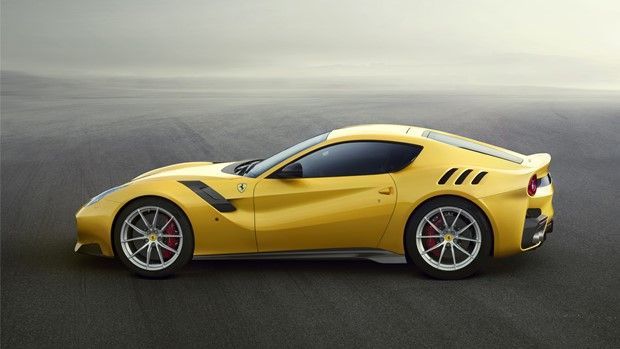 Better Dynamics Sharpening Electronics
If the F12berlinetta wasn't already fast on its heels, the F12tdf will be debuting Ferrari's active rear axle, which allows the rear wheels to pivot around the vertical axis. Using a model-based control logic developed entirely in-house by Ferrari, the rear axle steering automatically adjusts the rear wheels, to deliver the optimal steering angle from the steering wheel angle, speed of steering inputs, and vehicle speed. This feature enables the F12tdf to have a quicker response, better agility, and instantaneous turn-in.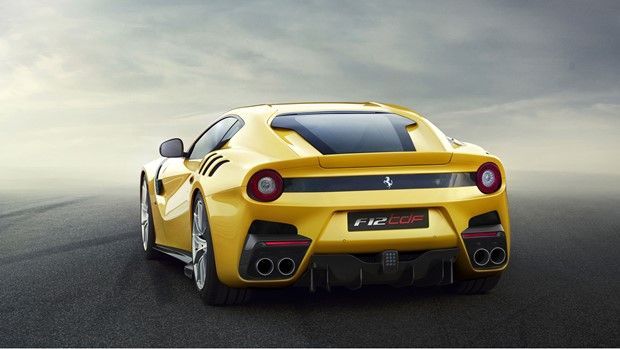 Improved Aerodynamics from Nose to Tail
According to Ferrari, the F12tdf's body boasts an aerodynamic efficiency figure of 1.6, which is almost double that of the F12berlinetta, and yet is able to achieve 230kg worth of downforce at 200km/h, which is an impressive 107kg more than before.
Ferrari says this was possible by going over the whole body and tweaking the car's aerodynamics to a minute detail. The front has a highly complex bumper design that contributes to downforce generation, with a radically scooped lower section and incorporates a splitter inspired from competition racing. The Aerobridge on the front wings have been redesigned to increase the effects of the air flow. Around the back of the front wheelarch there are small louvres which relieves air pressure build up on the inside, thereby increasing aerodynamic efficiency.
The rear spoiler is now 60mm longer and 30mm higher, while the rake of the rear screen has been increased to extend the surface area to increase rear downforce.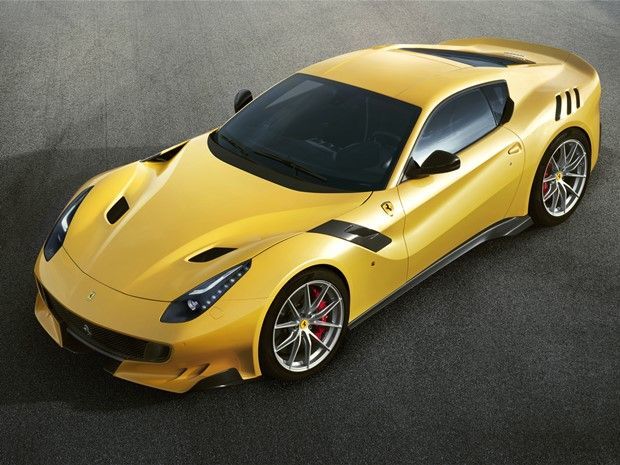 The three pairs of GT-racing derived strakes that lies over the rear wheelarch serves a purpose as well, as they have been adopted on the aerodynamic underbody and are responsible for 30 per cent of the increase in downforce over the F12berlinetta. The rear diffuser too has been redesigned with three active flaps to further boost the power of the vortexes of air flowing out from beneath.
Put its aerodynamic improvements, rear-axle steering, increased power, and weight reduction together, Ferrari says the F12tdf is capable of achieving 87 per cent higher cornering speeds than what the F12berlinetta was capable of, which is simply amazing any way you put it.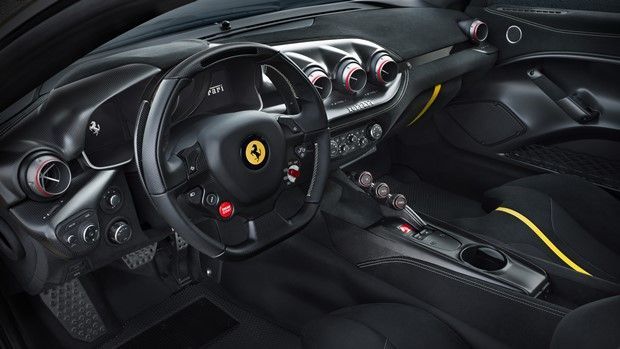 Limited Edition and Probably Sold Out
Like the 599GTO before it, the F12tdf will be made in a limited number, 799 to be precise. The F12tdf will be making its official debut at the Finali Mondiali at Mugello, Italy on November 8th.
For now Ferrari hasn't said anything about its availability, but considering their track record with limited edition models that are all sold-out before launch, don't be surprise to find out that all 799 examples of the F12tdf would have already found firm buyers by now.
---
---
---
---
Comments