Full Lockdown Jun 2021 - Sektor Apa Yang Buka, Sektor Mana Yang Tutup?
Auto News Menteri Kanan Keselamatan, Datuk Seri Ismail Sabri Yaakob dan Ketua Pengarah Kesihatan, Tan Sri Dr Noor Hisham menjelaskan "Total Lockdown" : sektor ekonomi dan perkhidmatan yang mana boleh dibuka bermula 1 Jun 2021.
---
Hanya 17 sektor yang dibenarkan buka selama total lockdown yang bakal bermula dari 1 Jun sehingga 14 Jun 2021. Sektor-sektor itu adalah:
Makanan dan minuman termasuk untuk haiwan
Penjagaan kesihatan dan perubatan termasuk penokok diet, penjagaan dan klinik haiwan serta perkhidmatan veterinar
Air
Tenaga
Keselamatan (security and safety), pertahanan, kecemasan, kebajikan dan bantuan kemanusiaan
Pengurusan sisa pepejal dan pembersihan awam dan pembetungan
Pengangkutan melalui darat, air atau udara
Perkhidmatan dan pengusahaan pelabuhan, limbungan dan lapangan terbang, termasuk pemunggahan, pengangkutan laiter, pengendalian kargo dan pemaliman, dan penyimpanan atau pemukalan komoditi
Komunikasi termasuk media, telekomunikasi dan internet, pos dan kurier serta penyiaran (bagi tujuan penyampaian maklumat, berita dan seumpamanya sahaja)
Perbankan, insuran, takaful dan pasaran modal
Kredit komuniti (pajak gadai sahaja)
E-dagang dan teknologi maklumat
Pengeluaran, penyulingan, penyimpanan, pembekalan serta pengagihan bahan api dan pelincir
Hotel dan penginapan (hanya bagi tujuan kuarantin, pengasingan, pekerjaan bagi perkhidmatan perlu dan bukan tujuan pelancongan)
Pembinaan, penyelenggaraan dan pembaikan kritikal
Perkhidmatan perhutanan (terhad kepada penguatkuasaan) dan hidupan liar
Logistik yang terhad kepada penyampaian perkhidmatan perlu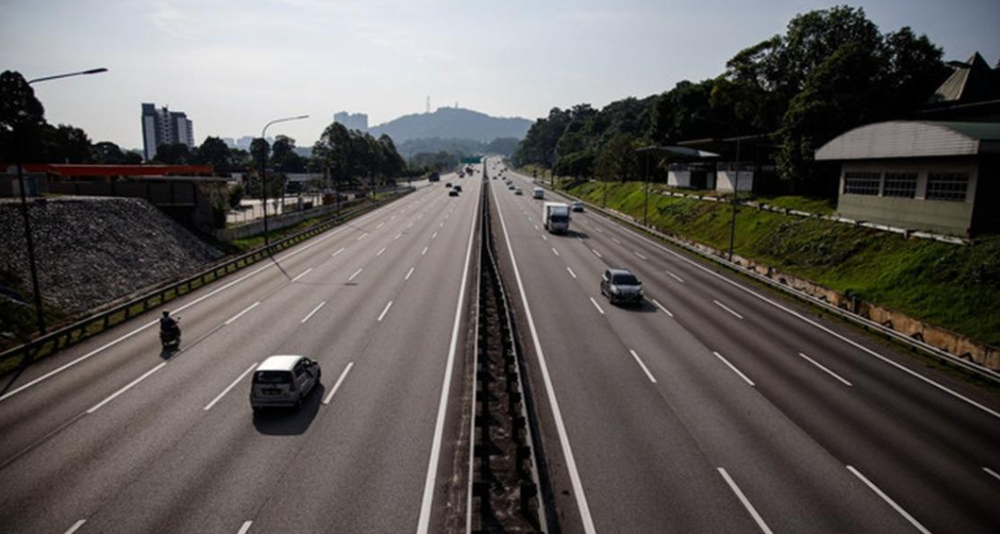 Tapi yang paling penting bagi kita sebagai rakyat:
Hanya 2 orang dibenarkan dari sebuah keluarga bagi keluar membeli barang keperluan atau di atas sebab medikal. Jarak perjalanan hanya 10km dari rumah anda masing-masing bermula 1 Jun.
Segala aktiviti sukan dan rekreasi yang tidak melibatkan sebarang sentuhan fizikal hanya dibenarkan dari pukul 7 pagi sehingga 8 malam.
Segala surat kebenaran merentas desa atau negeri bagi tujuan pekerjaan yang dikeluarkan MITI sebelum ini hanya sah sehingga 31 Mei sahaja.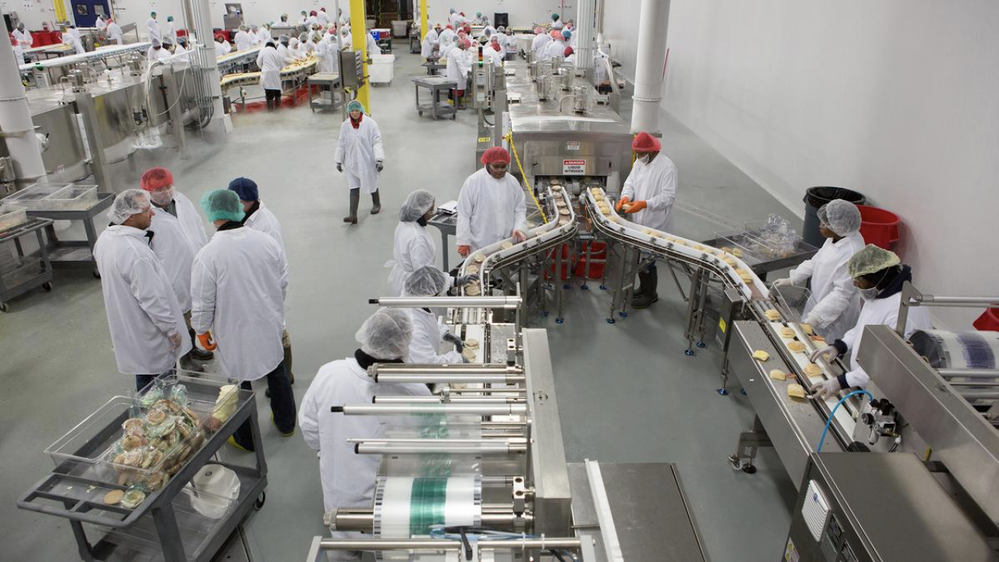 Bagi maklumat yang lebih terperinci mengenai sektor pekilangan mana yang dibenarkan beroperasi bermula 1 Jun nanti ianya seperti berikut, namun ia tertakluk kepada tenaga pekerja yang terhad.
Aero angkasa – komponen dan maintenance, repair dan overhaul.
Perkilangan makanan dan minuman.
Bahan pembungkusan dan percetakan – hanya berkaitan bahan makanan dan kesihatan.
Barang-barang penjagaan diri dan bahan pencuci.
Keluaran penjagaan kesihatan dan perubatan.
Eletrikal dan elektronik
Minyak dan gas – termasuk petrokimia dan produk petro kimia
Tesktil untuk PPE sahaja.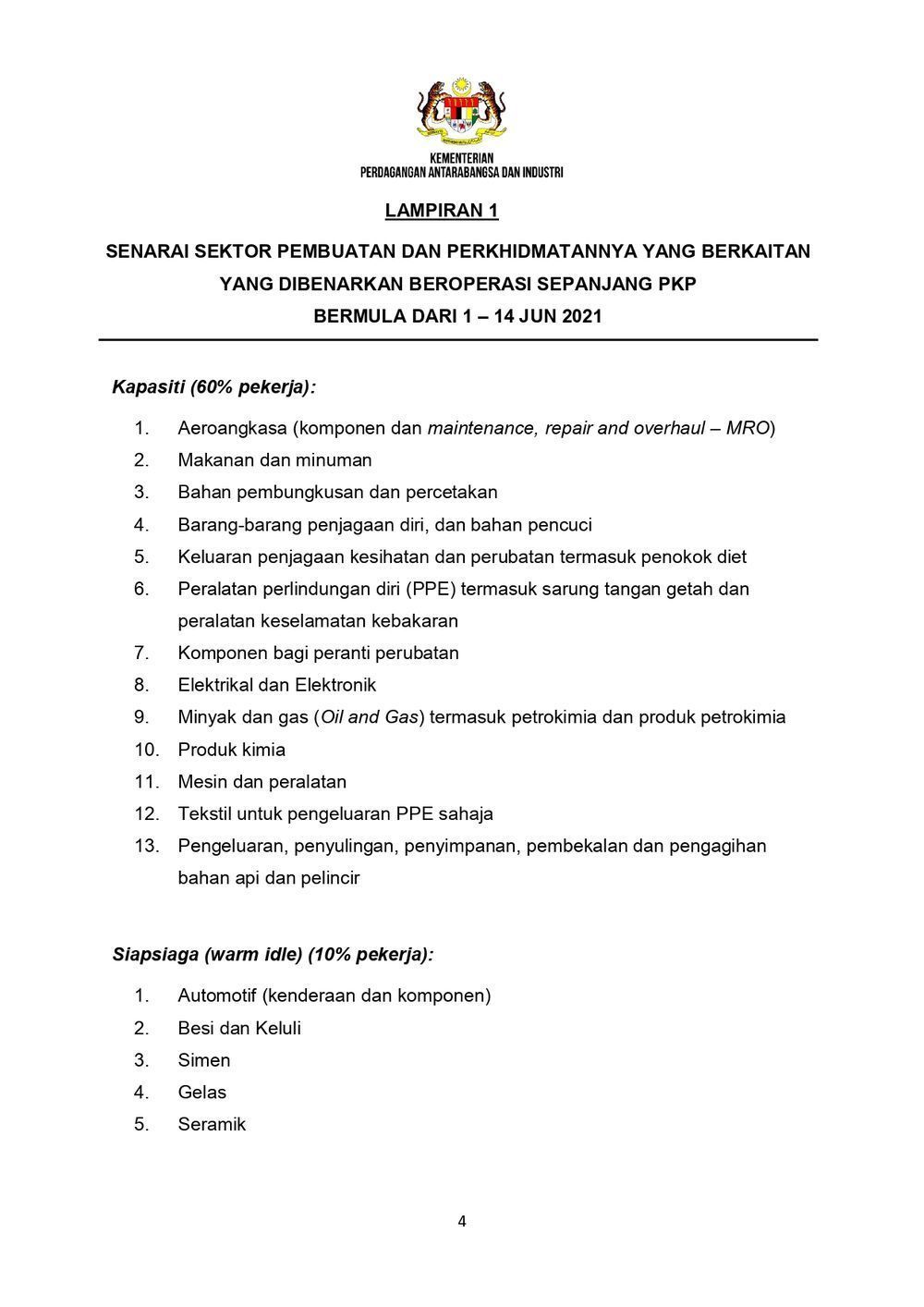 Kawalan pergerakan yang dibenarkan bagi rakyat:
Keluar untuk dapatkan barang keperluan harian dalam radius 10km dari kediaman
Keluar mendapatkan perkhidmatan jagaan kesihatan atau perubatan, saringan, keselamatan atau kecemasan dalam radius 10km
Urusan kes kematian dan bencana alam dibenarkan dengan kebenaran PDRM
Urusan vaksinasi
Penjawat awam bagi perkhidmatan perlu dengan disertai dokumen arahan rasmi dan pas pekerja
Bantuan bencana dan kemanusiaan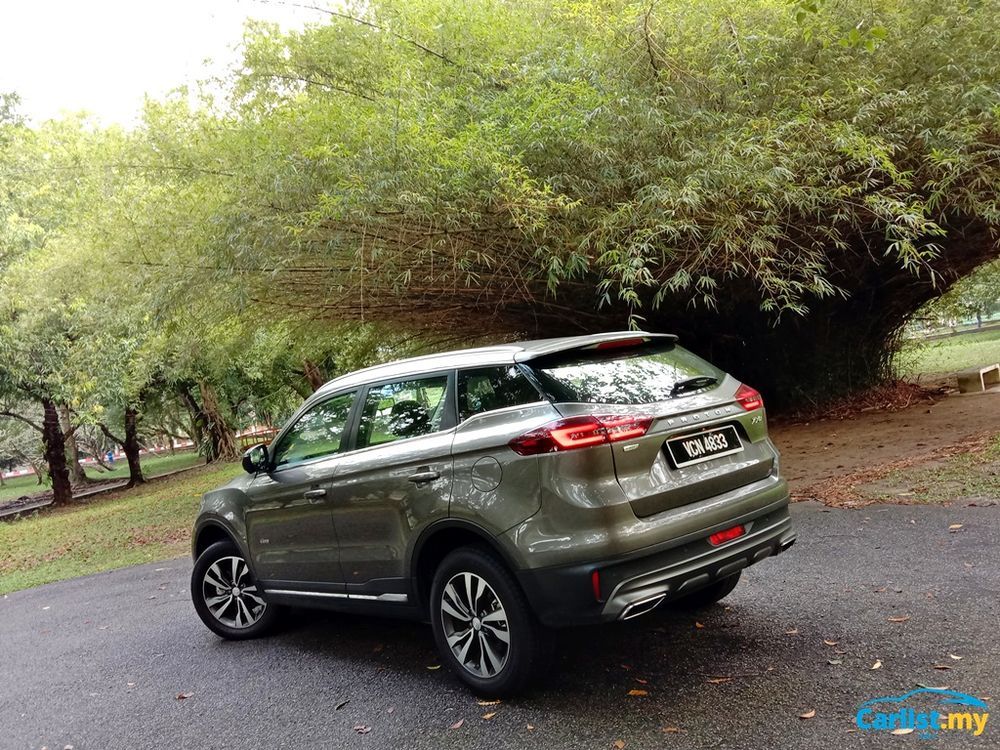 Had kenderaan dan pengangkutan:
2 orang termasuk pemandu dalam kenderaan persendirian bagi mendapatkan barang keperluan harian. (dalam radius 10km)
3 orang termasuk pesakit untuk mendapatkan perkhidmatan jagaan kesihatan, perubatan, keselamatan atau kecemasan
2 orang termasuk pemandu teksi dan e-hailing.
Kenderaan membawa pekerja (terhad kepada 50% kapasiti)
Pengangkutan awam (kapasiti 50%)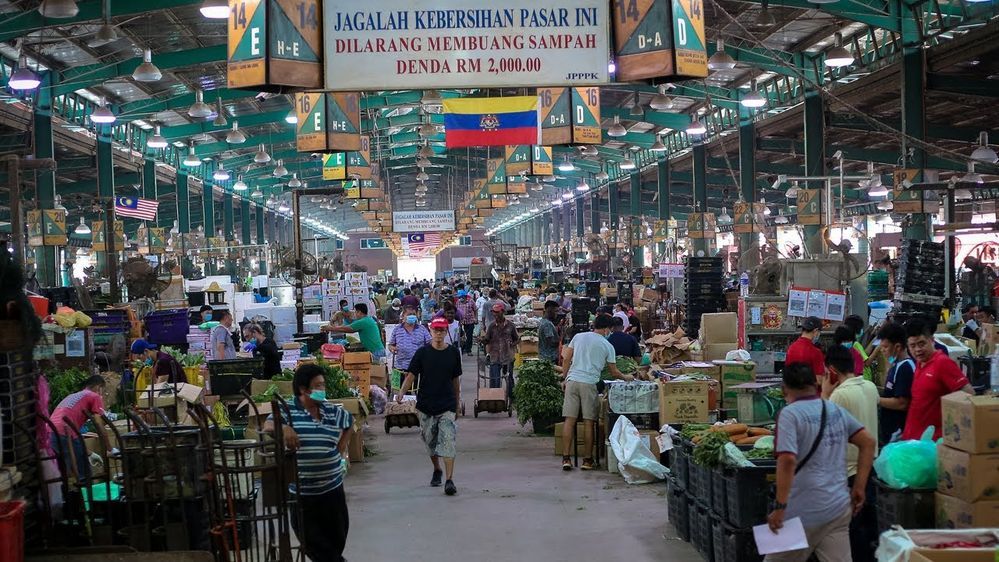 *Kredit foto: Berita Harian
Perniagaan dan perkhidmatan:
Pasar harian dan pasar awam dibenarkan
Pasar tani, pasar segar, pasar borong
Dobi
Bengkel kenderaan, penyelenggaraan dan alat ganti
Kedai cermin mata
Kedai runcit, kedai serbaneka dan hardware
Shopping mall ditutup kecuali bahagian ataupun kedai di dalam pasar raya besar yang menjual makanan, minuman dan keperluan asas
Terdapat 3 fasa total lockdown ini. Fasa satu bermula 1 Jun hingga 14 Jun nanti. Fasa kedua pula akan dilaksanan untuk tempoh empat minggu selepas fasa pertama berakhir. Fasa kedua nanti akan membenarkan pembukaan beberapa sektor ekonomi yang tidak melibatkan perhimpunan yang besar serta boleh mematuhi penjarakan fizikal. Fasa Ketiga pula seperti PKP seperti sekarang dimana aktiviti sosial tak dibenarkan dan hampir semua sektor ekonomi dibenarkan beroperasi tertakhluk pada SOP yang ketat serta kehadiran fizikal pekerja dihadkan.
Bagaimanapun, peralihan daripada satu fasa ke satu fasa yang lain tertahluk kepada penilaian risiko oleh KKM. Bergantung pada jumlah kes harian dan kapasiti hospital di seluruh negara.
For more latest car news, reviews, car buying guides and videos visit us at Carlist.my Auto News.
Check out all the best new & used car deals in Malaysia at Carlist.my.
Sell your car fast with the best offer? Visit us at CarlistBid.my.
Get the latest new car promotions at New Car website now.
---
---
---
---
Comments