Going Behind The Scenes – Understanding How The 2017 Honda BR-V Was Developed
Insights If you haven't already read our earlier posting about the launch of the all-new 2017 Honda BR-V, here's a recap of what the Honda BR-V is. With a starting price of RM85,800 and seven seats, the Honda BR-V is Honda's answer to the Toyota Avanza, Nissan Grand Livina and Toyota Rush.
The BR-V's trump card is its class-leading interior, especially leg room in the third-row. Our friend Albakry Salehuddin from Roda Pusing is not someone that you can describe as 'lean,' and here he is goofing around with his partner in the third row. The picture below says it all about how spacious the BR-V is inside, and the remaining space in the second row (already slide forward to create more leg room in the third row).
We have made a video demonstrating how our friend Bobby Ang from Evo, and our colleague Gokul, both of them weigh close to 100 kg, can sit behind comfortably. You can watch the video here.
It has decent levels of safety features too. The all-important Vehicle Stability Assist (VSA) is a standard feature across the BR-V range, which immediately makes it safer than an equivalent Toyota Avanza, Toyota Rush or Nissan Grand Livina.
The man behind the BR-V is Large Project Leader (Honda's title for Executive Chief Engineer) Mr. Atsushi Arisaka. For Arisaka-san, the BR-V is not just another project for him, but the realization of an ambition that he has always prodded Honda to pursue.
Not contended with sitting behind a desk to answer questions while his local Sales Project Leader brings us through the presentation slides, Arisaka-san often interjects the formal product presentation to walk towards his BR-V to demonstrate or point out to us what the slides were referring to. One gets the sense that his small frame just can't contain all the energy inside him and he is not someone who can sit still.
Arisaka-san has a deep understanding of the road conditions in Malaysia, and our driving habits, as he was the Deputy Large Project Leader for the second generation Honda City. He understands that Malaysians frequently travel long distance on our North-South Highway, and is aware of the speeds that we tend to drive, and why cabin quietness is something that Malaysians are particularly sensitive to compared to drivers in Thailand and Indonesia. It's also why the he specified several changes for the Malaysian-market BR-V (more on that later).
While working on the City project in the early 2000s, he strongly believed that the next hit product for this region is not the City, but an MPV, as that was the motorization path experienced by Japan several decades ago, as consumers shifted their preferences from sedans to MPVs/SUVs.
Here are some key nuggets of details that we've learned from our conversations with Arisaka-san.
1. It has a hybrid mix of Brio and Jazz parts
You might have read that the BR-V is based on the Indonesian/Thailand market Brio and Brio Amaze's platform, but that's only half correct. If you've seen what a Brio looks like, clearly it's quite far-fetched to say that a BR-V is an elongated Brio with seven seats.
The front-quarter of the BR-V is actually borrowed from a Honda Jazz. In fact, it shares the same engine bay as the Jazz, which explains why the mounting points can support the same engine and transmission combo as the Jazz.
It also explains why the BR-V shares the same dashboard and steering with the Jazz rather than the Brio. Even the side mirrors are shared with the Jazz/City.
The rear quarter of the platform is also totally different from a Brio/Brio Amaze, as the underpinnings have been completely redesigned to allow for a different mounting point for the rear suspension. This explains why the BR-V's rear looks so proportionate, and doesn't suffer from the disproportionate 'grafted-on rear' that something like a Toyota Calya/Daihatsu Sigra suffers from, both of which are also seven-seater derivatives of a similar size A-segment hatchback.
The BR-V's platform is so modular that to understand it, you will have to throw away conventional understanding of what defines a platform.
In the past, a platform typically revolves around fixed structures like the engine bulkhead and mounting points/frames for the suspension, A- and B-pillars. But these days, companies like Honda have progressed to a level that they can swap out even the engine bay and suspension mounting points, it's literally a very complicated, highly adaptable, very strong Lego structure.
2. It wasn't part of the Brio/Brio Amaze's initial product plans
While the Thailand/Indonesian-market Brio might have donated portions of its platform for the BR-V, a seven-seater crossover wasn't part of the Brio twins' initial plan.
"We didn't approach the project to create seven-seater from the Brio's platform. That's not how we think. We approached the project with the objective of creating a seven-seater and we looked around to find which platform suits our needs best, and it has to be a platform that has a high level of commonality in this region, and that was why we choose to use the Brio's platform," said Arisaka, who added that they didn't choose the Brio's platform simply because it's a low cost platform, but because it's the one that's most feasible and have the highest level of shared parts.
3. The fuel tank is designed to be flatter, while maintaining the same 42-litre capacity
The BR-V has a 42-litre fuel tank, similar capacity to the now discontinued Freed, which is also a seven-seater powered by a 1.5-litre engine. However compared to the Freed, the BR-V's fuel tank has been redesigned to be flatter and shaped in a way that doesn't get in the way of chassis rigidity improving designs incorporated within the BR-V's body.
However it doesn't use the Honda-patented centre tank layout used in the City/Jazz/HR-V. This is because the team wanted to introduce a stadium-like seating for all three rows of seats, and fitting a fuel tank in the centre will compromise the floor height on the second row. It was more logical to fit the fuel tank under the third row, which already had to have a higher hip point than the second row.
4. Malaysian market models have been upgraded to deliver a quieter, more comfortable ride
The Malaysian-market BR-V is the only one in the ASEAN to receive LED daytime running lights. As mentioned earlier, Arisaka understands that Malaysian drivers drive tend to further, at higher speeds on longer highways than drivers from our neighbouring countries, and are more sensitive to noise.
The cost of our BR-V is slightly higher than the ones produced in Indonesia, as our locally assembled BR-V has received several upgrades to deliver a quieter, more comfortable ride. The pedals for example, have been improved so it transmits less vibration to the driver's feet. Noise insulation materials have been improved while the factory-fitted tyres selected are exclusive for Malaysia (Bridgestone Ecopia EP150).
To improve ride comfort and handling, the dampers have also been retuned to better suit our local highways.
5. The rear air-conditioner blower was a particularly difficult engineering challenge
How to best route the piping for the rear air-conditioner was quite a challenge to Arisaka's team. This is because the unit isn't just a blower that simply sucks in cold air from the front and divert them to the rear, but is fitted with an evaporator inside for better cooling performance. How and where the pipes feeding the evaporator are installed can have a huge effect on interior space. The pipe runs from the front passenger side, under the seat before rising up inside the passenger-side centre pillar.
6. The roof rails are not just for show
They might look like gimmicky accessories but the BR-V's roof rails are functional and can carry up to 30 kg of load. At the moment, Honda doesn't sell any rooftop cargo carriers but there are plans to include them as optional accessories.
Arisaka was also keen to highlight that the seemingly simple aluminum roof rail was actually every complicated to produce. His original design had a more complicated curvature but there was no supplier in the ASEAN region that had the technology to extrude aluminum in a way that can realise Arisaka's design. The final part seen in the production BR-V has been significantly simplified to make it feasible to production by a supplier in Thailand.
7. It is not an ASEAN region-only car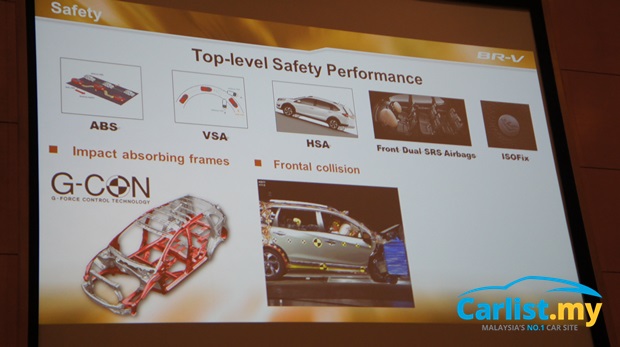 The BR-V is the first Honda product developed by Honda R&D Asia Pacific (HRAP) but Arisaka's team didn't develop a low-cost vehicle that can only be sold in developing markets. The BR-V meets all the necessary European safety regulations (some of which are already adopted by Malaysia) and it can be sold in any country in any region. While the vehicle can meet the necessary safety regulations, the decision to sell the BR-V in other markets is driven by other factors such market demand for such type of vehicles.
Japan for example, only likes MPVs with sliding doors while Europe and USA have little demand for such type of seven seaters as they prefer either wagons or larger CR-V class SUVs or Odyssey-class MPVs.
Like all Honda models, the BR-V includes several more additional crash protection structure that's not yet required by any NCAP body or government regulations. It has passed Honda's internal G-CON standards, which also tests for rear-impact and multi-vehicle collision against larger cars like the CR-V. Both these tests are not conducted by NCAP or any government body.
Arisaka is also keen to highlight that although this is HRAP's first product, it has already attained a 5-star ASEAN NCAP rating.
Apart from Malaysia, the BR-V is also sold in Thailand, Indonesia, Philippines and India.
More on the Honda BR-V:
2017 All-New Honda BR-V Launched In Malaysia – From RM85,800
---
---
---
---
Comments