Honda Reaffirms Independence As Rest Of Japan Forms Alliances And Capital Tie-ups
Auto News Honda Motor Co., Ltd. will remain fervent in guarding its independence even as the rest of Japan's automotive industry consolidates and organize itself along multi-party alliances and capital tie-ups.
Speaking at the sidelines of the recently concluded 2017 Tokyo Motor Show. President and CEO Takahiro Hachigo has reiterated that Honda will not form any capital partnerships or equity tie-ups with other car makers, but will remain open to discuss any project specific partnerships with third parties.
"In regards with collaborations with other car manufacturers, Honda does not have any intention to enter into any equity or capital collaboration with others. However if we see that we can build a win-win relationship in regards to our technology and products, we are willing to enter into such partnerships," said Hachigo, who also holds the title of Representative Director.
Hachigo highlighted the company's partnership with General Motors to produce hydrogen fuel cell stacks used in by the Honda Clarity FCV as one example of a win-win, project specific partnership that Honda is comfortable in entering into.
Apart from GM, Honda also partnerships with Hitachi Automotive Systems (manufacturing of electric motors for electric vehicles), Yamaha (scooters, Japan only), Grab (rider safety education for GrabBike), Waymo (self-driving cars), Neusoft (electric vehicles for China).
Out of the 11 automobile manufacturers in Japan, only two are independent from domestic/foreign giants like Toyota and Renault Nissan Alliance. The other remaining small and independent company is Suzuki.
Mitsubishi Motors was the most recent Japanese automobile manufacturer to give up its independence.
The tri-diamond brand famed for its prowess in 4WD technology is now part of the Renault-Nissan Alliance. The sale was the result of a particularly damaging revelation that Mitsubishi had falsified fuel economy figures for its Japanese domestic passenger cars, submitting falsified homologation data to the Japanese government. Some of the affected Japanese market Mitsubishi vehicles include models supplied to Nissan under a contract assembly agreement.
Shortly before the reorganization of Mitsubishi Motors, Mazda fell into Toyota's sphere of influence. Toyota now owns 5 percent of Mazda, bringing to pride of Hiroshima into the ranks of Subaru, Isuzu and Hino, as well as Toyota's wholly owned subsidiary Daihatsu.
Mitsubishi Fuso (no longer related to Mitsubishi Motors) has been part of Daimler since 2003 while UD Trucks (Nissan Diesel, unrelated to Nissan Motor) has been with Volvo (not related to Volvo Car) since 2006.
Interestingly, both Honda and Suzuki, the last two independent Japanese automakers share one common trait – they both make cars, bikes and marine engines.
The unique nature of Honda's organization meant that it's quite difficult for Honda to integrate itself with other companies, even amongst if the other party is Japanese.
For example, Honda is the only car maker whose R&D division operates semi-autonomously from the headquarters. Honda's reasoning is that the separation is crucial to protect its engineers from being bogged down by short-term concerns like sales and revenue.
Honda's R&D operations cover a uniquely wide area of interest. Beyond cars and bikes, the company also makes power generators, marine engines and event jet airplanes, as well as robotics.
Honda is the only company in the world that makes engines for land, water and air.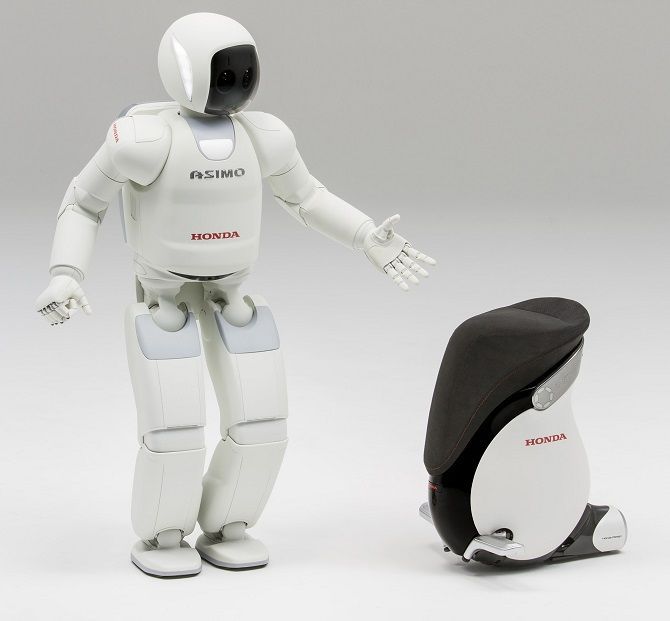 The semi-autonomy of its R&D engineers also explains why Honda is the only company that makes things like humanoid robots (Asimo) and robotic walking aids, something which clearly has no demand today, but what many don't realise is that the expertise gained in developing the these robots also allows Honda to design and build its own machine tools used in its own manufacturing plants.
A little known division called Honda Engineering Co., Ltd. (referred to internally at Honda as EG) designs and builds most of the machine tools and robots required by Honda plants worldwide.
This independence from external suppliers allow Honda greater flexibility and control over its manufacturing operations and it's also one of the reasons why Honda's manufacturing plants are some of the most flexible in the world in terms of model mix and capacity.
At the recent Tokyo Motor Show, Honda also showcased some really wacky non-automotive concepts. At a glance, they appear frivolous but the underlying technology within these concepts is crucial in developing transportation solutions for the future - whether it's a private car or a an electric pod or whatever that citizens of the future prefer.
It is against this backdrop of a uniquely different corporate structure, even by Japanese standards, and a very different way of thinking that makes it difficult for Honda to form deep capital tie-ups with third parties.
---
---
---
---
Comments