Honda Shows First Sketch Of BR-V Prototype: New CUV To Debut At Indo Auto Show
Auto News Honda Thailand has just unveiled a series of sketches that preview an all-new prototype model headed for the Indonesia International Auto Show 2015. This is the Honda BR-V, Honda's coming crossover utility vehicle (CUV).
You've seen the CR-V (Comfortable Runabout Vehicle) and the HR-V (High Rider Vehicle), and now, Honda is working on a global unveil of a model no one probably saw coming: the Bold Runabout Vehicle (BR-V).
Debut for its Indo auto show debut come the 20th of August in Tangerang, Indonesia, the BR-V is a product of Honda R&D Asia Pacific Co., LTD (HRAP) in Thailand, and is queued for the Asian market. The BR-V is also the third model developed by HRAP.
But where would it fit? Well, it's hard to say for sure with no specifics shared just yet, but we imagine somewhere between the Honda HR-V compact SUV and the larger Honda CR-V for size - other reports suggest a Mobilio-based (MPV) model is likely.
What details we do have to spare however, surround the availability of a 1.5-litre petrol engine, which will be paired with "two advanced transmissions."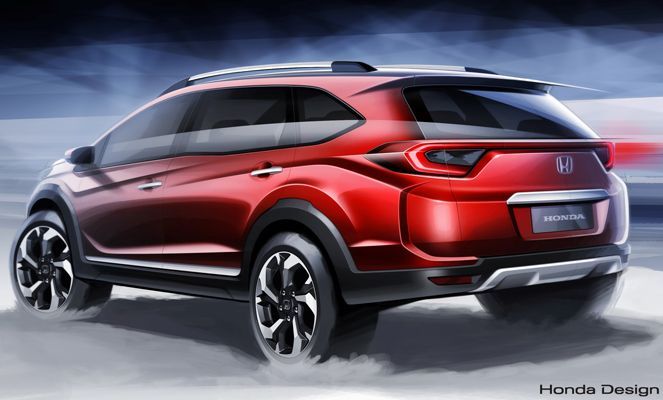 Seating in the BR-V will be a three-row arrangement, while the car itself will feature roof rails up top, and high ground clearance under. Makes sense then, that this BR-V is clearly designed with toughening skid plates at the front and rear as well.
The front-end of the vehicle is cut just like the latest crop of Honda models (CR-V, Mobilio), similarly so around the sides, all a part of styling traits that we imagine will be toned down somewhat once the road-going production model comes around – still, nice to look at where Honda's going with this.
We've known for some time now that Honda is exploring the possibility of turning its CR-V into a full-on seven-seater just like its key rivals have, but the idea of more weight with a smaller 1.5-litre engine rules out that possibility.
We'll have to wait a little longer to find out just what this could be, then. Stay tuned to Carlist.my.
---
---
---
---
Comments