How To Protect The Interior Of You Car From The Malaysian Heat
Insights We list down how you can protect the interior of your car from the heat in Malaysia.
---
To some, the car's exterior will always be the number one priority when it comes to protecting your vehicle against the heat and sun. Still, the interior should not be forgotten because you spend a lot of time in your car after all.
With the onset of the Southwest Monsoon, we are expected to hit high temperatures daily. If you've already waxed up your car in a measure to protect it against the sun's harmful UV rays, then perhaps it's time to shift your attention to your car's interior.
Caring for your interior is very important if you want a cabin that is both comfortable and will last the test of time. The interior can really affect how you feel about your car. Your cabin can either feel brand new or old and tired, depending on how much care you give it. One of the biggest enemies of a good interior is the heat and UV rays from the sun.
These two alone can melt parts of your interior as well as make them dry and brittle. Luckily, there are ways to combat this, so let's look at how to care for your interior during this hot spell.


Take it easy on the AC at the beginning
The interior, especially darker interiors, heats up quickly in the sun. Usually, when someone gets into a hot car, they immediately turn on the air conditioning and put it on full blast. However, this is not the right way to do things.
The contrast in temperature harms human health and is also very dangerous for glass, plastic, and leather upholstery. Therefore, it is best not to turn on the air conditioner as soon as you start the car, but instead ventilate the cabin first by lowering the windows. This will cool the cabin down and bring fresh air to the cabin. Drive or wait for a few minutes and then turn on the air conditioning.


Keep things clean
The heat tends to melt contaminants into your interior pieces, leaving a lasting mark as well as unwanted smells. This is why it is essential for you always to keep your interior clean.
Wipe the dashboard, steering wheel, gearshift, and other appropriate areas. For vinyl and plastic surfaces, use a vinyl cleaner with a soft cloth to remove dust and dirt. Many manufacturers of car care products also sell ready-to-use tissues to clean dirt off all types of surfaces.
You then clean your carpets with water, mild soap, and a scrub brush. Rinse with water, and then hang it dry while you finish cleaning the whole car. If your seat is laced with leather, use a high-quality leather cleaner and cloth to clean it. You should also apply a skin conditioner to the surface of your leather several times a year to protect the skin from impact and cracking.


Apply protection
Once all interior surfaces have been cleaned and have dried, use a suitable surface and interior protector product to give them some moisture, but most importantly, create a protective layer on top of the characters.
Just spray the protective liquid onto the surfaces and then wipe the surface until it looks evenly wet. Many manufacturers of car care products also sell ready-made wipes that make protection quick and easy.
Use a freshener spray on mats and floor rugs to help leave the car smelling fresh and clean. Add indoor air freshener products according to the scent of your choice to ensure the car smells fresh and free from unwanted odours. Put all the floor mats back in the car when you are done.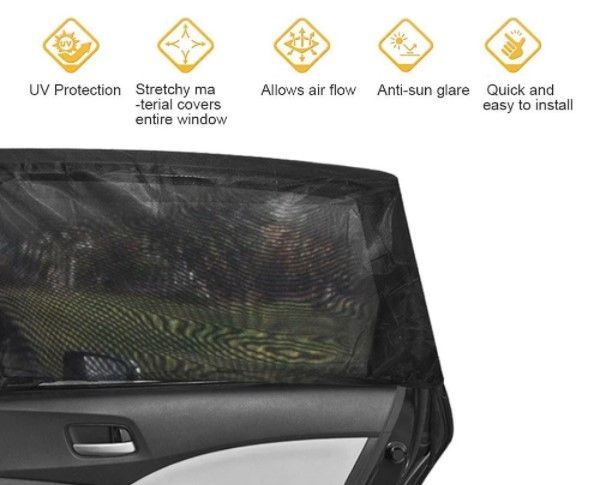 Use sunshades at the windows
As we mentioned before, sunshades can be one of the most cost-effective ways to combat the heat and unwanted UV rays. Once you have followed all the steps above, it's time to cover up your windows with some sunshades to protect your interior from harmful UV rays.
You can buy all sorts of sunshades from e-commerce stores such as Lazada and Shopee. Buy some temporary sticky ones for the door windows, and sunshades for the front and rear glass. These sunshades will ensure that UV rays have little chance of entering the cabin where it will damage your interior.


Reflective car cover
If window sunshades are not your thing, you could always purchase a good quality reflective car cover, which will help bounce off those harmful UVs back into the sky.
A reflective car cover is designed for outdoor use to protect your vehicle from sunlight, making it the ideal choice for car owners who park outside. The reflective car cover will shield your car from sunlight to prevent harmful UV rays from destroying your paint, interior and upholstery. It will also significantly reduce the internal temperature of your car, making it a terrific option for those who don't have access to covered parking.
Be sure to get a good quality reflective car cover, as the cheap ones might just melt and harm your car's paint job as well as amplify the heat under the cover.
So there you have it, the top tips on how to keep your interior looking cool as well as feeling it. Do you have any other suggestions or methods? We would like to hear them.
---
---
---
Related News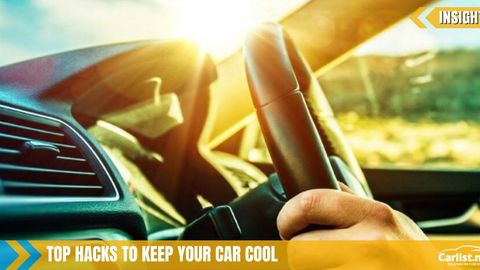 Insights
Five hacks to keep your car cool in this Malaysian heat!Malaysia's Meteorological Department has just announced that we are expected to experience ...
---
Comments