iCarData: The Best Time To Buy/Sell A 2015 Perodua Myvi "Lagi Best" 1.5L Advance
Insights The Perodua Myvi is to the Malaysian motoring scene, what Nasi Lemak and durians are to our Malaysian pallet, and we love it as much as we love our food.
---
With over a million units sold across three generations – it's safe to say, there's nothing stopping Perodua's superstar, even in the face of newer competition from the likes of the Proton Iriz and Kia Picanto.
The Myvi's blend of cutesy style, steadfast reliability, great fuel economy, and practical packaging makes it a winner for a huge portion of first-time car buyers, return buyers, growing families, and even second car buyers.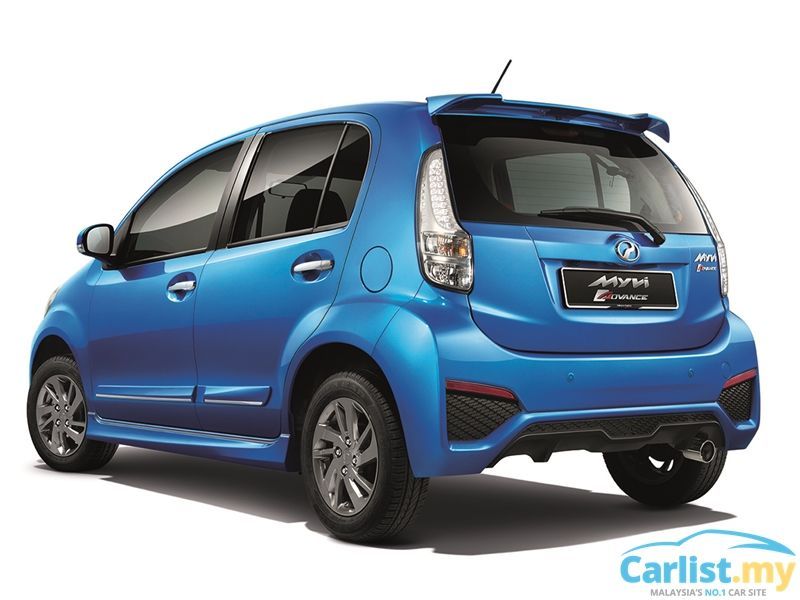 With steady improvements across the years in safety, equipment, build quality, and powertrains – the Myvi has always done enough to appeal to a wide audience and stay ahead of the curve. Its popularity, availability and ease of maintenance, in turn, makes it a popular option for used car buyers, who want maximum value and a dependable ownership experience.
Now in its third-generation, we take a closer look at how the facelifted second-generation Perodua Myvi – colloquially known as the Perodua Myvi "Lagi Best" (taking its cue from Perodua's launch slogan) – has fared in terms of value retention over the years.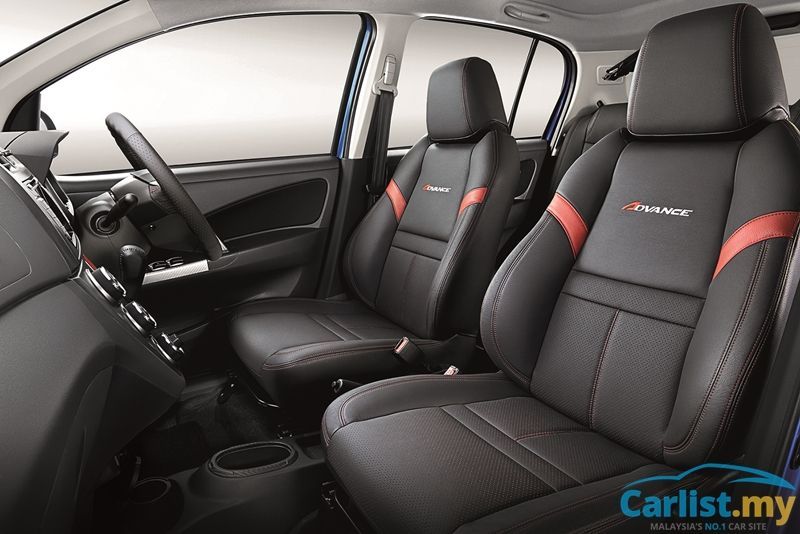 So we know its good, but just how good is the resale value of the Myvi?
For this we will be using the resources of our in-house developed iCarData. It collates prices from thousands of used vehicle deals that have been listed on Carlist.my through its one of a kind algorithm-based program that helps both buyers and sellers make prudent financial decisions with regard to vehicle ownership.
Check out some of our other iCarData features on popular models such as the Toyota Vios and Honda City.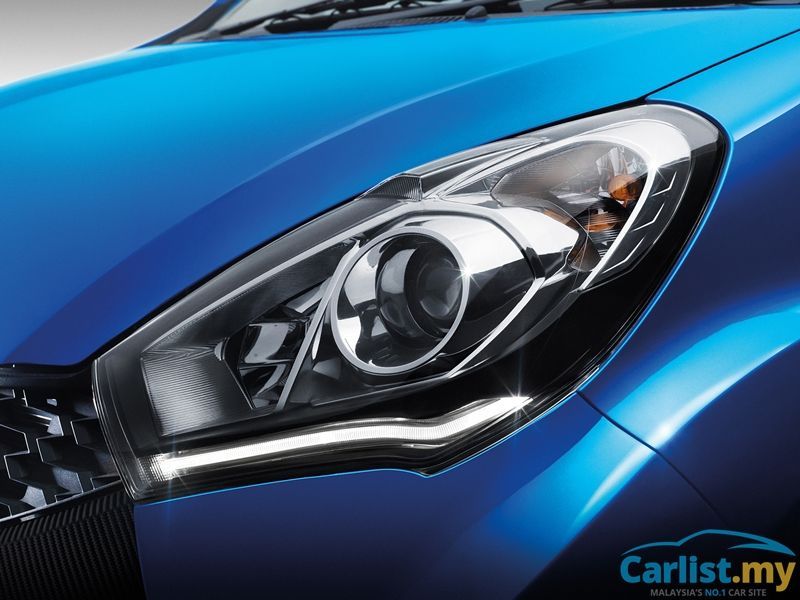 Overview
Launched in 2015, the facelifted second-generation Myvi brought about a number of enhancements to the already successful second-generation model (codenamed M600) first launched in 2011.
Along with the rebranding of the variant list – with the 1.3L 'G' and 'X', and 1.5L 'SE' and 'Advance' (which replaced the Extreme) – Perodua also introduced newer colour choices, and crucially, a bump in safety features courtesy of better structural strength at the front.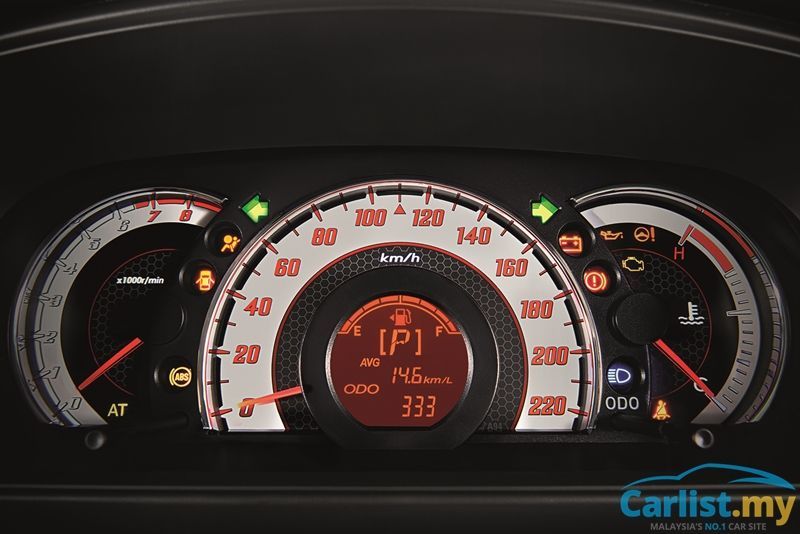 Newer features were also added like the two-step unlock feature, multi-information display, and the affectionately called Tapau hooks on the rear side of the front seats for added convenience.
As for the drivetrains, they remained unchanged with the proven (89 hp/117 Nm) K3-VE 1.3-litre and (102 hp/ 136 Nm) 3SZ-VE 1.5-litre four-cylinder mills being retained. Transmission options included a 5-speed manual and an updated Akashi Kikai 4E-AT, four-speed automatic, depending on variant.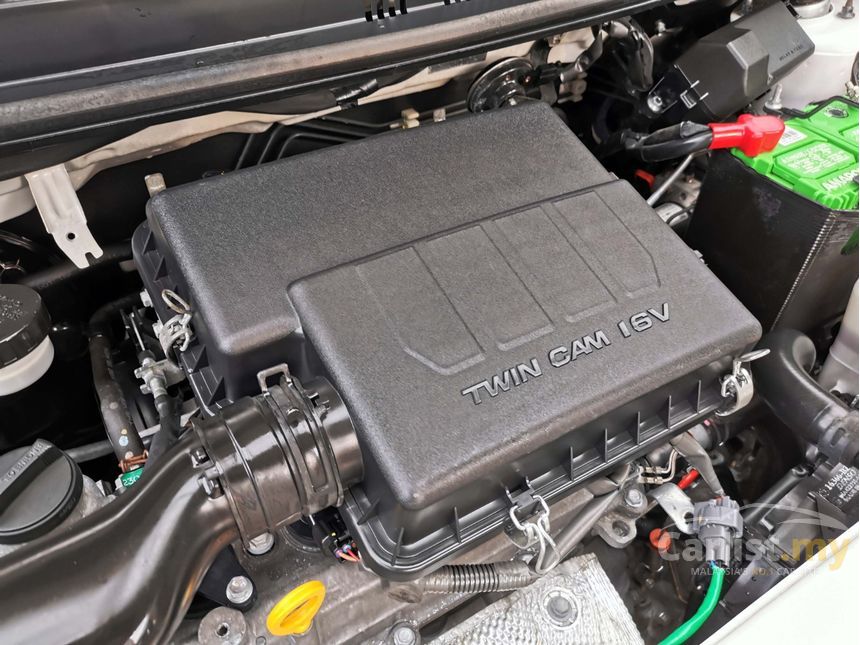 Here's a concise rundown of the second-generation Myvi's presence here in Malaysia:
June 2011: Second-generation Myvi launched, 6 variants introduced with EPS steering and dual-airbags standard across the range. Total 10k orders in one week prior to launch.
Sept 2011: Myvi 1.5L introduced, four variants across two trim levels, SE and Extreme. Priced between RM51k for 1.5L manual SE (solid) and RM62k for the Extreme automatic.
March 2013: New 'S' trim level introduced for Myvi. 'S' stands for special, which adds value for money features at no added costs; Myvi S gets 1.5L SE styling features for less.
April 2014: Myvi XT launched, new Lime Green highlight colour. RM1.6k in additional features for the same prices as the previous base models; between RM42k and RM46k. Updated Myvi Extreme launched alongside.
January 2015: Facelifted Myvi launched. Prices between RM42k for the Myvi 1.3L (G, MT, Solid colour) up to RM59k 1.5L (Advance, automatic)
The model we review is the top-spec Myvi 1.5L Advance, which despite its relatively high price, of nearly RM18k more than the cheapest Myvi variant, proved very popular amongst buyers who wanted premium features at lower prices than what competitors were offering.
In addition to the impressive equipment list already supplied with the SE variant, the Advance added to that leather (semi-bucket) seats, leather-wrapped steering wheel and gear knob, PVC coil mats and a touchscreen multimedia system with navigation and reverse camera. That along with cool colours and sporty design features sealed its place at the top of the Myvi spec list.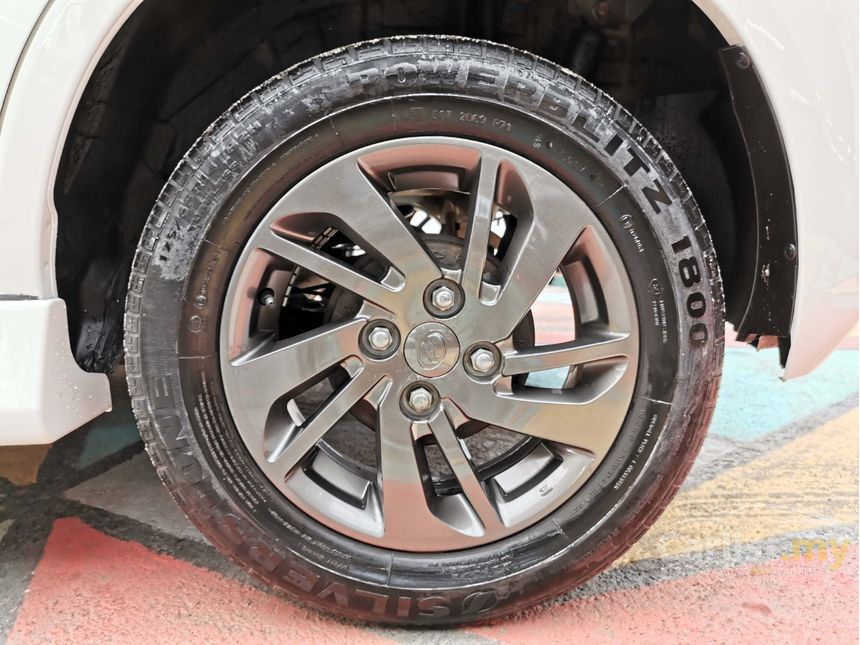 Specifications of the 2015 (M600) Perodua Myvi 1.5L Advance (AT):
Engine: 1.5-litre (3SZ-VE) naturally-aspirated, inline-four, Petrol
Power: 102 hp @ 6,000 rpm
Torque: 136 Nm @ 4,400 rpm
Transmission: 4-speed automatic, front-wheel drive
Safety: Two airbags, ABS with EBD, ISOFIX
Origin: Locally Assembled from Rawang, Selangor.
Price: RM58,500 – March 2013 launch (OTR with insurance)
We have taken into account the following to keep our numbers accurate and representative:
Vehicle variant: (M600) Perodua Myvi 1.5L Advance (AT), metallic paint, delivered between January and June 2015.
Depreciation is calculated using the original list price.
Depreciation percentage does not take into account special/ seasonal offers or rebates on the original selling price.
Depreciation for other variants may differ, in particular the manual transmission variants.
Based on iCarData, here is the summarized data for depreciation:

And the graphical analysis below: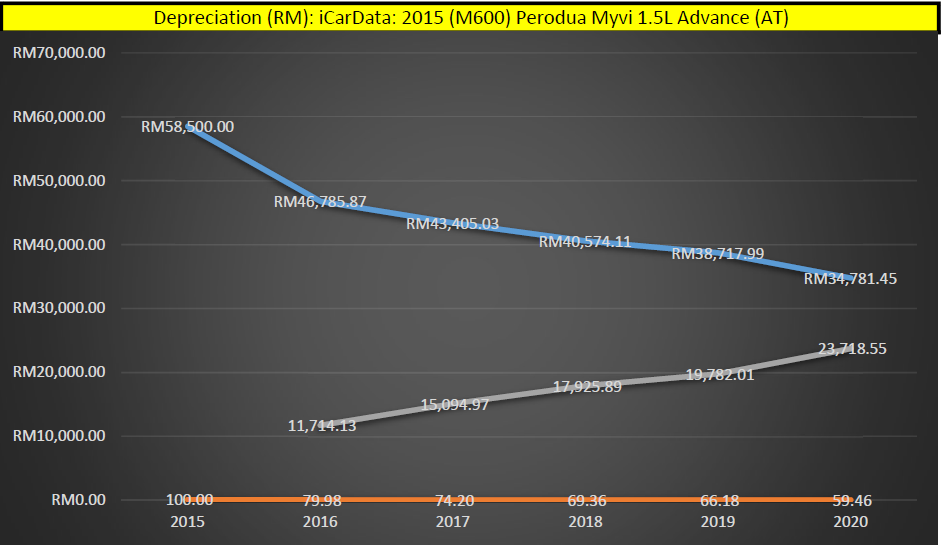 Conclusion
From the graph above, we see the highest rates of depreciation (of approximately RM11k) in only the first year of ownership. While the first-year depreciation is substantial, among the highest we've reported, the year-on-year depreciation steadies in the second year of ownership, dropping only some 5 percent.
The sharper decline in year one (2015) could also be contributed to the launch of the updated Proton Iriz, the Myvi's main rival, which may have shifted market tides and market demand for the Perodua in that year.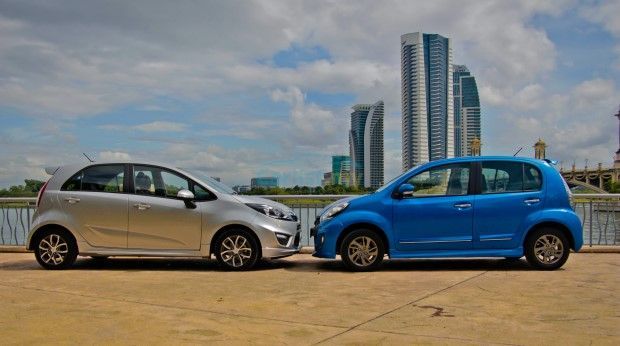 With the overall price dropping no more than 5 percent per year in the next few years - the Myvi, especially in its Advance guise, holds value exceptionally well for existing owners.
Even the launch of the all-new third-generation model in 2018, seems to have had a minor effect on the resale value and overall demand for the Myvi in that year. This is further confirmed by the steady rates of depreciation in 2019 and 2020.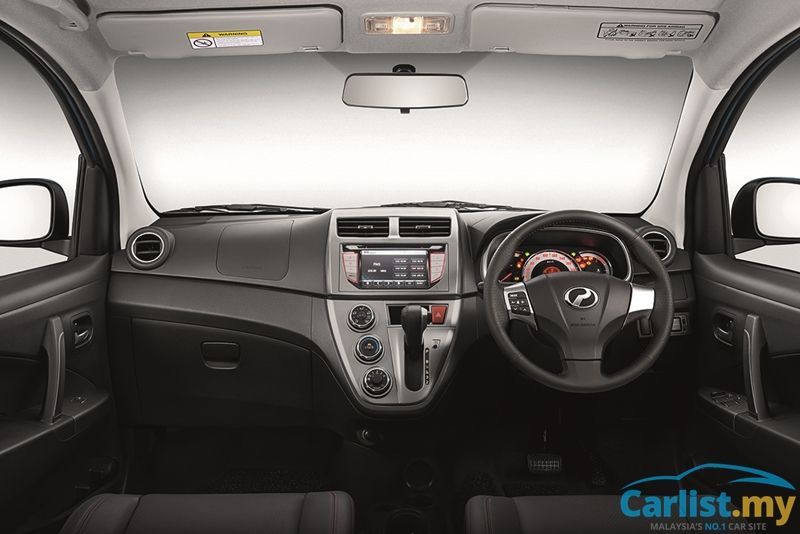 The data shows that existing owners can choose to keep their Myvi well into the sixth or seventh year of ownership without worrying about losing excessive amounts of depreciation. Given that the cumulative depreciation does not equate to that of the retained value sum even after five years, an owner can choose to sell his/ her car in the sixth year of ownership and still hope to retain approximately 50 percent of its original value.
Inversely, the best time for a used car buyer to snap up the Myvi would be in the third and the fourth years of the car's lifespan. By now, the bulk of the car's depreciation has taken place, used values hold steady at circa 65 percent of the original selling price.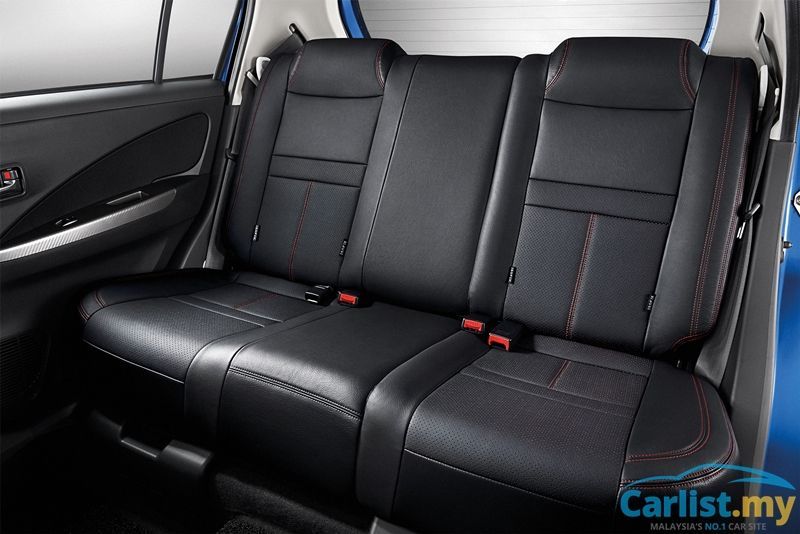 Purchasing a Myvi of four years old would mean used car buyers are getting a relatively new vehicle at lower prices while retaining a year of manufacturer warranty. With that said, Myvi's which are well maintained will last the better part of a decade without unwanted suprises, so even if a used buyer were to pick up a five- or six-year old Myvi, it would hardly be an issue.
Do note, take your time to search for a quality used example, preferably with low mileage (of less than 20k km/year) and proper documentation with regard to maintenance.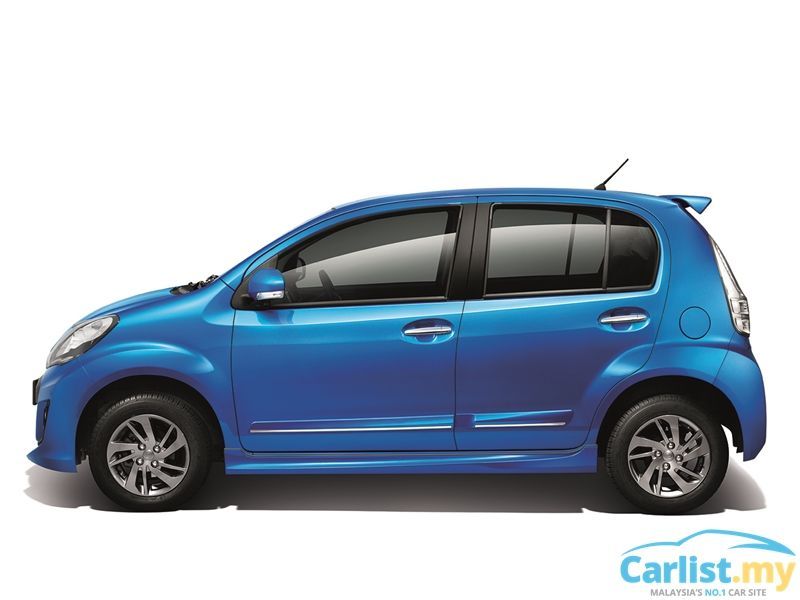 For some great deals on the Perodua Myvi Lagi Best, click here.
If you're looking to sell your Honda City, we have two solutions for you too. List in on carlist.my or better still use Carlist Bid where we remove all the hassle of selling your car for you as you get searching for your next upgrade.
Read also: 2015 Perodua Myvi 1.5 Advance vs 2014 Proton Iriz 1.6 CVT Premium
Which make/ model would you like us to research next? Let us know in the comments.
---
---
---
---
Comments